One reader wonders if Lewis Hamilton needs a new race engineer after questioning another strategy call in Germany…
Plus thoughts on a complete role reversal between Mercedes and Ferrari, Pierre Gasly's future at Red Bull and much, much more.
You can join the discussion over on the PlanetF1 forum here or head to the comments section down below…
Role reversal
Well it's about time Mercedes had an outright poor performance. Austria went poorly for them for reasons that were not in their control but this race was just bad.
Strategically they were terrible and they were on the wrong tyre at the wrong times. Then both drivers had off-track excursions. They can afford a bad day but that's definitely what today was.
Leave it to RBR to get the strategy dead right. I thought they had it wrong for a minute there when Max spun on the medium tires after the stop but this was a race where you had to be willing to pull the trigger on a stop at a moment's notice and Red Bull always thrive when it comes to improvisation.
Max did an excellent job once he had the lead of just keeping out of trouble and building a gap. Shame about Gasly.
Ferrari actually looked razor-sharp as a team. They absolutely nailed it with Charles's strategy and, if not for his own error, he would have been in a good position to win the race.
With Vettel they also got the stops right and Sebastian finished P2, despite starting so far back. That's the first time that Seb has started a race that far back and made the podium and I was impressed by the patience and racecraft that he showed today.
What a race! Ok, it was a lottery but it kept you on the edge of your seat.
sandman1347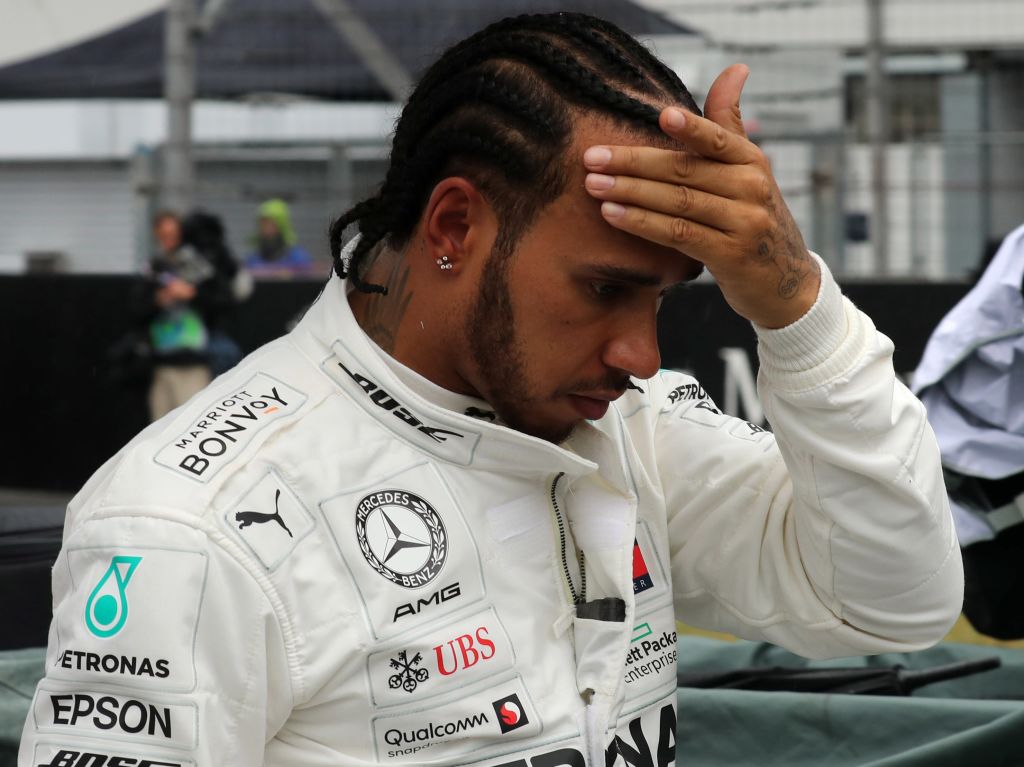 A disconnect between Hamilton and Mercedes?
Seems to be a real disconnect between Lewis and his team regarding what tyre to be on and when. I think he needs to get a new race engineer. There are a number of races where Lewis has doubted the call on what tyres to be on and it doesn't see like they are listening to what he is telling them.
They just order him into the pit box and tell him what tyres he's getting. There needs to be better communication and trust between driver and his engineer.
That, and Mercedes need to get our of their silly costumes and focus on the race, what a joke those stupid costumes were and the whole special livery for this race, turned out to be a real distraction.
Great performances from Red Bull and Sebastian Vettel; I feel that he has redeemed himself after his last performance in Germany. Not sure I would agree that Ferrari's release of their driver was "unsafe" give me a break, there were half a dozen cars coming and going for tyres, Ferrari came in ahead of Grosjean, what were they supposed to do just wait until all the cars left the pit lane? That's why they have speed limits in the pit lane.
The amount of "stewarding" during the race is getting a little out of hand…After all, they are supposed to be "racing" are they not?
Longnose
Where did it all go wrong?
Well it all went wrong for Hamilton when they pitted him for softs just as it started to rain; Hamilton's mistake then to go off the track but after that Mercedes couldn't strategise their way out of a paper bag.
They should have pitted Hamilton as the SC was called same as Verstappen did, on to new inters, and then get rid of his 5 second penalty, he needed to get rid of the penalty.
pokerman
Verstappen's spin the turning point
A race where everyone seemed to lose the car but some suffered more than others , turning point arguably Red Bull putting Verstappen on the Medium compound leading to his spin and him coming back in for inters which then with the rain turned into being the best tyre to be on and he had track position.
Around the same time Lewis was held till last of the front runners to pit and was put on the slicks just as the rain came.
Bollard miss by Hamilton seemed harsh as he would have had to drive into traffic to get round it, certainly the Leclerc release was equally as bad but received a minor reprimand.
The ending of the race seemed to show that the downforce that allows them to be fast in front and claim poles is a negative for Merc, when they need to overtake Bottas couldn't get near Stroll. Vettel dispatched him with ease.
nabby81
Saturday: Becomes a father

Sunday: On the podium for the first time in three years!

What a weekend for @kvyatofficial 🙌 #F1 pic.twitter.com/LgyoE6XI5V

— Planet F1 (@Planet_F1) July 29, 2019
Kvyat > Gasly
Interesting that Kvyat now has nearly 50% of the points Gasly has in a significantly worse car. Some luck did get Kvyat here, but I think it is incredibly obvious that Kvyat would be doing a better job than Gasly.
Despite Gasly looking so bad, Red Bull should not do what they did with Kvyat as is could just totally ruin Gasly's confidence.
Wait until the end of the season before replacing drivers. But I think they certainly should give Kvyat another go if he can keep putting in such solid performances. He is a different driver now.
TheGiantHogweed
The Sky curse
You'd think Honda would be pushing for a Japanese driver by now if Red Bull doesn't care about having two cars. But Daniel Kvyat should be in a Red Bull in Hungary.
Hopefully Toto will follow through on flushing Bottas.
Vettel showed that he isn't done yet.
I was shocked, shocked I tell you, when Lance Stroll didn't proceed to the nearest gravel trap after being the first driver to change to slicks. Maybe he was a better student than I thought.
Lewis Hamilton was doing just fine until the Sky commentators started singing his praise. Priceless.
Todd
In defence of the stewards
So there seems to be a lot of discussions about stewards decision regarding penalties. I think they actually got it right today.
Hamilton's penalty is crystal clear and by the rule book. People are saying that what he did was safer than driving around a full lap with a damaged car and probably that is the case. There was a third option though that didn't involve breaking the rules: park the car and retire from the race. Hamilton went for the option that was best for him, but he did break a rule and got a penalty. Not much doubt about this one.
In the case of Ferrari unsafe release, I agree with the philosophy of not punishing drivers for mistakes that are not their own. Perhaps there should be a more significant penalty, like a chunk of WCC points, but the idea is right.
SmoothRide
BOOM!!!!!! 🤜🤛#MakeItCount #F1 #GermanGP pic.twitter.com/KLRM7duHsF

— SportPesa Racing Point F1 Team (@RacingPointF1) July 28, 2019
Simply stellar
WO-ho! BEST race so far this year!
Stellar performances by Verstappen, Vettel, Kvyat and Stroll.
Mercedes wished for rain, they got it… the morale of the story, watch out what you wish for, it may come true.
Lewis made two mistakes, Bottas one. Quite uncharacteristic for them.
Leclerc… it's hard to judge him. Looks like he likes the car better then Vettel, but for his rain skills the jury is still out.
If still someone remembers Hulkenberg, poor guy, could have been his turning point in career.
Hats off to Stroll, he was amazing today, drove well on the limit.
Lt. Drebin
Follow us on Twitter @Planet_F1 and like our Facebook page.