Who said Formula 1 was boring and predictable?! There were plenty of stars on show in an utterly bonkers Italian Grand Prix.
Check out all the driver ratings from Monza, courtesy of our friends at Late Braking.
Pierre Gasly – 9
Almost a year on from his Red Bull demotion, Gasly added to his podium at Brazil last season with Alpha Tauri's first victory as a team since 2008 and his first win following an epic drive.
Although it's fair to say he lucked into the strategy that made a win possible, the execution was flawless as he passed Lance Stroll on the restart and he still did a great job of managing the gap to second placed Carlos Sainz.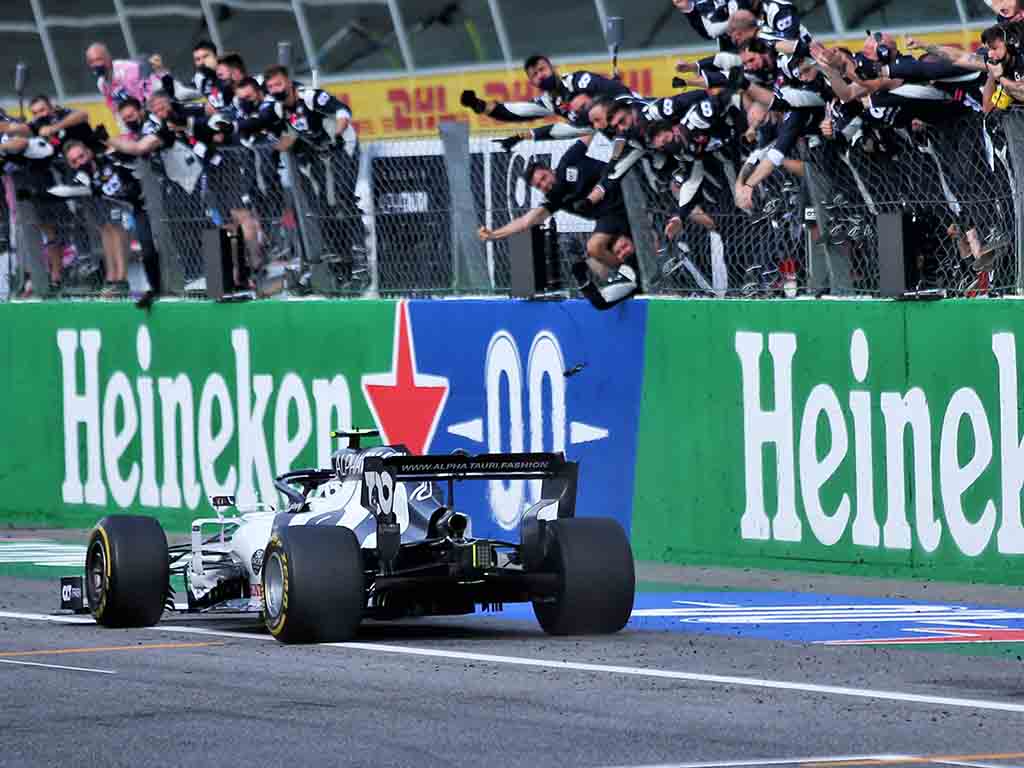 Carlos Sainz – 9
Mixed emotions for the Spaniard as he claimed his best career finish but it was oh so close to being a first race win.
Outpacing his team-mate throughout the weekend, Sainz was in a great position even before the pandemonium of the Safety Car and red flag. On pace alone, Sainz was ready to finish P2 and did a good job of clearing Stroll to put himself as the main challenge to Gasly's victory.
Lance Stroll – 7
This is a tough one to judge. Stroll's second podium deserves recognition but it cannot be ignored he was in the best position to win the race and lost that on his own accord.
Benefitting from not pitting under the Safety Car, the red flag gave him P2 on the restart, which would become P1 following Hamilton's penalty. Stroll required a great start as we have become accustomed to but he wasn't able to pull it out when it was needed most. After losing out to Gasly, he also lost out to Sainz after missing his braking point going into turn 4.
#P4 #memories pic.twitter.com/wxrcb8AmYV

— Lando Norris (@LandoNorris) September 6, 2020
Lando Norris – 7
Norris might well be frustrated that his team-mate took advantage of the chaos to take a podium, whereas he was forced to settle for P4, but it was a solid race nonetheless.
Keeping Bottas behind in the Mercedes was no mean feat but he was able to do so capably in the closing laps.
Valtteri Bottas – 5
It's hard to look at this race as anything but a missed opportunity. Lewis Hamiton does not find himself off the podium on too many occasions and Bottas was unable to capitalise.
A poor start saw him drop multiple spots and he was unable to make overtakes to recover. The pit stop allowed him to gain a few spots but again he made no progress. The car might not have been playing ball but Hamilton made moves when he was required.
Daniel Ricciardo – 7
Following the encouraging signs from Spa, Ricciardo might have been expecting for more heading into this race but they constantly found themselves a touch behind the likes of McLaren here.
Ricciardo constantly found himself in the middle of a train of cars and the overall result was a struggle to move forward.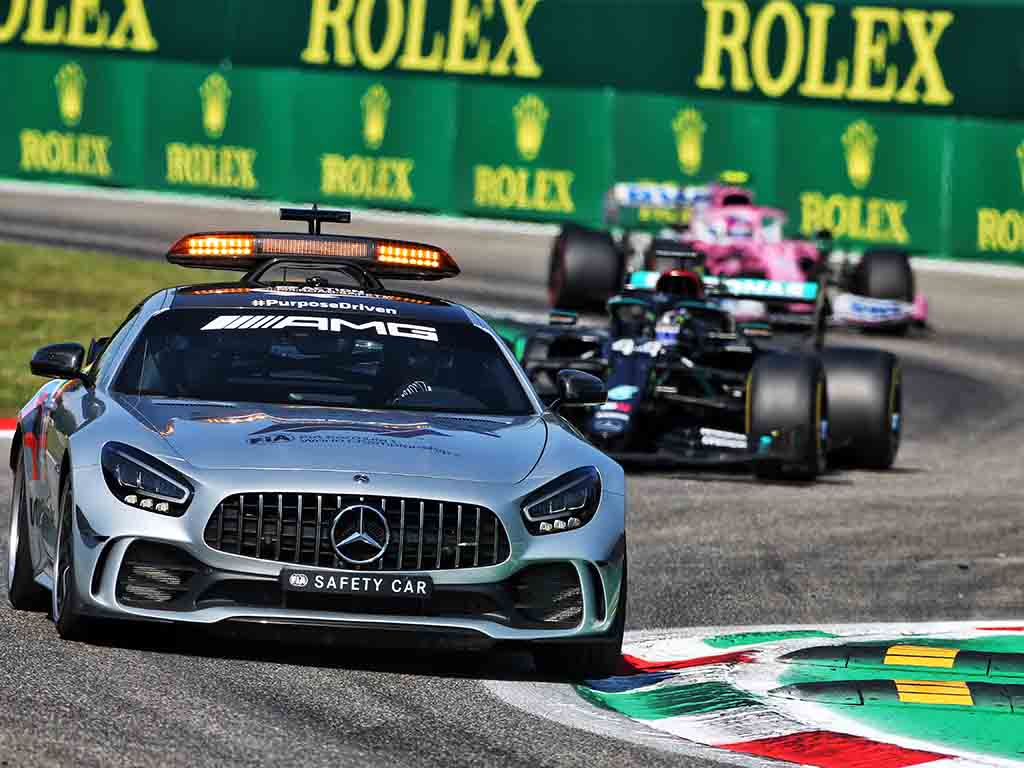 Lewis Hamilton – 9
What was looking like another routine victory soon turned into anything but that. A Safety Car wiped away the advantage that had been built up and then a penalty dropped him to the back of the field.
From there, an epic fightback commenced which saw him back into the points and into P7. A far from perfect weekend but the misfortune of others means he has exactly the same championship advantage he had when he entered the week.
Esteban Ocon – 6
Similar to the last race at Spa, Ocon once again found himself on the back foot compared to his team-mate, this time finishing two positions lower.
The frustration of not matching his team-mate on pace might be getting to him, displaying his annoyance at the team over the radio after the race ended.
Daniil Kvyat – 6
Seeing your team-mate win a race can't be brilliant but even more so when the opportunities for a driver are so sparse.
Kvyat had a solid race in truth, his strategy of going long completely wiped out with the safety car and red flag, Kvyat did well to recover to P9 and double his tally for the season. Still, 43 points to four is not a great look.
Sergio Perez – 5
It was a painful race for Sergio Perez even before he saw his team-mate clamber up to the third podium step. A poor getaway meant he was stuck behind Norris for the opening stages and he was not happy how Norris avoided a penalty for backing drivers up in the pit lane. On the restart, Perez had an off at Turn 2 and damaged his car, limiting him to a P10 finish.
Nicholas Latifi – 7
Latifi might well have benefitted from pitting before the Safety Car madness but he did a very good job of keeping cars behind regardless.
On what was a very tough weekend for Williams given the circumstances, Latifi finished P11 for the second time this season and arguably gave his best performance to date.
Romain Grosjean – 6
The Haas car did well to get stuck in and had an entertaining battle with George Russell that he ultimately won. The overall picture for Haas has been tough though with the weakness of the power unit massively exposed over the last two races.
Kimi Raikkonen – 7
For a short time, Kimi Raikkonen found himself in the top three as the Alfa Romeo shot up the order following the red flag. In fairness to Raikkonen, he had been doing a good job until that point, comfortably keeping the Ferrari of Leclerc behind him after a good start.
The decision to put Raikkonen on softs on the restart was a bizarre one, whilst he held positions in the early going, the tyre soon fell off a cliff and he was powerless to defend thereafter.
Shame to have the luck go against us today. The car was great and points were definitely possible. Our time will come.

— George Russell (@GeorgeRussell63) September 6, 2020
George Russell – 6
After a few Q2 appearances this season, Russell could not prevent a back row lock-out for the Williams guys here and the race wasn't too much better for the young Brit. Williams and Russell were unable to capitalise on the chaos.
Alex Albon – 5
'Verstappen, Bottas and Hamilton are not going to finish on the podium'. If you had uttered those words before the race, Alex Albon might well have figured he was in line to finish on the podium for the first time. As it happened, it wasn't even points let alone a podium.
Unable to overtake even the Williams and Haas drivers, Albon was reeling from his lap 1 incident that caused damage costing him a second a lap according to the team.
Antonio Giovinazzi – 5
The other driver penalised for pitting when the pit lane was closed, Giovinazzi never really had a hope of making any progress. Even so, this was another poor weekend where Raikkonen outclassed him.
Did not finish
This just wasn't our weekend. Let's move on #KeepPushing 🇮🇹 #ItalianGP pic.twitter.com/EsKTRKgRAx

— Max Verstappen (@Max33Verstappen) September 6, 2020
Max Verstappen – 5
In fairness, Monza has never been a strength for the Red Bull team but this was an unusually scrappy weekend for Verstappen. Caught in the DRS train early on shunted any progress and he moved backwards off the restart. His miserable afternoon was put to rest after the team decided to retire the car with an impending engine issue.
Charles Leclerc – 4
What a difference a year makes. From celebrating a home victory in front of a packed crowd to an error that causes a retirement.
Charles Leclerc struggled in his first stint with tyre wear but was handed a lifeline as he cycled to the front with the pit lane closed. After making a move on both Alfa Romeo drivers, Leclerc made an error at Parabolica, leading to his retirement and a red flag.
Sebastian Vettel – 5
An early retirement is never desired but perhaps this saved Vettel from the dismay of driving around in P17 for the entire race. Unable to make any progress following his Q1 exit on Saturday, Vettel retired the car after a brake issue saw him slam into the polystyrene on the Turn 1 run-off.
Kevin Magnussen – 5
Perhaps this should be a 10 given he was the catalyst for the crazy events that transpired. After making Q2 on Saturday, Magnussen dropped to the back following a necessary pit stop on lap 1 and he soon became the first of four retirements.
The Italian Grand Prix driver ratings are brought to you by the good folks at Late Braking. You can check them out in the following places:
Subscribe to Late Braking on YouTube
Follow Late Braking on Twitter