Pierre Gasly became a Formula 1 race-winner in a fairytale ending to a frantic Italian Grand Prix, and that wasn't the only shock…
Here are our conclusions from a race in Monza that was undoubtedly the highlight of the 2020 season so far.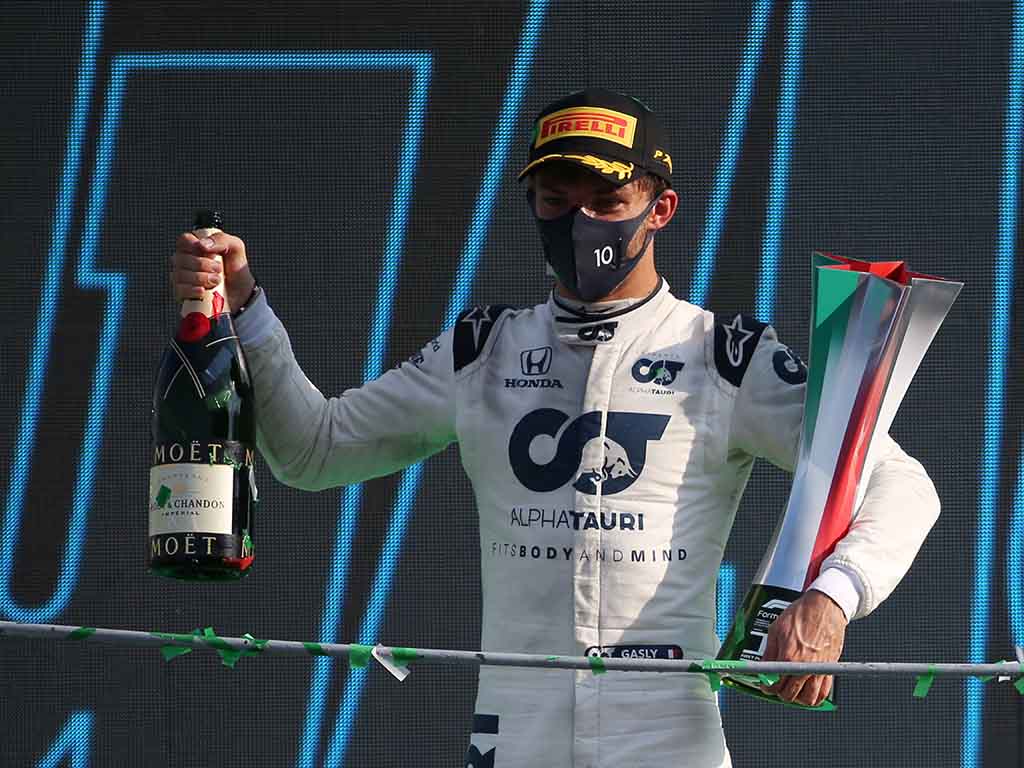 Pierre Gasly is the grid's greatest story
After being demoted by Red Bull and losing his close friend Anthoine Hubert in quick succession, recovering to claim his first podium at the end of the last season was an incredible story in itself. However, Pierre Gasly has added an even more stunning chapter in 2020.
It was already a successful season for Gasly. Prior to this weekend, he had been one of its most impressive drivers, constantly out-performing his car and claiming Driver of the Day last time out in Spa.
After a typically strong qualifying session in which he made Q3, he looked well placed to add more points to his tally, but he never would have dreamed of picking up 25 and a P1 trophy.
Admittedly, a lot of luck led to him leading the race, but as the saying goes, luck is just when preparation meets opportunity, and boy was he prepared.
Carlos Sainz was in a quicker car, but Gasly managed his pace perfectly to keep the gap big enough. Lesser drivers would have crumbled when the Spaniard got within DRS range of the Frenchman with just over a lap to go, but the AlphaTauri man kept his cool under enormous pressure to become the first man from his country to win a race in the 21st century.
Given all the hurdles he has cleared, his 2020 performances and the fact that he is just 24, he's now one of the most attractive drivers on the grid to other teams. When one of the big ones, whether that be Red Bull or another, gives him a shot, expect him to add to his tally.
McLaren back in the big time
Hear from @Carlossainz55 and @LandoNorris after a memorable day in Monza. 🧡 #ItalianGP 🇮🇹 pic.twitter.com/lCqweNrcIL

— McLaren (@McLarenF1) September 6, 2020
Immediately after the race, there was a sense of disappointment around the McLaren garage as they came so close to ending their eight-year wait for a win but ultimately fell just short.
Nevertheless, they finished the Grand Prix in P2 and P4 and, best of all, may well have ended up there even without the Safety Cars and Red Flag, given how strong their pace was.
Sainz and Lando Norris both passed Valtteri Bottas at the start and were comfortably holding their own there before chaos ensued, showing better pace than every non-Mercedes car.
That was the same case again once the race restarted. Both made quick work of Kimi Raikkonen before Sainz pulled away from the Racing Point of Lance Stroll and Norris stayed ahead of Bottas, never coming under too much pressure.
The result put the British team on the verge of 100 points and gave them a comfortable cushion back to P4 in the Constructors' Championship.
They're where they are on merit, and with a Mercedes engine and Daniel Ricciardo in their car next season, it may not be long until they finally get back on the top step of the podium.
Mercedes human after all
A painful day for the Team. But we're bold enough to own up when we make a mistake. 💪

It's P5 and P7 at the flag for the boys. A mega comeback drive by Lewis after the penalty.

Congratulations to @PierreGASLY and @AlphaTauriF1! What a day. 👏👏👏👏 pic.twitter.com/u35rPetb7Y

— Mercedes-AMG F1 (@MercedesAMGF1) September 6, 2020
After qualifying, it looked like nothing could stop Mercedes this season. Even with their party mode being banned, they still locked out the front-row with ease and looked set to continue their dominance. They didn't, and they only have themselves to blame.
The race didn't get off to an ideal start for the German team as Bottas got off the line poorly and dropped down the order. Nevertheless, Lewis Hamilton was still leading comfortably at the front and should've stayed there until the end.
Granted, it's not the team's fault that he didn't see the screens saying that the pit lane was closed, but they should've informed him themselves. Even if they hadn't been told yet, they should have been aware of the risk and kept him out just in case. Given how much quicker he was than the rest of the field, they didn't need to pit him immediately anyway.
Ultimately they still lead both championships by quite some way, and this error won't count for much when they're lifting them both in December, perhaps even in November. Still, these are mistakes they can't get into the habit of making. They won't be so far ahead of the rest of the field forever. We hope.
Alex Alb-on thin ice
While Gasly sprayed the champagne, Red Bull packed up and left Monza without a point to their name. Verstappen was hit by an engine problem, but Alex Albon had no such excuse.
He was unlucky to get caught up in a tangle with Gasly on the opening lap and have floor damage as a result, but the move on Romain Grosjean a lap later that earned him a penalty was foolish, needless and seemed somewhat desperate.
Such desperation is entirely understandable. As he has struggled and Gasly has excelled, criticism of the Thai driver has been growing throughout the season.
Whispers of him and Gasly being swapped again will undoubtedly be even louder after the latter's stunning win, and Albon simply has to do better if he wants to silence them.
Red Bull may look fairly comfortable in P2, but that may not be the case again next season, especially with McLaren getting a Mercedes engine. To ensure they stay ahead, the team need someone who can be relied on to pick up points when Verstappen can't.
Albon simply doesn't look like that man. Gasly does, and it's becoming harder and harder to imagine Helmut Marko not playing musical chairs once again.
No hope on home turf for Ferrari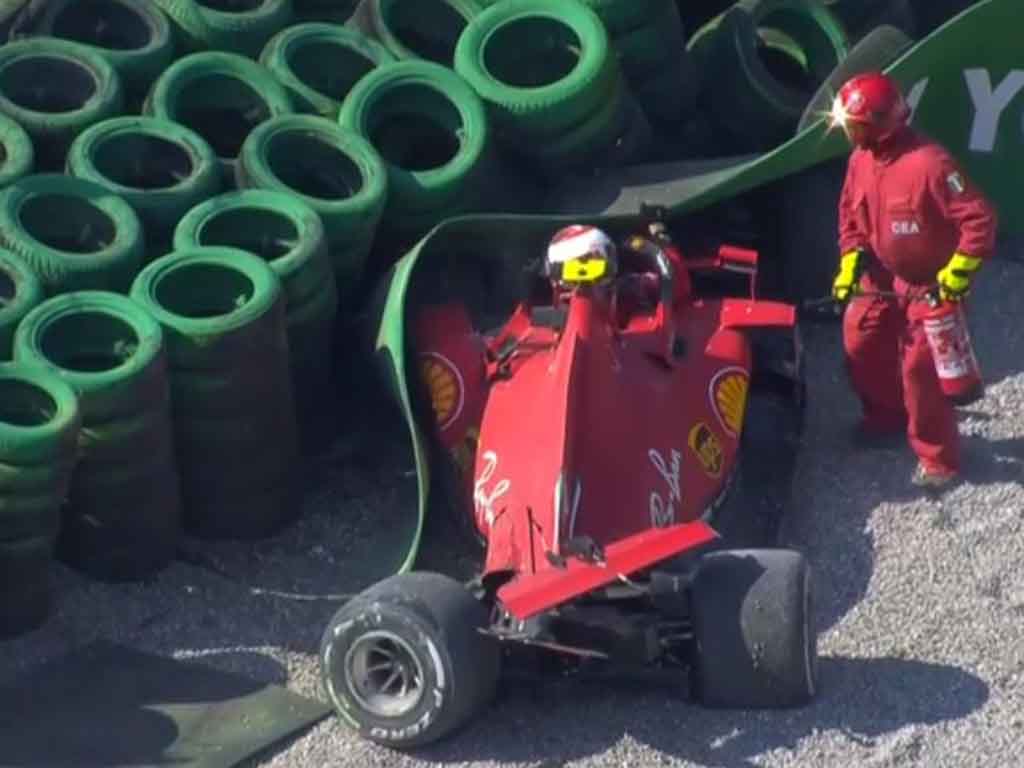 The Ferrari camp would have been disappointed at the start of the season if they were told that, in Monza, the Italian national anthem would be played on the podium, and it wouldn't be for them. If they were then told that they'd fail to score a single point, they'd have struggled to believe it.
Seven races in, they headed to Monza knowing that that was a genuine possibility but still would have hoped that some chaos would provide them with a few opportunities.
The chaos did indeed come, but neither red car was in the race to take advantage. Vettel had already retired with a brake failure, while Leclerc had crashed out failing to control the notoriously difficult car.
Next up is their 1000th race in F1, at a track they own, and it couldn't have come at a worse time. Nothing suggests their pace will be any better there, and they'll simply be hoping they can make it to the finish line.
The fact that they'd have preferred Mercedes to win today rather than AlphaTauri says it all. Red Bull's sister team is now just 14 points behind Ferrari and it's looking likely that they'll take P6 from them sooner rather than later. Mamma mia.
Give us reverse grids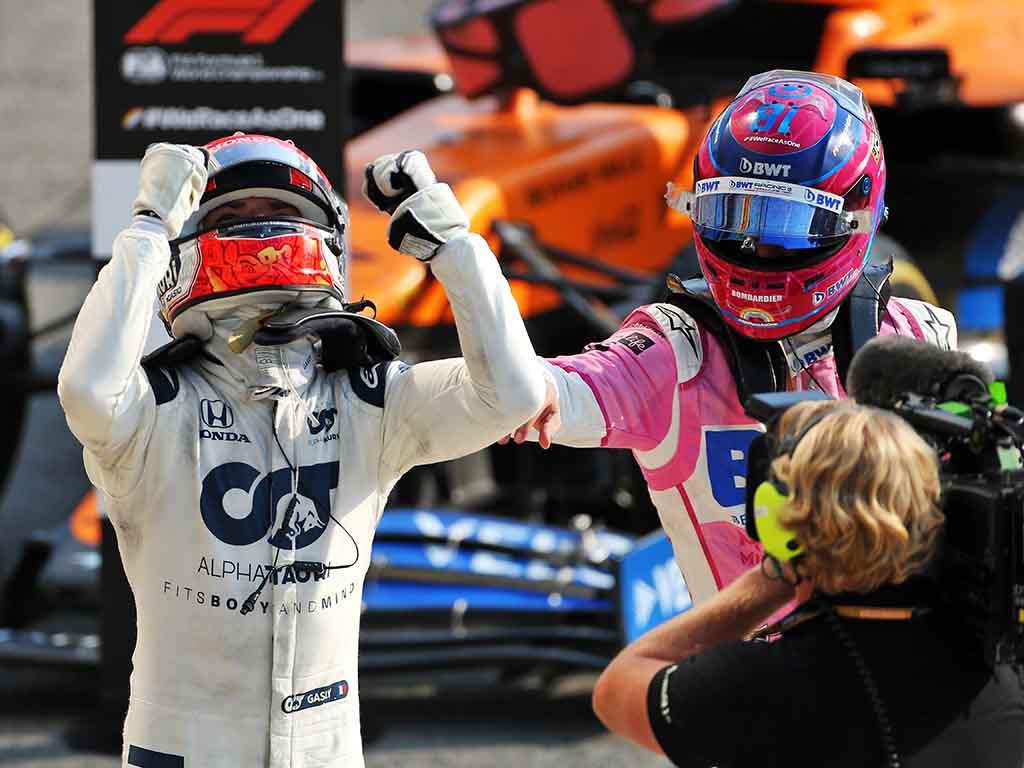 The restart following the Red Flag was the closest we've come to seeing a reverse grid in F1, and it was bloody brilliant.
It had everything. Lewis Hamilton showing off the overtaking skills we so rarely get to see these days; new faces at the front battling it out in evenly-matched cars; Kimi Raikkonen actually engaging in meaningful wheel-to-wheel battles again.
The sport's main argument against changing up the traditional format is "If it ain't broke, don't fix it", but when two Safety Cars and a Red flag are needed to produce the first truly exciting race weekend in a month or so, it seems pretty broken.
There's not too much that can be done about dull races until teams catch Mercedes but using reverse grid sprint races to determine the order is something, and it will make Saturdays considerably better.
Nobody is saying they should become a permanent fixture used every single race weekend, but after how exciting it was seeing a standing start with a muddled up field, at least trying it out seems a no-brainer.
Finley Crebolder
Hear what the PF1 team think of Gasly's win, McLaren's revival and reverse grids in the latest episode of Torquing Point!
Follow us on Twitter @Planet_F1, like our Facebook page and join us on Instagram!