Italian Grand Prix driver ratings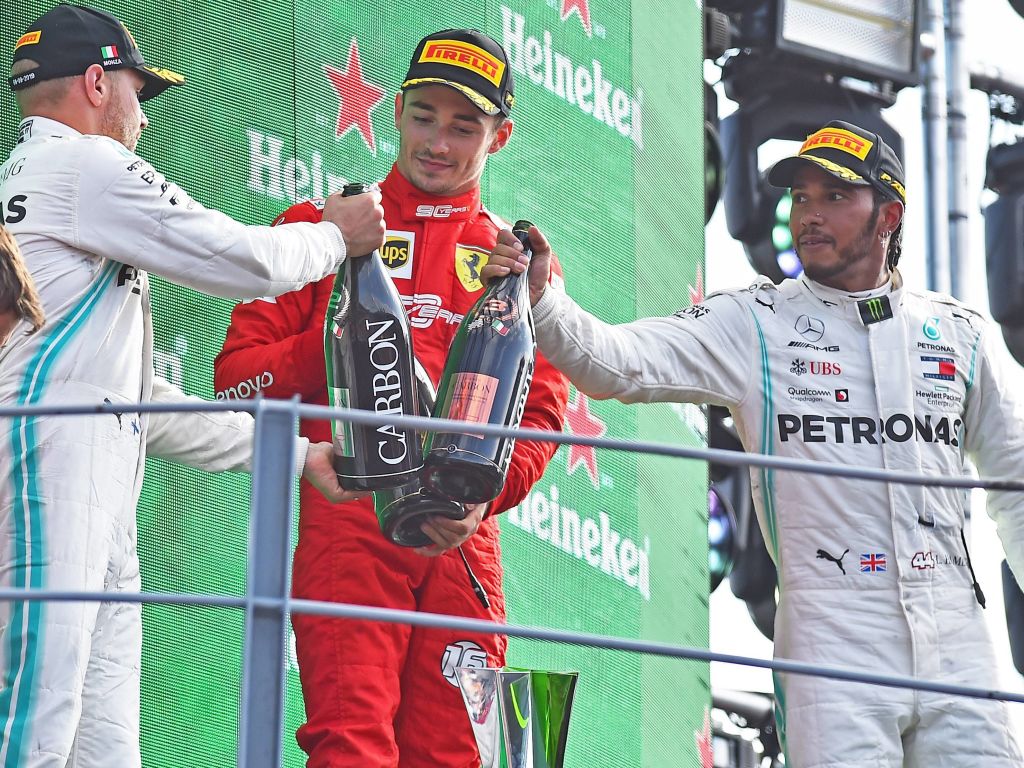 Charles Leclerc recorded Ferrari's first win on home soil since 2010 when he held off the Mercedes charge to claim victory at the Italian Grand Prix.
Just one week after claiming his first win in the series at Spa, Leclerc sent another warning shot to the world of motorsport that he is indeed the future if the Scuderia can give him the machinery to match his undoubted talent.
Sadly it was a far different story for team-mate Sebastian Vettel who had a nightmare Italian GP after collecting Lance Stroll in the opening stages.
The scores on the doors, according to Late Braking…
Charles Leclerc: With hardly a moment to breathe, Leclerc saw off the challenge of first Hamilton and then Bottas to claim Ferrari's first home win since 2010. Leclerc's defence was not without controversy and there will be questions surrounding a few incidents but for the most part Leclerc's defence was resolute and highly impressive. It's been a whirlwind fortnight for the Ferrari youngster. – 9
Special driver. Special win. #ItalianGP 🇮🇹 #F1 pic.twitter.com/77rDiKRhJx

— Planet F1 (@Planet_F1) September 8, 2019
Valtteri Bottas: As Bottas' teammate and Leclerc dueled away, the Finn turned to the long-term game and it very nearly gave him the win.
Staying out much longer on his first stint, Bottas came into play with a few laps to go but on two occasions made minor errors as it seemed Leclerc was almost within his grasp. – 8
Lewis Hamilton: The pressure in the first half of the race came courtesy of Hamilton but unlike last year, he was unable to get that clinical overtake to take the race win.
Varying up his strategy after both he and Leclerc dived into the pits, it was down to Hamilton to make the pass whilst he had a tyre advantage but to no avail. From there, the hard tyre improved and allowed Leclerc to pull a gap. – 8
Lewis Hamilton on Charles Leclerc's defensive moves at Monza 👀 #F1 pic.twitter.com/heNCzevp31

— Planet F1 (@Planet_F1) September 8, 2019
Daniel Ricciardo: For the first time since joining Renault, Daniel Ricciardo found himself in the top 5 and takes home twelve well-earned points. Despite losing out to his teammate at the start, his pace advantage soon came to fruition and helped Renault to some valuable points in the race for fourth. – 9
Nico Hulkenberg: For a short time, Hulkenberg was on cloud nine as he forced his way past Vettel and his team-mate, this was to be short-lived, however, as he soon found himself back to where he started. It was a quiet, yet solid race from there as he came home 5th . – 7
Alex Albon: An eventful, if slightly scrappy race from Albon who found himself in the wars on more than one ocassion.
His attempt to stick to Sainz through the first Lesmo was perhaps a little optimistic after earlier making a gutsy last-gasp overtake and then picked up a penalty for cutting the corner
in overtaking Magnussen. – 6
Sergio Perez: Starting towards the back of the grid, it appeared unlikely that Perez would add any points to his tally in Italy but thanks to some smart moves and retirements, he forced his way to 7th .
He was forced to defend against a Red Bull at the end of the race, a situation that mirrored his Belgian Grand Prix, but this time he came out the victor. – 9
Max Verstappen: Starting at the back of the grid put Verstappen on the back foot from the off and he didn't help himself with a clumsy first corner.
The comeback from there was solid and he made sure he left Monza with a few points at least. – 7
Our race pace was good, but this just wasn't our race. We aim to bounce back in the next few races 👊🏻 #KeepPushing #ItalianGP 🇮🇹 pic.twitter.com/UXnOClw7Of

— Max Verstappen (@Max33Verstappen) September 8, 2019
Antonio Giovinazzi: Whereas Giovinazzi's teammate had a weekend littered with errors, Giovinazzi kept his head down and delivered some solid points in his team's home race as well as his own home race. – 7
Lando Norris: Another driver who started well outside the top 10, Norris ensured Mclaren's weekend wasn't completely pointless as he finished the race P10. Norris suffered a poor start to the Grand Prix but his comeback was efficient and mostly went under the radar. – 7
Pierre Gasly: Pierre seems to have settled back into the Toro Rosso team nicely and now the pressure has been removed from his shoulders, he can finally push the car without fear.
The Frenchman did well do move up from 17 th on the grid to finish 11 th , although he was helped by the two DNF's and Vettel's calamity. He was also behind his team mate for a large stint of the race which shows that he still needs to up his game if he is in with a shout of that Red Bull seat next season. – 7
Lance Stroll: After a fantastic Saturday performance, it looked as though things were on the up for Stroll, this was all until Sebastian Vettel spun going through Ascari and hit stroll when re-joining.
This caused Stroll to also spin off the track, screaming down the radio about how dangerous Vettel's re-entry to the track was, only to copy it exactly 30 seconds later. Stroll was lucky to
only receive a drive through and couldn't recover from the near disastrous events early on. – 3
Sebastian Vettel: For a man who is considered amongst one of the all-time greats in Formula 1, this really wasn't the 4X Champ's day. To start the race, Vettel dropped a place to Hulk in the Renault, scrapping to get the place back, only to eventually drop the ball on the entrance to Ascari and almost collecting car number #27 on his way.
He then re-joined the circuit in such a dangerous way that the camera man had to pan away immediately and there were calls for a DSQ from the race. It was all topped off by only just  beating Russell in the Williams and his teammate taking victory on home soil, something he has never managed at Ferrari. Vettel truly deserves the worst driver of the day title. – 2
Oh dear…what are we going to do with you, Sebastian? #ItalianGP 🇮🇹 #F1pic.twitter.com/XatIdJCUri

— Planet F1 (@Planet_F1) September 8, 2019
George Russell: It looked a little bumpy at the start of the race for George, dropping behind his team-mate and looking like he could find himself stuck at the back. But, sensible, clean driving and being opportunistic with strategy saw George jump back to his starting position.
Although no points were scored, this was a solid week for the young British talent. – 7
Kimi Raikkonen: Starting from the pit lane is never easy. Starting from the pit lane and being on the wrong race compound from which you were meant to start on, only to then receive a penalty for it, is simply disastrous.
The car had the pace to fight for points on Sunday and Kimi's qualifying blunder mixed with Alfa's decisions on Sunday royally ruined the chance of a double points finish. – 4
Romain Grosjean: Another race weekend done and another race weekend to forget. Grosjean and Haas alike just can't seem to extract any performance out of the car, and they do not know what way to turn.
Grosjean's experience should be a great asset but he simply isn't helping the situation, this along with finishing behind a Williams just isn't good enough. Will he have a seat next season? – 4
Robert Kubica: The last of the finishers and the only man to be lapped twice. Things looked promising at the start of the race for Bobby K, but it all fell to pot, and he was immediately relegated to being the end of the train once again.
He was simply too far away from his team-mate for this to be seen as an okay race for the Pole. Rumours are circulating that Latifi will take his seat next season, with performances like this, can you blame Williams for wanting the swap? – 4
Did not finish
Kevin Magnussen: He looked to have more pace than the other side of the garage but once again a Haas car struggles to make it through 100% of a race. Magnussen has looked much better on a Saturday than on a Sunday, part of that is the car but part of that is Kevin simply underperforming.
It'll be tough for K-Mag to take anything positive away from this weekend, and it is highly unlikely they get anything at all from Singapore up next. – 5
Daniil Kvyat: The Honda engine looked to be a fully competitive engine around the Temple of Speed, and Kvyat was taking full advantage of this.
Starting in 12th , it looked as though points were surely on the cards, after fighting well with other midfield compatriots he and Toro Rosso made the smart call to pit under Virtual Safety Car conditions, only for Daniil to pull away and plumes of smoke erupt from the rear of the car. A tough end to what looked like a promising race for the Russian. – 7
Carlos Sainz: After an awesome Saturday performance and being the only man to complete a final Q3 run, Sainz looked like he was in a really strong position to snatch a huge haul of points.
After fighting well with the Renault's in the early stages and staving off any pressure from Albon, Carlos looked like this was a shoe in for a top 7 finish. Only for the wheels to come off (literally). A sloppy pit stop caused a tyre to not be sully attached and that spelled an early bath for the Spaniard. Another opportunity missed for points by McLaren. – 7
The Italian Grand Prix driver ratings are brought to you by the good folks at Late Braking. You can check them out in the following places:
Subscribe to Late Braking on YouTube
Follow Late Braking on Twitter