Italian press reaction: Vettel got revenge for Monza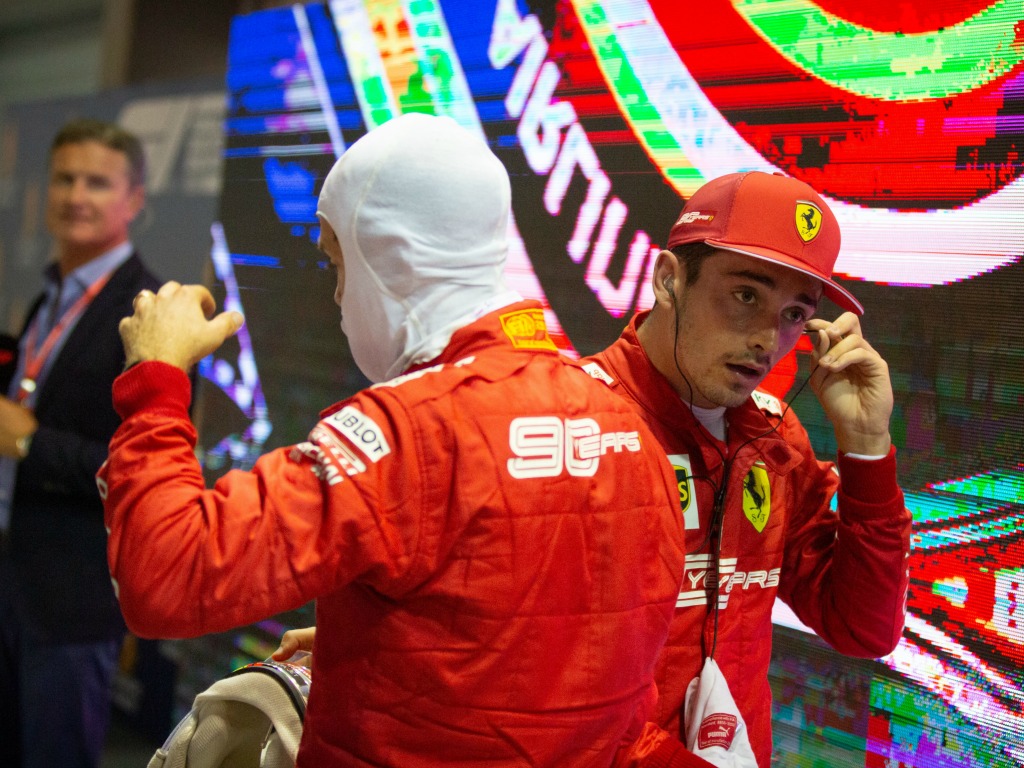 Sebastian Vettel 'got revenge' for Monza, while speculation rises over whether problems will emerge between the two Ferrari drivers after their strategy differences in Singapore.
There wasn't just a tale of revenge, but redemption for Vettel who got the victory to prove he is still a champion. However, there is widespread agreement that the win should have gone to Charles Leclerc for the third time in a row.
Here is how the Italian papers reacted to Ferrari's latest win in Singapore…
Plus a flavour of what the leading titles had to say in Spain, Germany and France.
Italy
Gazzetta dello Sport
Onda Rossa!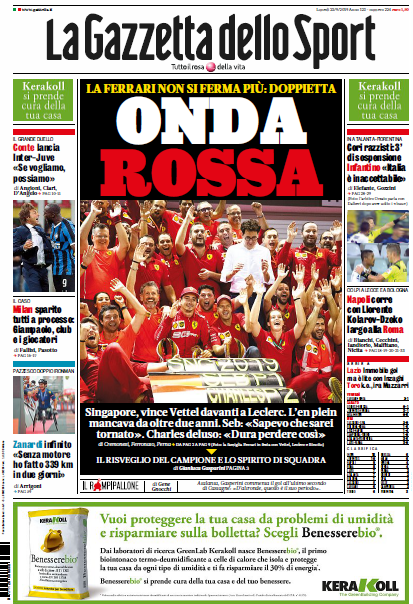 'Vettel got his revenge after the trick Leclerc made in Monza in the Q3. Vettel thought he had the pole position in Singapore but found himself in 3rd place, but in the race he was the champion we all remember. Thanks to Ferrari strategy, Vettel found himself in the first position and from there kept pushing. He was very good to keep Leclerc away. It's really important for Ferrari to have Vettel back because next year the team will need two good drivers to fight for both titles.'
Corriere Dello Sport
Solo Rosso!
'We celebrate the return of the champion and the second place of Leclerc; Mercedes were nowhere to be seen which is very surprising. This could have been the biggest success of the season but let's be honest not everything went the right way. Leclerc should have won this race. You can see that the kid is pushing for more and probably deserved to win, but the strategy helped Vettel even if he was behind Leclerc, will this create problems for the future?'
Corriere della Sera
La Ferrari vince ancora
'There are victory that counts more, double even triple sometimes. This is a victory that count triple because in Singapore it should have been like in Hungary: a nightmare for Ferrari. Instead they won with Vettel, a huge boost of confidence for him. But Ferrari won thanks to the upgrade of the car. Ferrari won because finally they have two drivers back, Leclerc is pushing hard but Vettel needed this victory to prove that he is still a champion.'
Spain
Marca
Ferrari wins, Leclerc lose
'Ferrari wins the Singapore GP but Leclerc isn't happy. He should have won but the strategy of Ferrari helped Vettel. Binotto was concerned of Verstappen but his decision to pit Vettel first allowed the German drive to be ahead of everybody. Should Ferrari prioritise Leclerc as he is the new talent and was leading the race but Binotto didn't agree. Now in the team there could be some problems with the drivers.'
Germany
Bild
The Vettel resurrection

'The four-time World Champion: "It is not salvation, but rather a confirmation. I never doubted myself. " Nevertheless, Vettel did not show performance like the race in Singapore for a while. He didn't make a mistake like in Spa or Monza and when he was ahead he start pushing like the old Vettel. Unfortunately, Vettel's resurrection is too late for this year. But maybe in the last six races there are at least a few more consolation wins for Vettel.'
France
Equipe
Vettel deprives Leclerc of victory
'The strategy of Ferrari helped Vettel to steal the victory from Leclerc. "The important thing is that Seb keeps morale," said Mattia Binotto ahead of the race. After the race, the German had even found his smile, while his young team-mate Charles Leclerc was lightning. The Monegasque, who started in pole position, was hoping for three victories after his successes at Spa and Monza. He will have to settle for second place. The Scuderia Ferrari clearly chose to favour Sebastian Vettel by making him the undercut on his team-mate.
Vittorio Campanile
Follow us on Twitter @Planet_F1 and like our Facebook page.