Japan GP conclusions: Max goes from raw to refined, plus the stain on Suzuka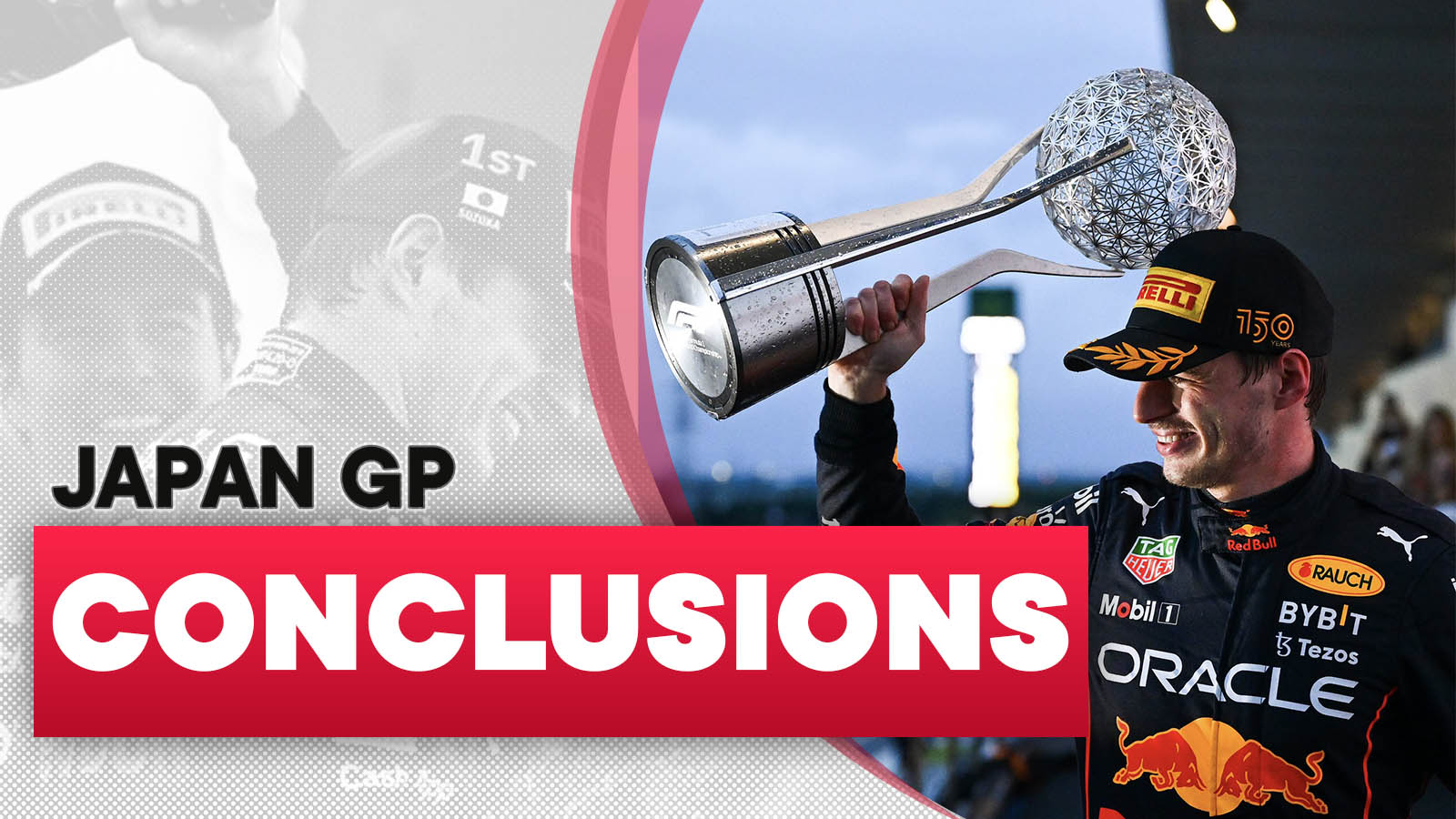 Max Verstappen secured his second successive Formula 1 title by winning the Japanese Grand Prix at the home of Red Bull engine partner Honda.
But while the Dutchman is writing his own history, we were given an avoidable reminder of one of Formula 1's darkest days.
Here are our conclusions from Suzuka…
Max Verstappen: a natural talent developed to an unnatural degree
It was at Suzuka back in 2014 that a 17-year-old Max Verstappen drove a Formula 1 car for the first time on a grand prix weekend.
Eight years later, as he celebrates his second World Championship at the same circuit with his 12th victory of 2022, it is now plainly obvious why Red Bull were so anxious to accelerate his ascent to a winning car in those early days.
As his contemporaries were still negotiating the junior categories, most yet to even sit in F1 machinery, Verstappen was already competing for podiums and victories, giving established World Champions a hard time and building an impenetrable bank of data and experience to complement his rare ability.
So when the greatest drivers of the previous generation (Kimi Raikkonen, Sebastian Vettel, Fernando Alonso, Lewis Hamilton) began to fade away, Max – his transition from raw to refined long complete – would stand alone as the best of his.
Who, in all reality, can stop him now?
🗣 "What a race! Coming to the end, we were not sure we would be awarded full points, but to finish like that is beyond all of our wildest dreams."

Read all about our fifth 1-2 finish as Max takes his second #F1 World Championship 🏁

— Oracle Red Bull Racing (@redbullracing) October 9, 2022
Without a clear and quite significant car advantage, how will Charles Leclerc, George Russell, Lando Norris and the rest ever be able to fully close the advantage Max's unique upbringing – an irresistible combination of nature and nurture – gave him?
As the point around which Red Bull's world revolves, who could ever outmanoeuvre and overwhelm him in a straight fight?
Is it already way too late, in other words, to prevent Verstappen from painting an entire era orange?
Greatness in sport has a habit of creeping up on us unwittingly – even in the case of Hamilton, who one day had three titles and, with what felt like a blink of the eye, suddenly had seven.
From the day a wiry teenager in a Red Bull cap strolled into the paddock in 2014 and stroked an F1 car around Suzuka as if it were the most normal thing in the world, however, there has been a sense of history – live history – being written before our very eyes.
Max Verstappen, they said, would change everything. And now he is.
He is a natural talent developed to an unnatural degree and what we have witnessed during this 2022 season is the fulfilling of destiny.
A glorious glimpse of the old Sebastian Vettel
Did we detect a hint of regret in Vettel's voice as he described what Suzuka means to him on Saturday?
Having spent most of this season giving the impression that he has had his fill of Formula 1, his impending retirement – with his family in attendance – took on a more personal, emotional edge in Japan.
It was evident not only in his radio speech during qualifying and his semi-serious offer, to anyone who will listen, that he would be willing to make a one-off F1 return at this race in the future, but even in his helmet design.
Often treated in recent times as a tool to advance whichever cause he has attached himself to on any given weekend, this time Vettel used it to spread a message of thanks to Arai, the Japanese manufacturer to whom he has been linked since the age of eight.
For the first time in a long time, possibly since Vettel claimed his last pole position at Suzuka three years ago, nothing else mattered but the act – the simple joy – of driving a racing car.
No need to try and make the world a better place when there is no better place in the world than Suzuka on qualifying day.
Seb 💚 Japan#DankeSeb #F1 pic.twitter.com/46RlAZDj8I

— PlanetF1 (@Planet_F1) October 9, 2022
At last a freedom returned to his driving, becoming the foundation for his first Q3 appearance since June, before that intelligence for which he is famed saw him make the leap as the first driver to switch to intermediates and recover from a first-lap spin to finish sixth.
Where, it must be asked, has this Sebastian Vettel been all this time? What is it, in an era when Raikkonen and Alonso have marched on into their 40s, that has made him stop at just 35?
Perhaps the nature of this performance has provided a clue to the answer: the talent, in the right circumstances, is still there, but the mind is no longer as willing or as focused as often as it needs to be.
Vettel's eloquence and natural charm will no doubt serve him well in what is sure to be an intensely busy and influential post-F1 life.
But this weekend? On this track for one last time?
The world could wait.
Carlos Sainz is still struggling to restore his confidence
Everyone knows that driving for Ferrari brings more pressure, more scrutiny, than any team in Formula 1.
Carlos Sainz understood that perfectly, perhaps almost too well, when he joined the team at the beginning of last season. His only target for his Ferrari debut in Bahrain 2021 was to avoid mistakes at all costs, even if that meant erring on the side of overcaution in situations like a race start.
Consistency, after all, breeds confidence – and, as a bonus, keeps the tifosi and Italian media off your back.
How galling, then, must it have been to start this season as he did? To make the exact elementary errors he had previously vowed to avoid? To suddenly be inviting all that pressure and scrutiny on his shoulders, having successfully smothered it throughout last year?
He has recovered well to secure both his maiden pole position and victory at Silverstone and he has been unfortunate that the weekends on which he has been blisteringly quick (France, Monza) just happened to be the weekends he had to serve grid penalties.
Ever since that moment of crisis between Melbourne and Miami, however, Sainz has been scrapping to restore his confidence and repair his reputation.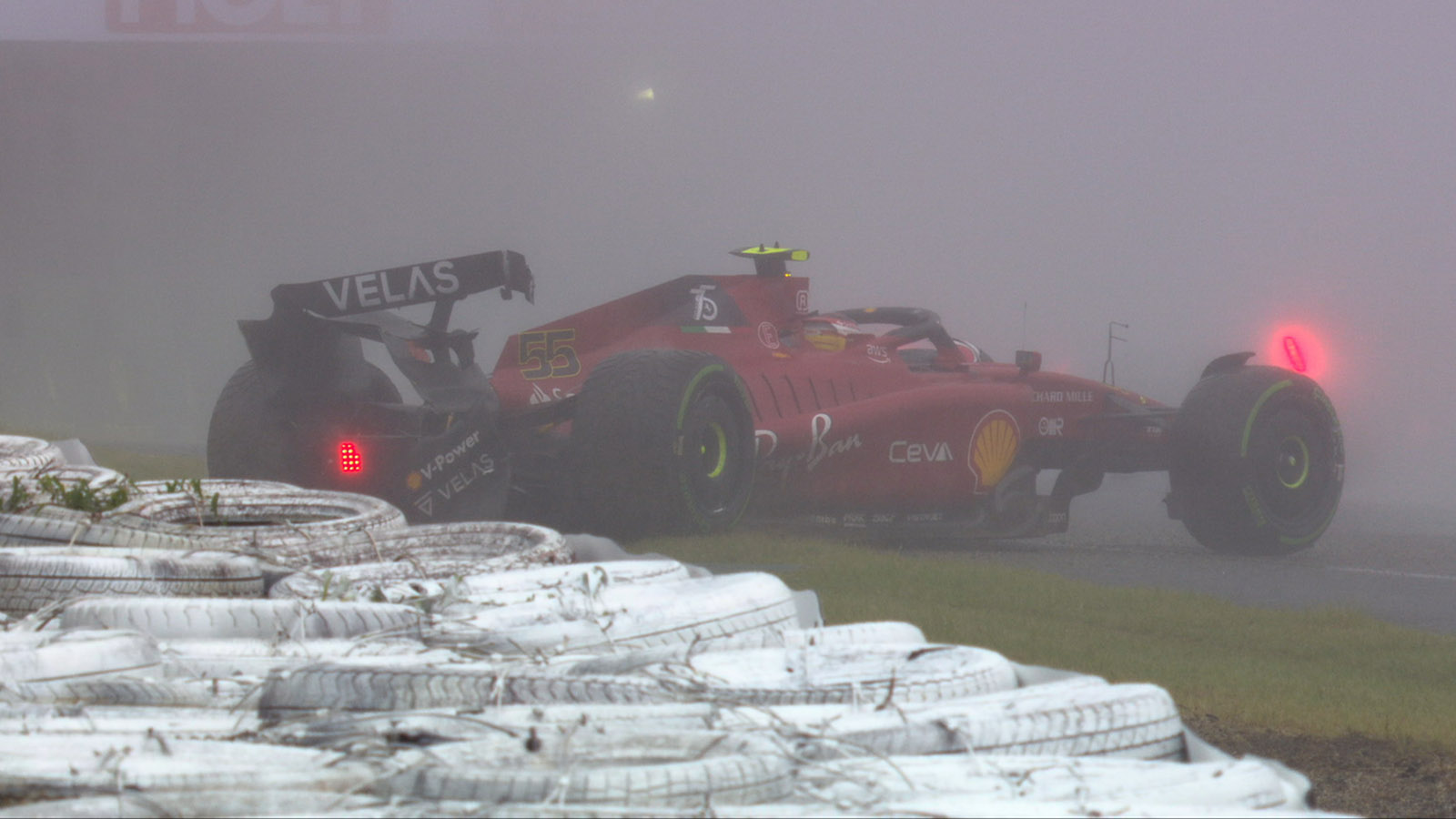 There was only so much he could do to avoid crashing out on the first lap at Suzuka, resulting in his fifth retirement of the season.
Yet at the start of a long race – on intermediate tyres in worsening conditions – it was only Sainz, the so-called wet weather specialist, who ended up in the barrier.
It wouldn't have been so bad had it not come seven days after a pitiful performance in Singapore – another race in 'his' conditions – where he was quickly left behind by Sergio Perez and Leclerc at the front and, if anything, was holding up Hamilton's Mercedes.
On Saturday at Suzuka, Sainz spoke of his frustration of missing out on pole position by less than a tenth, the latest in a string of near misses in qualifying in recent months.
Could it be that, petrified of making more mistakes and falling back into the hole of early 2022, he has become a driver inhibited?
In his determination to keep things clean, has he lost what made him Carlos Sainz?
Esteban Ocon will not let Pierre Gasly have his own way at Alpine
Having advocated for Mick Schumacher to be his new team-mate, Esteban Ocon didn't get what he wanted from Alpine for 2023.
In fact, it's slightly worse than that.
He's getting what he actively didn't want – a reunion with Pierre Gasly, a childhood friend who somewhere along the line became his sworn enemy, whose signing was finally confirmed by the team on Saturday morning.
It is common knowledge that Ocon and Gasly do not get on. What is less clear is exactly why (given the former's reputation for getting on famously with his team-mates, however, it is tempting to picture him as the aggressor in any fallout).
As one of the outstanding drivers of recent seasons – and, of course, winner of Monza 2020 – many will expect Gasly to continue where Alonso left off as the Alpine driver most likely to hit the heights.
Yet there is a toughness and resilience, not to mention a speed and intelligence, about Ocon that should not be underestimated, least of all by his new team-mate.
He defended like a lion 🦁#JapaneseGP pic.twitter.com/2eODspu0EF

— BWT Alpine F1 Team (@AlpineF1Team) October 9, 2022
Ocon recently spoke of his frustration of going eternally under the radar, how people had told him they simply hadn't realised he qualified as high as fifth at Spa – partly, you suspect because of a grid penalty – and had even forgotten he actually won a grand prix in Hungary last year.
At Suzuka – another circuit, like Spa, where the drivers can still make a discernible difference – once again crept up to P5 on the grid, faster than both Mercedes as well as Alonso by two tenths.
His defence against Hamilton in the rain, positioning his car in all the right places to neutralise the Mercedes' better grip with the Alpine's superior straight-line speed, was stunning to secure his best finish of the season and once again move Alpine ahead of McLaren in the Constructors' standings.
F1's invisible man had struck again. Maybe, alongside Gasly, it will be harder to ignore him in 2023…
Suzuka: where the response is more perilous than the accident itself
As the start approached at Suzuka, the nervous expressions on the drivers' faces as they lined up for the national anthem conveyed what everyone was thinking but which went unspoken for fear of tempting fate.
These conditions – this place – looked eerily similar to that day.
Only when the Safety Car was deployed, and a crane sent on track to retrieve Sainz's stricken Ferrari, were the uncomfortable memories of 2014 and Jules Bianchi's ultimately fatal accident brought into full focus.
The greatest lesson from eight years ago – that a recovery vehicle should never enter an active race track – went unheeded to the point of ignorance just a few corners up the road from the point where Bianchi lost his life.
Yet, that said, the Ferrari would have had to be recovered at some point, whether or not the race was red flagged due to the conditions.
Gasly, a fellow Frenchman who still to this day carries a tribute to Bianchi on his helmet, was incensed as he happened across the tractor as he sought to rejoin the tail of the field following a front wing change.
Glad to go home safe tonight. For the respect of Jules, all his family and for our safety and the one of the marshals, there should never be any tractor nor marshals on track in such conditions with such poor visibility. Period.

— PIERRE GASLY 🇫🇷 (@PierreGASLY) October 9, 2022
Yet, as the 2009 World Champion Jenson Button later pointed out, Gasly – in fifth gear – was passing an immobile car surrounded by marshals too fast under Safety Car conditions, regardless of whether a recovery vehicle was present.
The issue here, perhaps, is one of communication (and dare we suggest, as these incidents only seem to happen here, of culture).
Communication between Race Control and the marshals, so a recovery vehicle is deployed only when it is perfectly safe to do so, and communication between Race Control, the teams and the drivers, so when it is the likes of Gasly are given plenty of warning to adjust their speed accordingly.
The abiding memory of Suzuka 2014 is of Martin Brundle speaking passionately, not with sadness, but with the anger of someone who knew it could so easily have been him, having escaped a remarkably similar catastrophe in 1994.
It is a great relief, after "the lowest point we've seen in the sport for years" according to Perez, that Gasly was able to do the same on Sunday.
For all its charm, these unacceptable and recurring situations act as a stain on Suzuka's reputation.
It is the only venue in F1 where the response to an accident is more perilous than the accident itself.
Read more: Pierre Gasly: Recovery truck incident 'disrespectful' to Jules Bianchi's memory