Japanese Grand Prix driver ratings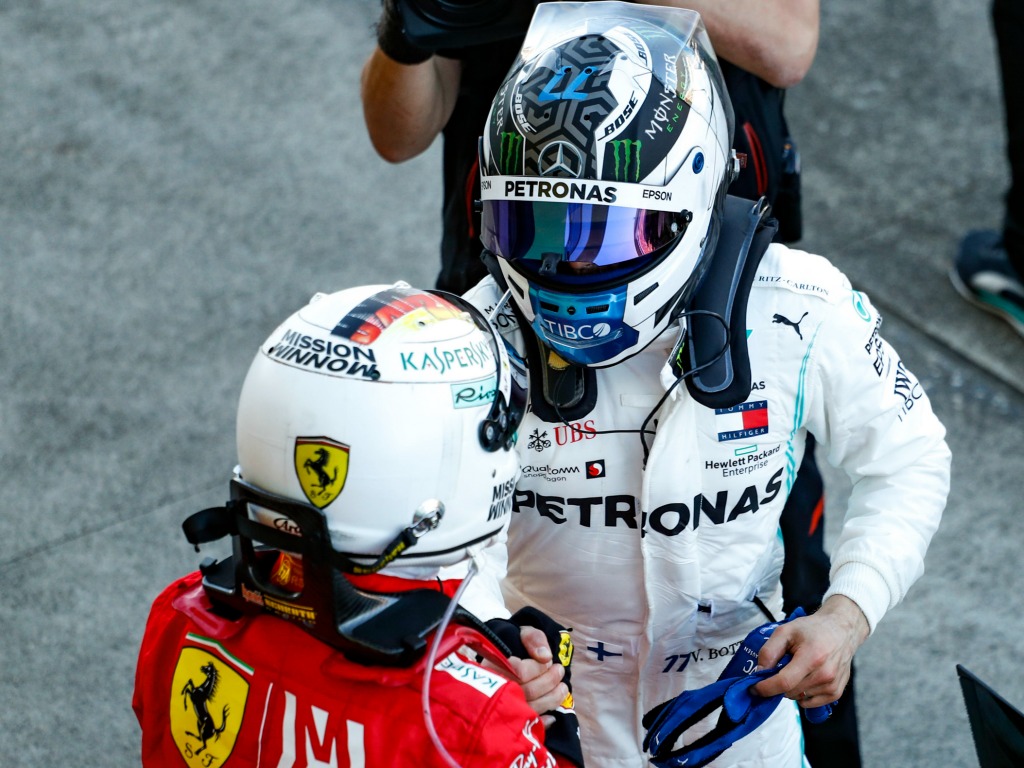 Valtteri Bottas was back in the zone, but a perfect score was exclusively reserved for one midfield runner in the Japanese Grand Prix driver ratings.
Meanwhile, there are signs of encouragement but still work to do for Alexander Albon, plus there is high praise for Daniel Ricciardo. Not so much for Charles Leclerc.
Here is the latest verdict from Late Braking…
Valtteri Bottas: It's been a while since Bottas has been in the zone across an entire race weekend but the Finn was on it in Japan and it helped him towards his first victory since Azerbaijan.
Taking P1 in both practice sessions was an encouraging sign and this was backed up by out-qualifying his team-mate. He then proceeded to become the first driver to win a Japanese GP from P3 as he stormed past both Ferrari drivers at the start, never looking back from there. 9
Sebastian Vettel: Qualifying against Charles Leclerc has proven tricky this season for Sebastian Vettel but it was the German driver who reigned supreme on Sunday morning as he achieved pole position.
After surrendering the lead at Turn 1 due to a false start, Vettel drove a solid race in P2 without being able to challenge the lead. The final stage of the race saw him forced to defend his position with Hamilton behind but Vettel used his experience to stave off the threat. 8
Lewis Hamilton: Mercedes decided to roll the dice on strategy as they left Hamilton out much longer on his first stint to give him the option of stopping once or twice, with ten laps to go they decided on the latter and ultimately could not re-pass Vettel for P2.
It is tough to judge whether Hamilton would have kept P1 on a one-stop strategy but it seems very likely he would have beat Vettel for P2. Regardless, this was enough to give Mercedes six Constructors' championships in a row. 8
Alex Albon: Some more encouraging signs from Albon throughout the weekend and is making a strong case to stay with the team in 2020. Matching Verstappen's lap time in qualifying was impressive and he delivered his best F1 finish in the race.
Albon's start was far from brilliant as he dropped behind the two McLaren drivers. He eventually did finish above both though, one through a reckless overtaking manouevre and the other through a race-long battle. Only finishing a few seconds ahead of the McLaren of Sainz shows there's still work to do though. 7
Carlos Sainz: Carlos Sainz's incredible season continues with another marvellous display. Not only was he one of four cars that did not get lapped by Bottas in the race, he finished 35 seconds ahead of the nearest midfield runner. Yet another impressive display that deserved much more in terms of the Drive of the Day voting. 10
Daniel Ricciardo: The Honey Badger came to play on Sunday as he soared through the field to pick up P6, 10 places higher up than where he started. Considering his disadvantageous starting position, Ricciardo worked the medium tyres well in his first stint before getting some overtakes done in the second half of the race to pick up some good points. 9
Charles Leclerc: After a run of consecutive pole positions, Charles Leclerc could only manage P2 on the grid and it went downhill from there as he was powerless to stop Bottas crusading past. He then found himself under threat from Verstappen and a collision ensued after Leclerc failed to give him the necessary space.
There were some stunning overtakes on the way back through but ultimately they were only necessary due to his own error. The subsequent post-race penalties would only add to the pain. 5
Pierre Gasly: Another race in which Gasly has had the advantage over his teammate and he was rewarded with some solid points, particularly important as they were achieved at Honda's home race. After the devastation of losing the Red Bull drive, it's impressive how he has recovered with some solid performances. 7
Sergio Perez: An uncharacteristically poor performance in qualifying from Perez as he watched his teammate get through to Q2 but he made up for that in the race with a solid showing. He did however receive a big slice of luck as his late crash with Gasly 'didn't happen' due to the chequered flag waving one lap early. 6
Nico Hulkenberg: Hulkenberg rounded out the top 10 and made it a double points score for the Renault team (FIA investigation permitting) after a tough time in qualifying. Hulkenberg was forced to make way for his teammate as he attempted to get past the cars ahead on fresher tyres but all in all, it was a solid day's work for the Hulk. 7
Lance Stroll: It was good to see Stroll put in a solid shift inside the top 10 and feel he was unlucky not to come away with points at the end. Pulled off some good overtaking moves and, unlike his team-mate managed to keep it out of the wall. 7
Daniil Kvyat: Kvyat was well and truly out driven by his team-mate this weekend and it seems as though with Albon finishing fourth and Gasly having another points finish in the Toro Rosso, that Kvyat is now the last option for the Red Bull seat come 2020. He'll need a blinding final four races to be in with a shot.
Lacking the race pace that Gasly had and being unable to defend from cars around him saw the Russian slip outside the top ten. 6
Lando Norris: After the start, Norris looked to be following his team-mate's footsteps and joined him in fighting with the top six. Although not entirely there in qualifying pace, Lando has shown he can go the distance, unfortunately a big slap in the front right by Albon saw his race essentially neutralised and there was nothing further the young Brit could do. 7
Kimi Raikkonen: The Alfa really looked to be lacking strong race pace and even with all the commotion going on up in front of both Kimi and team-mate Giovinazzi, they seemed unable to capitalise on any mistakes or midfield battles. Kimi always goes well here, but this is a rare exception to the Finn's form. 6
Romain Grosjean: Another race of nothing for Romain, probably the driver that went the least noticed across the whole race and his result speaks for itself. The Haas team are rapidly falling towards the back of the grid and Grosjean's input into the car isn't allowing any positive change to happen, it seemed there wasn't any charisma or flair from the Frenchman. 6
Antonio Giovinazzi: After starting two places in front of your teammate and then ending the race two places behind him, without any noticeable issue that has caused you to fall back, it is hard to award someone the same score. Gio qualified well but the race was a different story, stuck running with Grosjean, this is a weekend to forget. 5
Kevin Magnussen: You may question a score of 6 and ask if Gio has a lower rating than his team-mate, then why doesn't Magnussen? Well, for those who missed the early qualifying, K-Mag DNF'd in the session and then during the race, his seat came loose, and he had to drive most of the race with a broken chair, the result wasn't good but he did okay in a really rubbish situation. 6
George Russell: Qualify in front of team-mate? Check. Finish the race in front of team-mate? Check. Don't crash into anything on the way to being lapped twice? Check. Russell once again has had a consistent race and out drove the experienced Kubica, he's doing enough to show he deserves a shot further up the grid whenever one should become fitting for his Mercedes contract. 6
Robert Kubica: Starting from the pitlane is never an easy task but starting from a pitlane in the slowest car by a long shot makes it almost impossible to get any satisfaction out of a race weekend. Kubica was beaten by his team-mate and had a quiet race. The veteran racer isn't what we used to be, but we can all understand why, he is doing exactly what Williams need him to do. 6
Did not finish
Max Verstappen: The race was over before it even began for Verstappen, who is still searching for that usual second half of the season surge we are all used to seeing. Mexico usually brings much better results for Max, who is mighty around there. N/A
The Japanese Grand Prix driver ratings are courtesy of the good folks at Late Braking. You can check them out in the following places:
Subscribe to Late Braking on YouTube
Follow Late Braking on Twitter