Kimi Raikkonen's top ten seasons in F1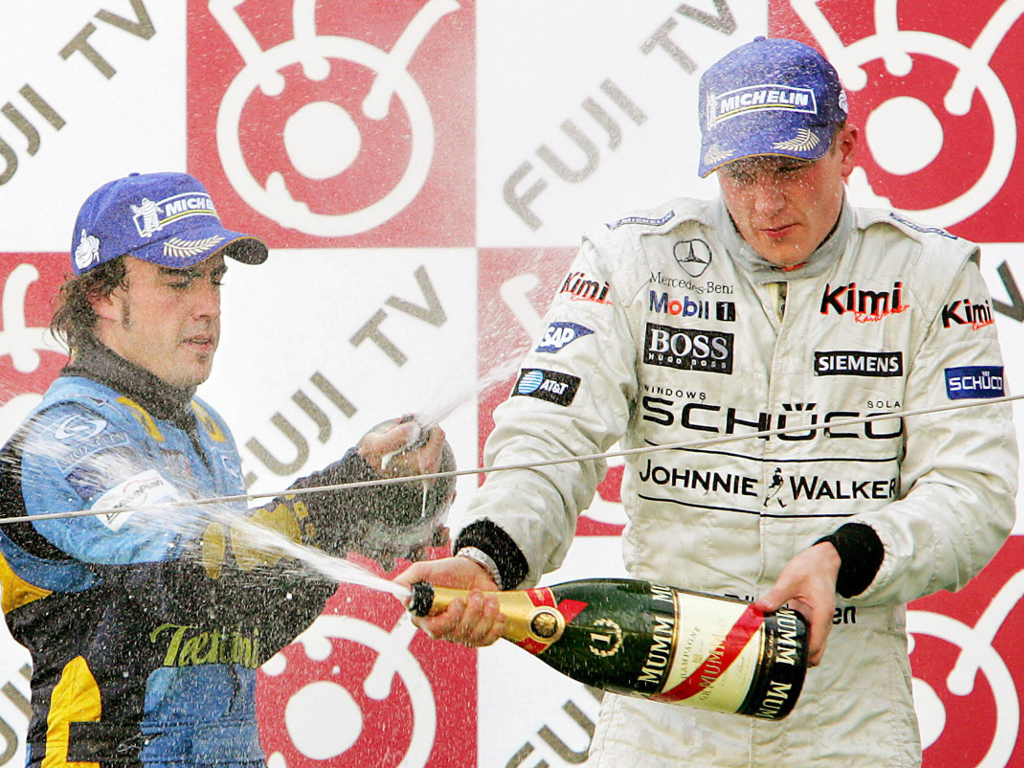 Kimi Raikkonen has spent 17 of his 40 years driving in Formula 1, competing in 311 races, taking 103 podiums and 21 victories. 
Not all of his 17 seasons in the sport have been good, but he's enjoyed successful ones more often than not. These are, in our opinion, his top ten…
10. 2008
Kicking things off is Raikkonen's ultimately unsuccessful title defence in 2008. After 2007's triumph, many had assumed the Finn would go on to make the number one spot his own at Ferrari, much like his predecessor Michael Schumacher had, but instead, he ended up playing a supporting role to team-mate Felipe Massa.
Raikkonen made a strong start to the season, taking two wins and two further podiums in his first five races, but things quickly began to unravel after an error-filled Monaco Grand Prix where he ended up finishing P9 after hitting Adrian Sutil.
Following Kimi's crash while fighting Hamilton for the lead at Spa, his usual stomping ground, Felipe Massa was comfortably ahead of him in the standings and the Finn was resigned to helping the Brazilian win the title in a role reversal of the previous year.
He did at least end the season in the strong fashion that he'd started it, taking three consecutive P3 finishes to steal that very position from Robert Kubica in the Championship. Nevertheless, the string of errors made between these two strong periods led to Raikkonen losing both his title and his number 1 status at the Scuderia.
9. 2019
The fact that the current season makes it into Raikkonen's ten best perhaps says more about his struggles in other years than his success in this one. Even so, it's been a solid if unspectacular return to the midfield and his first-ever team for the Finn.
After being nothing more than a rear-gunner for Sebastian Vettel for four seasons at Ferrari, Raikkonen immediately looked liberated at being able to drive shackle free and for himself, taking points in his first four races for Alfa Romeo, formerly known as Sauber.
The top ten finishes have admittedly dried up since, but that's more a reflection of the car's lack of development rather than Kimi's form. Regardless, he still leads team-mate Antonio Giovinazzi by a whopping 27 points and has only finished a race behind the Italian twice.
8. 2018
Granted, Raikkonen's return to Ferrari was generally unsuccessful, with him being comfortably beaten by team-mate Vettel year after year. However, in his final season at the Prancing Horse before being replaced by Charles Leclerc, Kimi finally rediscovered some of his old self.
He was unlucky not to win the first race at Melbourne where he looked to have the beating of Vettel before a Saftey Car handed the German the victory, and the bad luck continued in Bahrain where he retired after being released from his pit-stop too soon.
Thankfully, the Iceman quickly shook off his lack of fortune and, from the French Grand Prix onwards, went on a run of five consecutive podiums before finally taking another victory, his first since 2013, in Austin by superbly holding off Lewis Hamilton in the closing stages.
Raikkonen ended the season with 12 podiums, the same as Vettel, one win and 251 points, which were enough to give him P3 in the Championship. It wasn't a great season by any means, but it proved that there was life in the Iceman yet.
7. 2002
Coming in at number seven is the Iceman's first, unreliable but impressive season at McLaren. The British team were impressed with the then 22-year- old's first season in the sport and thus chose him to replace compatriot Mika Hakkinen, putting him alongside David Coulthard.
On face value, it looks like it was a terrible season for Raikkonen, with him only scoring points in six races and finishing behind his team-mate. However, his car suffered extraordinarily bad reliability, and eight of his 11 retirements were down to no fault of his own.
Of the six races in which his car actually made it to the end, the Finn finished in P4 twice, P3 three times and P2 once. Furthermore, of the three races himself and Coulthard both finished, Raikkonen was the lead McLaren twice.
All in all, not finishing a race outside the top four and getting four podiums in your first season at one of the sport's biggest teams is not half bad for a bright-eyed 22-year-old.
6. 2001
Many eyebrows were raised when Raikkonen joined the grid in 2001. Having driven just 23 races in the lower classes, the FIA were unsure he was of the required calibre to drive in Formula 1. Nevertheless, after he and Sauber won a vote, he was granted a provisional license, and he took his chance with both hands.
His first ever race was hugely impressive as he finished in P6, taking his first points at the first time of trying, and he added to this tally five races later when he finished P4 at Austria. In a car that was often unimpressive and unreliable, he'd go on to finish in the top five twice more before the end of the season.
Kimi ended the season three points behind more experienced team-mate Nick Heidfeld, and their combined totals were enough to give Sauber their best ever season at the time. More importantly, the Finn's performances were good enough to convince McLaren to give him a seat for the 2002 season over Heidfeld.
5. 2013
After proving he still had it upon his return to the sport in the previous season, Raikkonen continued to consolidate himself as one of Formula 1's best in 2013, despite some off-track issues.
Things got off to a dream start for the Finn as he won the first race of the season in Melbourne having started in P7, thanks to an excellent strategy. He'd then go on to take five P2 finishes in the first half of the season and was P2 in the Championship after Hungary, well in title contention.
However, his title challenge would fall apart in the second half of the season. The improved form of team-mate Grosjean, the rumours linking him to Ferrari and the emergence of the news that he hadn't been paid by Lotus all season all had a negative impact on his results, and he left the team with two races left.
Nevertheless, one win and eight podiums marked another strong season at the team. Furthermore, he broke the record of consecutive points finishes, largely due to a stunning late charge in Monaco.
4. 2003
Finally having a car quick enough and reliable enough to compete at the top, 2003 was the first season that Raikkonen truly showed just how talented a driver he was.
It was immediately clear that Kimi was going to be in title contention this season as he took his first-ever victory in Malaysia .and five further podiums in his opening six races, taking the fight to Michael Schumacher and Ferrari.
Even as the car's development stalled and Ferrari became quickest by far, Raikkonen still kept himself in the title race thanks to a strong finish to the season which saw him finish P2 in three of the last four races.
Ultimately, it wasn't enough as he finished two points behind Schumacher, but he could have quite easily claimed his maiden title this title if not for an engine failure in Germany, and if his car was just that bit quicker. Still, as shown by the fact he finished the season 4o points ahead of team-mate Coulthard, he got everything he could out of the car.
3. 2012
When Raikkonen returned to the sport after two seasons away, many questioned his motivation and abilities. Come December, he'd made them all look like utter fools.
Despite often struggling in qualifying, the Iceman nearly always brought his A-game to the race, shown by his first weekend back where he started P17 and gained ten places on the Sunday, and in Bahrain, where he started P11 and finished P2, his best result since his comeback at the time.
He'd soon go one better though, taking his first win since 2009 and Lotus' first since 1987. It may well be best remembered for the iconic team radio, but it was a stunning drive in itself, with the Finn holding off Fernando Alonso in the closing stages of the race.
Ultimately, it was a near-perfect season for Raikkonen. He finished every race, only failing to score points at one of them, got seven podiums and took P3 in the Championship, ahead of the likes of Lewis Hamilton, Jenson Button, Mark Webber and Felipe, all who you could argue were driving superior cars.
2. 2007
We may not quite consider it his best, but 2007 was certainly Raikkonen's most important and most memorable, as it led to his first and only World Championship. After jumping ship from McLaren to join Ferrari, replacing the mighty Schumacher, the pressure on Kimi's shoulders couldn't have been bigger, but he was as unfazed as ever.
After winning the first race of the season, the world's attention soon switched from the Iceman to the battle brewing at McLaren between Hamilton and Alonso, which suited him perfectly. While the two focused on beating each other, Kimi went under the radar to take two further victories in the first half of the season to stay in the mix for the title.
His Championship was won in the final seven races, though. As Alonso and Hamilton faltered – who can forget the Briton's error in China? – Raikkonen continued to rack up the points, getting a podium in each of the races and taking one of his most memorable wins in Brazil on the final day to become a World Champion.
Many say Kimi was handed the title by McLaren's mishaps, but he without a doubt earned it himself, winning the most races, breaking lap records and handling the immense pressure of a title fight far better than his rivals.
1. 2005
The most wins, the most podiums, the most pole positions and the most points (when adjusted to the current scoring system) in a season for him. Oh, and arguably his best win. This was Raikkonen at his very, very best.
He was heading into the season on the back of a disappointing 2004, and it looked as if things weren't going to get any better when he finished P8 and P9 in his first two races. However, things soon picked up as he won back to back wins in Spain and Monaco, putting himself right behind Championship favourite Alonso.
As is often the case with Raikkonen, his best driving came at the end of the season, as he won four of the last seven races, including a quite incredible triumph in Suzuka. There, the Finn started from the back of the grid before fighting his way to the front, passing Schumacher and putting in some stunning laps to pit and come out ahead of front-runners Webber and Button, but behind leader Fisichella. With his form that day though, he quickly caught the Italian and passed him for the win.
In any other season, Raikkonen most likely would have been crowned a World Champion. A ridiculously consistent Fernando Alonso and two DNF's in San Marino and Germany meant it wasn't to be, but it was peak Iceman nonetheless.
Finley Crebolder
Follow us on Twitter @Planet_F1 and like our Facebook page.