Birthday boy Lando's best moments in F1
Lando Norris, 21 today, has given us countless great moments, both on and off track, since joining the world of Formula 1 in 2019.
In the car, he's established himself as one of the most exciting young drivers around with some stunning performances, and he's been equally as entertaining outside of it.
Without further ado, here are some of the best bits of his F1 career to date.
Making his mark (Bahrain 2019)
Norris's first race in the sport was something of a disappointment as, after qualifying in an excellent P8, he dropped down four places on Sunday and failed to score any points. Happily, he made up for it in the next round in Bahrain.
It didn't initially look like that would be the case as, starting in P9, he immediately dropped down to P14 after being forced off track by Kimi Raikkonen. However, the McLaren driver put his head down and did a stellar recovery job.
A combination of excellent tyre management, clean overtakes and the strongest pace of the midfield runners put him in P6, and he held off Raikkonen flawlessly to finish there and take his first points in F1.
"…forever ever?!" (Austria 2019)
Lando's second top-six finish came seven races later in Austria in what was another excellent showing from the Brit. However, the most memorable moment of his race, at least in our eyes, came over the team radio.
After passing Daniel Ricciardo, Norris was asked on the radio to keep the Aussie within DRS range to make life harder for the Red Bull of Pierre Gasly. His response was golden.
Forever? Forever-ever? Forever-ever? 💍

Forever wasn't too long for @LandoNorris#AustrianGP 🇦🇹 #F1 pic.twitter.com/zVAnxWHXX8

— Formula 1 (@F1) June 30, 2019
The message made it into every end of season "best team radios of 2019" compilation and gave us an early glimpse of the sense of humour he has since become renowned for. Speaking of which…
Laughing Lando (Silverstone 2019)
The perfect press conference doesn't exi… 😬😂 pic.twitter.com/0kYdiCVTCW

— Lando Norris (@LandoNorris) July 11, 2019
Norris and Ricciardo have had many thrilling fights on the track since the former joined the grid, and many hilarious interactions off it, including this cracker.
With the conversation turning to facial hair at the British Grand Prix press conference, the Aussie leaned over and asked Norris if, given his age, he had any hair – err – somewhere else on his body. While Lewis Hamilton, sat between them, tried to give a serious answer to a question, Lando lost it, cracking up and crying with laughter.
The sport and its press conferences, in particular, can often be somewhat dull, so it really was a breath of fresh air. Every time we re-watch it, we get more excited about McLaren's 2021 line-up.
Lockdown Lando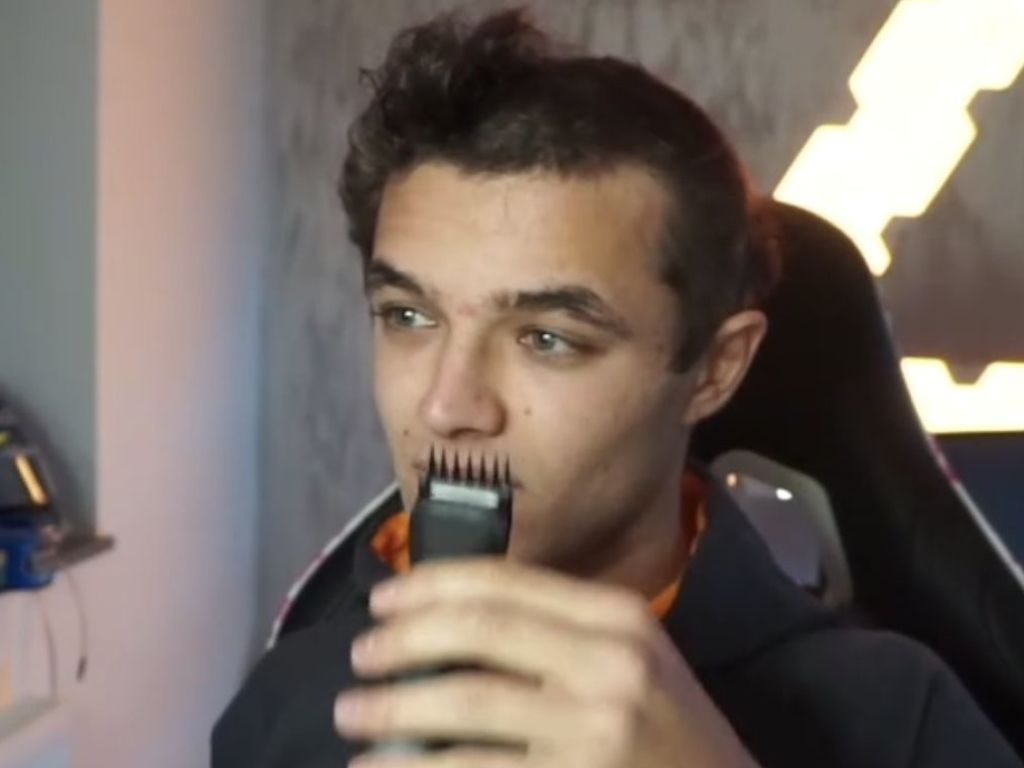 As the global pandemic brought Formula 1 to a halt and kept everyone locked inside, Norris did everything he could to keep the fans entertained with his streams.
Highlights included shaving his head for charity, joking around with fellow drivers, racing against fans online and calling Max Verstappen for advice – and some consoling words – when being constantly kicked out of the Virtual Grand Prix series due to his dodgy broadband.
He raised a lot of money for a lot of good causes, gave us a rare insight into the life of an F1 driver away from the paddock and gave us something to watch in those oh-so-boring months. Let's hope for the same again once the 2020 season is over.
Maiden podium (Austria 2020)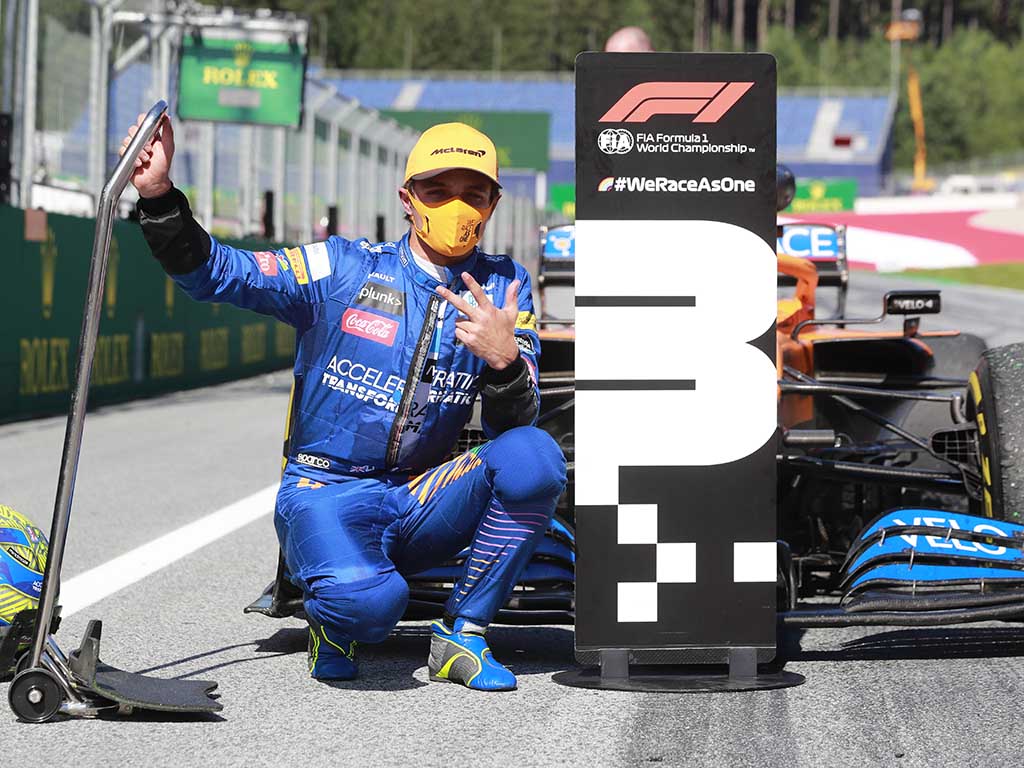 There have always been those who have criticised Norris for not being serious enough to succeed in F1, and those comments only grew during his lockdown antics. In the first race back, he proved them all wrong in emphatic style.
First came a stunning qualifying performance in which he went fourth quickest and started in P3 due to a penalty for Hamilton. Even so, finishing on the podium for the first time seemed a long shot.
However, with just a few laps left of a chaotic race, his first top-three finish was in reach. Mind you, he still had to pass Sergio Perez and get within five seconds of Hamilton.
Incredibly, he did both, barging past the Mexican before putting in his first-ever fastest lap on the final one to secure a P3 finish in some style and become the third-youngest podium finisher in the history of the sport.
Another late charge (Styria 2020)
At the same track a week later, Norris couldn't manage another podium but was every bit as impressive with another thrilling late flourish.
After starting in P9, he got stuck in a DRS train and failed to move up the order early on. However, he went longer in his first stint in order to have fresher tyres at the end, and it paid off.
With much better pace than the rest of the midfield, he was in P8 with two laps to go. First, he overtook Ricciardo, and then on the final lap, he got past Lance Stroll before taking P5 from Perez at the final corner. It was hard to imagine him putting in a better performance than he did at the first race in Spielberg, but somehow he managed it. Behold 'Last Lap Lando'.
An extraordinary last lap from @LandoNorris as he passes Stroll and Perez to snatch P5 at the Styrian Grand Prix 🚀 😮#AustrianGP 🇦🇹 #F1 pic.twitter.com/87yQtu7xk7

— Formula 1 (@F1) July 12, 2020
"I apologise for what I said" (Portugal 2020)
As Elton John says, sorry seems to be the hardest word, and that's especially true for Formula 1 drivers. Many of them are too stubborn and competitive to ever apologise, but not Norris.
The Briton was understandably furious after being hit by Stroll on lap 18 of the Portuguese Grand Prix, and in the immediate aftermath called the Canadian a number of rather strong expletives.
As soon as he crossed the line at the end of the race though, he got back on the radio to apologise for what he said, and also did so in person with Stroll. It was the sort of gesture that is almost never seen in the sport and showed what a good bloke he is.
If everyone was more like Lando, the grid would be a better place.
Happy Birthday, Lando…let's hope for some belated champagne celebrations on the podium…
Finley Crebolder 
Follow us on Twitter @Planet_F1 and like our Facebook page.