Lando Norris v Daniel Ricciardo: One can still make good excuses for the team, the other ran out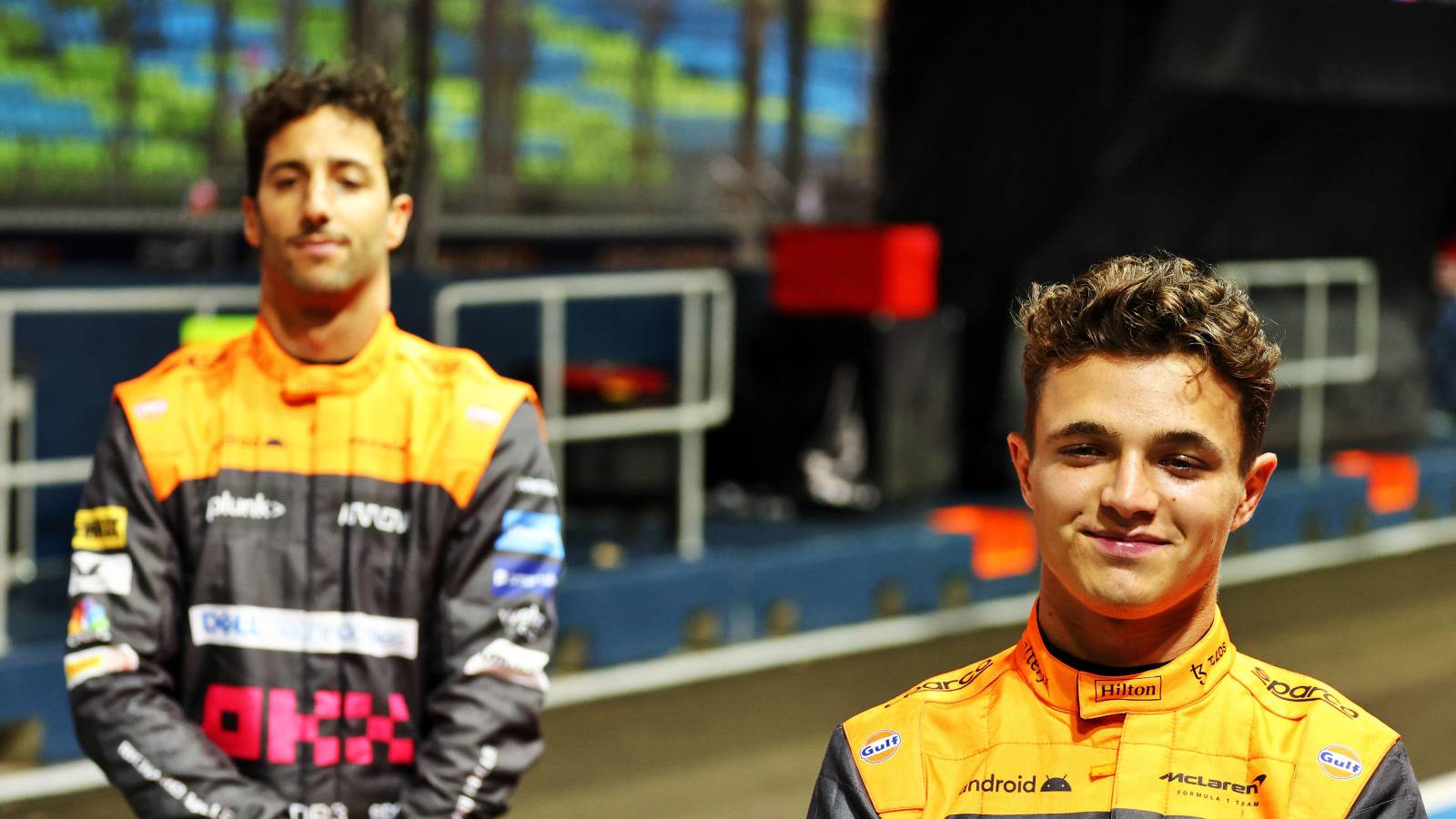 Qualifying: 20-2
Races both finished: 14-4
Points: 122-37
If Lando Norris walked away from the 2022 season frustrated with his spate of P7s and McLaren's inability to even entertain a fight for podium finishes, one can only imagine how Daniel Ricciardo felt having to shoulder both his and the Woking team's failures.
Because that's what it was: a collective failure and one for which the Honey Badger has paid the price.
Having missed the second of the two pre-season outings through illness, Ricciardo began his second campaign with McLaren on the back foot given this year's all-new technical regulations and brand new cars. But, he predicted, 2022 will be a "bundle of fun". How disappointingly wrong he was.
McLaren's MCL36 had severe brake problems to start with, putting the team behind in their development as they worked to resolve that, a problem for Ricciardo's late-braking style. But even once that was sorted, they were still stuck with a car lacking in front end grip.
Norris said he struggled with a car that was "very unsuited" to his style and had to adapt to it. He billed his efforts as a "reasonable job" but it was exceptional compared to the other side of the garage.
In qualifying he beat Ricciardo 20 times out of 22 and was never once eliminated in Q1. The same cannot be said of Ricciardo, out in Q1 on five occasions. Norris also progressed to the pole position shoot-out 16 times with a best of P3 at the Emilia Romagna Grand Prix. Ricciardo managed just seven Q3 appearances, his best grid slot a P6 which was also at Imola.
The 23-year-old also had the better of the eight-time grand prix winner on Sundays, beating him 14 times to Ricciardo's four and out-scoring him by 122 points to 37. Norris orchestrated the team's only podium celebration with a third place at Imola, but that was it for the champagne celebrations.
As the season progressed and Norris brought in the points, problems, pressure and pundits piled up on Ricciardo's shoulders as just about everyone in the paddock asked what the hell was wrong. That was soon followed by questions about whether he deserved a spot on the grid such was the disparity between himself and his team-mate.
While team boss Andreas Seidl played the diplomacy game, McLaren weren't "giving our drivers a car that's capable of being at the front on a regular basis", McLaren CEO Zak Brown didn't hold back and told the world Ricciardo had "not met our expectations". The writing was on the wall.
Although the driver scored four points in the four races between Brown's declaration and the start of the summer break, Ricciardo returned in August to jointly announce with McLaren that they'd be ending their relationship at the end of the year, two years into his three-year contract.
It was thought his run-in to the season finale could maybe bring out the best of the former Red Bull driver, the pressure well and truly off his shoulders, but he managed just three top-10s in nine races to Norris' seven. McLaren's call to drop him justified.
It was a frustrating year for Norris, who says "honestly no" to the question of whether McLaren achieved what they should have, and it was a wretched one for Ricciardo whose own "honestly" was "it's just 2022 – when you think it can't get worse, it does."
For McLaren their "honestly" was not to blame Ricciardo for them missing out on P4, after all Seidl said it was "the team's responsibility not to get it to work together with Daniel in the way we were hoping for".
Ricciardo is now returning to "Mum and Dad" at Red Bull for a year on the sidelines in which he can lick his wounds and figure out what comes next. As for what comes next for McLaren, that needs to be a big step forward in 2023 as Norris reckons "at the moment, we can still make good excuses" but that won't last much longer.
The Woking team will have a new driver on the payroll next season in Oscar Piastri, the team swapping one Aussie for another and hoping the younger edition will do what Ricciardo could not.
Read more: Pierre Gasly v Yuki Tsunoda – Two drivers in desperate need of fresh starts