British racing in safe hands after Hamilton retires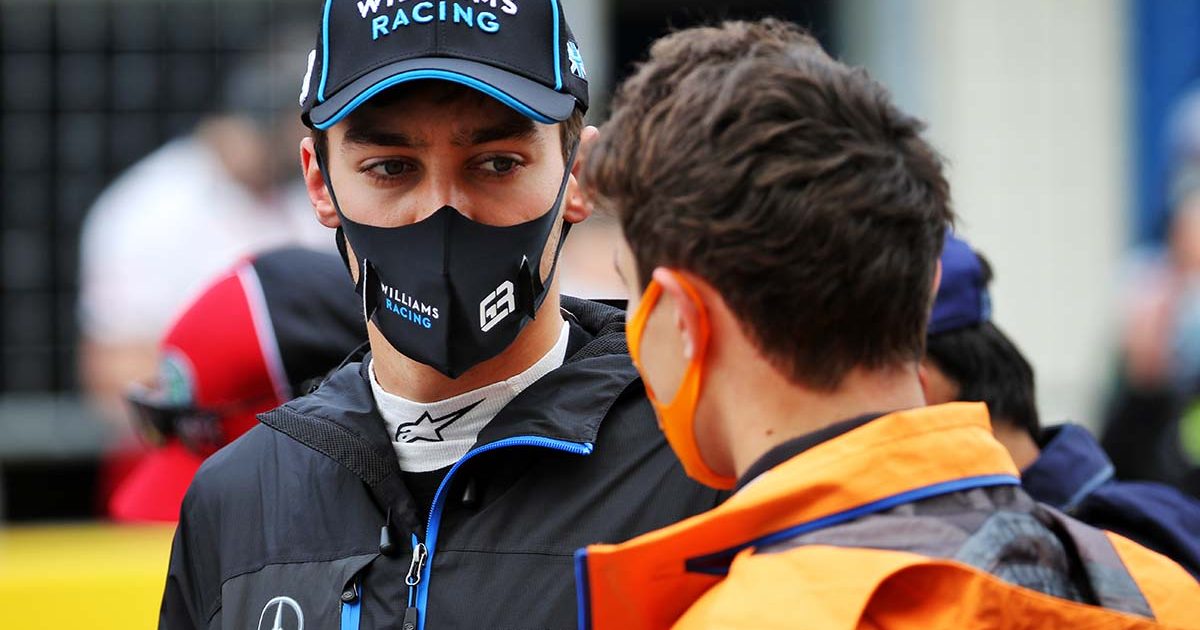 Lewis Hamilton won't be around forever in F1, but Lando Norris and George Russell are showing they're more than capable of taking his place.
Thanks to Hamilton, Great Britain has been the dominant nation in Formula 1 during the hybrid era, but watching the last two races, you'd be forgiven for thinking that's about to change just as we start a new chapter.
Max Verstappen was in a league of his own at the Red Bull Ring, winning both races with ease to give himself a sizeable lead over Hamilton in the title fight.
His dominance was symbolised in the grandstands, where thousands of fans travelled from the Netherlands to turn the circuit into a sea of orange.
However, there's strong reason to believe that such a scene isn't symbolic of the sport's future as a whole as, thanks to two drivers in particular, the red, white and blue of GB will still be very much present, even after Hamilton is gone.
Torquing Point - Lando Norris makes massive impression
Henry and Charlotte from www.planetf1.com podcast 'Torquing Point' discuss Lando Norris' impressive display at the Red Bull Ring.
That was evident during the Austrian Grand Prix weekend, with Norris and Russell both looking immensely impressive from the start of qualifying to the end of the race.
They were arguably the two stand-out drivers on the Saturday, with the Williams driver making it into Q3 and Norris securing P2, missing out on pole position by the narrowest of margins. Both are enormous achievements given the machinery they have at their disposal. For evidence of that, you need only look at how their team-mates fared.
Norris was just as good on the Sunday, having enough pace to go toe to toe with the Mercedes drivers and beat one of them to secure a podium finish. If not for a very harsh penalty, he could well have crossed the line in P2, which would have been the highest finish for a British driver not named Lewis Hamilton since Jenson Button won the 2012 Brazilian Grand Prix.
Things didn't go quite as well for Russell as he dropped out of the points, but asides from a poor start, it wasn't a bad display from him by any means, shown by the fact that he was in P10 with just three laps to go. He couldn't quite hold off Fernando Alonso, but he gave it a mighty good go.
Their displays in Austria didn't just come out of the blue either, with both of them being in the driver of the season conversation so far.
While team-mate Nicholas Latifi has constantly been knocked out in Q1, Russell makes it into Q2 on a regular basis ahead of drivers in better cars and had come close to the top-10 shootout a few times before finally crossing that barrier in Austria.
Norris meanwhile has arguably been the driver of the year thus far. In a midfield car, he has stood on the podium in a third of the races this season and has more points than the Mercedes of Valtteri Bottas.
Both the McLaren man and Russell have comfortably out-performed their team-mates and have been the best performers out the midfield pack and backmarkers respectively.
What's more, they're looking better and better as time goes by. If they continue on the trajectory they're on, they'll be indisputably two of the best drivers on the grid sooner rather than later, and there's no reason to think that they won't.
Champagne not sweat 😂#SkyF1 #AustrianGP 🇦🇹 pic.twitter.com/uDPeYiGgO5

— Sky Sports F1 (@SkySportsF1) July 4, 2021
Both undoubtedly have an enormous amount of talent, but to succeed in Formula 1, you need the right attitude too, and from what we've seen from them since they joined the grid, they have it.
Outside of the car, they conduct themselves remarkably well for such young drivers, always coming across as friendly, professional and respectful, which hasn't always been the case for drivers at the beginning of their careers.
Both have had their respective questionable moments, of course (nobody is perfect), but they've both also shown impressive mental strength, quickly apologised for flippant remarks and immediately bounced back from setbacks, not allowing the disappointments to affect their future performances for too long.
Less importantly for them, but great for us, the two – like so many of the younger drivers these days – are willing to have a laugh, which is really refreshing to see and undoubtedly a good thing for the sport going forward.
All in all, there are no signs away from the track to make us worry that they won't fulfil the enormous potentials they have.
How much can they achieve with such potential? Well, that does of course largely depend on the cars they find themselves in, but there's reason to be optimistic in that department.
Russell looks all but certain to move to Mercedes sooner rather than later, and could well be the lead driver there once Hamilton retires.
As for Norris, he is establishing himself as the number one man at a McLaren team that is on the up and has the resources to challenge for titles once the regulation changes come into play.
Becoming the 11th and 12th British World Champions won't be easy with the likes of Max Verstappen, Charles Leclerc and many more to contend with, but at the very least, the nation will be fighting for titles for years to come.
Finley Crebolder
Follow us on Twitter @Planet_F1, like our Facebook page and join us on Instagram!