Why Lando Norris could be tempted to look for the McLaren exit door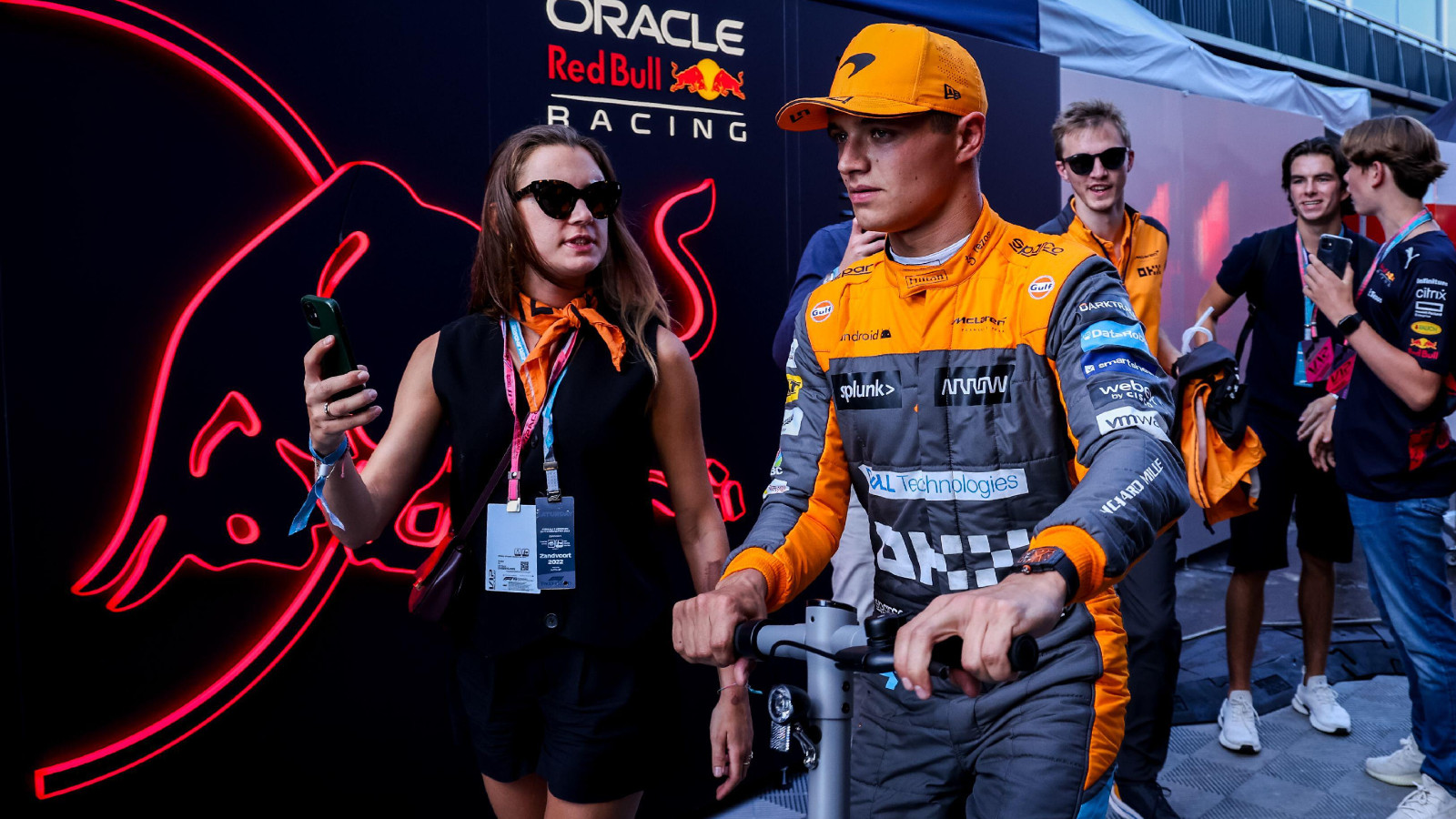 For a man who would appear to have it all, Lando Norris does not possess the one thing he probably wants the most.
A winning Formula 1 car.
Approaching his 23rd birthday, Norris has the boy-band looks and seemingly almost universal adulation from fans.
He has the money, with his salary reported to be a cool £10.5million a year. He has the dream job and the talent to carry it off – he is not just good, he is very good. All of that combined suggests the brightest future imaginable.
But the McLaren adorned with No 4 has never won a race. And that looks unlikely, barring something crazy, to change in the near future.
Not because of anything Norris has done, or is doing, wrong. He has said he is genuinely surprised he has finished on the podium once this year, at the Emilia Romagna Grand Prix.
And as we approach the end of the first year of the four that comprise the long-term contract Norris signed with McLaren in February, could he now be thinking he has tied himself down for too long?
There have been signs of unrest from Norris as this season has progressed. Little grumbles here and there, hints of impatience, another reference to talks with Red Bull before he committed himself to McLaren.
That P3 at Imola was the only time in the first 20 races of 2022 a driver from outside of Red Bull, Ferrari and Mercedes has finished on the podium. Yes, it was Norris who achieved it, but it's three fewer podium appearances than he had in 2021 – when, in addition, he went close to winning in Sochi.
Back in pre-season, McLaren team principal Andreas Seidl said there were "no get-outs on both sides" in Norris' contract, therefore none of the "mechanisms" the team utilised to oust Daniel Ricciardo from his deal at the end of this year and bring in rookie Oscar Piastri from 2023.
If that is true, and there really is no loophole for Norris to exploit before December 2025, might he be starting to regret it?
Lando Norris has little love for the MCL36
In assessing whether the first cracks may be starting to appear in the McLaren-Norris relationship, which began in 2017 when he joined their Young Driver Programme, let's look at his comments about this year's car.
Basically, he has not enjoyed driving it.
On several occasions he has said the MCL36 does not suit his driving style, even stating it is a better fit for his struggling team-mate Ricciardo than for himself.
"From what I want from the car, it's like the opposite of what it's giving me at the minute," said Norris. "I would say the car I have now is completely not what I want for my driving style and very unsuited for me.
"It's not a bad thing, it's just that's what it is and you have to adapt to it. That's why I feel like I've done a reasonable job this year, adapting to something that isn't quite what I want or like."
He subsequently added: "There have been things saying 'well he (Ricciardo) doesn't suit the car' and all of that stuff. Everyone thinks I do suit the car and the car's made around me and all of that stuff. But it couldn't be more untrue.
"It's far from a car I would want in an ideal world and say 'if I want to go and do the best lap possible and give me that car to do so', it's definitely not the car I have now."
He is still seventh in the Drivers' Championship – one place below where he finished in 2021 – but it has been a case of Norris outperforming the car.
So much so that after the Italian Grand Prix, he described a P7 finish as "one of the best [drives] I've done this year, almost in Formula 1" after recovering from a tardy start – despite having finished second at the same venue 12 months earlier.
How can life at McLaren improve for Lando Norris?
In the new era of F1 regulations that began this year, it must have been frustrating for Norris to have seen Ferrari, with whom he was battling last season, start winning races straight off the bat – including one for Carlos Sainz, his former McLaren team-mate.
But when he signed his long-term contract, Norris knew it was not a short-term project at McLaren because they are still building the infrastructure they need to put them on a level playing field with the front-runners.
He has clearly always planned to give them 2022 and 2023 to get themselves into shape with the new wind tunnel and simulator, saying recently about 2024: "That will be our first year in which we no longer have any excuses. At the moment, we can still make good excuses.
"We always look at what we can do better and 2024 will be the first year when we will operate almost at the level of the top teams with our infrastructure.
"We have a better understanding of why we haven't taken as many steps forward as we wanted to in the last two years.
"I have to have faith that the team can do a good job."
However, what if McLaren continue to tread water in 2023? If they do, and remember there will be much more carryover from the current cars than for the all-new 2022 challengers, that "no excuses" comment for 2024 may start to take on a hollow ring.
Pointedly, he also said in a recent interview: "You know you might not win a race for many years and your opportunity may come in 12 years or something like that.
"It's frustrating at times because you feel like you deserve more at certain periods, no matter how much hard work you put in."
not a mega race, but we made the most of it and brought back double points. gg @danielricciardo pic.twitter.com/tbG9QYN362

— Lando Norris (@LandoNorris) October 30, 2022
If Lando Norris was seeking a McLaren exit, where would he go?
Let's face it, he may not be short of options – or potential suitors.
Looking ahead to the next couple of years, the right doors could well open.
Taking the current 'big three' individually, with George Russell seemingly locked in at Mercedes, a move there would all hinge on how long Lewis Hamilton chooses to continue competing.
Hamilton has publicly praised Norris' driving mid-race – in Austria last year – and another all-British line-up would provide a sense of continuity…although it would also put his friendship with Russell to the test!
Mercedes may be looking at Esteban Ocon, another Toto Wolff protégé, as Hamilton's eventual successor though.
Ferrari? How ironic if Norris were to replace his pal Sainz. But that seems to be the longest shot among the 'big three' and unless the Spaniard or his team-mate Charles Leclerc took a serious downturn in form, there would be no great urgency for the Scuderia to make a change.
Red Bull though, now that's another matter. Not least because when he committed to McLaren in February, Norris said there had been "little chats here and there" with other teams and "you'd probably be able to guess reasonably well" who they were.
More recently, he went further – and named them.
"There have been talks with Red Bull," he admitted. "They are a team that has been in the top three for years. Although there were talks, I felt McLaren was better for me to achieve my goals."
That was then, and this, as they say, is now. We all know which team have won 16 races and counting this season.
Norris would not replace his mate Max Verstappen at Red Bull, of course. It would have to be Sergio Perez.
And not necessarily because of anything Perez has done, or will do, wrong. We just wonder for how long the Mexican will choose to race on, given the increasing demands on drivers – especially those that are fathers.
In April, Perez said: "We basically have zero time for ourselves and for our families. I have a couple of young children [with a third on the way]. I think if the calendar [expands] more, then I definitely will not do it."
Since then, a 24-race schedule, up two from this year, has been announced for 2023.
Verstappen and Norris as Red Bull team-mates? What a dream prospect that would be for the neutrals, if not the rival teams.
And unless anything dramatically changed in the pecking order over the next year or two, it would give the young man who has (almost) everything the last big item remaining on his wish list.
A winning Formula 1 car.
Over to you, McLaren.
Read more: Lando Norris tells Ted Kravitz: 'You should try driving, mate!'