Laurent Rossi should look inwards if searching for who to blame at Alpine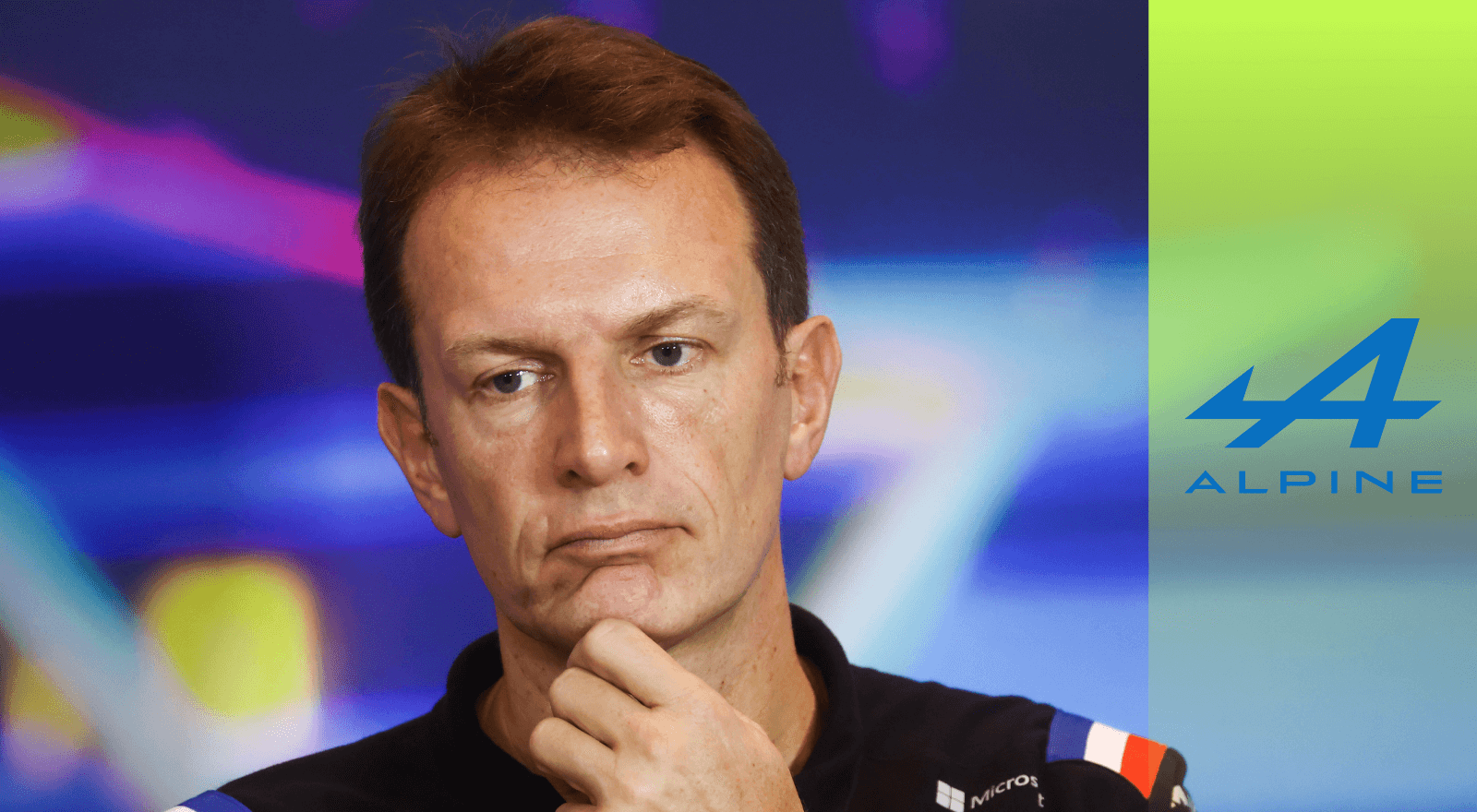 "Rossi's desire is to be alone, not to be polluted by anyone. He told me he no longer needed advice. There is a real desire to put a lot of people on the sidelines."
Those were the words of Alain Prost after his less-than-amicable departure from Alpine in 2022. The four-time World Champion had been serving as a special adviser for the Renault team since 2017 yet, his services were deemed no longer necessary just a year after the arrival of a new head honcho.
Even Laurent Rossi's entrance into the world of Formula 1 is rather perplexing. Cyril Abiteboul had been sacked out of the blue ahead of the rebrand to Alpine and in came Rossi whose most recent title within the Renault group was director of strategy and business development.
Since that appointment as CEO in January 2021, the Frenchman has been concerned with far more than just business matters at Alpine.
This week he made headlines after unleashing a tirade of threats against his own team and in particular team principal Otmar Szafnauer.
"We started the season behind development targets," he told Formula1.com. "We were lacking performance compared to where we wanted to be to cement P4. We have made a lot of mistakes, too many mistakes, over the weekend. When you compound that relatively lower performance and lack of operational excellence you end up in a difficult position.
"It makes for a difficult year ahead. The season is still young. I don't want to give up, but a couple of things need to change. We need to continue reinforcing the team to get the performance back. One of the things that needs to change, as it's largely the same team as last year, is mindset. It is something that needs to change for people in the team now and new people we are going to add.
"It starts with owning up to your mistakes, to not repeat the mistakes, to learn from your mistakes. It's okay to make mistakes, it's not okay to make them twice because it means you didn't learn. This year, there is a lot of excuses, which lead to poor performance and a lack of operational excellence.
"I need to tackle this, I need the right people to tackle this. I need the team to be aware they need to do that as it's not up to me – it's up to them, they have to do it. It's their responsibility. I hope they make the same diagnosis. I will make it clear to them that this is the diagnosis and they need to fix that."
The rather jaw dropping interview made for grim reading for anyone who was even remotely associated with Alpine.
Szafnauer, seemingly enemy number one, did his best to extinguish the fire as he realised Lawrence Stroll was not the most difficult person to work under, while both Esteban Ocon and Pierre Gasly spoke of the negative effects the words of their CEO had on the team.
But if anyone deserves to be put under the microscope, is it not Rossi himself? An analysis of his time so far in Enstone so far would suggest there is some cause for some self-reflection.
Big name departures suggest all is not well at Alpine
Prost, Alonso, Piastri.
The list of employees to have exited the Alpine group since Rossi was placed in charge is quite an illustrious one.
With a combined 84 wins between them and a reputation as one of the hottest prospects coming into F1, these were certainly not employees many teams would have gladly got rid of.
It is not just drivers either that Alpine has parted ways with as Marcin Budkowski, who has stints at Ferrari, McLaren and the FIA on his CV, left Alpine in January 2022. At the time, Rossi said he would "temporarily" take up the executive director duties vacated by Budkowski yet a year later, the position has still not been filled.
This leads into something Prost made clear at the time of his departure.
"Laurent Rossi wants to be alone, not to be polluted by anyone. In fact, he told me himself that he no longer needed an advisor," Prost told L'Equipe shortly after his exit.
"That was in Qatar, but he still offered me a contract in Abu Dhabi, which I refused. It must be said that it was a project in which I believed and still believe, an ambitious project which has given the group incredible motivation. But now there is a real desire to put a lot of people on the sidelines.
"Laurent Rossi wants all the light. What interests me is the challenge of being part of a team and being listened to and involved in certain decisions. I was voluntarily very much in the background, but I had a lot of influence in a discreet way despite all the disagreements that I kept to myself."
Disagreement is also a fitting way to describe Alonso's time at Alpine. Having been coaxed back out of retirement, the seemingly rosy return soon soured and soured quickly.
Alonso wanted a two-year extension, arguing his performances deserved it, while Alpine and Rossi, aware they had Piastri waiting in the wings, hummed and hawed.
They wanted to give the Spaniard a one-year deal while trying to secure Piastri a seat at Williams. In the end, they lost both drivers which resulted in plenty of finger-pointing from Rossi.
Laurent Rossi hits out after embarrassing Oscar Piastri affair
Rossi is Piastri's senior by 26 years and yet that did not stop him from blasting the Australian every chance he got.
"He grew up in this team. He knows everyone with us. We've shown our commitment to him – shouldn't he be a little grateful?" Rossi asked when speaking to Auto Motor und Sport.
"Oscar would do well to be fast and deliver results next year. But even if he becomes the new Michael Schumacher, this story will stick with him forever.
"There is no excuse for Oscar's behaviour. He has chopped off the hand that fed him and played with us because any draft contracts were not submitted on time.
"If he says he didn't feel full affection from us, then I wonder why we offered him all the opportunities to become as complete a Formula 1 driver as possible?
"These were not empty words, but actions. If he claims that the contract situation was too obscure for him, then I say: He knew that we had the Williams contract in the bag.
"There was nothing murky about it. He just used this excuse to look elsewhere."
The Piastri saga was undoubtedly an embarrassing affair for Alpine and in particular Rossi whose man management skills had managed to allow his team to lose two drivers.
After Rossi has finished criticising Piastri, he will say blame for the exit lies with the contract negotiators at Alpine but as CEO, the buck ultimately stops with him.
Alpine wanted to have their cake and eat it too and by keeping both drivers on the hook, they ended up watching both of them wriggle free.
PlanetF1.com recommends
Red Bull's earliest sackings analysed as Nyck de Vries faces mounting pressure
Honda edging closer to F1 return with new partner team – report
Rossi "doesn't buy the resource excuse" but wrong to use Aston Martin as an example
Forget their disappointing start to the year, perhaps the one element that has annoyed Rossi the most in 2023 is the dramatic rise of Aston Martin.
"Aston have less engineers than us, as far as I know," he said. "They don't have their own wind tunnel yet, they don't have their plant running at the moment. They hyper-charged development by having the right people joining them. It shows that it's down to creativity and efficiency. It's the rule of the game, we know that. So no, I'm sorry, I don't buy the resource excuse."
And yet he speaks as if this Aston Martin transformation occurred overnight. Dan Fallows was hired in April 2022, Mike Krack in January of the same year, Eric Blandin in July. All of this meant that by the time Alonso arrived later that year, a crack team had already begun modelling their years of experience into the AMR23.
It is not just in personnel that Aston Martin have improved either, for if there is one thing that cannot be levelled at owner Lawrence Stroll, it is accusing him of being cheap. The Canadian billionaire has kept the team well funded and committed £200 million to the building of a new factory that is set to be opened in the coming weeks and months and will benefit Aston in years to come.
Yet meanwhile, Alpine's Enstone base was last renovated in 2017.
It is not Aston Martin alone who are making changes. Alpine's main rival for P4 in 2022, McLaren, aim to get a new wind tunnel online this year and were aggressive in their recent staff restructure, poaching hires from Ferrari and Aston Martin. Yet the entrance door to Alpine has been rather quiet of late.
Rossi said there was "zero risk" of parent group Renault deciding to half their F1 venture but if things don't change and fast then the French outfit will continue to stagnate rather than move forward.