Hamilton: Top 10 moments of the 2020 season
Sir Lewis Hamilton became quite the human highlight reel in a record-breaking 2020 season, arguably the strongest campaign of his career.
From inspirational speeches to inspirational drives, here's what we at Planet F1 think are the seven-time World Champion's top 10 moments of 2020 as we wish Formula 1's latest knight a very happy 36th birthday!
Styrian pole lap
After a less than satisfactory start to the season at the Austrian Grand Prix, Hamilton bounced back at the Styrian Grand Prix, the second race weekend at the Red Bull Ring, with an astounding performance in a wet qualifying.
Hamilton dominated all three sessions throughout the treacherous conditions and while others were caught out by the lack of grip, he proceeded to swiftly and clinically control his Mercedes all the way to pole position.
Max Vertsappen tried to find an answer and briefly held pole in Q3 until Hamilton smashed it by a substantial margin of seven tenths of a second. The Dutchman tried to comeback and could be seen pushing to the absolute limit on his final flying lap, his Red Bull twitching and struggling to find traction until he finally lost control on the last corner, spinning off of the track.
Meanwhile, to everyone's astonishment, Hamilton was going even faster. The provisional pole-sitter seemed at one with his car, smoothly applying the power and finding grip where no one else could.
He crossed the line to extend his gap to a whopping 1.2 seconds and prove to everyone that he still remains the wet weather master of his generation.
Winning on three wheels
Hamilton has grown pretty used to winning his home grand prix but the relief felt after taking the chequered flag at Silverstone in 2020 must have been incomparable after one of the tensest final laps of his career.
After taking pole and dominating a fairly smooth race, the unthinkable happened as Hamilton's front-left tyre disintegrated halfway through his final lap, just like his team-mate Valtteri Bottas a few laps earlier.
What was an assured race win now hung in the balance as Hamilton was forced to nurse his car home on three wheels, Verstappen was in second and had just pitted to cover off this situation happening to him, he was 30 seconds behind but the gap was closing fast.
However, the Brit was determined to not let his beloved home win disappear and maintained composure to keep control of his car and push to the limit to reach the chequered flag in time.
His commitment and willpower were made paramount as he hit 230km/h going down the hanger straight on only three wheels, with the pursuing Red Bull lurking in the background.
Despair quickly turned to joy as Hamilton crossed the line to take a seventh home victory by only seven seconds and mark the most home wins for any Formula 1 driver, the first record of many to be broken by Hamilton that season.
A new podium record
The next record on Hamilton's bucket list was that for the most podiums in Formula 1 history, which he proceeded to break the next race with a superlative performance at the Spanish Grand Prix.
After sealing pole, the Championship leader dominated the race once again as his team-mate Bottas had to fight back to P2 after dropping down the order at the race start, with his other rival Verstappen having no answer to the W11 in Hamilton's hands.
Out in front, Hamilton remained unchallenged as he crossed the line to take a fifth win at the Circuit de Catalunya by 23 seconds after leading every single lap, extending his Championship lead to 37 points.
The race winner stated on the radio that he was 'in the zone' as he sealed his 156th podium appearance, surpassing Michael Schumacher's previously set record of 155, it seemed it was only a matter of time until he bettered the German's race win record.
Dedication to Chadwick Boseman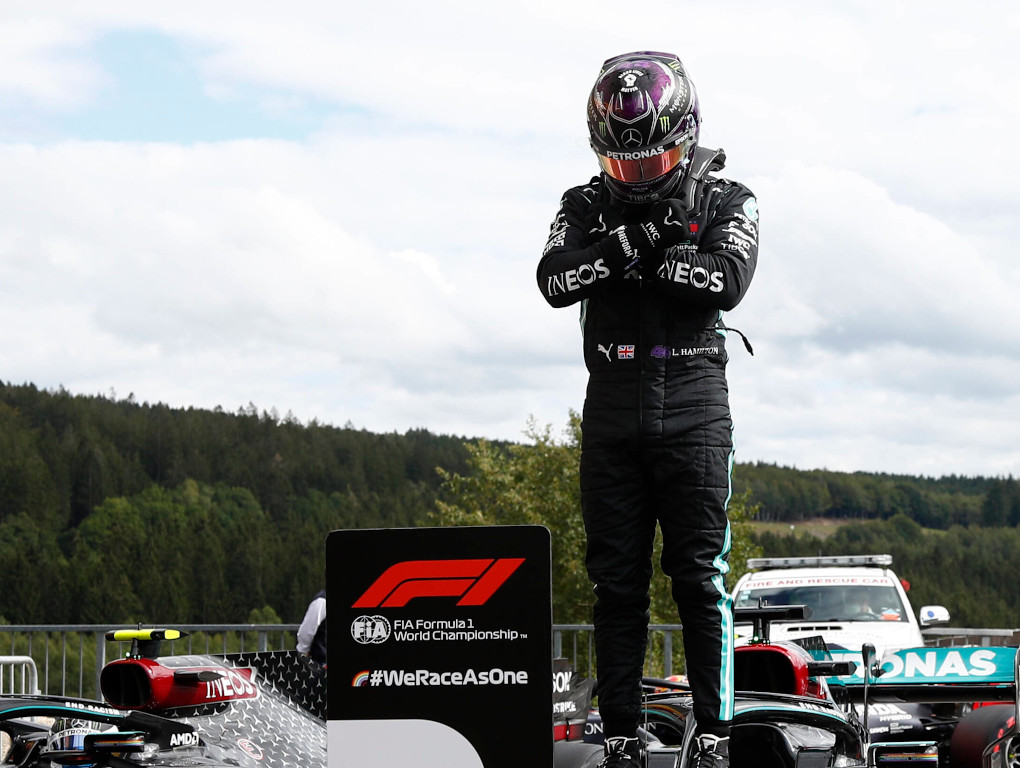 After another excellent day at the office during qualifying at Spa, Hamilton sealed an unchallenged pole position and dedicated his performance to the then recently passed Chadwick Boseman.
The actor tragically died of colon cancer at only 43 years old on the morning of the Qualifying session. He'd battled the illness in secret for four years, during which he became beloved for his role as T'Challa in Black Panther, a role through which he provided the world with the first black super hero for young children to look up to.
Hamilton recognised this and dedicated his pole position to Boseman, standing tall on top of his Mercedes whilst executing the memorable 'Wakanda Forever' stance at Parc Ferme.
The pole-sitter stating to Sky F1: "It's a really important pole for me because I woke up to the saddest news of Chadwick passing away.
"I wanted to go out there and drive to perfection because he's shown all these young kids just what is possible and he was such a shining light."
It was undoubtedly an emotional weekend for Hamilton but he was still able to extract another brilliant performance to take pole and the eventual race win, it was one that the Black Panther himself would have been proud of.
Monza fightback
Despite frustratingly finding himself last and 30 seconds behind the pack after serving a stop-go penalty given for entering a closed pit lane, Hamilton persisted and kept his cool to fightback and recuperate a large chunk of the points lost after falling out of the lead.
Battling with the midfield is something Hamilton certainly has not been accustomed to over the years but nevertheless, the Mercedes number one pushed through, in spite of his team-mate's struggle in the similar situation he found himself in throughout the race.
Bottas had dropped back to P6 after a poor start and struggled to make up places, exclaiming to his team that he could not race with the engine settings he was provided and that it was 'a joke'.
On the other hand, Hamilton was finding pace and making the overtaking look easy as he passed drivers like Sergio Perez, Daniil Kvyat and Esteban Ocon on his way back up to P7.
Bottas only managed to come home in P5, not capitalising enough on the situation to significantly reduce Hamilton's Championship lead. It was instead the Brit's blistering attack that proved to be the best form of defence.
Notwithstanding the displeasure of losing a win under frustrating circumstances, Hamilton was one of the first to congratulate race winner Pierre Gasly, showing his class and sportsmanship first hand.
Tuscany triumph
Hamilton continued his fightback from Monza to take victory at the next race in Mugello, but it didn't come without pressure from team-mate Bottas.
Starting on pole, Hamilton conceded his lead after Bottas used the slipstream to devastating effect down the long straight and pipped him to the front before the first corner.
Hamilton was hot on his heels until the Safety Car was released for a first-lap incident, this was followed by the dramatic multi-car pile-up on the restart which red-flagged the session.
The race would be restarted with a standing start at the grid – it was Hamilton's chance at regaining the lead, a chance that he didn't fail to take.
This time it was car number 44 who capitalised on the slipstream to get past Bottas with Hamilton making a remarkable move around the outside of the long sweeping right-hander of turn one.
He managed to extend his lead and ace yet another standing restart to defend P1 from the advances of Bottas and take another victory. The race, most likely remembered for the colossal accidents, was an important victory for Hamilton as it was one that would demoralise his rival as even when Bottas managed to successfully attack, he still couldn't secure victory.
Setting the record for most race wins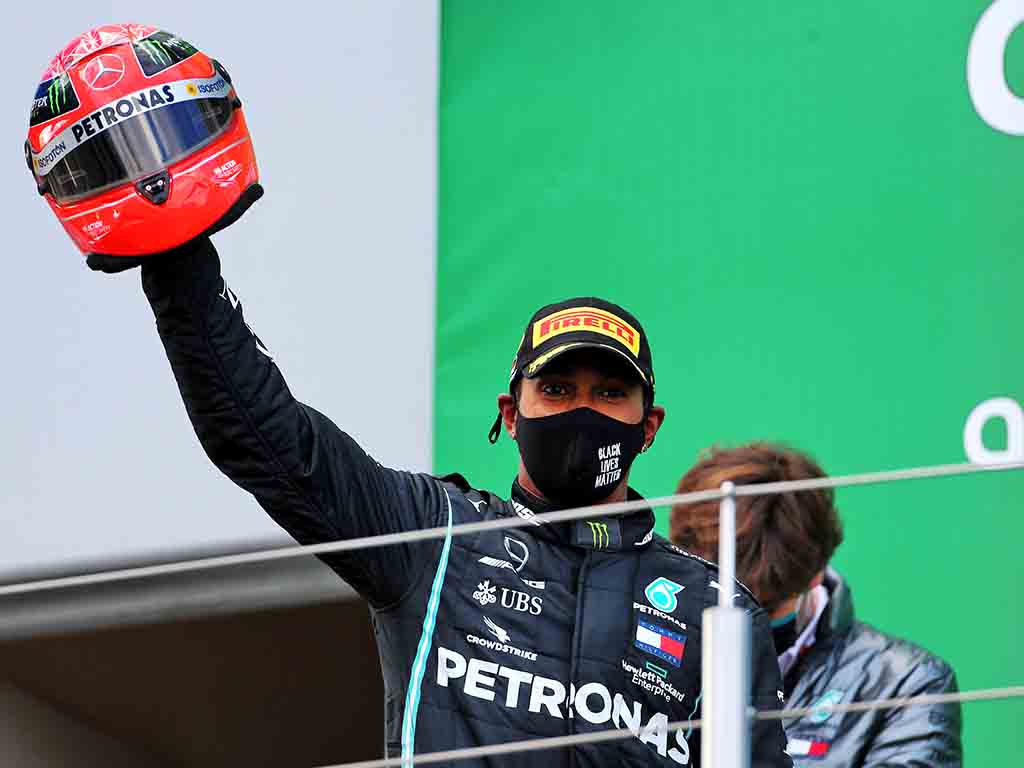 Another significant achievement in Hamilton's season was marked at the Portuguese Grand Prix where the champ broke yet another Formula 1 record by taking his 92nd career victory.
After a challenging start saw Hamilton concede P1 to Bottas and drop down to P3, he collected himself and found his form to bounce back and relentlessly re-take the lead before leaving the Finn in his wing-mirrors.
Hamilton once again demonstrated his supremacy, disappearing ahead with Bottas having no answer for his outstanding pace. The leader eventually came home to win by a massive 25.5 seconds, which turned out to be the largest winning margin of the season.
His 92nd victory surpassed the seemingly uncatchable record of 91 held by the great Michael Schumacher, the Formula 1 world had witnessed history being re-written once again by the man from Stevenage. And he wasn't finished just yet…
Seventh world title and inspirational message
As if it was written in stone, Hamilton's seventh world title-winning race was arguably one of the strongest performances of his career. He used all his skill, grit and resolve to bounce back from a disappointing qualifying session and win the Turkish GP from P6 on the grid in enormously difficult circumstances at Istanbul Park.
The mixture of freshly-laid tarmac and rain made the track conditions some of the most treacherous the field have ever raced on in recent times.
However, other than going wide on lap one, the Brit was faultless and executed a wet weather masterclass reminiscent of his British Grand Prix victory in 2008 to take the race win and with it a record-equalling seventh World Championship.
Emotions ran high as the freshly crowned champion came to terms with achieving what was once beyond his wildest dreams, signing off with a beautiful radio message.
He said: "That's for all the kids out there who dream the impossible, you can do it too man, I believe in you guys!"
And of course, it was Hamilton who was once that kid with the impossible dream, one that thanks to the hard work and dedication from himself and his family, partnered with the special talents he possesses, finally came true on that momentous day in Turkey.
Comeback from Coronavirus
As if Hamilton's awe-inspiring season wasn't enough, he managed to showcase his sheer willpower yet again to return to the sport for the season-ending Abu Dhabi Grand Prix, following his absence the weekend before at the Sakhir Grand Prix due to contracting Coronavirus.
The virus which caused the cancellation of the original 2020 season back in March became another test for Hamilton, who uncharacteristically remained quiet on social media as he dealt with and recovered from the virus.
His return for the final race of the season in Abu Dhabi wasn't as rewarding as last season's victory as he had to settle for P3, but nonetheless he ended the season in high spirits, just thankful to be "alive".
Setting an example for the World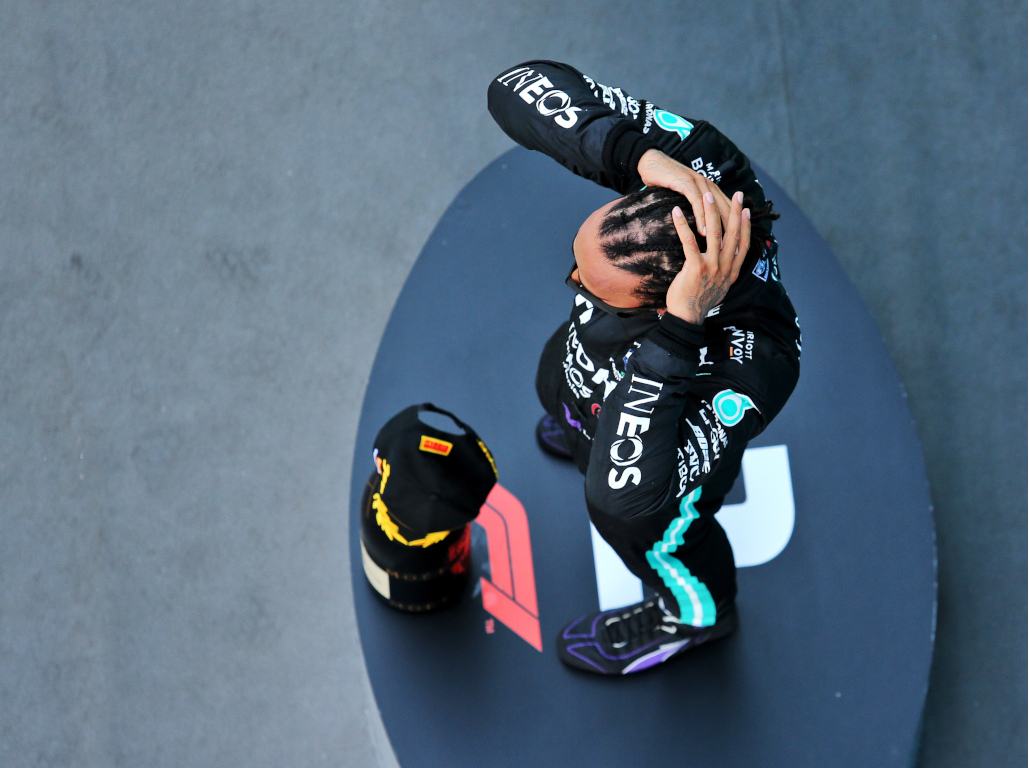 To reach the top takes courage, strength, and self-belief to push for your dreams and to stand up for what you believe in.
Ahead of the newly reformed 2020 season, Hamilton demonstrated that he had these characteristics in abundance by becoming the leading force to push for positive change within his sport.
Like many others, he'd bared witness to the atrocious death of George Floyd and realised that by using his platform, he could take an important stand to make a difference that was needed for the world as a whole.
Firstly, he worked with his team to adopt an all-black livery in replacement of their classic Silver Arrows design, to show support for the 'Black Lives Matter' movement. The team stated that their re-design was 'a pledge to improve the diversity of our team and our sport and a signal of the team's commitment to fighting racism and discrimination in all its forms.'
The Mercedes driver then pushed for his colleagues to take a stand by taking the knee before every race, an act which other sporting giants such as the Premier League had already implemented.
Most drivers decided to follow Hamilton's wishes while others remained standing. One thing that was clear though was that they all stood in solidarity against racism.
Though for Hamilton the fight was not over, with the Brit claiming that the importance of pushing for diversity and inclusion gave the Championship a new meaning, understanding that as long as he continues to be successful, he will retain the platform which allows him to speak up for what he believes in and strive to make the difference, thus showing that Hamilton's title win this season may just be the most important of his career.
The ability for one man to shine a bright light towards a positive future and converge the Formula 1 world to fight against what is a worldwide human rights crisis, shows a superior self-belief which at times he himself may not have even known he possessed.
Hamilton's aptitude to rise against the negativity and selflessly use his platform to change the world, all whilst cementing himself among the greats of Formula 1, sets a strong example for everyone and one that will be remembered for many years to come.
Alex Mclachlan
Follow us on Twitter @Planet_F1, like our Facebook page and join us on Instagram!