Lewis v Max shows how much rivalry is needed in F1
After three seasons of Netflix's Drive to Survive docuseries, Max Verstappen has seen more than enough.
The impact of Formula 1's most important marketing tool was tangible at the recent United States Grand Prix at the Circuit of the Americas, where a race crowd of 140,000 witnessed the latest tussle between Verstappen and Lewis Hamilton over the 2021 title.
Just over five years after Liberty Media arrived on the scene with all its bells and whistles, the Austin weekend had the feel of a milestone moment for F1 in America as a vibrant, self-confident sport – its owner's feet now firmly under the table – rolled into town and delivered a thrilling event.
But Verstappen has never been one to toe the party line and, before taking his eighth victory of the year in Texas, the World Championship leader voiced his displeasure with Netflix's modus operandi, revealing he has refused to participate in the next series due to be released next spring.
"I understand it needs to be done to boost the popularity in America," Verstappen said. "But from my side as a driver, I don't like being part of it.
"They faked a few rivalries which don't really exist. So I decided to not be a part of it and did not give any more interviews after that because then there is nothing you can show.
"I'm not really a dramatic show kind of person, I just want facts and real things to happen. The problem is they will always position you in a way they want, so whatever you say, they will try to make you look reckless or trying to make you… whatever fits the story of the series."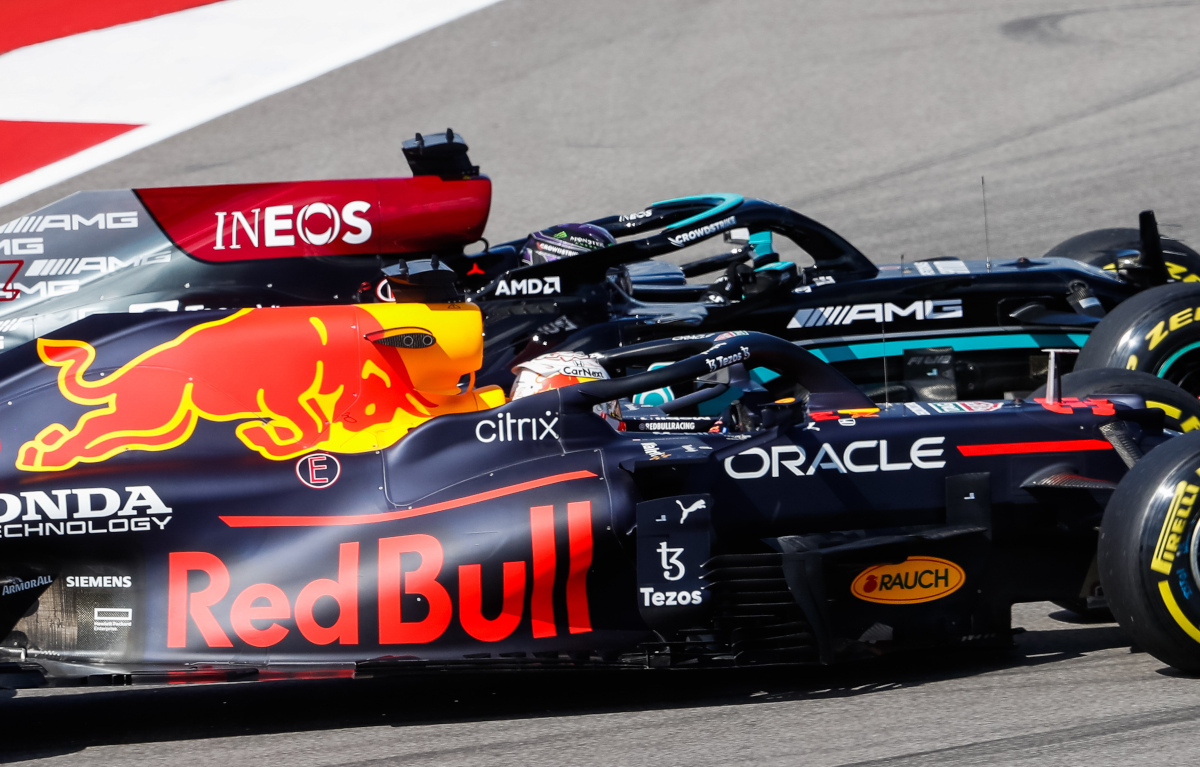 Verstappen's stance, though disappointing for those keen for a behind-the-scenes glimpse into his first title challenge, was applauded by some hardcore fans frustrated by the fabricated framing of the relationship between McLaren team-mates Carlos Sainz and Lando Norris in 2020.
Some might say, meanwhile, that Drive to Survive was never made for them anyway, that rather than being a substitute for a traditional season review it was always intended to be a dramatic introduction to the humans underneath the helmets, a stage for their individual stories and personalities to shine.
Whichever side you are on, the great Netflix debate, against the backdrop of this unique season, has only crystallised the notion that no sport is quite as reliant on rivalry as Formula 1.
In recent years, with Hamilton marching from title to title with little resistance, fans have been force-fed a bunch of bogus bromances, from the Carlos-Lando love-in to the brotherhood between the blossoming Brits, Norris and George Russell, and their karting idol Alex Albon.
The former fell to its nauseating nadir last December, when McLaren published a pathetic YouTube video asking their "friends" at Ferrari to "take care" of Sainz as he swapped Woking for Maranello (you somehow couldn't imagine Ron Dennis signing off a similar message when Kimi Raikkonen made the same move at the end of 2006…).
Such acts, in a climate of corporate kindness, no doubt work wonders for the social media penetration of the teams and drivers – but for F1 itself? An absence of friction between the protagonists can only be bad for business.
Is it any wonder, then, that Netflix – with relatively little to work with when it came to Sainz and Norris – took the opportunity to employ artistic licence and ran with it?
"Whoever is in front is absolutely going to try to do the same as in the Senna-Prost years."

Toto Wolff thinks if the title is on the line in Abu Dhabi, one of Lewis or Max may crash into the other if it means securing the title.https://t.co/Exg1GXllXf #F1 pic.twitter.com/TkXa9YHlEb

— PlanetF1 (@Planet_F1) November 1, 2021
There will, of course, be those who marvel at the maturity of these fine young men, whose emotional intelligence has up to this point prevented the commotion of competition driving a chasm between them and allowed them to share the experience of being 21st-century superstars.
But is that chumminess what we, as observers and onlookers, really want from our Formula 1 drivers? Should there not be an underlying if unspoken tension between them all and a natural desire to keep a competitive distance?
The most captivating characters in the history of sport, after all, have been complex and contradictory. They have been single-minded and selfish, sometimes to the point of paranoia. They have flown while often remaining flawed.
Which is where the true joy of 2021, and the battle between Verstappen and Hamilton, is to be found.
Perhaps the greatest quality of this title fight, the reason it is so compelling, is that it is so devilishly and reassuringly old school.
Hamilton, having arrived in F1 as long ago as 2007, is detached from the new-era niceness, still stands alone during pre-race drivers' parades and is of the mentality – ask Nico Rosberg – that once someone becomes an enemy they can never be his friend.
Verstappen is slightly more in step with his peers, but as a graduate of Jos's school of hard knocks – the beneficiary of the lessons learned from his father's own career – takes a no-quarter-given approach and as such would not admit to a weakness even if it was staring him in the face.
They are so different, on and off track, yet so very much alike.
Their respective teams are convinced they can do no wrong, which was best highlighted when the collision between Verstappen and Hamilton in the British GP – the moment the irresistible force met the immovable object – was followed by a bout of finger-pointing between Mercedes and Red Bull.
The most disconcerting comment in the aftermath of Silverstone, however, came not from Red Bull advisor Helmut Marko – who called for Hamilton to be banned for a race – but Sky Sports pundit Karun Chandhok, who wondered aloud whether the sport's authorities should intervene to calm tensions between both parties.
It was as though F1 folk had been bathing in blandness for so long that the sudden and violent ignition of Verstappen versus Hamilton at Copse had come as a culture shock, that they had forgotten this was what F1 at its best was meant to look and sound like.
Throughout the hybrid era there has been a great rush to declare each season the best yet.
Yet while each campaign has its moments and, for instance, the number of race winners per year has increased, F1 had undoubtedly been missing something since Rosberg retired at the end of 2016 and took with him the curiosity that came with his soured relationship with Hamilton.
It has finally found what it was looking for and more in 2021, with Hamilton and Verstappen combining to deliver a rivalry for the ages, as electrifying as any to have come before and to be savoured by anyone with motor racing in their bones.
Without that intensity in the air, F1 lies dormant. It merely exists.
Right now? It feels very much alive.
Drive to Survive: Good or bad for F1?
Is Drive to Survive good or bad for Formula 1?