Hamilton, Mercedes and the delicate balancing act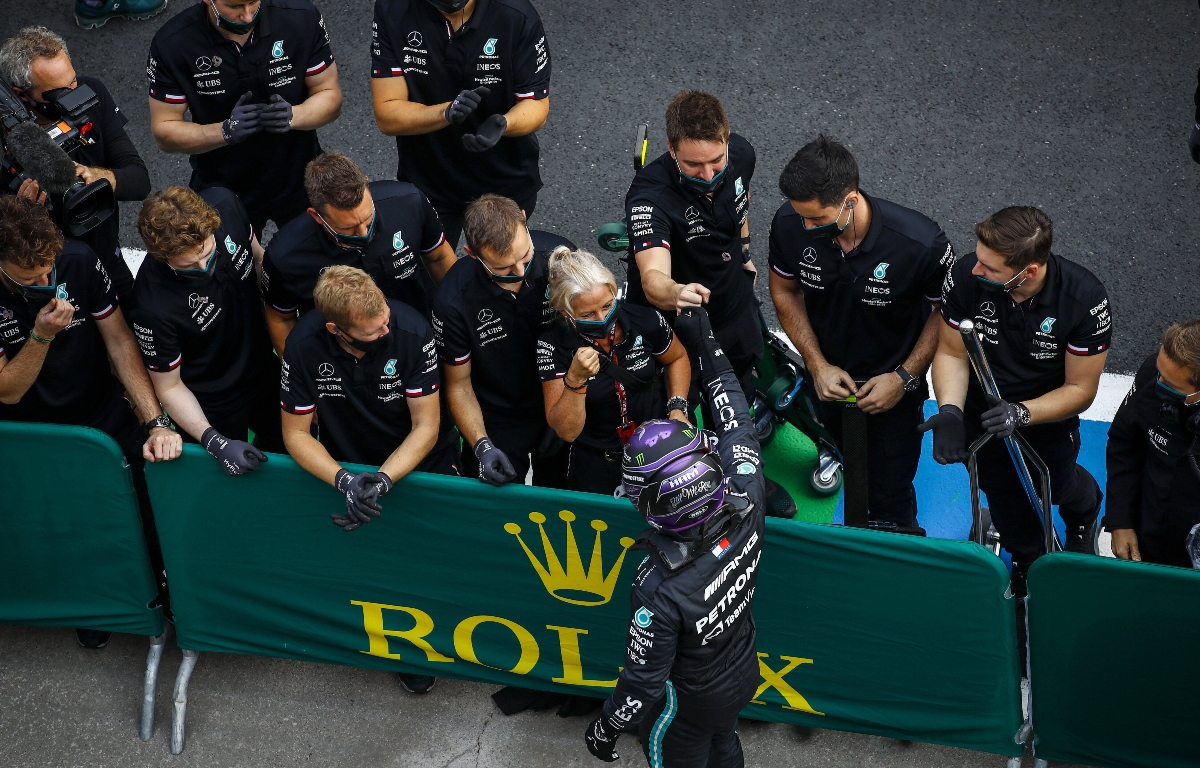 "I told you!" cried an exasperated Lewis Hamilton over team radio as the scale of Mercedes' latest strategic mishap started to dawn on him.
Hamilton had seemed set to brave it to the end of the Turkish Grand Prix on heavily worn intermediate tyres, which he felt were still providing just enough grip to hang on to third behind Valtteri Bottas and title rival Max Verstappen.
The computer, however, said no, and having agreed to let Hamilton continue to circulate when he questioned their original call to pit, they successfully persuaded him to pit for fresh inters with eight laps remaining.
Yet the data is sometimes no substitute for the driver's eye and Mercedes' predictions had seemingly not accounted for the debilitating graining Hamilton's new tyres would suffer on a cold and slowly drying track surface.
And so, rather than fighting back to third, Hamilton was helpless, stuck in fifth and losing eight points to Verstappen having minutes earlier been on course to lose just three.
If Hamilton felt Mercedes had not listened to him, it wouldn't have been for the first time this season.
Lewis Hamilton says Mercedes' focus on 2022 has halted the development direction he'd hoped to take this year.#TurkishGP 🇹🇷 #F1https://t.co/Rmv44HmkuY pic.twitter.com/iNb93FEDtS

— PlanetF1 (@Planet_F1) October 7, 2021
Ahead of the Istanbul Park weekend, the seven-time World Champion revealed Mercedes had blocked him from pursuing a particular development path with the W12 car, with the team instead prioritising a perfect start under the new regulations in 2022.
"We're not developing like we have in the past," Hamilton told Sky Sports.
"In terms of direction, there's been a direction I've wanted to go but we can't because we are focused on next year's car.
"I was hoping for a bit of a stronger second half [of the season] but up until now they've [Red Bull] just been too strong. They've been so strong in so many races.
"They've developed for longer than us this year, they've brought more upgrades. I think they've brought upgrades to every race, to a point. I don't know if they still are but we haven't brought an upgrade since Silverstone."
Mercedes' fixation on 2022 is understandable given the many examples of front-running teams being wrong-footed by rule changes in recent history, most memorably in 2009 when Ferrari and McLaren were restricted to three wins between them having fought for the title the previous season.
Yet it is the message that sends to Hamilton – that Mercedes actually won't do everything in their power to win this World Championship – that may become a problem should he ultimately lose to Verstappen.
It is, in effect, a clash of short and long-term priorities – Hamilton, almost 37 with a title-winning streak to protect and with a finite amount of time left to keep reaching new heights in F1, versus Toto Wolff, whose remit is to keep Mercedes competitive long after Lewis is gone.
Indeed, it was Wolff who in Austria – where Hamilton seemed to spend two entire race weekends pleading for more assistance at a time Verstappen was taking control of the title race – confirmed the W12 would remain unchanged for the remainder of the season after the Silverstone update.
For a team who pride themselves on controlling the controllable and leaving little to chance, Mercedes' inflexible and passive to the point of negligent stance on car development is a gamble that risks leaving their star driver dethroned, disappointed and disillusioned.
Hamilton's genius, after all, has dug Mercedes out of many holes over the years, breaking the spirit of Sebastian Vettel and Ferrari in key moments such as Singapore 2017, where he won from fifth on the grid after Seb's start-line shunt, and Hockenheim 2018, where he rubbed salt into the wounds inflicted by Vettel's retirement from the lead in damp conditions.
Those inspired victories came either at the start or in the midst of a run of races in which Hamilton almost single-handedly extinguished the threat of Ferrari at a time both seasons were very much in the balance.
Considering his immense contribution to their enduring success, it would be human nature for Hamilton – for all the talk of winning and losing as a team – to feel let down, if not a sense of disloyalty, that Mercedes have not fully supported him when faced with his greatest challenge yet.
And the nature of Hamilton's comments in Turkey, that they rejected his ideas to improve the car, potentially exposes Wolff to the very thing he has been determined to avoid since Mercedes' rise to prominence in 2014 – blame games and finger-pointing.
It is almost certainly too late for Mercedes to shift their strategy, yet it would surely not have taken a dramatic deviation from the 2022 program to improve the current car sufficiently, to turn the remaining venues considered 50-50 between the two teams (Austin, Brazil, Abu Dhabi) into 60-40 in Mercedes' favour and leave Lewis to do the rest.
It's official. Next year, I'll be a Mercedes F1 driver. This is a special day for me and I want to say a huge thank you to @WilliamsRacing, @MercedesAMGF1 and everyone who has supported me in getting to where I am today. I couldn't have done it without every single one of you. 💙 pic.twitter.com/MmGA1vr9mR

— George Russell (@GeorgeRussell63) September 7, 2021
Monitoring this with interest, you suspect, is George Russell, who will replace Bottas as Hamilton's team-mate from the beginning of 2022.
Amid the debate over what sort of team-mate he will be, Russell may need to look no further than his senior advisor at Williams, Jenson Button, whose charm and winning smile saw him take advantage of Hamilton's unease at McLaren soon after entering the so-called "lion's den" in 2010.
Should Russell enter an environment in which his new team-mate is no longer the World Champion and there is a lingering resentment over the way this season was managed, the opportunity to emulate Button by expanding those cracks, cramping Hamilton's style and winning the team over by the sheer force of his personality will be obvious.
Hamilton himself would not be blameless if his run of six titles in seven years came to an end, having lost easy points with mistakes in Baku, Budapest and Monza, and he is fortunate to still be within striking distance of Verstappen, who suffered low scores through no fault of his own at two of those events.
Winning the title from here, against the growing might of Max and Red Bull and with a car unchanged since July, would rank as his finest achievement.
And it would resemble a get-out-of-jail-free card for his team, who are guilty of being too clever for their own good on occasion and who – as the closing stages Turkey highlighted – would be well advised to move away from the pre-determined plan and instead react to what is happening before their very eyes.
Hamilton responds to claims he is furious with Mercedes
Lewis Hamilton sets the record straight that he isn't furious with Mercedes.