How Hamilton channelled Schumacher's act of defiance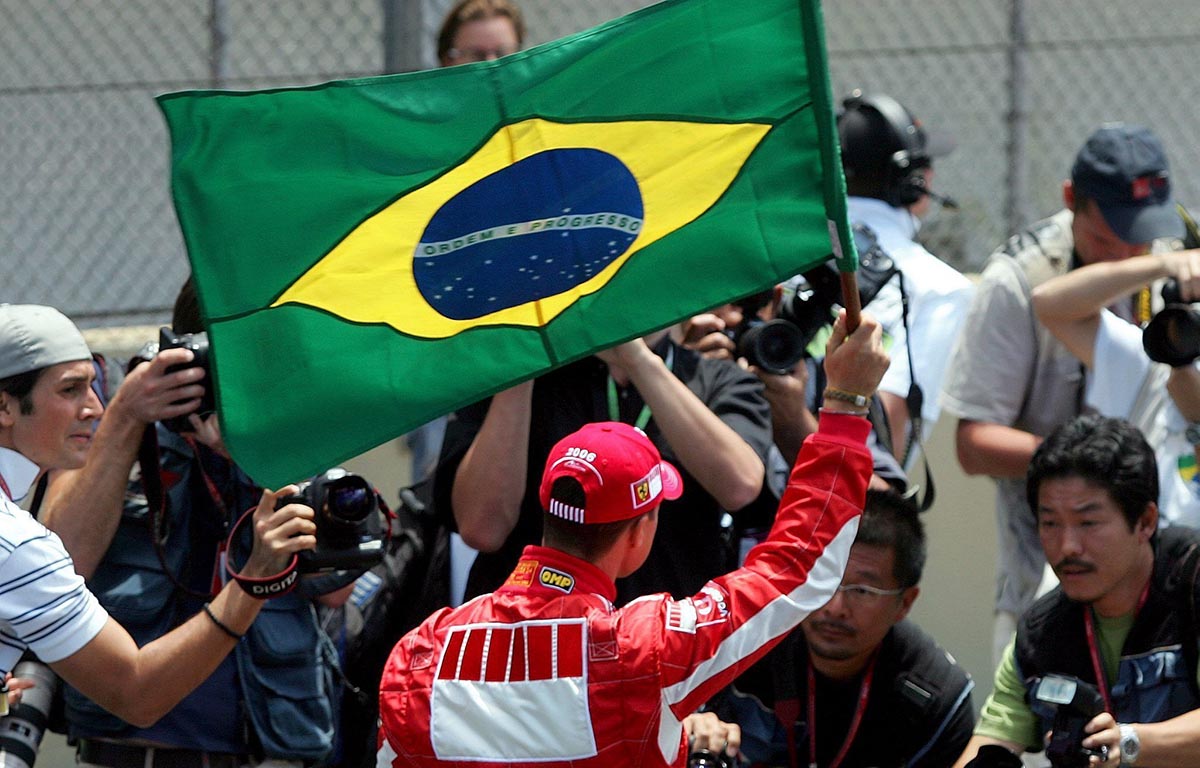 The news, when it finally arrived, came as a punch to the guts, yet seemed to follow the pattern of Lewis Hamilton's season.
Confirmation of his disqualification from qualifying at the Sao Paulo Grand Prix, roughly 90 minutes before Formula 1's final sprint race of 2021, was a potentially decisive blow in a title battle in which Hamilton has often taken one step forward and two steps back and struggled to generate sustained momentum against Max Verstappen.
With Mercedes enjoying their best weekend of the year from a performance perspective in Brazil, Hamilton – fastest by almost half a second on the road in Friday's qualifying session – could have realistically dared to dream of making up for his latest engine penalty from sixth on the grid.
But from the back? In the high altitude of Interlagos? Against a Red Bull-Honda in the hands of Verstappen, winner of the previous two races in the United States and Mexico City and who beat Hamilton in a straight fight in a weaker package at the same circuit in 2019?
With a third consecutive victory set to take Verstappen beyond the magic 25-point mark, allowing him to retire from a race and retain the lead of the championship with three rounds remaining, Hamilton's DSQ for a DRS infringement gave the Sao Paulo GP the air of the end game.
In situations of such hopelessness, elite athletes can go one of two ways, either caving in and collapsing under the utter futility of it all or maintaining their standards and persevering in the hope of making something – anything – happen.
It is, in sporting terms, fight or flight time.
And, knowing what we know about a competitor of Lewis Hamilton's calibre, was there any doubt that he would fall on the side of the former?
No driver has ever won from further back than P8 on the starting grid at Interlagos.

Then Lewis Hamilton came along…#BrazilGP 🇧🇷 #F1 pic.twitter.com/M6j6V3GSaK

— PlanetF1 (@Planet_F1) November 14, 2021
His most stubborn critics will point to Mercedes' inherent advantage over the opposition across the weekend and the fact many of his moves came with the assistance of DRS.
But Hamilton's recoveries – from 20th to fifth in the sprint and then from 10th to victory in the grand prix itself – were masterclasses in controlled aggression, positioning, picking the right moments and, perhaps most impressive of all, knowing one's enemy.
When, for instance, Verstappen seemed to open his steering during their first encounter on Lap 48 to run his rival off the road at Turn 4, Hamilton – his memory bank full of clashes with Max in recent times – saw it coming when a more stubborn, and frankly less intelligent, driver would have had the accident.
So when the moment finally came 11 laps later, Hamilton literally took it out of Verstappen's hands, the combination of Mercedes' fierce straight-line speed and DRS putting him clearly ahead well before the braking zone, having compromised the Red Bull's line through the Senna S.
As Hamilton charged through the field – overtaking each and every driver, some of them twice – it was impossible to avoid drawing comparisons with the only other time a seven-time World Champion, facing the end of his era of dominance, found it deep within himself to produce one last power surge in a similar act of defiance.
Having retired from the lead of the previous race with an engine failure, Michael Schumacher arrived at Interlagos for the 2006 title decider exactly 10 points – in the days when 10 points were awarded for victory – behind Fernando Alonso, who despite being the one to end Schumacher's run of five consecutive titles in '05 had done so without needing to take the king.
As the weekend progressed, it was as though the gods turned their back on Schumacher as his already slim chances of securing an eighth title disappeared into thin air.
A fuel pressure problem at the beginning of Q3 left him unable to set a lap and stranded in 10th, having been comfortably fastest in Q2 minutes earlier, before Schumacher suffered a puncture in the process of overtaking Alonso's Renault team-mate, Giancarlo Fisichella, early in the race.
He rejoined almost a lap down, but what followed – in his final race for Ferrari and, it was assumed at that point, his last appearance as a grand prix driver – was as electrifying as anything to have come before in his career.
Schumacher's sheer force of will saw him mount a recovery unparalleled until Hamilton's at the same venue – in which he intimidated Fisichella off the road and memorably muscled his way past Kimi Raikkonen, his successor at the Scuderia – to finish fourth, within six seconds of second-placed Alonso.
Just as Lewis still rose in the face of adversity, Michael kept fighting. It's the only way they have ever known.
Though a wonderful way to sign off and a symbol of his enduring class, fourth place was not nearly enough for Schumacher on the day and only time will reveal the true significance of Hamilton's fightback in Brazil.
🥊 Tale of the #F1 tape 🥊

Wins – Max 9 Lewis 6
Poles – Max 9 Lewis 3
Podiums – Max 15 Lewis 14
Fastest laps – Max 4 Lewis 5
Laps led – Max 620 Lewis 171
Points – Max 332.5 Lewis 318.5 pic.twitter.com/RwuZuqZ524

— PlanetF1 (@Planet_F1) November 15, 2021
If it ultimately comes to be remembered as little more than Lewis's last stand, his was the type of rage-against-the-dying-of-the-light performance you would want from an outgoing World Champion who has made an entire era of F1 his own, a reminder that while the crown may slip Hamilton remains a quite formidable force and adding value to Verstappen's achievement.
That is especially true when you consider Hamilton hasn't always been at his ruthless best in 2021, wasting key opportunities in Baku, Budapest and Monza, where his poor start to the sprint race at a Mercedes stronghold effectively set him on a crash course with Verstappen the following day.
Such was the scale, drama and emotion of Hamilton's win that in the immediate post-race aftermath it was tempting to be sucked into the view that Brazil represented another potential turning point in the title battle.
Yet so, apparently, was Silverstone, where after triumphing in front of his adoring fans in July, Hamilton went on to win just one of the following eight races as Verstappen robotically re-established the points advantage almost completely wiped out by their first-lap collision at Copse.
Still with a healthy 14-point lead, Verstappen remains the strong favourite and just one more win at any of the last three races – this weekend's Qatar GP at the Losail International Circuit, with its twisty layout and smooth track surface, arguably represents his best chance – will almost certainly be enough to finish the job barring reliability disasters.
Hamilton's heroics, however, have ensured his destiny remains in his own hands – all he could ask for at this stage – and perhaps the biggest lesson he and Mercedes can take from Brazil is that they can no longer afford the kind of uncharacteristic slip ups that have undermined their season.
Only perfection from here – from the moment the stewards' verdict was delivered on Saturday afternoon – will do.
The kind of perfection Hamilton displayed at Interlagos, where before paying tribute to Senna he summoned the spirit of Schumacher in 2006.