Lewis Hamilton has long looked set to win his seventh World Championship, and will have his first chance to do so at the Turkish Grand Prix.
Heading into the 2020 season, Hamilton had Michael Schumacher's record tallies for most race wins and most titles firmly in his sights.
He has already surpassed the former, and can match the latter at the next race in Istanbul. Here's how…
Cheers, boys. 🥂 It's official! Only Lewis and Valtteri can mathematically win the 2020 Drivers' Championship 🏆

Both @F1 titles are coming home with us for a historic seventh time in a row! ❤️ pic.twitter.com/oBpCjPRuzo

— Mercedes-AMG PETRONAS Formula One Team (@MercedesAMGF1) November 3, 2020
Before we dive into the many permutations, let's take a look at how things stand at the moment.
Hamilton currently has 282 points to his name, while team-mate Valtteri Bottas has 197. In case you're not a quick mathematician, that's an 85 point gap that separates them.
There are just four races of the season remaining, and a maximum of 104 points up for grabs. That number will go down to 78 after the Turkish Grand Prix.
That means that Bottas needs to be within 77 points of Hamilton after the chequered flag in Istanbul if he is to, mathematically at least, stay in with a chance of winning the title.
Therefore, if the Finn fails to finish ahead of the Brit or fails to score a minimum of eight points, the title race is over. If he does so, however, things get a bit more complicated.
So, if Hamilton beats Bottas, the title is his. If not, here's how he can still win it.
Get your hands on the official Mercedes 2020 collection via the Formula 1 store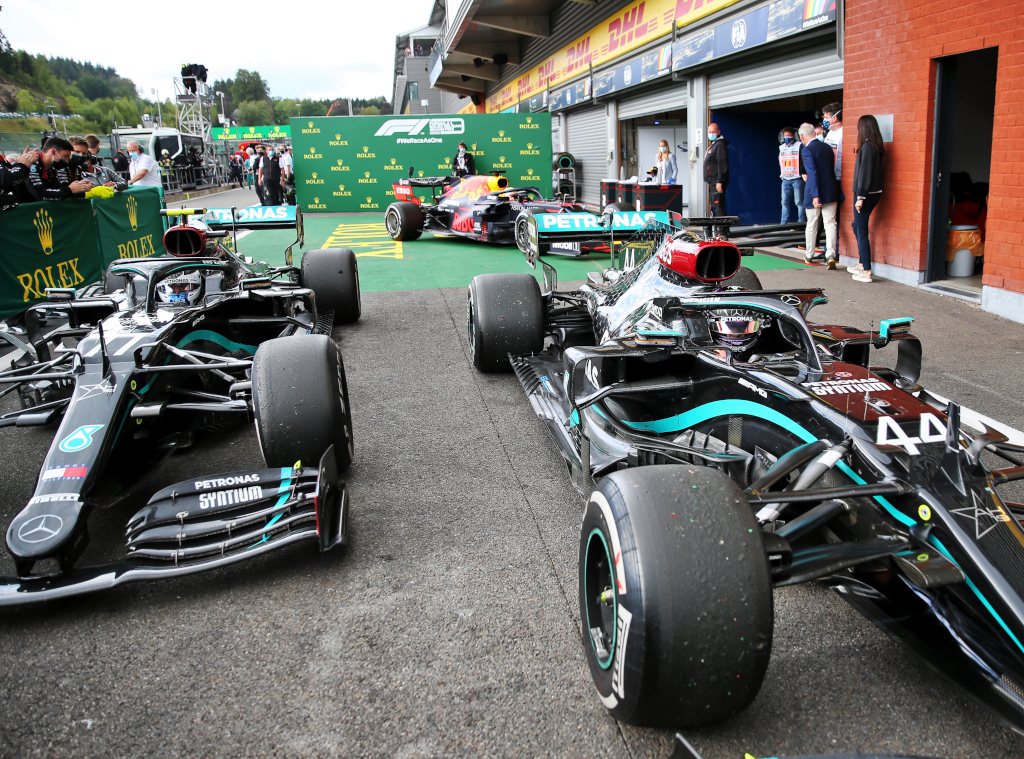 Hamilton will win the title in Turkey if he finishes in P2 unless Bottas wins the race AND takes an extra point for setting the fastest lap. If the Finn does so, the title fight will last for one more round at the least. That's also the case if Bottas wins and Hamilton finishes any lower than P2.
If Bottas finishes in P2 and sets the fastest lap, Hamilton needs to finish in P4. If he finishes there without going quickest, Hamilton can afford to come home in P5 if he does so himself.
The Brit would also claim the title by finishing in P5 if Bottas takes P3, even if the Finn gets the extra point. If not, Hamilton can afford to finish as low as P6 and still become the World Champion.
Should Bottas fail to finish on the podium, things get considerably easier for his team-mate.
Hamilton can cross the line in P7 and still win the title if Bottas finishes in P4 with the fastest lap. He can also clinch it in P8 if he takes the extra point himself.
P8 will be enough for Hamilton to win his seventh World Championship if his team-mate finishes in P5, whether or not Bottas goes quickest. P9 would also do the job for Hamilton in this scenario if he can set the fastest lap of the race.
If Bottas finishes in P6 without setting the fastest lap, all Hamilton has to do is score a point. If Bottas does manage to set the fastest lap from P6, the Brit needs to take P9.
Finally, if Bottas finishes outside of the top six, Hamilton will win the title regardless of where he finishes.
Next Sunday 😃#TurkishGP 🇹🇷 #F1 pic.twitter.com/iPiVgG8K0Z

— Formula 1 (@F1) November 8, 2020
So, you get all that?
In short, Bottas has to score eight more points than his team-mate to keep the title race alive for at least one race longer. Otherwise, Hamilton will win it in Turkey.
The Finn has only finished a race that far ahead of his team-mate twice this year, in Speilburg and Sochi. In fact, they're two of only thee races in which he's beaten Hamilton at all.
Such is his lead, it's now a matter of when, not if, in regards to Hamilton's seventh World Championship. That being said, he'll want to do it as soon as possible, and clinching it in Istanbul is more than just possible. It's probable.
So, when you're sitting down to watch the race, prepare to see a truly historic moment in the sport a few hours later. Oh, and feel free to come back here to check if you can't figure out how things stand. No need to get the calculators out.
Follow us on Twitter @Planet_F1, like our Facebook page and join us on Instagram!