Lewis Hamilton has always had the upper hand on Valtteri Bottas, but the Italian Grand Prix showed just how far ahead he is of his team-mate.
There was nothing to choose between the two Mercedes drivers during qualifying, as the Brit beat the Finn the pole by just over half a tenth.
On race day, things couldn't have been more different.
Right VB. 👏 Get that head down and let's go get those positions back. 🖤🦈 The Finn is P6 as we hit lap six. pic.twitter.com/CQM5Zn8qAd

— Mercedes-AMG F1 (@MercedesAMGF1) September 6, 2020
The difference in pace between the two of them was apparent from the start. While Hamilton flew off the line, Bottas bogged down and immediately dropped down to P4. By the end of the first lap, he had also been passed by Sergio Perez and Daniel Ricciardo.
Still, bad starts happen from time to time. Not a big deal. Right?
Well, that would have been the case if he recovered and quickly fought his way back to the front, but it wasn't. Instead, he sat feebly behind those in slower cars and offered next to no threat, never coming close to making a move on the Renault of Ricciardo.
Hamilton meanwhile was cruising at the front, setting fastest lap after fastest lap and looking a class above the rest of the field. In the same car, on the same tyre.
Bottas was struggling so much that he told his race engineer over the team radio that he must have had a puncture or some other issue. He didn't.
Nevertheless, given that he's the team's number two driver, the number one was set to win with ease and they already have the Constructors' Championship all but wrapped up, his poor performance was little poor than an inconvenience for Mercedes.
Then Kevin Magnussen retired, and everything changed.
Frustrated for @ValtteriBottas today. 😣 Slow start. Contact. Massive understeer. An overheating car.

But 10 more solid points and back into P2 in the championship. 💪

Put this one behind us and move onto Mugello. 👊 pic.twitter.com/k4rmJW7EPz

— Mercedes-AMG F1 (@MercedesAMGF1) September 6, 2020
Get your hands on the official Mercedes 2020 collection via the Formula 1 store
Admittedly, Hamilton only had himself to blame for failing to see the signs and diving into a close pit-lane, thus picking up a 10-second stop-go penalty. Like Bottas with his poor start, he too had made a mistake.
What matters when you make one is how you react to it, and in this regard, the two were worlds apart.
The Mercedes pit-crew had gifted Bottas two positions as they got him out ahead of Ricciardo and Perez just before the race was stopped. At the restart, with Hamilton dropping down to P17 and Verstappen out of the picture, he was in with a huge chance of getting a podium, pulling away from the Dutchman and closing the gap to the Brit in the Championship.
He couldn't take it though, failing to pass Norris and even coming under pressure from Ricciardo behind. His sole defence was that the car simply didn't cope well in dirty air, with the engine overheating.
Hamilton though had served his penalty, closed the 23-second gap to the rest of the field with ease and was about to prove that that wasn't the case.
First, he passed Alex Albon, George Russell, Romain Grosjean and Nicholas Latifi. Still, these drivers had been slow all race – overtaking them is easy. After all, at the same time, Bottas got past his compatriot, Kimi Raikkonen.
However, the Brit then also completed moves on Sergio Perez, Danil Kvyat and Esteban Ocon. Two of these drivers were in cars that Bottas had tried and failed to both overtake and pull away from for the entirety of the race. Hamilton had done so without breaking a sweat.
By the time Hamilton reached the finish line, he was just two places and 10 seconds behind his team-mate, despite the fact that he had served a penalty which lost him around half a minute and brought him out behind the entire field.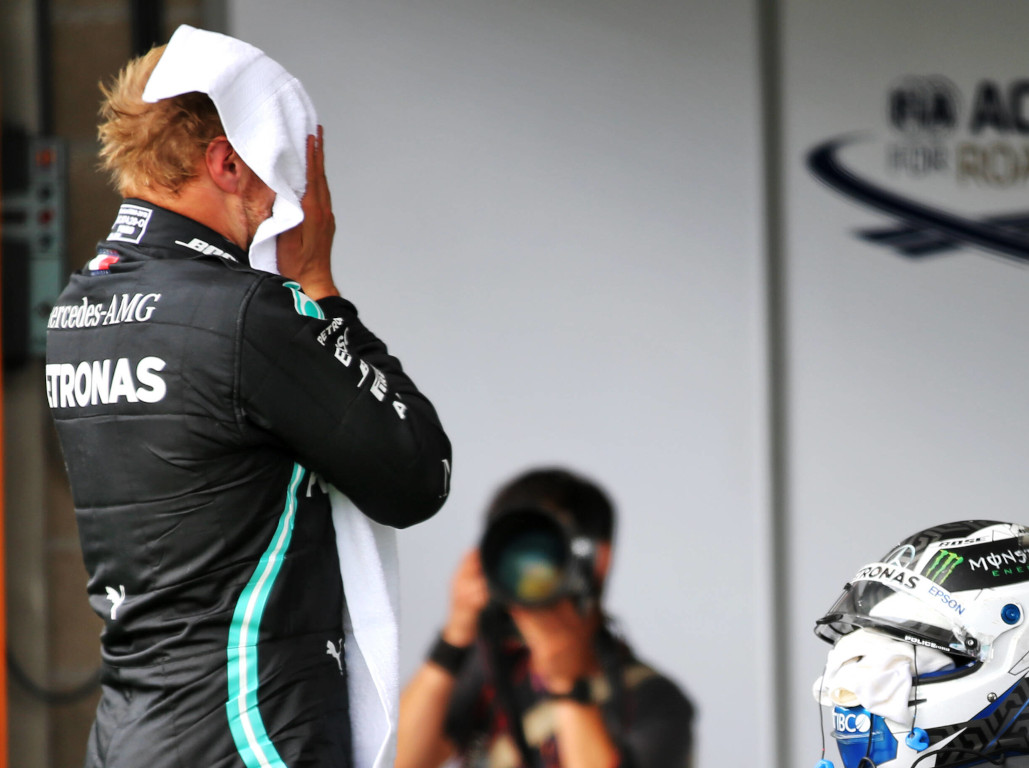 So, why was Bottas so much slower than Hamilton for the entire race? The latter was admittedly, asides from the pit-lane mistake, in excellent form all weekend, but the former still would have hoped to be closer to his level on Sunday.
Well, the obvious explanation, and the one he probably still stands by, is that there was an issue with his car. However, whether this was the case or not is still unclear.
"I believe there must have been something on the car and we have quite a discussion to have because we can't see anything on the data," team principal Toto Wolff told Channel 4.
If evidence can be found that Bottas was driving a somewhat hampered car, then we, and many other critics of his performance, owe him an apology.
If that isn't the case, the Italian Grand Prix was quite simply one of his lowest points since joining the team.
There's no shame in not being able to challenge Lewis Hamilton over the course of an entire season – there aren't too many on the grid who currently could. Frankly, that's not expected of him.
His team do however expect him to perform at a level not light years away from the Brit and, crucially, to be able to pick up the pieces if things go wrong for the six-time World Champion.
Right now, the Finn can afford to have such a poor race considering how far ahead Mercedes are in both Championships. Next season though, if Red Bull have two drivers consistently getting podiums (there's a French bloke at AlphaTauri who could do alright there) or McLaren improves considerably with their German firepower, that won't be the case.
If then, poor pace and an inability to overtake cost the team dear, he may not get away with it, especially with George Russell waiting in the wings for a chance to drive the Silver (currently black) Arrow.
That being said, it is hard not to feel a little sympathetic towards poor old Valtteri. Being directly compared to someone who can do pretty much anything on four (and three) wheels and make it look easy can't be pleasant. Just ask Alex Albon.
Finley Crebolder
Follow us on Twitter @Planet_F1 and like our Facebook page.