Lewis Hamilton has another World Championship in the bag but of his seven triumphs, which of them was his best?
There is, of course, no such thing as a bad title-winning season. Becoming a World Champion even once is an enormous challenge and a monumental achievement.
That being said, when one wins so many, some are bound to be more impressive than others. Here's how we rank Hamilton's.
7. 2015
The Brit won his third title, and made it two from two at Mercedes, in relatively comfortable fashion in the end. However, for much of the campaign, he wasn't at his best.
He made an excellent start to the season, winning three of the first four races. After that, however, team-mate Nico Rosberg started to gain the upper hand with impressive victories in Spain, Monaco and Austria.
Hamilton secured the title thanks to a run of six wins in eight races but was then beaten by the German in the final three rounds, handing Rosberg momentum which he would take into the 2016 season.
Make no mistake, he was still, all in all, hugely impressive in 2015. He won 10 races, set the record for most podiums in a season and, most importantly, won his third title.
However, failing to beat Rosberg in the last few races, and often riling him up – who can forget the cap throw? – ended up proving costly the following year. Furthermore, of all the titles he's won at Mercedes, this was the one in which he beat his team-mate by the smallest margin.
6. 2017
After losing out to Rosberg in 2016, Hamilton's biggest threat the following year was another German, Sebastian Vettel. While he got the better of the Ferrari man, he didn't exactly make life easy on himself.
Nine races in, he trailed Vettel by 20 points and largely had himself to blame. After a poor weekend in Sochi, where he started and finished a distant P4, and a terrible showing in Monaco, in which he qualified in P14 and finished in P7, questions began to be asked about just how much the 2016 loss had damaged him.
The turning point came on Hamilton's home turf as he won the British Grand Prix in style, taking pole position, fastest lap and leading for the entire race. With Vettel finishing in P7, the Brit was now just a point behind and seized the initiative. While he wasn't good in Hungary, subsequent wins in Belgium, Italy, Singapore, Japan and the US sealed him the title.
He was, at times, at his brilliant best, but not as often as we've grown used to seeing, so much so that his triumph was as much due to Vettel's post-Baku capitulation as it was his own driving.
Mind you, he did see off a four-time World Champion and the sport's most successful outfit. The fact that 2017 is so low on this list says more about how good he was in the seasons below.
5. 2008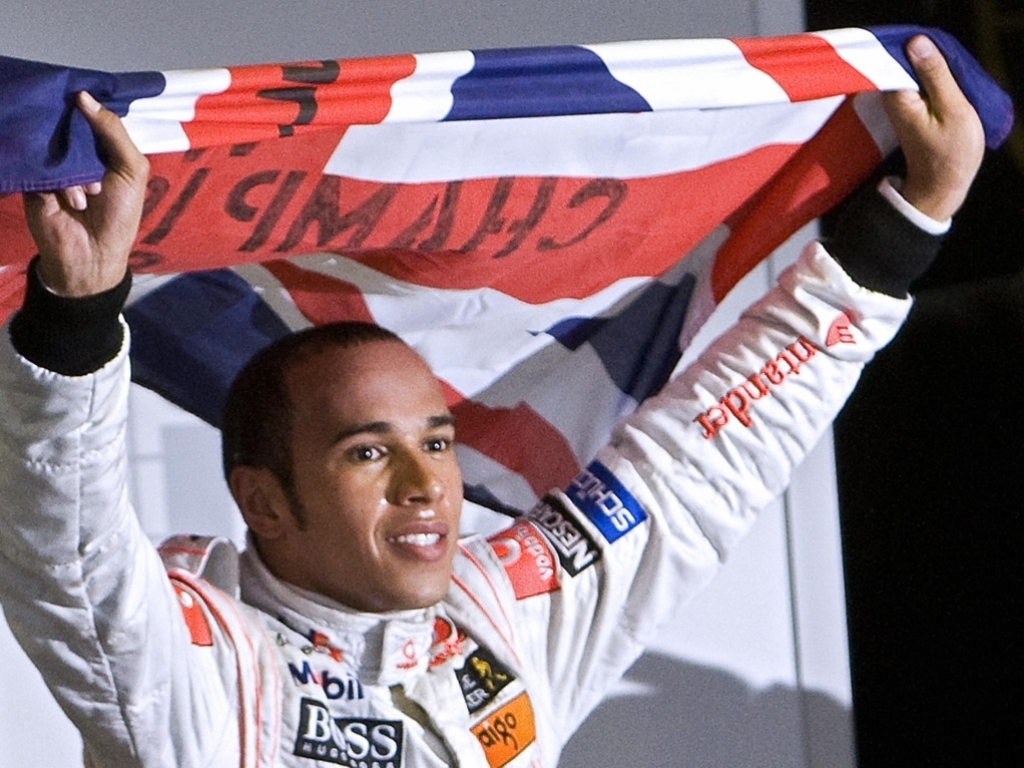 Given his sky-high standards today, Hamilton probably wouldn't be too pleased if he were to drive as he did in 2008 these days. For a 23-year-old in just his second season in the sport though, it was a thoroughly strong season.
After the heartbreak of 2007, he made the perfect start to the year, cruising to victory in Australia while Ferrari scored just a point, but the Italian team then went on to win the next four races. He returned to winning ways himself in Monaco, but made a huge mistake at Montreal, crashing into Kimi Raikkonen in the pit-lane before the race, retiring his car.
He responded perfectly with stunning wins in Silverstone and Germany, and when Raikkonen dropped out of the title race due to four straight non-points finishes, making it a two-horse race between Felipe Massa and himself, it was his to lose.
He nearly did so with another error at the start of the Japanese Grand Prix but made up for it with a win in China and a dramatic late recovery in Brazil, becoming the youngest World Champion ever at the final corner of the final race.
Granted, it could and perhaps should have been wrapped up in a more comfortable fashion, but the fact is that, in a largely even car, he saw off two far more experienced drivers and the might of Ferrari with little help from his team-mate.
4. 2019
At the start of 2019, it looked as if Valtteri Bottas was going to push Hamilton all the way, but the Brit soon made it clear that even entering his mid-30s, he was as formidable as ever.
There was nothing to choose between the two Mercedes drivers in the opening four rounds as they traded blows, taking two wins apiece. Hamilton then took the lead of the standings with a win in Barcelona and followed it up with five wins in seven races, with the stand-out being a flawless drive in Monaco.
His form took a considerable dip after this spell as he took just two victories in the final nine races. Nevertheless, with the exception of Brazil, if he didn't win, he'd still finish in one of the two other podium positions. Doing so was enough for him to win his sixth World Championship with two races to spare.
Bottas was pushing him hard at one point, but Hamilton never really looked like being beaten by the Finn, scoring his highest-ever points tally in the process.
3. 2014
When Hamilton opted to leave McLaren for Mercedes, a huge number of people in the sport thought it was a bad decision. He proved them wrong in his second season with the German team, prevailing in the first chapter of his rivalry with Rosberg.
After retiring from the first race, he went on the win the next four, making it clear that, finally in a top car again, he was still one of the best drivers on the grid. Rosberg wasn't doing badly himself though and actually led Hamilton narrowly halfway through the season.
He increased this lead after the summer break with a win in Germany and a P2 finish in Spa. In that race, he caused Hamilton to retire, and this awoke something in the Brit. He embarked on arguably the best run of his career, winning an incredible seven of the last eight races to become a World Champion for the second time.
That spell is largely why this season ranks so highly. Coming in the first year of the hybrid era, it marked the birth of the driver who has absolutely dominated said era ever since.
2. 2020
A day i'll never forget 🏆#S7ILLRISING pic.twitter.com/O1Y6eD9iQX

— Lewis Hamilton (@LewisHamilton) November 15, 2020
With three races to go, this year's campaign could still move up or down, but at the time of writing, it's not far off being his most impressive season yet.
He entered it under huge pressure, with all the talk being about the possibility of him matching and breaking multiple Michael Schumacher records. Such talk only grew with the season delayed due to COVID-19, and when it finally got underway in Austria, it looked as the weight of expectation had perhaps got to him as he finished in P4 with a scrappy drive.
Since then, he has proven that that could not be further from the truth. If anything, it has made him even better. He has 10 wins in 13 races and has been leaps and bounds ahead of Bottas throughout the season, as shown by the fact that he also has nine pole positions.
He says he's driving better than ever and looking at some of his displays, it's hard to disagree. 2020 will be remembered as the season he, statistically at least, became the best ever, and he has done it in style.
1. 2018
2018 was the year that both Ferrari and Red Bull built a car to fight Mercedes. It was the year that Ferrari constantly had a second car in the mix for him to deal with. It was the year the Italian team felt they'd finally win a title again. And he still came out on top.
It looked as if Vettel would beat Hamilton to five titles as he won the first two races, and it stayed that way for a while. The championship lead swapped hands between the two numerous times in the first half of the season, but after winning at Silverstone, Vettel had it.
However, the German was one of a number of drivers to succumb to the chaos of his home race, and Hamilton was one of the few to excel in it as he took victory. He followed it up with a typically dominant performance in Budapest to pass Vettel in the standings, and never looked back from that point, winning six of the final nine races. In the other three, he finished P2, P3 and P4.
Ever since he won his first title with Mercedes, people had shrugged off Hamilton's triumphs, saying it was just the car. In 2018, he largely proved that wasn't the case. In evenly matched cars, he and the other great of his generation had gone head to head for the second year in a row, and he ended up coming out on top comfortably for the second year in a row.
At the end of the season, Toto Wolff said 2018 was the best he'd seen Hamilton drive, and considering he put in one of the best laps *ever*, it's easy to see why. Enjoy.
Lewis Hamilton's ridiculous pole lap ahead of the 2018 Singapore Grand Prix 🔥 #SingaporeGP#F1pic.twitter.com/I6HyB79EAv

— Planet F1 (@Planet_F1) September 16, 2019
Finley Crebolder 
Follow us on Twitter @Planet_F1 and like our Facebook page.