What next for Mattia Binotto? Five possible destinations after Ferrari F1 exit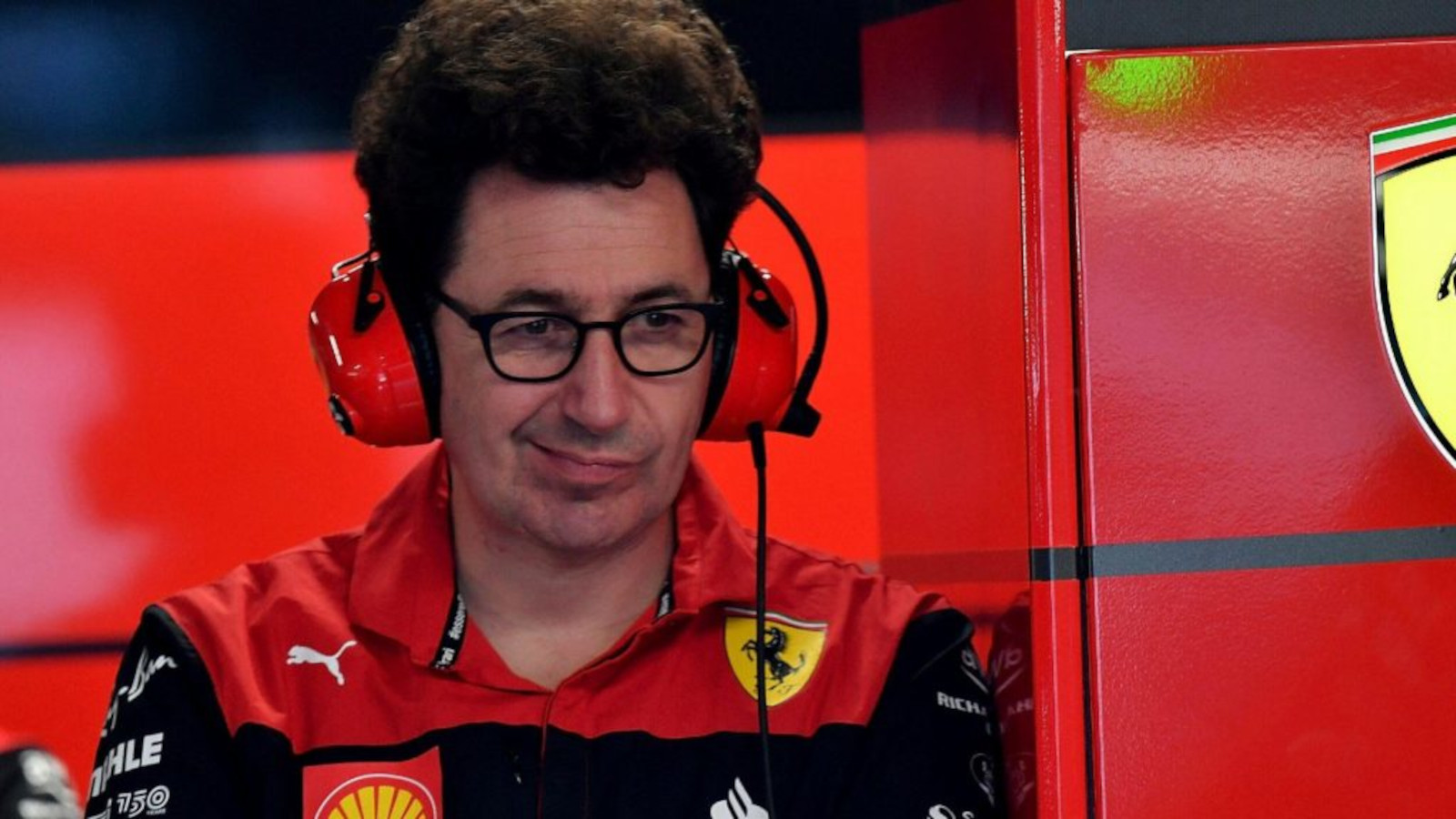 The problem with appointing Mattia Binotto as team principal back in 2019 was that it was effectively the beginning of the end of his Ferrari career.
At some point down the line, he would be blamed for the Scuderia's latest glorious failure and he would pay for it with his job.
That – with an inevitability so great Ferrari really should have seen it coming – was what happened last week as Binotto announced his resignation following the Prancing Horse's failure to maintain their strong start to the 2022 Formula 1 season.
But Ferrari are arguably the biggest losers here having allowed one of the great creative technical minds of modern F1 to slip through their grasp.
Binotto will not be short of offers to return to the pit lane, so here's our list of five possible destinations…
Audi
With the first whispers of Binotto's Ferrari exit before last month's season finale came the first true test of Audi's commitment to winning in Formula 1.
If the Four Rings are determined to emerge as a serious force, they would have picked up the phone in a heartbeat.
Audi will not arrive on the grid until the new engine regulations are implemented in 2026 but the process of building a winning team began at the point Sauber were finally confirmed as the "strategic partner" for their F1 entry in late October.
With a glorious history in endurance racing, Audi already have experience with hybrid technology and the powertrain they will run in 2026 is set to be based on the F1 engine sister company Porsche constructed when they previously came close to joining forces with Red Bull in 2017.
Yet contemporary F1 experience is surely a must and who better to modernise Audi's assets than a celebrated engine specialist?
Ferrari's engine trickery may have ended in tears in 2019 but twice in the hybrid era Binotto brought the Prancing Horse's power unit from a position of weakness (2014 and 2020/21) into one of the most potent in the pit lane.
The Scuderia's small turbo in 2022 was both their greatest strength and their biggest weakness, offering unmatched acceleration out of corners but also at the root of their reliability woes.
It is that high-risk, high-reward philosophy Binotto – a Swiss-born Italian – could bring to the Hinwil-based team about to fall under the ownership of a German manufacturer with a distinctly Italian flavour.
It is worth noting also that Binotto's predecessor Stefano Domenicali landed at Audi soon after his resignation as Ferrari boss in 2014, leading a feasibility study into a potential F1 entry.
With current Sauber boss Frederic Vasseur the overwhelming favourite to succeed Binotto, a job swap is perfectly possible and Ferrari's loss could turn out to be Audi's gain.
Mercedes
When Toto Wolff elected to continue as Mercedes boss at the end of 2020, the team announced a new three-year agreement with "the subsequent opportunity to transition to a new executive function within the organisation when he decides it is the right time to do so."
Next season is year three and the future of Wolff, with a young family and ambitions stretching far beyond running a race team, promises to be among the most compelling off-track storylines of 2023.
Whether Binotto would be considered a suitable choice to succeed one of the most successful team principals in grand prix history would likely depend on the prevailing view of the paddock on his Ferrari tenure.
Rightly or wrongly, there are some who simply saw it as a classic case of the Peter Principle – an individual being promoted through the ranks of a company until they reach a position beyond their capabilities.
If the boss life is no longer for him – and Mercedes will have no shortage of potential in-house replacements – might there be an opportunity to return to his area of expertise within the High Performance Powertrains division?
Much has been made of HPP losing key staff to Red Bull's newly established engine operation and Mercedes lost one of the central pillars of their success when Andy Cowell resigned in the summer of 2020.
Yet was there a hint of resentment in the air when, during a run of engine penalties in the second half of 2021, Wolff blamed Mercedes' unreliability on the team overstretching to match the false target set by Binotto's Ferrari in 2019?
To understand how Mercedes can offer redemption to a Ferrari scapegoat, Binotto should look no further than his former colleague Aldo Costa, who left Maranello following a poor start to the season in 2011.
As engineering director, Costa played an instrumental role in the early years of Mercedes' F1 dominance between 2014 and '18.
Wolff, though, has all but said he wouldn't consider Mercedes a landing spot for Binotto as there's been "too much porcelain broken between us".
Red Bull Powertrains
When Ferrari and Red Bull went head to head in the early months of 2022, a remarkable image surfaced of Binotto standing in the Barcelona pit lane wearing Red Bull uniform.
It was taken back in 2006 when Red Bull were a mere Ferrari customer team, but might the strange sight of Binotto in blue be a more regular occurrence going forward?
Having hoovered up a lot of talent within the paddock, Red Bull Powertrains was essentially established to ensure the team's hard work with Honda did not go to waste following the Japanese manufacturer's withdrawal at the end of the 2021 season.
That was expected to transition seamlessly into a partnership with Porsche in time for the 2026 rule changes, but the collapse of that deal leaves more questions than answers.
Many suspect it is a matter of time before Red Bull and Honda properly reunite and carry on from where they left off – the first step came with the Honda logo returning to the car for the final five races of 2022 as the partnership was 'strengthened' – but could there be a role for Binotto behind the scenes at RBPT?
Viewed from Red Bull's perspective – looking to consolidate their position at the top of the mountain after winning their first Drivers' and Constructors' Championship double in nine years– if they sign Binotto, that means nobody else can have him.
Aston Martin
When Audi were in the process of deciding on a team for their 2026 F1 entry one of the more surprising names mentioned was that of Aston Martin, a team previously thought to be inextricably linked to Mercedes.
An Audi-powered Aston Martin sounded so wrong to be oxymoronic, but the team revealed an openness for change in April when admitting to "actively exploring options" in terms of engine supply.
Almost a decade into F1's hybrid era there has been nothing yet to disprove Ron Dennis's theory that a works engine deal is essential if a team has serious ambitions of winning the World Championship – and Lawrence Stroll knows it.
His initial plot for Aston Martin to build their own engine was reportedly dropped after Red Bull Powertrains' intense signing spree, with his next bright idea to invest – or even purchase outright – Mercedes HPP also failing to materialise despite the apparent enthusiasm of Mercedes chairman Ola Kallenius.
But might the sudden availability of Binotto influence a return to Plan A?
Let's say Mr Stroll, in conjunction with title sponsor Aramco, approaches Binotto with the task of using all the experience of his years at Ferrari to build the most powerful engine he can for 2026 – money no object – with the promise of building the rest of the car around whatever he comes up with.
Such a lucrative offer – with huge technical influence in his area of expertise but none of the responsibility – would be difficult to turn down.
Stranger things have happened.
Formula 1
As the sport said an emotional goodbye to Sebastian Vettel in Abu Dhabi, Ross Brawn slipped into the shadows almost unnoticed having announced his intention to retire 12 months previously.
Given some of his recent murmurings on more sprint races and a reverse DRS system to artificially slow down runaway race leaders, his exit as Formula 1's Managing Director of Motorsports may not be such a bad thing but leaves a gaping hole.
In his six-year spell with Liberty, Brawn oversaw the development and introduction of the 2022 technical regulations – surrounding himself with such trusted allies as Pat Symonds, Nikolas Tombazis and Steve Neilsen – and implemented F1's cost cap.
With engines and fuel the focus of the 2026 rules as the sport pursues its green dream, a role within the Formula 1 structure – where he would be reunited with Domenicali – may appeal to an engineer of Binotto's stature.
At just 53, however, is he still too young to step away from the competition element of motor racing?
Or, having given almost three decades of his life to F1's most sacred team, would he even want to start over again with a different outfit? Does he really need to subject himself to the scrutiny, stress and sacrifices that come with running a team?
It is something Binotto himself will need to work out as he tends to his vineyard in the Trentino region of northern Italy.
If he cannot bring himself to wear another team's colours, a comfortable job at Formula 1 will almost certainly be waiting for him.
Read more: Paddy Lowe 'quite happy' Max Verstappen took 2021 title in 'sport of jeopardy'