Readers reflect on one of the best races in recent times and, of course, that all-important race-winning pass from Max Verstappen.
Plus more joy for McLaren, more woe for Ferrari and does the Austrian Grand Prix show that Formula 1 is not in crisis mode after all?
Join the discussion over on the PlanetF1 forum here or head to the comments section down below…
Not so perfect gentleman
What a race from Max, so impressive. Unbelievable. Who would have thought he'd win this after that awful start? And why is Red Bull so fast in Austria? It's not a track that should suit them.
The pass on Leclerc was harsh, that's all I'll say about that. But Max is Max, he is never going to race you like a gentleman. You either love him or hate him. Feel gutted for Leclerc. That's the second time he's had a race win snatched away from him.
Bad day for Hamilton, damaging his wing and then lacked pace overall, but the Merc was the third best car this weekend.
Oh…and F1 is boring still? I don't think so.
kleefton
It was an incredible race and an amazing win! 💪🏻 Thank you @redbullracing, thank you @HondaRacingF1, thank you fans, thank you all! 🙌 #KeepPushing #OrangeArmy #AustrianGP 🇦🇹 pic.twitter.com/6NtIdGd25d

— Max Verstappen (@Max33Verstappen) June 30, 2019
F1 needed that…
That race came alive big style. In terms of natural justice, Verstappen fully deserves the win as he was far and away the driver of the day. I feared though that the letter of the law may well rob him of that win though.
A messy weekend for Mercedes and the sport needed that. Hamilton from a pragmatic point of view may have been better letting Vettel past and trying to follow him through to get Bottas, but that wouldn't have been in the spirit of racing.
Great day for Mclaren again, and congratulations to Antonio Giovinazzi for a first point in F1.
BMWSauber84
Just a few thoughts
– Hard to remember race as good as this one in years. Spectacular comeback by Verstappen, incredible, don't remember seeing this in recent times.
– Vettel lost the podium by the below amateur level handling of the team.
– Amazingly bad decision to punish Magnussen for what looks apparently an honest mistake in which his car gained 20-30 centimeters at the start, because he obviously lost a few positions and did not gain anything by it. The punishment was perhaps in the letter of the rule, but not the spirit of it. Totally unnecessary.
– TV conductor should notice that the onboard is more than a second lagging behind the actual streaming. Very annoying glitch, and its repeated. They should either correct it or not using onboard live, during the overtake. Because – puff! the driver has already passed. Meh!
Lt. Drebin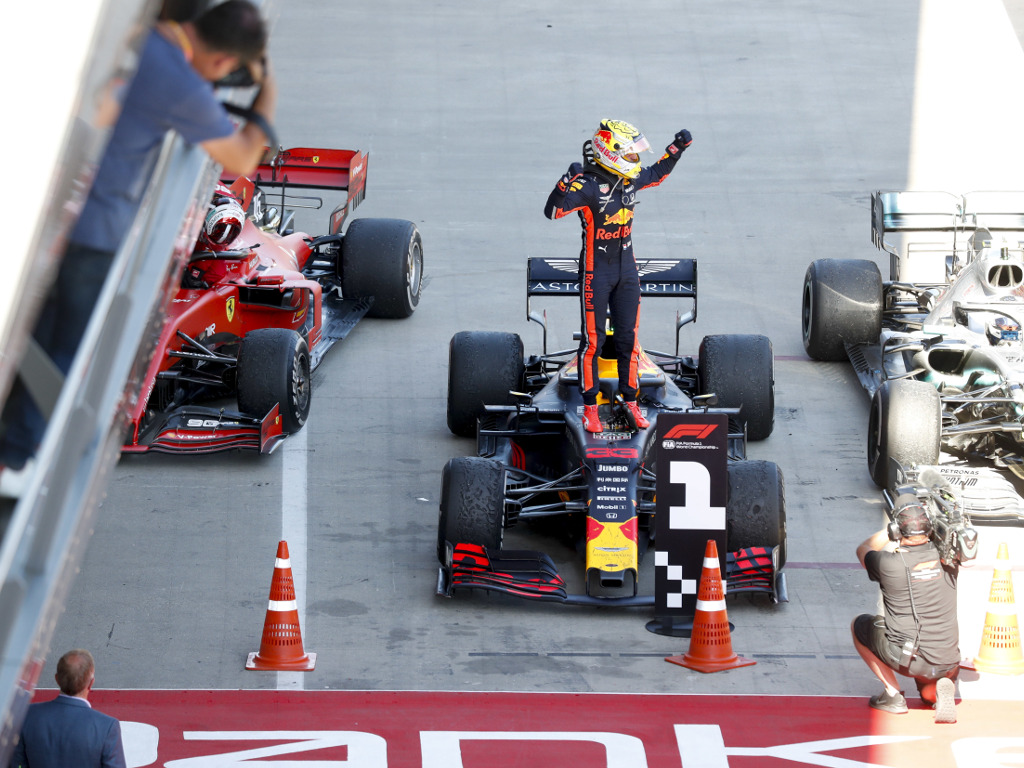 The best Verstappen performance yet?
What a race that was! Best race of the year!
For Max, that was probably the most impressive performance of his career thus far. He came back from the adversity of a poor start and just chipped away at the cars in front of him. On that Hard tyre he was absolutely flying! I was amazed that the Red Bull didn't seem to struggle at all with the heat and the increased wear.
He made solid passes and I would have been upset if he is penalized for that move on Charles. For me that was a totally fair pass. It's disturbing to see a driver lap his own teammate in a race where neither had a collision and where there was no safety car period. It's a testament to how strong Max was today but also a testament to how poor Gasly is performing. Red Bull should be concerned because I think they had the car to beat in the race.
For Charles, this will be disappointing and I'd be interested to see exactly what the team were telling him as Max made his charge late in the race. It seemed like he upped his pace only after Max got around Sebastian; which, for me, suggests he could have built a larger lead prior to Verstappen getting into clean air. One thing is for certain, the Ferrari did not have the pace late in that race to keep Max behind.
A P2 finish is a career best though for Charles and I think he can view the weekend as a positive overall. For Vettel, it was less positive but to get that position from Hamilton at the end really salvaged a solid points haul for him. I think he did about as well as could be asked for considering the mechanical failure in Q3 yesterday but this weekend was one that goes to his young teammate in the matchup.
For Mercedes; this was an objectively poor race weekend. For Hamilton, this was the worst race he's had in ages.
You'd have to go back to Mexico last year to find a worse performance over a weekend from Lewis and Mercedes and I think the hot temperatures are still a silver bullet for them.
Bottas had an uneventful race but I think that P3 was the best he could hope for. Their pace was just nowhere close to the Ferrari or to the Red Bull and they spent the entire race lifting and coasting. No big deal though as they have the margin in the standings to absorb this defeat but definitely a low point in the season thus far.
Another excellent day for McLaren, who have well and truly taken the lead in the best of the rest category. Norris has been just brilliant and what a race by Sainz. To come from the back and finish so high up just shows you his quality. He has become a bit underrated IMO. For me, he's another Sergio Perez. Very solid. It was also nice to see the Alfas in the points.
Is F1 still in crisis or can we stop overreacting now?
sandman1347
3rd place in Austria 🏆🍾

Read about the race:https://t.co/2WAT2ZNoU0#VB77 #F1 #AustrianGP @MercedesAMGF1 pic.twitter.com/DY9LFXoMXi

— Valtteri Bottas (@ValtteriBottas) June 30, 2019
The Bottas 'defence'
Now that Verstappen has overtaken leclerc in the manner he did, Bottas was right with not defending.
I think he knew who it was. Anyway, given the heating issues for Mercedes and how fast that Red Bull and Verstappen was, Bottas defending would have just put hem at risk of getting Vettel by too.
I understand people's early reaction to Bottas not trying, but wasting time defending a significantly quicker car at the time would have cost him a place to Vettel too.
TheGiantHogweed
Follow us on Twitter @Planet_F1 and like our Facebook page.