Merit or mischief, Verstappen has some thinking to do
It is fair to say Max Verstappen has not taken too kindly to questions about his on-track conduct with Lewis Hamilton during the 2021 Formula 1 season.
"We've had so many f****** questions about this, it's just ridiculous, honestly," the Red Bull driver ranted in the post-qualifying press conference at July's Hungarian Grand Prix – a fortnight after his first-lap collision with Hamilton at Silverstone – interrupting a query over what might happen if they found themselves wheel to wheel again.
"Honestly, the whole Thursday [media day] we've been answering this stupid s*** all the time. So can we just stop about it please?"
Verstappen's stance in Budapest was firm and forthright, but fully understandable. That sort of thing, after all, was for everyone else to talk about and for Max and Lewis to think about.
Anything either title protagonist said in that environment would only be used as evidence against them in the event of another incident, so it was better – safer – to just say nothing.
If Verstappen was tired of facing constant questions about Silverstone – a clash interpreted by most sensible observers as a racing incident – he may be positively exhausted by the end of this week after a Saudi Arabian GP in which he was deemed by some to have disgraced himself.
On the weekend he could have been crowned World Champion for the first time, the stubborn and impetuous side of Verstappen – the darker part of his personality he has done exceptionally well to keep just below the surface for much of 2021 – fully revealed itself in Jeddah.
Could Lap 37 in Jeddah be one of the defining moments of the season? 🤯#SaudiArabianGP 🇸🇦 #F1 pic.twitter.com/vfrLzUVJW9

— Formula 1 (@F1) December 5, 2021
His behaviour in combat with Hamilton, which earned him two separate time penalties, was unflinchingly fierce in its intensity and at times it felt as though Max, requiring Hamilton to run into difficulty in order to secure the title, was trying to provoke or lure Lewis into trouble.
For some, it merely provided confirmation of what they thought they already knew – Verstappen will do whatever it takes to win this World Championship.
As robustly as he raced in Saudi Arabia, Verstappen was perhaps always destined to finish second, the various Virtual Safety Cars in the second half of the grand prix not enough to alleviate the stress going through his medium-compound Pirellis compared to Hamilton's hard tyres.
After his crash in the final seconds of qualifying, leaving Jeddah with his championship lead intact was all he could have wished for.
And while Hamilton's third consecutive victory has put the pair level on points ahead of this weekend's Abu Dhabi GP, Verstappen's nine wins to the Mercedes driver's eight has kept him ahead on countback and, crucially, affords him options for the title decider.
Traditional motor racing folk tend to recoil in horror at the very thought of a racing driver deliberately making contact with a rival, yet the uncomfortable truth is that it very much exists as a tool in Verstappen's armoury – particularly if Hamilton and Mercedes show signs of recapturing their dominant form of Brazil and Qatar at the Yas Marina circuit.
And if there is one driver to have entered F1 over the last two decades whom you suspect may resort to such tactics at a time of desperation, it is surely the combustible character whose unnerving unpredictability in battle early in his career resulted in rules being rewritten.
While it is, of course, hoped the title is won in a fair and uncontroversial manner, it is intriguing to imagine how the sport – F1 itself and governing body the FIA – might react if Verstappen were to succeed in such circumstances.
ICYMI: Our top two are TIED on points with one round to go!

Verstappen technically maintains the lead, as he has more wins (9) than Hamilton (8)#SaudiArabianGP 🇸🇦 #F1 pic.twitter.com/C201RydF4r

— Formula 1 (@F1) December 6, 2021
Speaking on Sky Sports' post-race coverage of the Saudi Arabian GP, 1996 World Champion Damon Hill – who was denied the 1994 title after being 'deliberately' hit by Michael Schumacher in Adelaide – claimed a clear precedent was set in 1997 when Schumacher was disqualified from the World Championship for attempting to eliminate Jacques Villeneuve from the final race.
Viewed through modern eyes though, the decision to strip an entire season's work from a driver – though Schumacher kept his points and results, including five victories, achieved across that year – for a half-baked, desperate and ultimately unsuccessful chop seems excessive.
In the near-quarter of a century since Schumacher was left embarrassed in the Jerez gravel, the world and F1 have changed almost beyond recognition – perhaps the most significant change being that F1 is these days owned by a media company.
Were Verstappen and Hamilton to collide in Abu Dhabi, it is undeniable the incident would instantly become the defining F1 moment of this century, arming the sport with footage capable of breaking the internet.
That matters in an era of social media penetration and Netflix documentaries, whether we like it or not.
While only now manifesting itself on the track, this title race has long since descended into bitterness, with the team principals of Mercedes and Red Bull, Toto Wolff and Christian Horner, not exactly covering themselves in glory.
In that context, the prospect of a winter of claims and counter-claims – potential appeals and counter-appeals – is distinctly unappealing but would succeed in keeping F1 firmly in the news cycle. Bad for business? Hardly.
Indeed, even the FIA themselves appear to have succumbed to cynicism, with both Hamilton and Verstappen victims of performative stewarding in recent weeks.
The decisions to disqualify Hamilton from Friday qualifying for a DRS infraction in Brazil and drop Verstappen five places on the grid in Qatar for a yellow flag infringement both came almost 24 hours after the sessions concerned had concluded, just as the television cameras began rolling on the next day's action.
In another example, the news of Mercedes' right of review into Verstappen's defence at Turn 4 in Brazil being rejected arrived as Wolff and Horner were sat together in an FIA press conference in Qatar, allowing viewers to be treated to their immediate reaction. Coincidence?
Welcome to where sport meets show.
With the stewards displaying a reluctance to intervene in on-track scuffles between Hamilton and Verstappen throughout 2021 unless compelled to do so, it is difficult at this stage to envisage the FIA doing anything meaningful about any funny business in Abu Dhabi, with the severity of any action likely to depend on how blatant an incident may be.
Any crash, of course, takes two to tango and just because a collision would favour Verstappen it would not necessarily mean he would be at fault, with Hamilton's hopes also dependant on keeping his rival behind no matter what.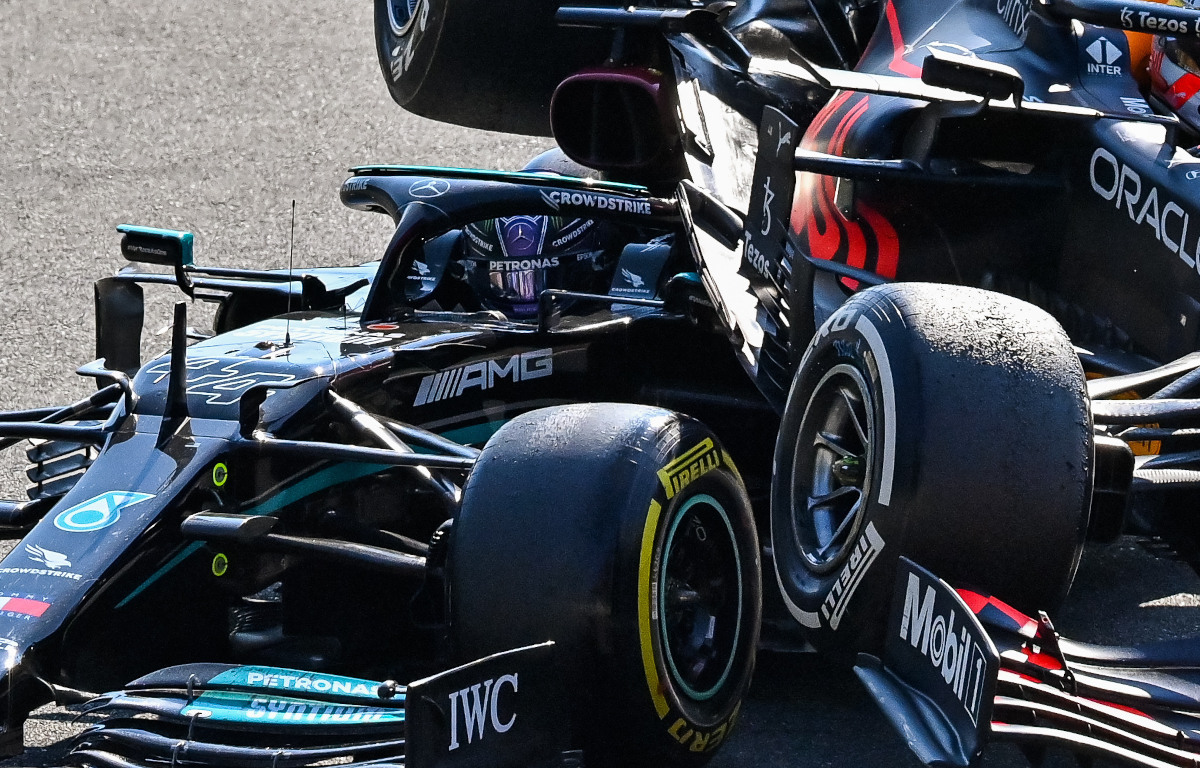 But whenever anyone has dared to consider contact in Abu Dhabi, they have almost always done so with only one man doing the initiating, such are the stark differences in approach and reputation between the two.
Among Hamilton's greatest strengths is his ability to know his enemy, identifying those on the grid who demand more space in combat.
That skill was central to his back-to-front victory at Interlagos, where he overtook every single driver in either sprint qualifying or the race and saw Verstappen's move to run him off road at Turn 4 coming when a more stubborn and less intelligent driver may have had the accident.
Hamilton seemed to refer to the need to tailor his own approach to each individual competitor when discussing his battle with Verstappen after the race in Jeddah, reiterating that his frequent leaving of room for the Red Bull driver – most memorably at the first corner in Spain – has been smart, not soft.
"I've raced a lot of drivers through my life," he told Sky Sports. "In the 28 years [of my racing career] I've come across a lot of different characters and there's a few at the top who are over the limit. Rules kind of don't apply or they don't think of the rules.
"He's over the limit, for sure. I've avoided collisions on so many occasions with the guy and I don't always mind being the one that does that because you live to fight another day."
Hamilton's clearest route to an eighth title would be to totally steer clear of Verstappen and follow up a third successive pole position with a race start reminiscent of 2014, when his lightning getaway killed any possibility of a collision with Nico Rosberg after a week of similar tension.
The role of Valtteri Bottas, the wingman making his final appearance as a Mercedes driver, will be crucial in acting as a shield, both at the start and in the event of restarts.
Having dominated from pole in Abu Dhabi in 2020 – albeit on a different layout and on a weekend when Hamilton was still recovering from Covid – Verstappen will fancy his own chances of winning on merit, especially after Red Bull's surprisingly strong performance in Jeddah on a circuit initially expected to heavily favour Mercedes.
Yet if at any stage he senses the World Championship slipping away, it would be no surprise if Max took matters into his own hands – and to hell with the consequences.
It is for everyone else to talk about and for him to think – very carefully – about.
Verstappen taking all the risks
Ralf Schumacher claims he likes the risks that Max Verstappen takes.