Why new Verstappen deal should strike fear in the paddock
In a state of heightened emotion people tend to get a little carried away, saying things they don't really mean and making vows they may struggle to stick to.
So it seemed on the ironically named cool-down lap at the end of last year's Abu Dhabi Grand Prix, where the realisation of his lifelong ambition of becoming Formula 1 World Champion smashed into Max Verstappen.
If the desolation of defeat had stunned Lewis Hamilton and his Mercedes team into a silence to last the entire off-season – having led comfortably and been on course for a record-breaking eighth title until the last lap of the race – the circumstances of their success left Verstappen and Red Bull unable to contain themselves.
At the end of a long, hard 2021 season of treating those two great imposters of victory and defeat just the same, he could at last – with tears shed as team and driver roared at each other in celebration over team radio – let it all out.
And as Verstappen coasted to a halt before the P1 board on Yas Marina's pit straight and began to climb out his RB16B – this Honda-powered manifestation of his hopes and dreams – one last time, a final radio message emanating from Car 33 appeared on screen.
"This is unbelievable, guys," he giggled. "Can we do this for another 10-15 years together?"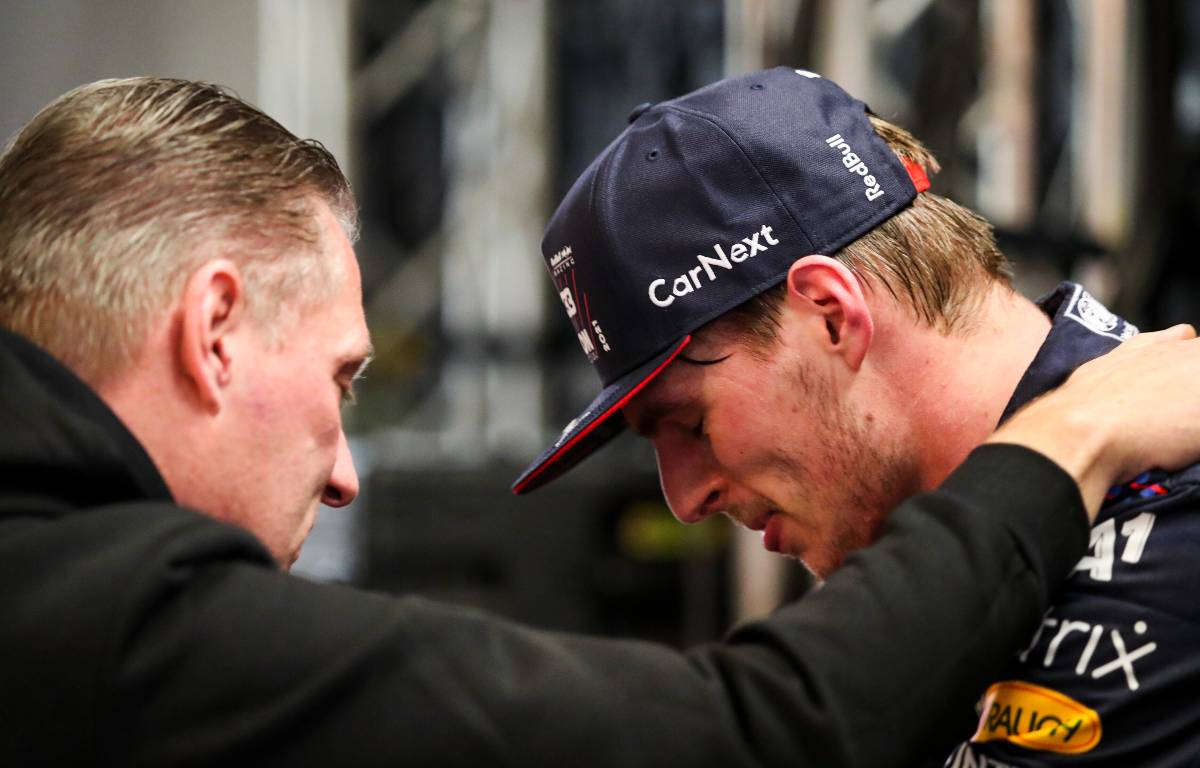 It was a lovely notion, already committing the rest of his career to the company that brought him into F1 as a teenager, but all too often in sport romance is made redundant and such best-laid plans are quickly confronted by cold, harsh reality.
Outlooks change. Priorities change. People change. Relationships develop and disintegrate and the act of winning – as Verstappen himself alluded to over the winter when admitting another year as intense as 2021 could shorten his career – can be immensely draining.
Nothing is built to last forever – especially not in Formula 1, with its unique ability to pull the entire enterprise down and build it back up again through regular rule changes, often introduced with the unashamed aim of triggering turbulence with the power to end eras and destroy dynasties.
History – indeed the team's own history with Sebastian Vettel, who fled for Ferrari within a year of claiming his fourth consecutive title in 2013 in an indication of how suddenly a perfect world can be turned upside down – would suggest, no, Verstappen and Red Bull most likely won't be together forever.
But that doesn't mean they're not going to give it their very best shot.
The announcement of Verstappen's signing of a new contract on Thursday (reportedly worth around $50million per year, if you please) is, in the words of Red Bull team principal Christian Horner, a "real statement of intent."
Running until the end of 2028 – which will take him to the age of 31 and is by some margin the longest deal for any current F1 driver – the contract extension is yet another crucial element in Verstappen and Red Bull positioning themselves to potentially dominate the post-Hamilton era.
Throughout the battle with Mercedes last year, Horner repeatedly stressed Red Bull were fully determined not to waste their first opportunity in eight years to fight for a title, almost creating the impression that their commitment to 2021 came with a willingness to sacrifice their short/medium-term future.
Yet after last week's first pre-season test in Barcelona where the Adrian Newey-designed RB18, with its heavily undercut sidepods, was judged by technical experts to be the most advanced of the new 2022 cars with the promise of more to come, there are signs Red Bull will only become even stronger from here.
This, of course, is the first year of Red Bull Powertrains, the founding of which was key to the team avoiding a return to customer status following the withdrawal of Honda at the end of last season.
Supported from afar by Honda, the engine division will provide the continuity every team craves and potentially act as a holding station ahead of the anticipated arrival of Porsche, said to be more likely than ever to enter Formula 1 in time for the revised 2026 engine rules and perpetually linked to a collaboration with Red Bull.
The cost of establishing the power unit program has at least been offset by the signing of two major new partners for 2022, software company Oracle agreeing a title sponsorship worth a reported $300m over five seasons and cryptocurrency firm Bybit in a $150m arrangement over three years.
And what of Verstappen, the point around which Red Bull's world revolves?
If he is sincere when he hints his heart couldn't take a repeat of 2021, the good news is he may have already overcome the toughest challenge of his career.
During last season Verstappen was almost disconcerting in his declaration that it wouldn't really change his life whether or not he won the World Championship in 2021.
It was an odd statement, and almost certainly part of a ploy to minimise the noise that accompanies a title challenge, but perhaps also came from being safe in the knowledge that time would see him triumph over Hamilton (12 years his senior) sooner rather than later in one of F1's great generational battles.
Now 37, Abu Dhabi 2021 arguably marked, for better or worse, the beginning of the end for Hamilton, who most expect to go one of two ways this season – either retaliating by reaching an unprecedented level of performance or finding his authority at Mercedes severely weakened by new team-mate George Russell.
After a season in which the pair regularly raced in a different stratosphere to the rest of the field as if to cement their status as the best out there, when Hamilton does retire it will leave Verstappen stood alone as the most complete driver of his generation – not only faster but vastly more decorated and, crucially, psychologically stronger than his peers.
As exciting as the likes of Russell, Charles Leclerc and Lando Norris are, two are yet to win a race (despite coming incredibly close) and all are yet to undergo the learning process of fighting for the World Championship for the first time – a unique experience Verstappen looked born to handle last year, displaying an apparent immunity to pressure.
Without a clear car advantage, would any of them stand a chance of defeating F1's mentality monster in a straight fight over a full season?
It is perfectly possible that Verstappen's head start – of winning grands prix for a front-running team built around him since the age of 18, years before his fellow stars of tomorrow even made their debuts – has allowed him to build an advantage they simply may never be able to close.
That is not to suggest Russell, Leclerc and Norris won't ever realise their full potential – although the fact there have only been 34 World Champions in F1 history hints they won't all go on to win titles – but serves to underline that nothing less than perfection will be required to overthrow Verstappen and Red Bull in the coming years.
Just as Verstappen was forced to feed on scraps at the height of Hamilton's dominance, this sport may well soon become Max's world with everyone else just living in it.
The stability of such a long contract should strike fear across the pit lane, for it provides Verstappen and Red Bull the perfect platform to potentially become as impregnable as any team-driver partnership to have come before.
Having finally returned to their title-winning perch in 2021, Red Bull are not going away – or, in Verstappen's case, anywhere – any time soon.
Be afraid. Be very afraid…
Verstappen signs mega contract extension
Max Verstappen has signed a contract extension until the end of 2028.