The F1 records held by Max Verstappen…and ones he can still break in 2023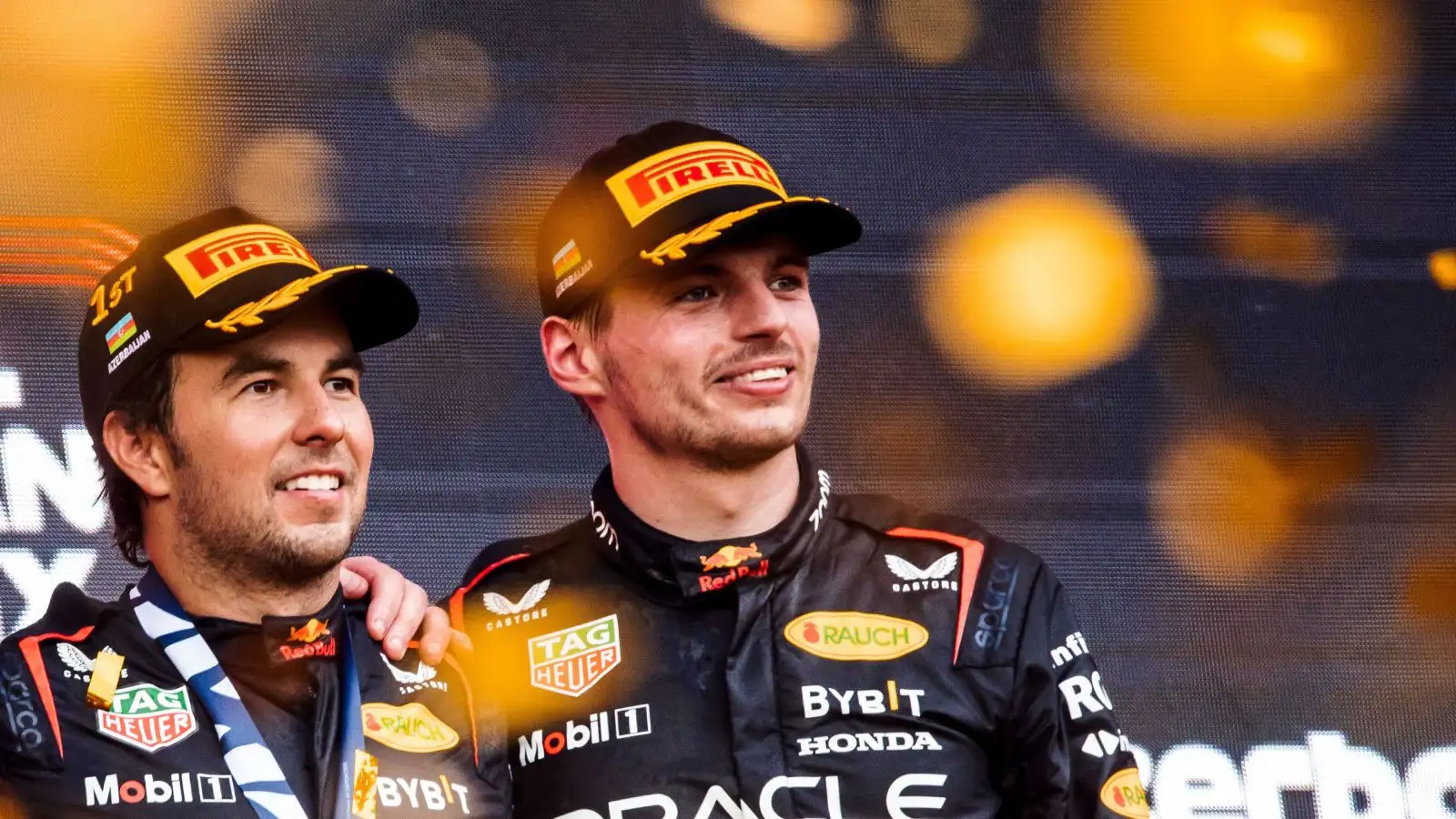 Max Verstappen already has plenty of records under his belt and with a car finally able to match his ability, there is no telling just where he might stop.
Even from his very first race, Verstappen has been breaking Formula 1 records. If you search Formula 1 records and look for any category where the word 'youngest' appears, you will often find the Dutchman's name at the top of the list.
He entered the sport in 2015 and, through a mixture of his famous last name and his much heralded young talent, he was talked about as being a potential generational talent.
F1, as is the case with any sport, is often guilty of placing too much expectation, too soon on the shoulders of its future stars but in Verstappen's case, he is living up to the billing.
An F1 education spent fighting with a dominant Mercedes has grafted him into an efficient title winner who could go on to break every record going.
With that in mind, here are the records he already possesses and ones he could surpass in both the near and far future.
Records broken by Max Verstappen
Youngest driver to start a race
17 years and 166 days – 2015 Australian Grand Prix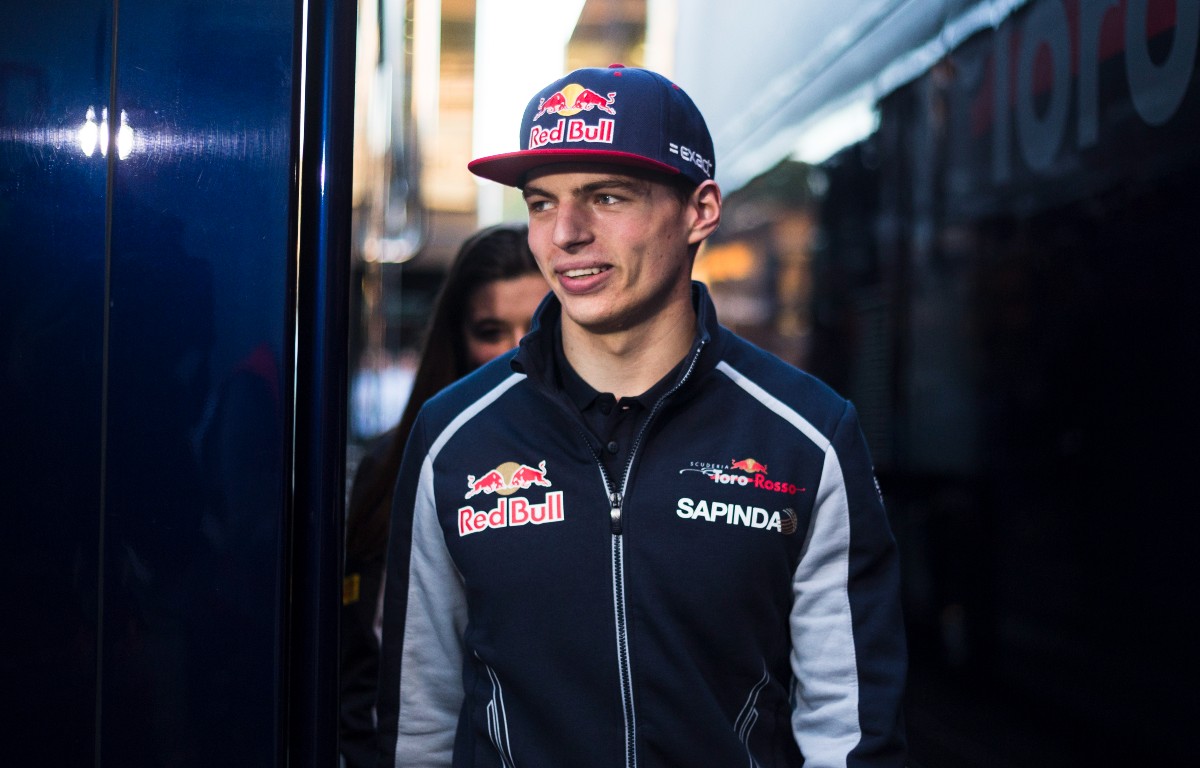 Verstappen burst onto the scene as a bright-eyed teenager when he made his F1 debut at the 2015 Australian Grand Prix, beating the previous record of then 19-year-old Jaime Alguersuari.
The young Dutchman was part of a new-look Toro Rosso lineup with Carlos Sainz also coming on board to replace Daniil Kvyat and Jean-Éric Vergne. Verstappen had spent just a single season as a reserve driver before he received the promotion.
However, his debut turned out to be anything but a dream. He qualified 12th but was forced to retire in the 34th lap as his Toro Rosso engine began bellowing smoke.
It was also not a great day for his new team-mate Sainz, who had to wait an age during a pit stop as the mechanics tried to remove his stubborn rear left tyre.
The Spaniard slumped down to a finishing position of ninth when it could have been much more.
This particular record looks to be set in stone now for Verstappen with the FIA introducing a new rule in 2021 stating that F1 drivers must be 18 years old or over to compete.
Youngest driver to score points
17 years and 180 days – 2015 Malaysian Grand Prix
Verstappen bounced back from his disappointment Down Under to register the first points of his F1 career in Malaysia.
During qualifying, he reached Q3 for the first time in his career as he beat the likes of Kimi Raikkonen, Felipe Massa, Romain Grosjean and Valtteri Bottas to start P6 on the grid.
The race itself saw him slip down a place, eventually finishing P7 and one spot above Sainz, but it was enough to ensure he broke the record, beating the previous owner Kvyat who had set his own record the year before.
Similarly to the previous record, this one looks unlikely to be broken with Verstappen earning points before he reached the age of 18. Current F1 drivers Lance Stroll and Lando Norris occupy the second and third spot respectively.
Youngest driver to win a race
18 years and 228 days – 2016 Spanish Grand Prix
Verstappen spent just over a season at Toro Rosso before he truly announced himself on the world stage. Red Bull had grown tired of the results of Kvyat so opted for a radical move, putting an 18-year-old in their car.
But, Helmut Marko and Christian Horner had every reason to be confident. He ended the 2015 season with point-scoring finishes in all but three of the final 12 races and continued that form into 2016 with three in the first four.
He may have retired in his final race with Red Bull's junior team but they were confident he had what it took to be a success, a decision that was soon vindicated.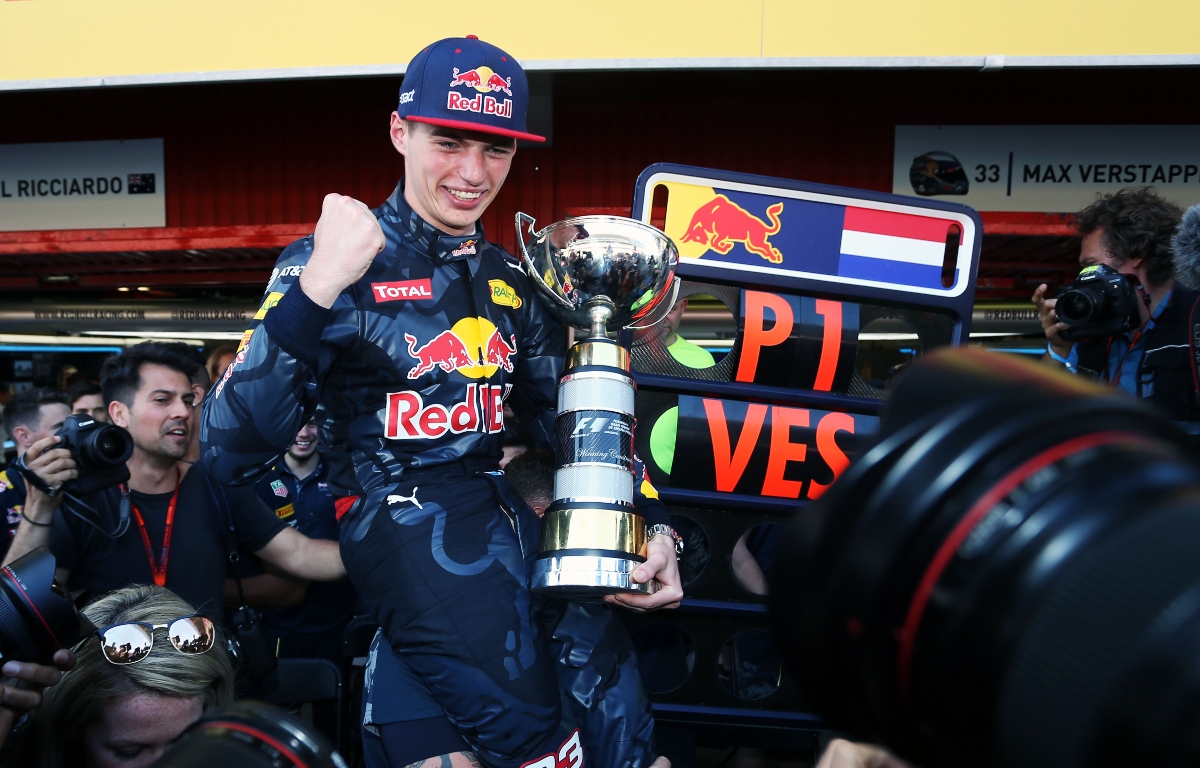 While the 2016 Spanish Grand Prix is perhaps most memorable for the apex of the Silver Arrows war as Nico Rosberg and Lewis Hamilton rammed each other off of the road, the sight of Verstappen going on to win his first race is one that lives long in the memory.
With the Mercedes cars eliminated, it came down to Red Bull and Ferrari as to who would claim top honours in Barcelona. Each team split their strategy with one driver (Daniel Ricciardo and Sebastian Vettel) opting for a three-stop and the other (Verstappen and Raikkonen) going for two.
The latter proved the most effective meaning that all the young Dutchman had to do was hold off the veteran Finn and the victory was his. He did just that, showing a mentality well above his years and with it, he made history.
Youngest driver to score a podium finish
18 years and 228 days – 2016 Spanish Grand Prix
The race in Barcelona also saw Verstappen become the youngest podium sitter, beating the previous record of Vettel by more than two years.
Lance Stroll came close to taking this record off of Verstappen when he finished third at the 2017 Azerbaijan Grand Prix but he was 11 days older than the Dutchman at the time of doing so.
Youngest driver to lead a lap
18 years and 228 days – 2016 Spanish Grand Prix
It was a hat-trick of records for Verstappen that day as he again beat Vettel to become the youngest driver to lead a lap.
Verstappen is the only teenager to have ever led a lap with Vettel completing the feat at the age of 20 and Charles Leclerc at 21.
Youngest driver to set fastest lap
19 years and 44 days – 2016 Brazilian Grand Prix
181 days on from his record-breaking race in Barcelona, Verstappen would pick up another accolade when he became the youngest driver to set a fastest lap.
He clocked a 1:25.305 on the 67th lap in wet conditions on his way to third-place behind Hamilton and Rosberg. The lap record at Interlagos is set by Bottas with a 1:10.540 in 2018.
Verstappen's time in 2016 moved him ahead of Rosberg who had the previous record of 20 years and 258 days in 2006.
Youngest driver to score a Grand Chelem
23 years and 277 days – 2021 Austrian Grand Prix
Verstappen may have had 14 wins, 13 fastest laps and six pole positions to his name by this point but it took until the 2021 Austrian Grand Prix for him to put them all together.
In front of his team's home crowd and the second week running F1 had been at the circuit following the Styrian Grand Prix, Verstappen clocked a 1:03.720 in qualifying to finish on pole ahead of Lando Norris and Sergio Perez.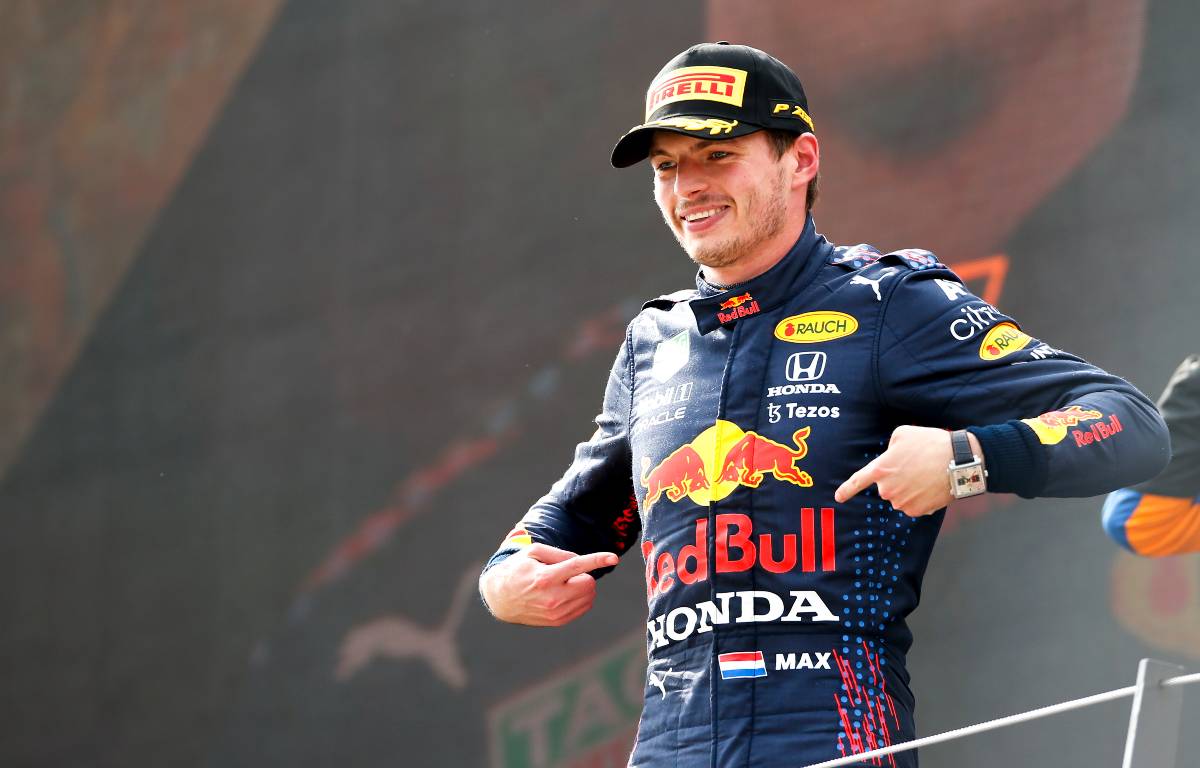 In the race itself he led from lap one to 71 in one of the most dominant performances of his career so far as he finished 17.973 seconds ahead of second-place Bottas.
In the 62nd lap, he secured the fastest lap with a time of 1:06.200 meaning that when he crossed the finish line, the first Grand Chelem of his career was complete and a new record was his.
Verstappen has since achieved the feat again at the 2022 Emilia Romagna Grand Prix.
Most podium finishes in a season
2021 season – 18
The first non-age related record of Verstappen's came in his title-winning 2021 campaign as he secured the highest number of podiums in a single season.
Before 2021, Verstappen had been on the podium 42 times but he increased that figure by 43% during his remarkable year.
His record of 18 in 22 races (81.82%) beat the previous tally of Schumacher (2002), Vettel (2011) and Hamilton (2015, 2016, 2018, 2019) although it should be stated that he has the lowest ratio of the aforementioned drivers having raced the most in a season.
A special note should be made of Schumacher's former record of 17 with the German having finished on the podium in every race of the 2002 campaign.
The 2021 season was dominated by Verstappen and Hamilton and they both nearly broke the record with Hamilton ending on 17, equalling his previous best.
Most points in a single season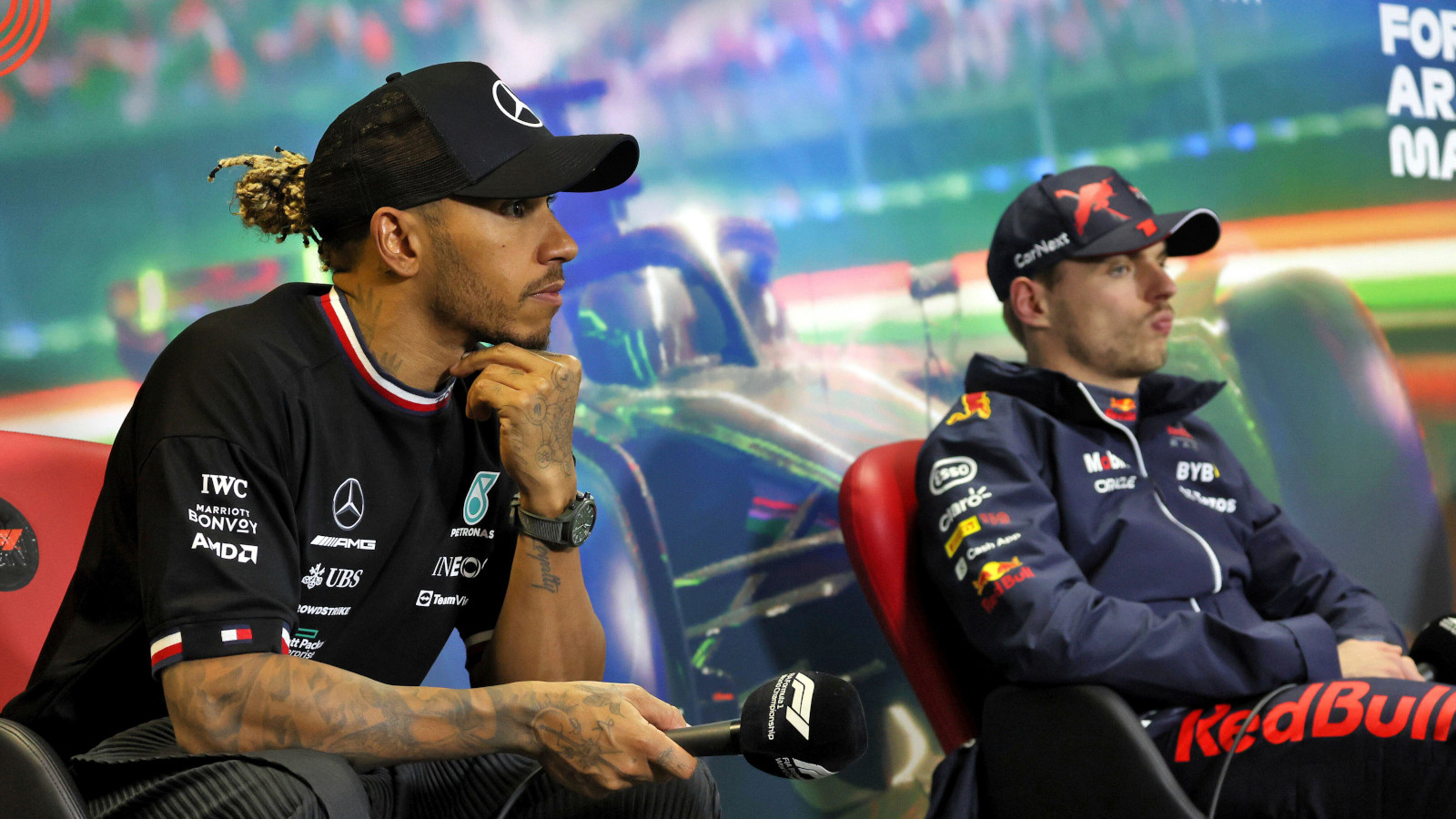 Lewis Hamilton had held the honour of earning the most points in a single season after taking 413 in the 2019 campaign, but Verstappen's record-breaking 2022 season blitzed it, with the Dutchman earning 454 come season's end.
He finished on the podium 17 times, with two retirements, leaving only three occasions where the World Champion crossed the line without finishing in the top three.
With the reigning champion already on 314 points in 12 races and 263 points still available in the final 10 rounds, few would bet against him breaking his own record by some margin come the end of 2023.
Most wins in a single season
Verstappen cruised past Michael Schumacher and Sebastian Vettel in winning 15 of the 22 races in 2022, beating the previous record of 13 with ease come the end of last year.
Schumacher achieved the feat in 2004, winning 13 of the 18 races (72.22%) while Vettel did so in 2013 with 13 from 19 (68.42%).
On his current trajectory, he is on track to match his own record again or even beat that in 2023.
The records Max Verstappen could beat in 2023
Biggest World Championship-winning margin
The current holder is Vettel in 2013 who finished the season with an 155-point lead over Fernando Alonso on his way to his fourth, and last, World Championship.
Verstappen came close to breaking this landmark in 2022, finishing 146 points clear of Charles Leclerc come season's end last time out, but already holding a 125-point advantage over the rest after 12 races, it's not a case of if he'll win the World Championship, it's just by how much.
Sebastian Vettel's wins tally
If Verstappen does achieve the previous record then this one will surely also come with it. The current record holder is Hamilton on 103 wins which is 58 more than Verstappen's tally but, if the last three seasons are anything to go by, it could be a realistic goal.
Since the start of the 2021 season, he has won a remarkable 33 out of 54 races, or 64.8% of them.
He's rapidly ascending the all-time win list in Formula 1 history, leaving greats like Juan Manuel Fangio, Ayrton Senna, Fernando Alonso and Sir Jackie Stewart trailing in his wake.
With eight more wins out of 10 to end the season, he could tie the 53 career wins of Sebastian Vettel and put himself third on the all-time F1 winners' list, behind only Hamilton and Michael Schumacher, with Alain Prost next up ahead of him on 51.
Read next: F1 2023: Head-to-head qualifying and race stats between team-mates