Why Verstappen is not a tainted World Champion
"A World Champion with an asterisk" is how Max Verstappen has been described since the deeply unsatisfactory climax of the Abu Dhabi Grand Prix.
But is that a fair representation of a man who, however you look at it, was fully entitled to be crowned the leading Formula 1 driver of 2021?
Firstly, let's not avoid the reality. The eagerly-awaited final act of an enthralling season was flawed due to its contrived finish – which, from the moment Michael Masi decided the title's destiny would come down to one single racing lap, only ever had one likely outcome given the tyres Verstappen and Lewis Hamilton had on their cars.
Make up your own mind about the rationale and motivation for that decision. We are not speculating about the whys and wherefores here.
What we are discussing is that asterisk, the notion that Verstappen is somehow a 'false' champion, that he will wear the crown for the next 11 months – the 2022 season finishes a few weeks earlier – by default. That the 'wrong' man came out on top.
The answer to the latter suggestion has to be a resounding 'no'. Admittedly it was questionable what happened in those remarkable final few minutes at Yas Marina, but it would be unfair for anyone to try and claim Hamilton would have been the more rightful champion over the season as a whole.
That is because there was so little to separate them, even over a record 22-race campaign. It was incredible that both drivers had exactly the same points total of 369.5 after 21 of those 22 rounds, and it was not as though there was symmetry in their individual results – Verstappen had won nine grands prix to Hamilton's eight going into Abu Dhabi.
It was the first time since 1974, with Emerson Fittipaldi and Clay Regazzoni, that the top two drivers had been level on points heading to the decider. Except back then, admittedly under a very different scoring system, it had been 52 apiece, which makes a tie on 369.5 all the more remarkable. And that had been over just 14 races rather than 21.
This year, there were achievement peaks for both the Red Bull and the Mercedes driver at various points of the campaign.
Hamilton made the better start, winning three of the first four grands prix, Verstappen dominated the middle part of the campaign and then the seven-time champion came back strongly at the end. It all added up to that dramatic Yas Marina showdown where whoever finished ahead of the other would secure the ultimate prize.
That's how close it was – and of course, the rest of the field was nowhere, not only in the championship but in many races too as the duelling titans frequently left their rivals trailing.
They were so far ahead of their rivals, both on track and metaphorically, and so closely matched to each other that either would have been an entirely worthy 2021 champion.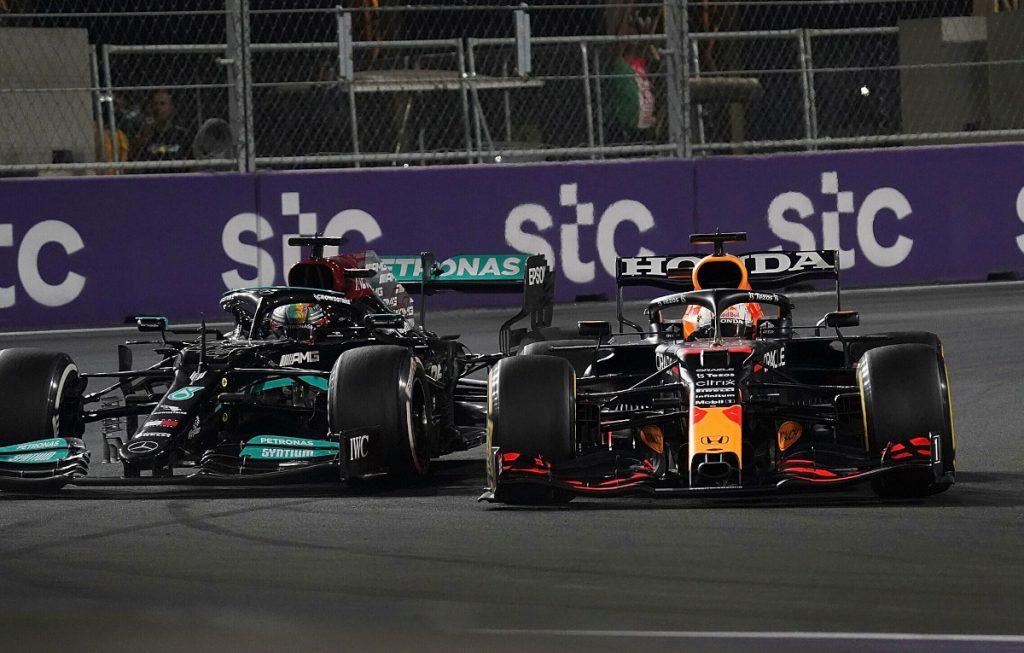 And then you have to look at the points that did not end up in Verstappen's final winning tally of 395.5.
Red Bull advisor Helmut Marko had his calculator out at one point and came up with 50 that had gone astray, although it is probably unwise to be too pedantic about these things.
There was reason for the 24-year-old Dutchman to be aggrieved when collisions with Mercedes duo Hamilton and Valtteri Bottas – who were each penalised on those occasions – took him out of the British and Hungarian Grands Prix.
Those were incidents that do happen in races though, and both occurred on the opening lap. What was every bit as painful for Verstappen was the 25 points that slipped away through no fault of his own in Azerbaijan.
That came as a result of a tyre blowout in the closing stages when he was coasting to a certain success and but for that, he would have had at least another seven points in hand of Hamilton – who was running third, behind Sergio Perez, at the time of his opponent's crash.
That day, Hamilton ultimately did not score either due to a mistake at the restart following the resulting red-flag stoppage, and the only other time the Briton failed to keep his total ticking over was when both he and Verstappen – who that time was penalised – had to walk back from the gravel trap at Monza.
So, back to the asterisk. That symbol is generally used when victory has been presented through some sort of misdemeanour from another competitor. For example, when sprinter Ben Johnson tested positive for steroids at the Olympic Games, Carl Lewis was awarded the 100 metres gold medal.
Or, more appropriately perhaps, Heinz-Harald Frentzen is shown as finishing second in the 1997 F1 season to his Williams team-mate, Jacques Villeneuve – only because Michael Schumacher was disqualified from the whole season because he drove into the Canadian in the final race at Jerez.
A repeat of that incident was feared by some in Abu Dhabi, with Verstappen allocated the villainous role in that hypothesis as he would have been champion had neither he nor Hamilton scored points.
But nothing like that occurred. Twice the Red Bull was sent down the inside of the Mercedes, more successfully the second time than the first, and Max kept it clean on both occasions, his car remaining within track limits.
The controversy that dominated the final scene was not his fault, nor Hamilton's.
Yes, the defending champion was dealt a crushing blow, but he did nothing wrong and remains at the very top of his game, entirely capable of bouncing back to capture that record-breaking eighth crown next year.
And yet he will know to do so, he will have to dethrone a competitor with whom he is now very much on a par.
It's neither driver that should have an asterisk. For the way such a pulsating season was allowed to descend into chaos and acrimony, only the FIA are tainted.
Max Verstappen crowned new F1 World Champion
In a thrilling end to the Abu Dhabi GP, it was Max Verstappen who came out on top.