Mercedes have long habit not listening to Hamilton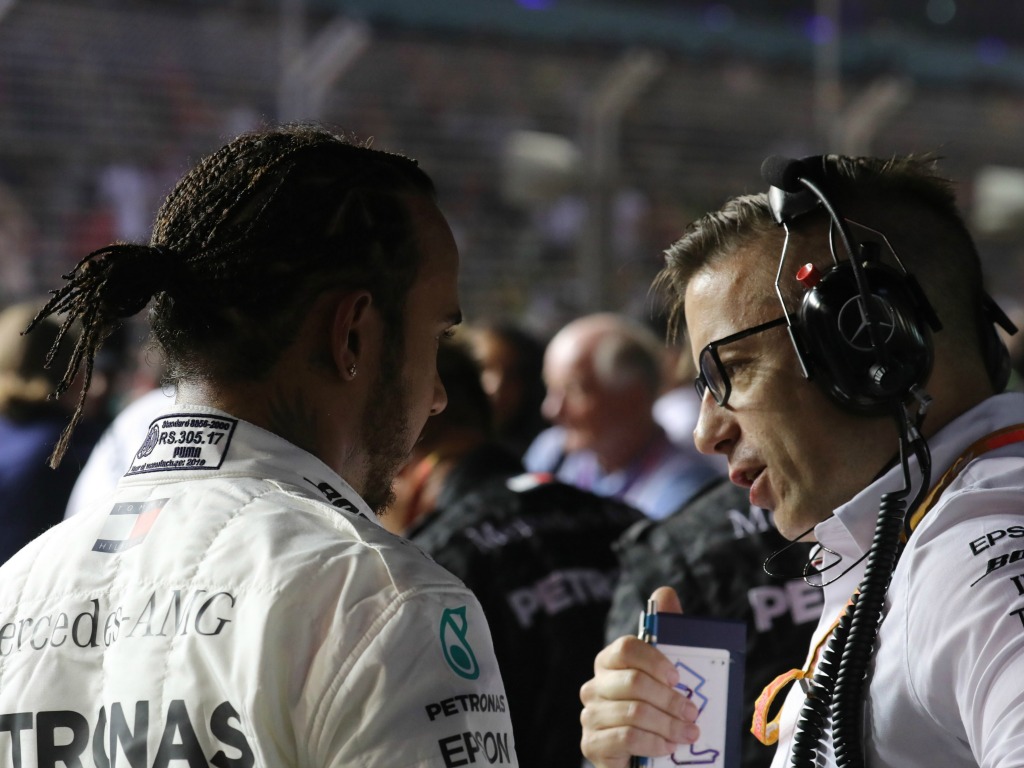 It was a tale of two strategies in Singapore. Ferrari's controversial plan gave them a 1-2 but Mercedes got it all wrong with Lewis Hamilton.
Hamilton made it clear that he wanted to try the undercut, rather than extend his first stint, and one reader points out it is not the first time Mercedes have not listened to him.
Plus, was Sebastian Vettel 'owed' a victory after Canada and should Charles Leclerc be 'livid' with Ferrari after victory was taken away from him by a Vettel undercut.
You can join the discussion over on the PlanetF1 forum here or head to the comments section down below…
IOU
It's been a long time coming for Vettel and while he benefitted from the fortune of a bad strategy call for Leclerc, he is owed a win for Canada. I can kinda understand them going for a 1-2 seeing as there is no prospect of a driver's title.
The Mercedes strategy was odd. I guess they were hoping for a safety car but I can't really understand leaving Hamilton out for that long and then just putting the Hard tyre on. The mediums must have been worth a gamble especially as they had Bottas rear gunning anyway.
The other thing I don't get is the failure of Red Bull to try and use Albon for either an aggresive undercut to try and force something up front, or just have him stay out to compromise Ferrari's strategy.
BMWSauber84
Proved the doubters wrong
Solid race for Ferrari – questions about that Vettel undercut – but ultimately without it, I doubt they would have got a 1-2. Once Merc were in 3rd place effectively in the pitstop rotation they threw a hail mary by keeping Hamilton out longer. If they kept him out another 5 or 6 laps even though he would have lost lap time a safety car could have still salvaged a podium. Oh well.
Great to see Vettel prove all the doubters and tombstone writers wrong! He's got some years in him yet and is 10X better than Raikkonen. Ferrari has the strongest driver pairing at the moment. Bottas is…Bottas. And Albon will take some time to marinate.
shay550
Livid Leclerc…
It's always rough watching a race where you really know that overtaking is just not possible among the top cars. This was a strategy race and Sebastian is the only guy who got the best strategy (the undercut).
Max benefited as well but what a poor showing by the Mercedes pit-wall. I really thought Hamilton should have been the guy to go for the undercut because there was no way that anyone was overtaking a Ferrari on this narrow track.
I suppose Merc would have looked like geniuses had there been a safety car earlier in the race and you assume that the pit stops would be the likely time where a safety car would be triggered but Merc came up empty-handed on strategy today.
This is the type of race where it really sinks in how difficult overtaking can be at some circuits in modern F1. Almost fell asleep.
On a side note; Charles should be absolutely livid. Why is it that Ferrari consistently give Vettel the undercut? It's got to be infuriating at this point as Charles has clearly been performing better.
Sandman1347
Team orders? What team orders?
Some real over-reactions to the Mercedes "team orders" here. Bottas had no right to be jumping Hamilton, he only had the opportunity to do so because the team were taking a gamble on Hamilton's strategy as it was their only opportunity to win the race.
It was just Mercedes trying to maximise the team's result, something they have always done, and ensuring Hamilton wasn't screwed over when the gamble didn't pay off.
No unfair treatment of Bottas today, no number two status. Just the team being fair to Hamilton. Mercedes could have just pitted Hamilton first as convention dictates when he is the lead car, and settled for second. Bottas still would've been 5th.
j man
Strategy an obvious weakness
Hamilton also wanted to use the hard tyres at Monza but was told they were too slow, these being the hard tyres that Leclerc managed to win the race with.
It was Hamilton's decision to change from a 2 stop to a 1 stop strategy at Silverstone after being told the strategy wouldn't work.
I count 5 times this year were they got the strategy wrong nearly costing them 2 wins and I would say possibly costing them 3 wins the other times.
If there is a 3 way dog fight next year the Mercedes strategy team for me is an obvious weakness in an otherwise excellent operation.
pokerman
Not listening
Mercedes has a long habit of not listening to Hamilton when it comes to strategy. With that said, I think a lot of other teams are just as bad in this respect. They definitely should have tried the undercut (nothing to lose by doing it) and popped on mediums imho.
I do suspect that the ambient and track temperature didn't help Mercedes at all (30 degrees ambient) and they had to back off on the engine settings to preserve them. Mercedes had the slowest speed trap speeds of any Mercedes powered car (at least, from the speed traps that I saw).
Dpastern
Follow us on Twitter @Planet_F1 and like our Facebook page.