Mercedes junior team: The drivers looking to emulate George Russell's road to F1 glory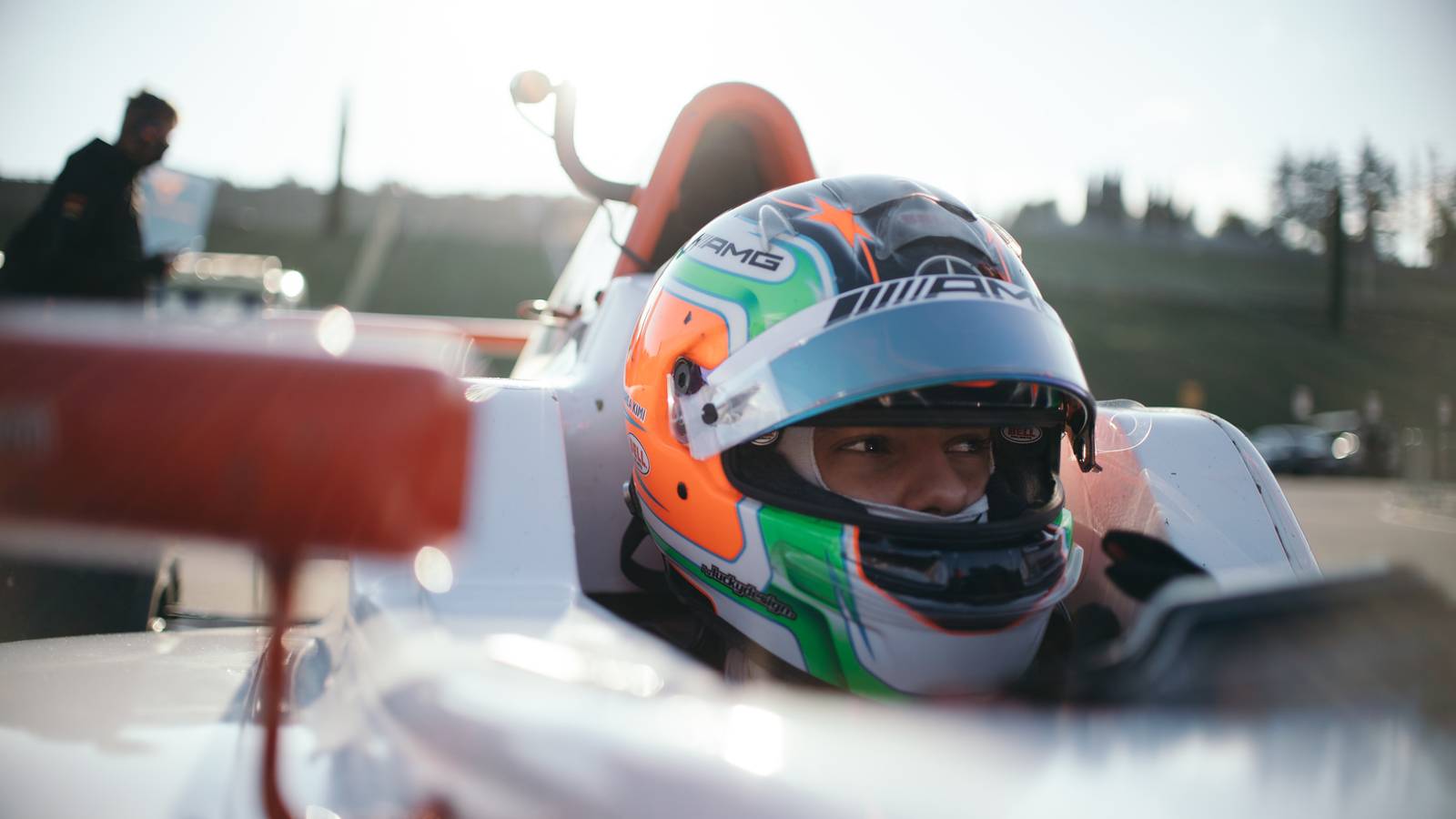 The phenomenal first-season success of George Russell at Mercedes will have offered a hit of inspiration for the German team's junior hopefuls.
Russell joined the Mercedes Junior Team in 2017 after impressing in European Formula 3, with Toto Wolff saying at the time: "It's still early days in his career but we see great potential in him."
Five years later, the Austrian team principal would make Russell the first Mercedes junior talent promoted to the Formula 1 works team – watching with pride as the 24-year-old held off seven-time champion Lewis Hamilton and earned his first victory in Brazil.
Esteban Ocon was also nurtured into F1 by Mercedes, the Frenchman now driving for Alpine under management from Wolff. He remains a contender to replace Hamilton when the 38-year-old eventually steps away.
Clearly there is a potential for any youngster talent-spotted by Mercedes to rise into F1, but which of the current alumni have the best chance of emulating Russell? Let's take a look through the current batch of Mercedes juniors.
Andrea Kimi Antonelli
Mercedes are very excited about this Italian wonderkid, and you should be too.
Antonelli's middle name wasn't inspired by F1 champion Kimi Raikkonen but he is tipped to emulate to Finnish icon. Mercedes' development adviser Gwen Lagrue described the teenager as 'a phenomenon'. Toto Wolff said: "We will watch Andrea Kimi Antonelli rise to Formula 1 and win races."
Bold statements, especially when the subject is a 16-year-old who only took the wheel of a single-seater in September 2021. But Antonelli is already very familiar with the winning feeling, especially since joining Mercedes in 2019.
The Bologna-born prodigy started karting in 2014, gobbling up a host of titles before finally winning the FIA Karting European Championship and WSK Euro Series in 2020.
Stepping into the single-seater action in 2021 with Prema in Italian Formula 4, Antonelli was instantly competitive. Despite joining the series after the halfway mark, he amassed enough points for 10th in the championship – securing three podiums from three rounds at the Monza finale.
In 2022, Antonelli combined the ADAC series with the Italian competition at Formula 4. He was ruthless, Max Verstappen-levels of dominant – winning 24 races across both series' to sweep the titles by huge margins.
The Italian will remain with Prema for 2023 and despite some expectation he would jump straight to Formula 3, Antonelli will contest the Formula Regional European Championship this year.
Paul Aron
A talented young driver who will step into Formula 3 in 2023 is Paul Aron, an 18-year-old Estonian hoping to build on a rock-solid 2022.
Like Antonelli, Mercedes have largely placed Aron at Prema since signing him in 2019, where his older brother Ralf operates as a team manager.
Aron's success in karting culminated with the CIK-FIA European Championship, previously won by Lewis Hamilton, Sebastian Vettel, Verstappen and a host of other future F1 superstars.
After impressing with two victories and third-place overall in his debut single-seater season in the Italian Formula 4 championship, Aron overcame underwhelming 2020 and 2021 seasons to prove his talent to Mercedes again last year.
The Tallinn-born youngster entered the 2022 Formula Regional European Championship with Prema, taking a victory on the opening weekend at Monza before scooping a further five wins and two podiums to finish third in the championship.
Frederik Vesti
Danish prospect Frederik Vesti is the most advanced of all Mercedes' junior hopefuls on his journey towards F1, with the 20-year-old set for his second Formula 2 season.
Vesti finished P9 in the Championship last year, earned his first victory in the Baku sprint race, took pole in Austria and made four further podium appearances. A very solid debut.
However, the Dane was comfortably beaten by ART team-mate Theo Pourchaire, who finished the series second. Although the Frenchman is a year younger than Vesti, Pourchaire was competing in his second full F2 campaign.
Vesti has undeniable pedigree reaching back down the junior formulas – finishing back-to-back F3 seasons in fourth and dominating the 2019 Formula Regional European Championship.
He took part in the 2022 Abu Dhabi Young Drivers' Test with Mercedes, gathering experience ahead of his second F2 tilt – for which he will return to Prema.
Speaking to FormulaNerds about his 2023 hopes, Vesti said: "If I can just be in the top ten or top five in each quali, I'm sure I can fight for the championship next year.
"That's where we are, and how I will do that is on the mental side, but also the preparation, both at the Mercedes F1 team, but also at home with my team."
Alex Powell
A place in the history books and recognition from his nation's Prime Minister: two achievements already fulfilled by 15-year-old Alex Powell.
This Miami-born teenager, who represents Jamaica on-track, took victory at round three of the Karting European Championships in Sweden last year and prompted the Jamaican anthem to be played at an FIA event for the first time.
He also became the first driver from the Caribbean to win a round of the series.  Jamaica's Prime Minister Andrew Holness sent his congratulations on social media, saying: "Jamaican, Alex Powell, cruised to a sweet and well-deserved victory at the FIA Karting event which took place in Sweden this weekend.
"Alex continues to make a name for himself and for Jamaica in a series that is usually dominated by drivers from Scandinavian countries. We are so proud of you Alex!"
Powell has racing in his blood, as he is related to Olympic gold-medallist and former world-record holding sprinter Asafa Powell. His father John is also a successful ex-rally driver.
The teenager, who was signed by Mercedes at 11 years old, went on to win again in Italy and finished the 2022 Karting European Championship series in second-place.
PlanetF1.com recommends
F1 points system explained: How can drivers score points in F1 2023?
Red Bull junior team: The 13 drivers looking to rise through the ranks to F1
Ferrari Driver Academy: What has happened to every former Scuderia prospect?
Yuanpu Cui
Taking their search for future World Championship material into Asia, Chinese teenager Yuanpu Cui was brought into the Mercedes programme in 2021.
Yuanpu will hope to follow in the footsteps of Zhou Guanyu, who became the first Chinese driver to earn an F1 seat in 2022.
At just 14 years old, Yuanpu is still racing in karting, having followed his racing father into motorsports. A host of victories and podiums caught Mercedes' eye, and he has continued that success since.
Yuanpu took another forward step in 2022, bagging an impressive win at the WSK Final Cup in Naples from a third-row grid.
Mercedes development advisor Gwen Lagrue spoke highly of the Chinese talent upon singing him in 2021, aged just 13: "He's the top karting talent from China so we're looking forward to seeing how Yuanpu progresses and helping him move up the racing ranks," he said.
Luna Fluxa
The only female driver on Mercedes' roster and the youngest at 12 years old, Luna Fluxa is cutting her teeth in karting.
Having taken part in the Spanish Automobile Federation's 'programa mujer y motor' which focused on encouraging girls into motorsport, Fluxa built her experience in the 60 Mini category, winning the IAME Euro Series in X30 Mini. In 2022 she competed in the WSK Final Cup.
She met George Russell and Lewis Hamilton at last year's W13 car launch, and was pictured alongside them on Instagram.