They may have a dominant car and George Russell in reserve, but Mercedes simply cannot afford to lose Lewis Hamilton.
A month before the original start date of the 2020 season, Hamilton and Toto Wolff sat down with Martin Brundle for a Sky Sports interview.
With the Briton's contract coming to an end in less than a year and rumours beginning to swirl about his future, the topic of an extension cropped up – and both parties were relaxed about it.
"We always keep the channel open and I'm sure in the near future we'll start to sit down. But I don't feel stressed," said Hamilton.
Wolff added: "It's just about finding a day when we spend a few hours together. That's what we've done in the past."
At the time, it seemed like a matter of when, rather than if, a new deal would inevitably be agreed and announced.
Since then, the 2020 season has come and gone, another Championship double has been won and we are all still waiting for such an announcement.
During that time, George Russell has also driven for the team, standing in for Hamilton in Bahrain, and hugely impressed, outperforming Valtteri Bottas.
Many felt that showing served as proof that Mercedes did not need Hamilton, that the car is so dominant that an inexperienced driver like Russell can step in with next to no preparation and (nearly) win.
Given that, why give in to Hamilton's reportedly hefty salary demands? Why not just promote Russell now?
Well, while there is a good chance that Wolff and co could win both titles without the seven-time World Champion in 2021, if they want to remain as dominant as ever going forward they need him on board.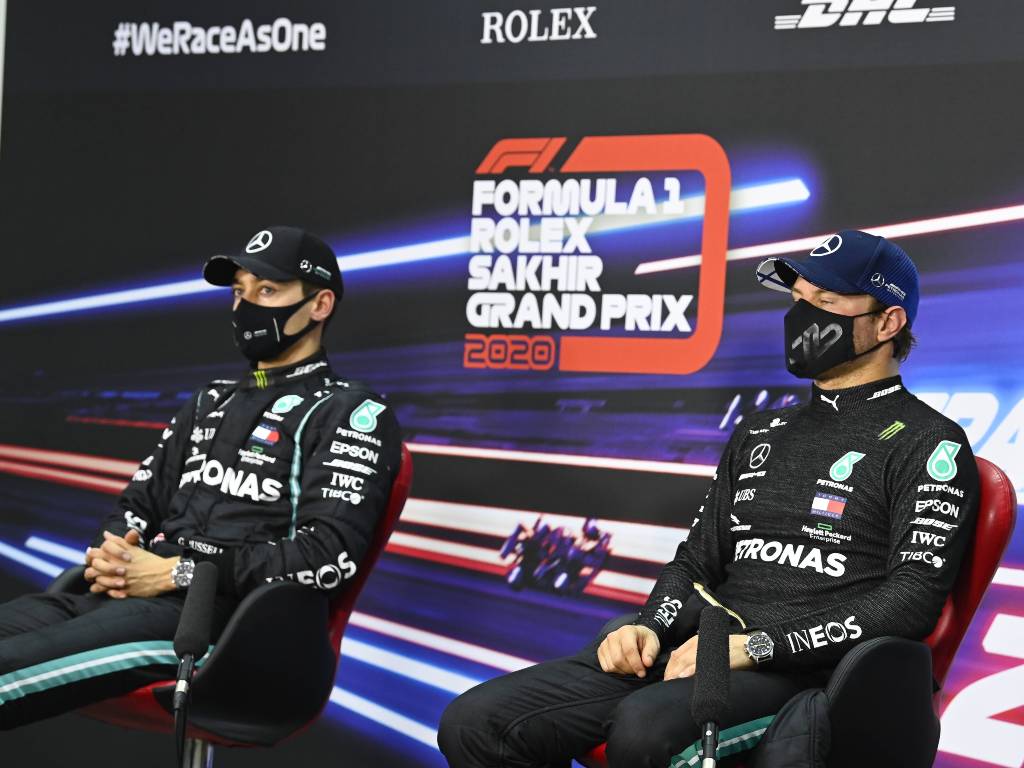 For one, replacing the most successful driver in the history of the sport is a tall order and however talented Russell may be, there is no guarantee he would be able to fill those shoes immediately. After all, he is still largely inexperienced and unproven.
And even if we do assume that Russell could perform as well as Hamilton, as many argue, there is still the matter of the second seat at Mercedes.
In his four seasons with the team, Bottas has proved to be the ideal number two driver but nothing more. That has not been an issue as, due to the strength of his team-mate and the dominance of the car, both titles have been won each year. However, without Hamilton, it could become one.
In the short term, Red Bull are becoming a bigger and bigger threat. In Max Verstappen, they have someone who is already one of the best drivers on the grid and only getting better, and they have now partnered him with another world-class driver in Sergio Perez.
In terms of ability alone, Verstappen/Perez is a stronger line-up than Russell/Bottas would be, so much so that even if the Mercedes car is comfortably quicker than the Red Bull next season, we would surely have a title fight on our hands. After all, Verstappen only finished nine points behind Bottas last season.
What's more, the Dutchman's team looked better than ever at the end of 2020, winning the Abu Dhabi Grand Prix with ease. Granted, that may have partly been due to Mercedes taking it easy, but the gap between the two was certainly shrinking and with stable regulations, is unlikely to get any bigger again in 2021.
Having the best drivers in your car will become even more important in 2022 when the regulation changes come into play and create a more level playing field.
Of course, they will not do so to the extent that every car is equal, but if Mercedes had Russell and Bottas, at least three teams – Red Bull, Ferrari and McLaren – would arguably have stronger line-ups. If any of them produce machinery as strong as the German team's, which is a distinct possibility, the chances of a new Constructors' Champion being crowned in 2022 are high.
The obvious solution would be to replace Bottas with a better driver, but there really are not too many out there available.
The best one they would have any chance of getting would be Verstappen, but would he really leave a team that had been built around him, where he was the clear leader, just as regulations allow them to finally challenge Mercedes? It's possible, but doubtful.
If the Dutchman said no, Daniel Ricciardo would perhaps be the next best thing, and the McLaren driver would certainly be more likely to come aboard and partner Russell. In terms of potentially available drivers comfortably better than Bottas though, that's it.
That's a wrap for the season! 💨🏁Gotta say a massive thanks to my team. It's been one hell of a year with you guys and I'm so grateful for everything we've accomplished together. Let's keep making #HIS7ORY together🙏🏾 pic.twitter.com/KTK7YBZQOT

— Lewis Hamilton (@LewisHamilton) December 13, 2020
In short, with a number of teams all boasting extremely strong line-ups and the regulations giving them the chance to close the gap to Mercedes, the German team need a world-class pairing of their own for the foreseeable future.
Realistically, the only way they can guarantee that will be the case is to keep Hamilton. That way, the best-case scenario is that Russell continues to improve and they have two top drivers come 2022. The worst-case scenario is that he does not and they will at least still have one.
Without Hamilton, they may continue to dominate, but only if Russell delivered and the team continued to build the best car on the grid. With him, as long as they have decent machinery, Russell can struggle, their rivals can close the gap and they would still have a shot at winning titles.
That's worth keeping him around for.
Finley Crebolder 
Follow us on Twitter @Planet_F1 and like our Facebook page