Mercedes facing era-defining second half of the season as crucial decision looms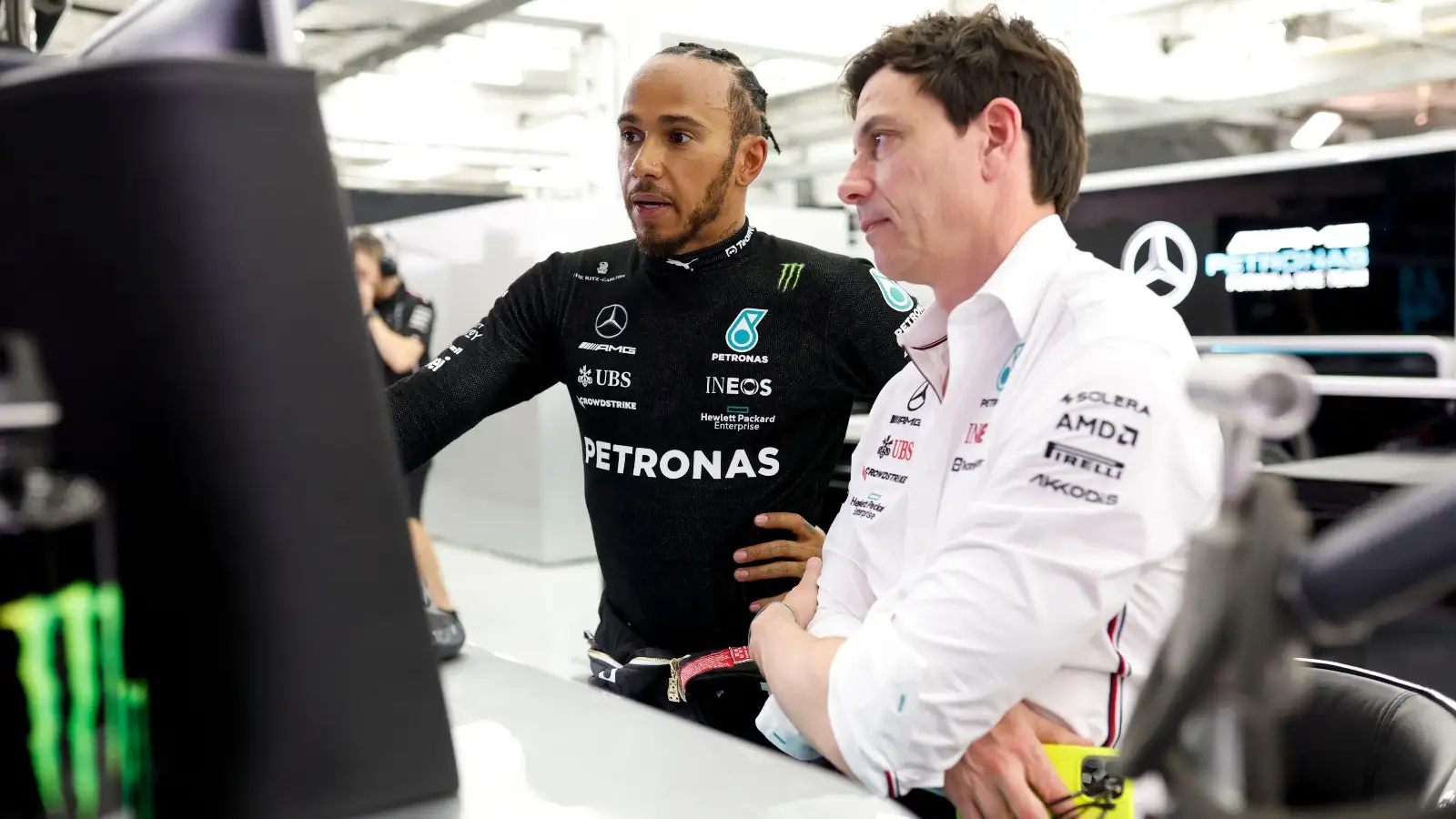 It will be another title-less season for Mercedes but will they also go without a win?
Mercedes. The Silver Arrows. Seven consecutive Drivers' titles. Eight consecutive Constructors' titles. Winless in 2023?
The Mercedes of this era is far away from what we came to expect of the all conquering outfit of the turbo-hybrid era.
Wedded to an ambitious design and stubborn in their decision to believe it still had some potential to unlock, the Brackley team went from favourites to also-rans in a matter of months.
Having won a minimum of nine races per year between 2014 and 2021, Mercedes managed just one victory in 2022 and right now, it looks a challenge to even match that figure this season.
A season of two parts for Mercedes so far
Mercedes' 2023 can be split into two periods: Before the upgrades and after them. Perhaps to Lewis Hamiton's dismay, Mercedes stuck with the so-called zeropod design but almost as soon as pre-season testing was done, they realised it was a bad move.
Not only had Red Bull increased their advantage but Aston Martin had drastically improved as well, leaving Mercedes to fight Ferrari to be the third-best car on the grid.
It led to grim scenes around the Mercedes garage and soon rumours grew of a B-spec car. Those rumours were eventually confirmed by Toto Wolff and the date for its unveiling was set as the race at Imola.
As fate would have it, that race was washed away from the calendar meaning the upgrades would have to debuted at the one circuit Mercedes did not want them to – Monaco.
The streets of Monte Carlo have never been kind to Mercedes so it was no surprise to see a lack of real improvement but it was in Spain that the first signs of real progress came. Hamilton finished P2 and repeated the trick in Montreal and ever since, Mercedes have wrestled back the advantage from Aston Martin.
But the question is, will they ever catch Red Bull?
Do wins in 2023 come at the cost of titles for Mercedes in 2024 and beyond?
The first step to beating Red Bull would be to actually win a race. No doubt there will be a few annoyed figures with the Mercedes group that their biggest rivals have already accomplished something they never did and no one who works within the vicinity of the NN13 postcode will want them to go the whole year unbeaten.
Right now, Mercedes, alongside McLaren, stand as one of two likely candidates to beat Red Bull if that is going to happen but are they able to do it?
Having finished 49 seconds behind Max Verstappen in Spa, there is still clearly a lot of ground to catch up but Mercedes are now in a balancing act of developing this car or preparing for next year's.
In 2022, Mercedes craved a win almost as a show of faith in their design. The team had not failed to win a single race in a year since 2011 but the Sao Paulo victory was a blessing in disguise, convincing them to stick with a plan that they would abandon soon into 2023 so what is the goal now?
There is every indication that Mercedes and their drivers are willing to sacrifice 2023 should it mean a better chance of success in the future.
"We're here to win," George Russell said in March.
"We obviously want to optimise every single result, but if you give me a choice between fighting and having a chance to win races, whenever that is, versus slow progress and never having that chance, you obviously choose taking those victories.
"So, if we want to sacrifice some races or part of a season to give ourselves a chance to get a car that can fight, whether it's in the second half of the season or even if it's looking towards next year, that's maybe what we're going to have to do, because clearly we are a long way behind."
Hamilton too has made it clear his only target is an eighth world title while Wolff is not the kind of person to be satisfied with P2. That seemed like success in 2022 having started the year so far behind but another year of runners up would not sit well inside the Brackley base.
PlanetF1.com recommends
F1 race wins: Which drivers have the highest win totals in F1 history?
Revealed: The most fined drivers and teams on the F1 2023 grid
Lewis Hamilton contract poses another Mercedes question
The other big issue on the Mercedes docket is the future of Lewis Hamilton. As of right now, the seven-time World Champion has 10 races left on his deal before walking away and despite every indication that a new deal was on its way, negotiations continue to stumble on.
The contract issue was expected to be solved over the winter break but that particular can has been kicked further and further down the road, leading to it being near the end of the summer shutdown and still no announcement.
Wolff has suggested that the financial aspects of the deal are agreed but would not reveal what the sticking points were preventing the contract being signed on the dotted line, so when does it become a problem?
If Mercedes get to say the last five races and Hamilton is still not a confirmed driver for 2024, do they begin to look elsewhere? In the past, they have been willing to wait for weeks before a new campaign but that was at a time when they had a dominant car. Now though, they cannot afford to risk having the likes of Mick Schumacher fill the seat at late notice when they are hoping to be in a title fight.
A deal may well be done but the longer it rumbles on, the potentially worse it could get for Mercedes.
Read next: F1 silly season: Predicting the full grid the for the F1 2024 campaign