Why Mercedes want their voices heard over porpoising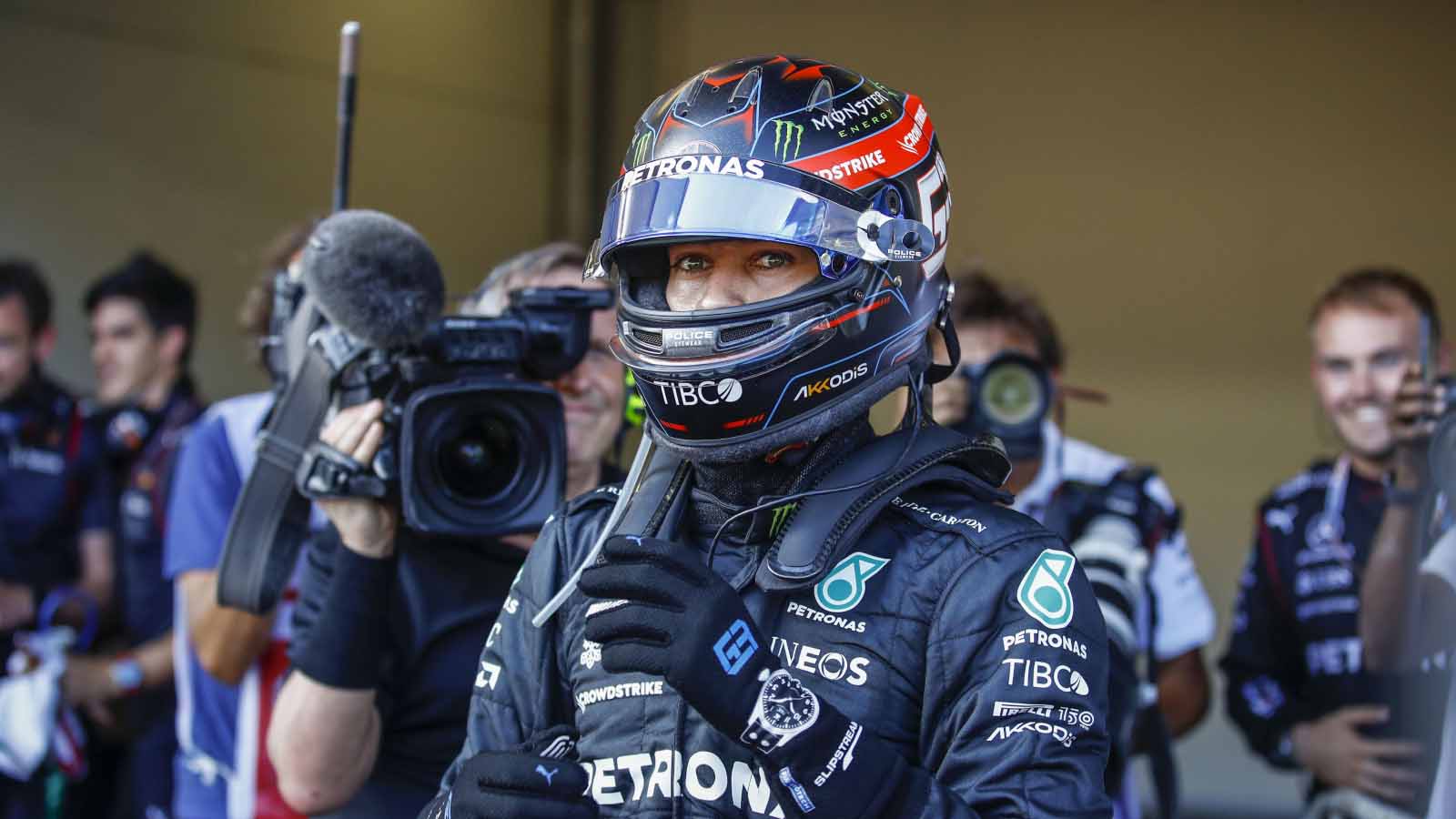 George Russell being George Russell, a Jenson Button clone and one of the smartest drivers on the Formula 1 grid, it didn't take him long to realise Mercedes were in trouble heading into the 2022 season.
And, no matter how hard he tried, he wasn't fooling anybody.
It took just two days of the first pre-season test in Barcelona, a life before zero sidepods, for most to agree Mercedes' slow start to testing felt different this time, that this wasn't a team quietly going about their business as normal but combatting issues behind the scenes.
Amid trackside reports that the original iteration of the W13 was among the cars most severely affected by the porpoising problem that had taken almost every team by surprise, Russell – having already conceded Mercedes were behind Ferrari and Red Bull – was asked at the close of Day 2 how it felt from within the cockpit.
His answer, as he seemed to cul de sac himself in an attempt to downplay the significance of the sensation and protect his team, wasn't particularly convincing.
"I mean, we didn't experience it too much," he began while rubbing his face and looking into the middle distance, to the instant intrigue of body language experts. "Because, yeah, for one reason or another…"
Russell's words trailed off as he realised he was about to tell a great big fib (an F1 driver would never dream of doing that, of course, and certainly not during winter testing…) before he regained his composure.
"But it's not very pleasant at all – and from what I've seen of other teams in particular, it would be a safety concern so that does need to be sorted one way or another."
Lewis Hamilton admits he is "worried every time" he gets into this year's Mercedes due to the porpoising that is causing him back pain.https://t.co/9nYLmcSLjA #F1

— PlanetF1 (@Planet_F1) June 14, 2022
While some have come to regard porpoising as a party trick of the 2022 F1 cars to be managed, from the start Russell – a director of the Grand Prix Drivers' Association – has been consistent in his view that it is a major safety issue requiring swift and serious attention.
After finishing fourth in April's Emilia Romagna Grand Prix, Russell revealed he was struggling with chest and back pains such was the severity of the bouncing at Imola and insisted it was "not sustainable for the drivers to continue with this level."
His concerns were ratcheted up further still last weekend in Baku, where even those in cars relatively immune to porpoising until this stage of the season experienced some discomfort on the bumpy, high-speed street circuit.
After qualifying fifth, Russell was again adamant the situation cannot remain unchanged for the duration of the current rules cycle, describing it as "a recipe for disaster."
"I think it's just a matter of time before we see a major incident," he warned.
"A lot of us can barely keep the car in a straight line over these bumps. We're going around the last two corners at 300 kilometres an hour, bottoming out. You can visibly see on the tarmac how close the cars are running to the ground."
A striking indication of how the bouncing can batter a driver's body came just 24 hours later as Russell's team-mate, 37-year-old Lewis Hamilton, struggled to climb out of his car at the end of the Azerbaijan GP, rubbing his back before finally staggering away.
With a growing number of drivers – including Ferrari's Carlos Sainz and AlphaTauri's Pierre Gasly, who was only half-joking when he claimed porpoising will leave some drivers requiring a walking stick by the time they hit 30 – taking Russell's side, it is increasingly clear his calls can no longer be ignored.
Yet, if we are to dismiss Red Bull team principal Christian Horner's inference that drivers such as Russell are merely acting as mouthpieces for their struggling teams, it is surprising that Mercedes themselves have been relatively unforceful on the subject.
Ever since 'porpoising' re-entered the F1 dictionary in February, after all, Mercedes – confident they will eventually crack the code – have been adamant it is the only thing preventing them from unlocking the full and vast potential of the W13.
Their point appeared to be proven when, for one weekend only in Barcelona last month, Mercedes' world briefly righted itself and team boss Toto Wolff was convinced Hamilton would have been in contention for victory were it not for a first-lap puncture.
Other than that, though, Mercedes have struggled to find a full and permanent solution, and if they cannot resolve it themselves it would surely be in their best interests to wield their political power and exert as much pressure as possible for tweaks to the cars through regulation.
So why haven't they been banging the drum week after week, race after race for the FIA to take it out of their hands?
Could it, perhaps, be down to image? Having won the last eight Constructors' titles stretching back to 2014, Mercedes have been remarkably reticent to be portrayed as sore losers as their period of dominance has come to an end.
That was said to be part of the reason why they quietly dropped their appeal over the result of last year's Abu Dhabi GP four days after the highly controversial season finale, and might explain why Wolff himself has not taken every possible opportunity to call for rule revisions to stop porpoising in 2022.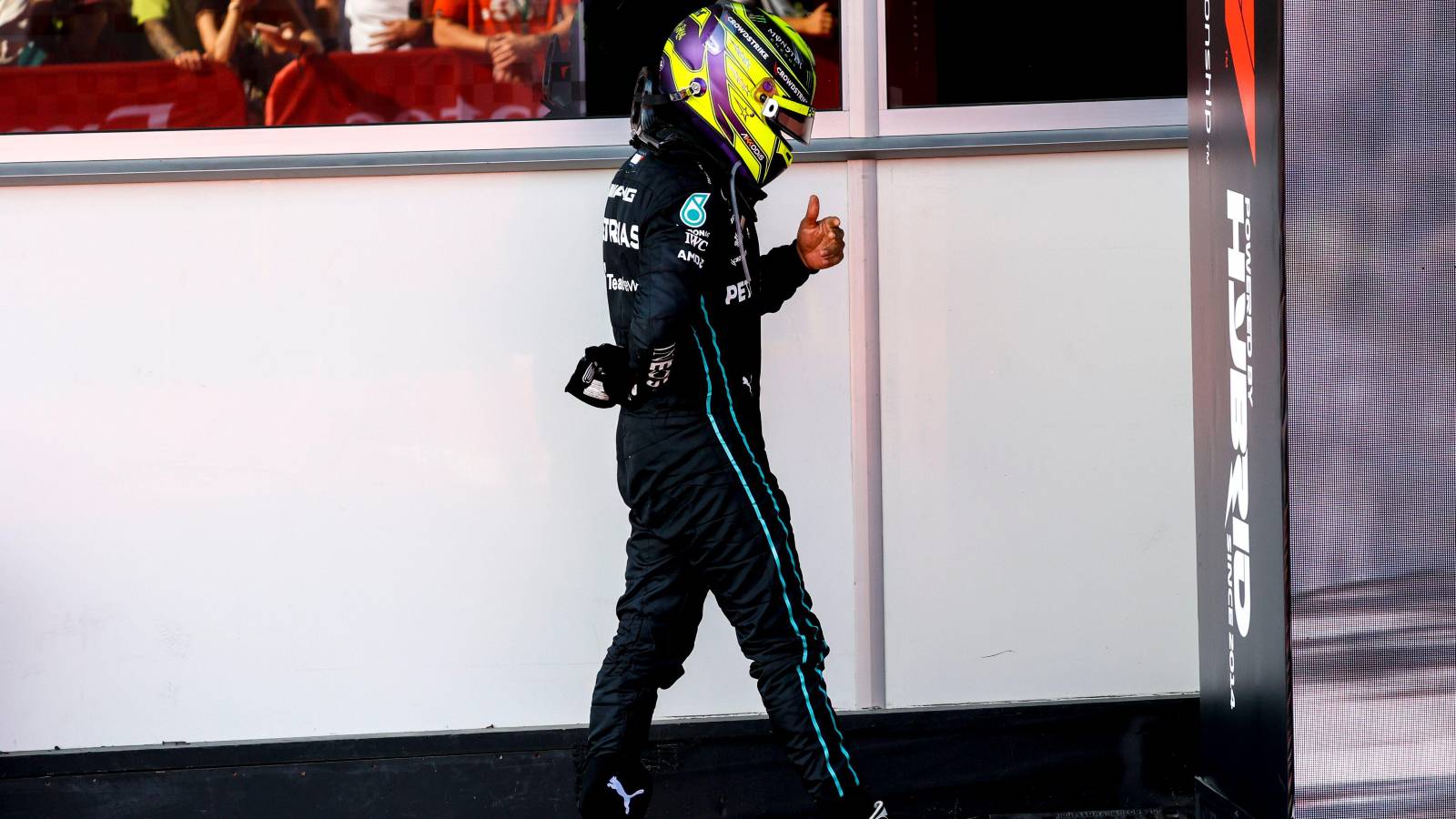 Another potential reason, of course, is that the pain Russell and Hamilton have experienced is largely of Mercedes' own making.
McLaren's Lando Norris was among those to have little sympathy for the bouncers in Baku, insisting teams "need to find ways of fixing it themselves" by striking the right balance between performance and driver (dis)comfort.
It is true that some teams have simply done a better job than others in this department, and Ferrari have minimised its effect on their performance despite porpoising just as violently as Mercedes at some venues.
A rule change at this point would see those teams go almost criminally unrewarded for building more efficient cars and, in the modern world, lead to accusations of Mercedes being gifted a shortcut back to the front.
Yet this increasingly is as much a long-term driver welfare issue – at worst, potentially the F1 equivalent of football's heading debate – as it is a competition issue and it is likely it will fall on the FIA, either this year or next, to save the drivers from the machinations of their own teams.
If the Baku-Montreal double header looked ludicrous on the original 2022 calendar, it will now seem unbearable for those set for a second bumpy ride in the space of seven days at this weekend's Canadian GP.
The suffering of Russell and Hamilton is likely to continue at the Circuit Gilles Villeneuve, with Mercedes hopeful their Barcelona performance will become the norm when F1 returns to more conventional circuits starting at Silverstone next month.
In the meantime, Russell and Co can only hope their voices are finally heard.