Mexican Grand Prix: Rating the drivers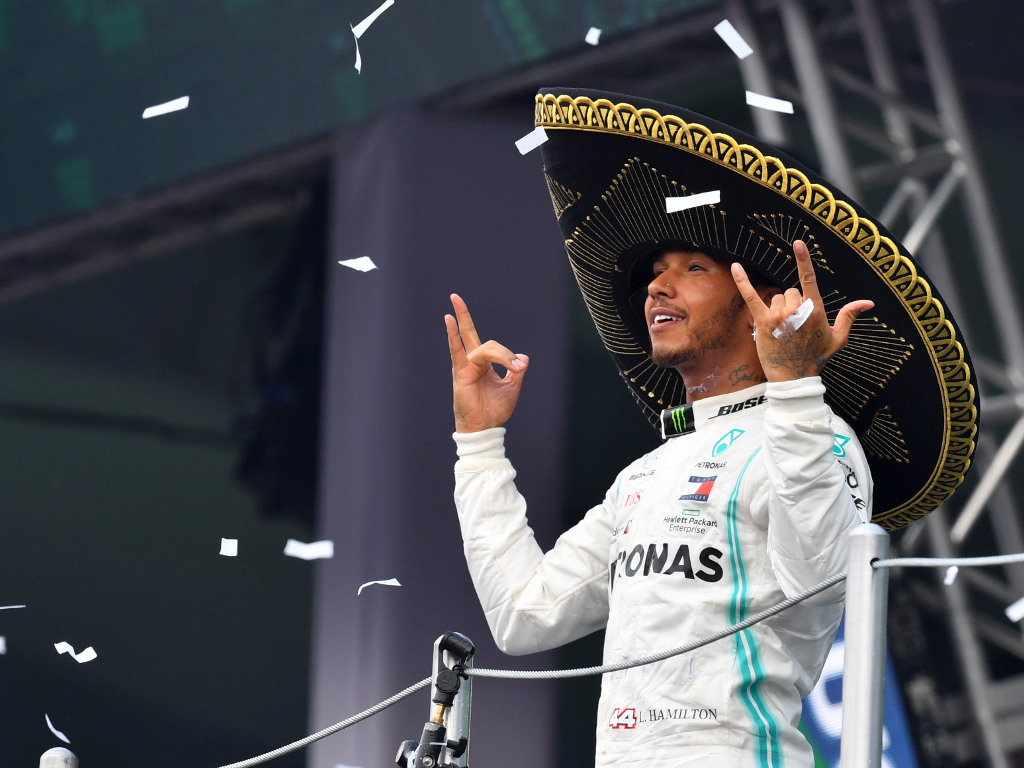 Lewis Hamilton returned to winning ways at the Mexican GP while Ferrari once again botched their strategy calls.
For Hamilton the Autódromo Hermanos Rodríguez win marked his second since the summer break, however, it wasn't quite enough to seal the Drivers' title.
Sebastian Vettel put Ferrari on the podium at a race many believe they should have won while Max Verstappen did everything he could not to take a third Mexican GP victory.
Here is the latest verdict from Late Braking…
Lewis Hamilton: By Mercedes' extraordinary standards in the hybrid era, Autodromo Hermanos Rodriguez has not been a happy hunting ground however Lewis Hamilton was able to deliver a sublime performance on Sunday to see off his rivals.
Pitting earlier than fellow one-stoppers Vettel and Bottas, Hamilton managed his tyres to perfection and maintained a steady gap to the cars behind. We are so used to seeing Hamilton take race wins on raw pace alone and in that respect Mexico was a little different, but it was no less impressive. – 9
We've been busy since 2013 😉

1️⃣0️⃣0️⃣ podiums with the Team for @LewisHamilton!!

And how about that for an entrance… ⬆️ pic.twitter.com/wOuVryuRNj

— Mercedes-AMG F1 (@MercedesAMGF1) October 27, 2019
Sebastian Vettel: For a significant portion of the race, Vettel must have considered himself the favourite for the victory as his teammate went on to an inferior two stop strategy, however fresher tyres were unable to prevail and 2nd place was what Vettel had to settle for.
Vettel might well be slightly frustrated that he could not get closer to Hamilton in their second stint but this was a theme across all of the top guys as overtaking proved difficult. – 7
Valtteri Bottas: A last corner crash in qualifying threatened to derail Bottas' weekend entirely but thanks to the team's good work in putting the car back together again, Bottas was given the tools to salvage a decent result.
Throughout the GP, Bottas displayed impressive pace and was often much closer to Vettel than Vettel was to Hamilton but couldn't quite make the overtake happen despite getting close. His result does at least mean the championship carries on for one more week. – 7
Charles Leclerc: Based on previous years and what Pirelli were saying in the buildup, it's no surprise that some of the drivers opted for a two-stop strategy however it proved to be the wrong call as Leclerc had to settle for P4 after starting on pole (just the second time this year the pole sitter has not been on the podium).
Leclerc did show good pace as he caught up on fresh tyres towards the end of the grand prix but an error into Turn 4 ended his chances of reaching the top three. – 7
Leclerc loses a proper chunk of time running wide at turn 4. pic.twitter.com/QyGtbZ8qeJ

— F1 Madness 🏁 (@F1_Madness) October 27, 2019
Alexander Albon: Running as high as P3 in the early stages of the race, Alex Albon carried the Red Bull flag alone as Verstappen endured early problems and he did an admirable job. The first to dive in to the pits, the two stop strategy never quite materialised for him.
Albon is starting to deliver solid results on a much more consistent basis than Gasly did which should hold him in good stead to keep the seat next season but it's hard to score more than a six here as he was a long way behind the top four. – 6
Max Verstappen: Crowned Driver of the Day by the fans, unfortunately for Verstappen these ratings won't look so favourably on him.
Whilst his surge back through the field was clinical and strong in terms of tyre management, the only reason he had to do that in the first place was due to over-exuberance when trying to overtake Bottas.
Verstappen is wonderful to watch and has immense talent but just a bit more patience is needed when looking to get past another car. Would Hamilton have attempted the same move? – 5
Sebastian Vettel & Lewis Hamilton were asked in the press conference whether Verstappen has to be treated differently to other drivers… 😆#MexicoGP 🇲🇽 #Seb5 #F1 pic.twitter.com/CFPb9rIui8

— Sebastian Vettel #5 (@sebvettelnews) October 27, 2019
Sergio Perez: This performance was vintage Perez as he claimed the best of the rest tag despite immense pressure from Daniel Ricciardo.
His battle with the Renualt might well have been the highlight of the day and he kept cool as Ricciardo made a mistake going for the position. Besides his excellent tyre saving and his strong defence, he finished a long way clear of any other midfield runners with the exception of Daniel. – 9
Daniel Ricciardo: The only driver to start on the hard tyres, Ricciardo must be pleased with his choice as he gained five places from his starting position. An impressive first stint gave him a chance of P7 with some fresh medium tyres but for once his braking was too late as he spurned his chance into Turn 1. – 9
Pierre Gasly: As we sometimes see, the midfield drivers who made it into Q3 were at a slight disadvantage as they had to start on a soft tyre that proved to be tricky and wear quickly. Despite this, Gasly produced a solid race and took home a few points. – 7
"Gasly's two points are useful for the fight for fifth place in the Constructors' classification."#PoweredByHonda pic.twitter.com/MgJJ3xJUZo

— Honda Racing F1 (@HondaRacingF1) October 27, 2019
Nico Hulkenberg: Hulkenberg was something of an anonymous figure throughout the GP until we saw him with a severely damaged car at the end of the race. Directly battling with Perez in their first stint, Hulkenberg failed to keep up with the Racing Point and was forced to defend from the two-stoppers late on. – 6
Daniil Kvyat: The lead Toro Rosso for the whole race until the penultimate corner, Kvyat decided to go for it with P9 on the line against Nico Hulkenberg, moves are rarely made in to Turn 16 and Kvyat perhaps proved why as he clattered into the Renault and an ensuing penalty saw him pick up no points. – 6
Daniil Kvyat and the FIA haven't really been a match made in heaven over the years.

The situation isn't likely to improve either now he's accused the #MexicanGP stewards of "killing the sport".https://t.co/RDSjEb1bJC #F1 pic.twitter.com/k1Gx1XuGEh

— Planet F1 (@Planet_F1) October 28, 2019
Lance Stroll: Whereas plenty of drivers went in to the pits early in the race, Stroll stayed out for much longer on his first stint but it was to no avail as he could not keep the two-stoppers behind him. Another race in which Perez proved what the car is capable of but Stroll was a long way back. – 5
Carlos Sainz: Starting P7, up as high as P4 in the early stages, it had all the makings for another strong Sainz showing and another big haul of points but for whatever reason his pace disappeared into the thin air of Mexico City. He reported the car feeling quite "strange" as he dropped back through the field. – 5
Antonio Giovinazzi: 20 seconds away from the car in front, 27 seconds clear of the car behind. Giovinazzi's only real highlight of the race was a massively delayed stop although avoiding this would not have seen him in the points. Simply put, this wasn't Alfa's weekend. – 6
Kevin Magnussen: A performance that will most likely fly under the radar but a really solid one from the Dane as he finished 50 seconds clear of his team-mate. On a weekend where the Haas car was barely better than the Williams, P15 was likely the maximum Magnussen could have hoped for. – 7
Magnussen going sideways turn 3, Kubica locking up and going on to the grass #F1 pic.twitter.com/lKr4i10mEf

— GoatWorldSports (@GoatWorldSport1) October 26, 2019
George Russell: It's not often Williams get a lot of TV time but fortunately the director caught Russell and Kubica engaged in an entertaining tussle, one in which Russell did not come out ahead of. A rare occasion that he was behind Kubica for the majority of the race. – 6
Romain Grosjean: Another one to forget for Grosjean who was somewhat fortunate not to finish last on track. Haas regularly under-perform in Mexico, but it's usually supported by good races around it. Not the case this year. – 5
Robert Kubica: For much of this season Kubica has been destroyed by his younger team-mate but the Pole deserves credit here as kept his team-mate behind for 59 laps, only to be denied by a slow puncture that caused a late stop. – 6
Kimi Raikkonen: Raikkonen's chances for points were fairly low to begin with but damage on the opening lap reduced these even further still. After plodding around in obscurity for a long time, Alfa took the decision to retire the car when running 15th. – 6
Lando Norris: What does this guy have to do to catch a break? Another race in which solid points were on the cards before a pit stop issue put him a distant last place before retiring. – 7
Video Lando Norris facing a problem after the pit stop! #MexicanGP #Formula1 #F1 pic.twitter.com/2cl3tRaazW

— Sophia (@sophia_wrc) October 27, 2019
The Mexican Grand Prix driver ratings are courtesy of the good folks at Late Braking. You can check them out in the following places:
Subscribe to Late Braking on YouTube
Follow Late Braking on Twitter