The next Schumacher records in Hamilton's sights
The records set by Michael Schumacher, once thought insurmountable by many, are now falling by the wayside courtesy of Lewis Hamilton.
Already in 2020 Hamilton has rewritten several pages of the Formula 1 history book, surpassing Schumacher's benchmarks for most points finishes and most podium finishes – the latter 161 and counting!
And, of course, one of the big ones has fallen. With victory at the Eifel Grand Prix, Hamilton matched Schumacher's 91 race wins in Formula 1, and at the following Portuguese Grand Prix he went on to claim the outright record with a remarkable 92nd victory in the sport.
As a six-time World Champion, we know the magic number which Hamilton needs to equal and then better is Schumacher's ultimate record of seven world titles.
However, if Hamilton wants to conquer Schumacher in every statistical way possible, then he is far from done.
So, let's take a look at some of the remaining Schumacher records which Hamilton will have his sights set on.
Seven World Championships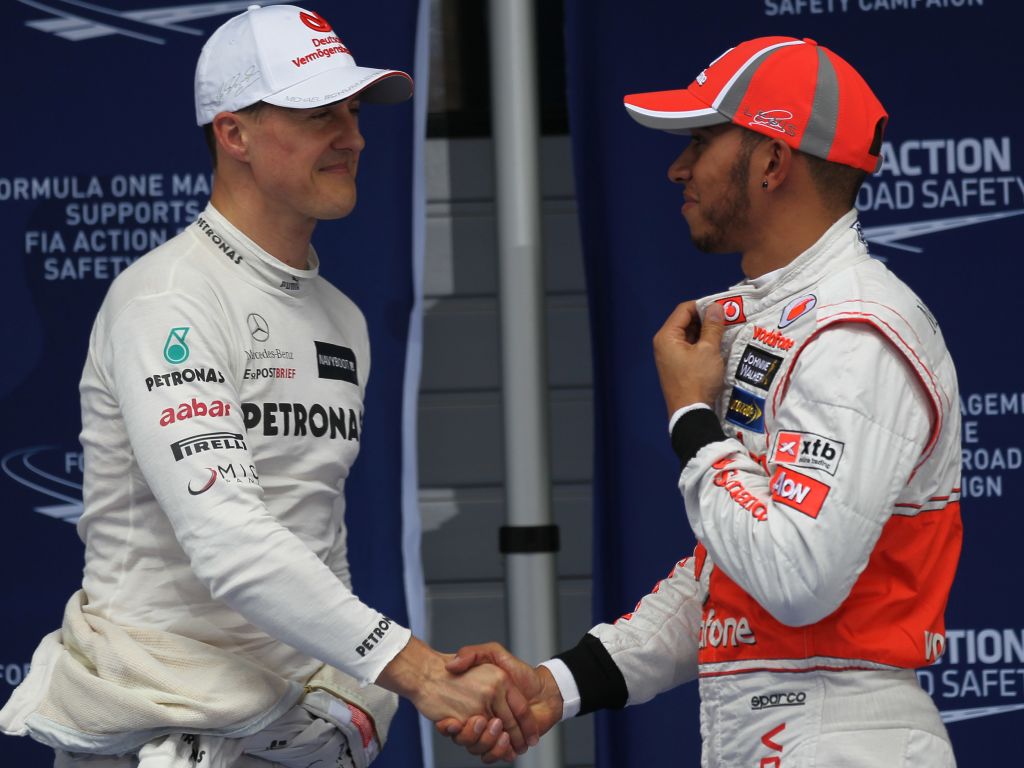 The holy grail of Formula 1 records. The thought that anyone could ever equal Schumacher's record of seven was mere fantasy just a few years ago, but sensationally Hamilton is on course to match it and then have a clear shot at bettering it.
Only the most remarkable of events would deny Hamilton a seventh title this season. The Briton holds a 77-point advantage over his Mercedes team-mate Valtteri Bottas in the Drivers' Championship with only five rounds remaining.
While he cannot wrap up the title at this weekend's Emilia Romagna Grand Prix, if he outscores Bottas by two points across Imola and then the Turkish Grand Prix, Hamilton will be a seven-time champ.
So, once Hamilton does wrap up title number seven, in theory he then has a clear sight of an eighth in 2021 in what will be the final season of these current regulations which have paved the way for Mercedes' dominance.
However, it has yet to be confirmed Hamilton will stick around for 2021. We are rapidly approaching the conclusion of the season and the end of his Mercedes contract. All the signs still suggest, though, he will be around for at least a little bit longer.
Most laps led
Given Hamilton's form in 2020, there is a strong chance he will catch and pass this Schumacher record before the season ends.
Schumacher led a total of 5,111 laps during his Formula 1 career while Hamilton is comfortably second in that department with 4,976 laps led so far.
Some quick maths tells you Hamilton needs to lead 135 more laps in order to equal that record. A total of 320 remain in the 2020 season (starting from the Emilia Romagna Grand Prix), making it a very real possibility that Hamilton could have led the most laps in Formula 1 history before the season is done.
Most Formula 1 wins and podiums with same team
Another record which Hamilton is closing in on fast. Schumacher and Ferrari, alongside Hamilton and Mercedes, are the two most successful partnerships in the history of Formula 1.
Between 1996 and 2006, Schumacher scored 72 wins and 116 podiums with Ferrari, a truly magnificent achievement. But very soon, Hamilton is set to send that record tumbling.
Hamilton has so far claimed 71 wins with Mercedes and 112 podiums and so with five races left in 2020, Hamilton would match that record if he claimed one more race win and finished on the podium at the other four rounds.
But even if Hamilton cannot quite tie Schumacher in 2020, it surely wouldn't take long into the 2021 season – if Hamilton re-signs with Mercedes – to beat that record.
Pole, win and fastest lap in same race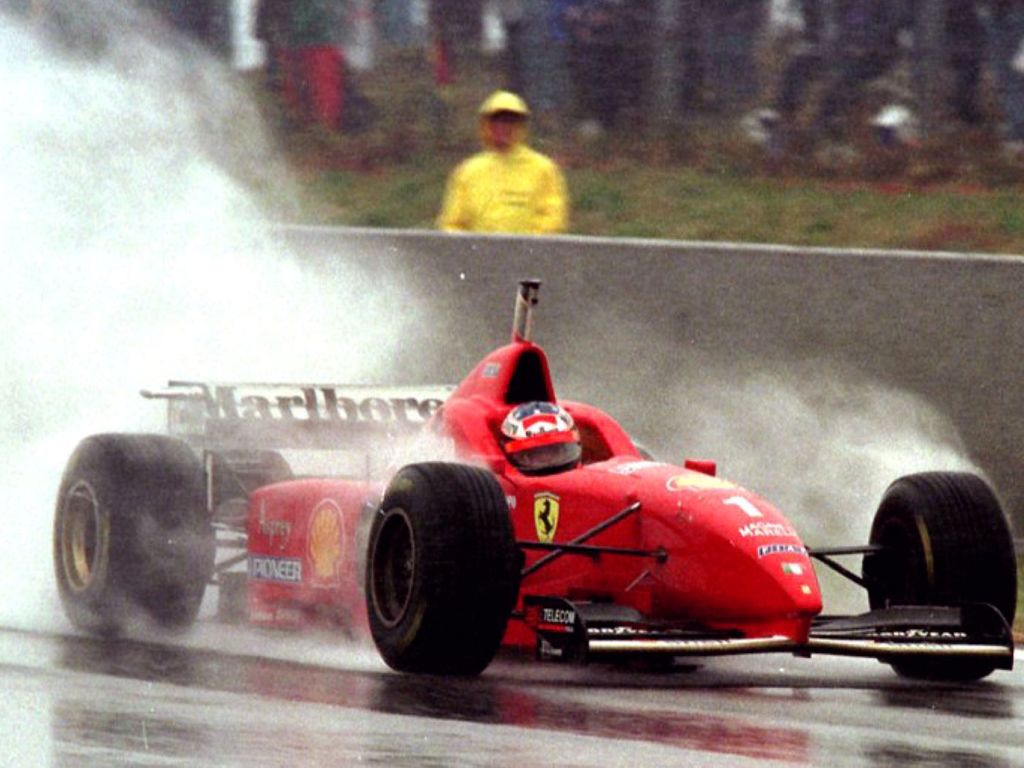 Effectively known as a hat-trick in Formula 1: take pole, convert it into the win and claim the fastest lap of the race.
It takes a very special driver operating at the top of their game to achieve this once, but over his career Schumacher did it an incredible 22 times.
But this is another record which could theoretically fall to Hamilton in 2020, having pulled off a hat-trick 18 times.
For Hamilton to take pole, victory and the fastest lap in four of the last five races in 2020 would be some effort, but there is no doubt he will fancy his chances of matching and then conquering this record if he remains in the sport for 2021.
Most Formula 1 starts with a single team
Now for a record which demonstrates a driver's ability to stand the test of time and remain at the peak of their performance.
Ferrari legend Schumacher started 179 races with the Scuderia, while Hamilton has 152 starts to his name with Mercedes and is set to make that 153 at the Emilia Romagna Grand Prix.
Since the proposed 2021 calendar reportedly has 23 rounds on it, that means as long as Hamilton completes the current season and stays with Mercedes for 2021, then he will be on course to break this Schumacher record towards the back end of the 2021 season.
Most wins in a season
A record which Hamilton could match if he wins all of the remaining five races in 2020 – despite the shortened calendar – but the Briton may have to wait until 2021 to have a chance of beating it.
Schumacher actually holds this record alongside Sebastian Vettel who both have won 13 races in a single season. Schumacher achieved it with Ferrari in 2004 and Vettel with Red Bull in 2013.
And with a potential record 23 races next season, Hamilton will be presented with the perfect opportunity to smash that record if he is still behind the wheel of a Mercedes in another year of stable regulations.
Most consecutive seasons with at least one grand prix win
A special hug from dad for the record breaker 🤗 😍#PortugueseGP 🇵🇹 #F1 @LewisHamilton pic.twitter.com/Jy7VZY6JZ8

— Formula 1 (@F1) October 26, 2020
It's staggering that Schumacher went 15 seasons in a row between 1992 and 2006 with at least one race win in each season, and now Hamilton is closing in on this record after claiming one or more victories in all 14 seasons of his Formula 1 career, which started in 2007.
So, Hamilton would almost certainly join Schumacher on 15 if he stays with Mercedes for 2021, but if he is still in the sport from 2022 then he would need his team to ace the new regulations to have a shot at setting a new record of 16 seasons in a row with a win.
Total fastest laps
Definitely the record which Hamilton would need a long-term commitment to catch.
Schumacher set the fastest lap in a race an incredible 77 times, 25 more than Hamilton's current tally of 52.
The Briton mathematically would need the rest of 2020 and nearly all of 2021 to reach that tally, and even then he would have to pull off the very unlikely achievement of a fastest lap in almost every grand prix he enters.
Another factor which makes this the most elusive Schumacher record for Hamilton is the fact that Formula 1 now offers a bonus World Championship point for fastest lap if the driver also finishes in the top 10, something which was not around in Schumacher's time.
So these days a fastest lap has tangible value in the Drivers' Championship, rather than just being an ego boost, and we regularly see a driver who is secure in their top-10 position bolt on a fresh set of tyres at the end of a race and go for the fastest lap.
Basically, this is the one record of Schumacher's which Hamilton arguably isn't favourite to beat.
Jamie Woodhouse
Follow us on Twitter @Planet_F1, like our Facebook page and join us on Instagram!