The five most entertaining drivers on the F1 2023 grid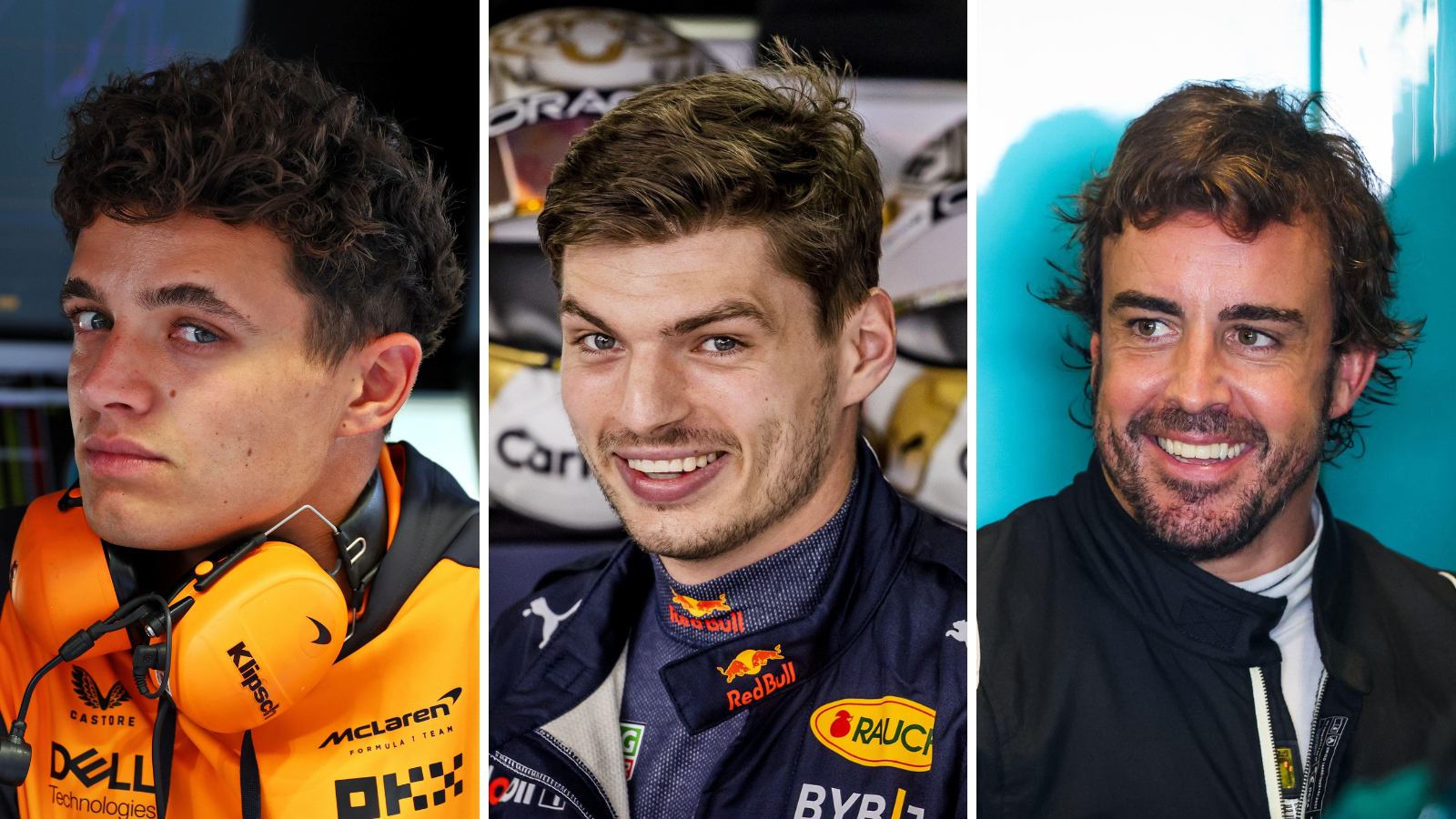 Formula 1 has lost some of its most entertaining drivers in recent years but there are still plenty of drivers known for their big personalities.
When the final lap of the final race in Abu Dhabi came to an end, it marked the close of the 2022 Formula 1 season and with it, the sport lost its most charismatic star.
Daniel Ricciardo may have misplaced some of his speed since his Red Bull days but his personality was just as infectious as ever with his huge smile never seeming to disappear from his face even as his fortunes at McLaren went from bad to worse.
While the producers of Drive to Survive will be sad to see their star go, there are plenty of big personalities left on the grid, with Sky Sports' Ted Kravitz having called upon the grid's current stars to "step up" and fill the void left by Ricciardo and Sebastian Vettel last year.
The 2023 season is still young, but here is our take on who can step into the breach and keep us entertained away from the circuit this time around.
5. Valtteri Bottas
Now we know what you are thinking, a Finn in the top five of the biggest personalities? The land that has produced the talkative Mika Hakkinen and Kimi Raikkonen? But hear us out for while the country is not exactly known for its loudmouths, sometimes actions speak louder than words.
Besides, which other driver on the grid can you claim to have seen their naked butt not once but twice? There may even be some of you who have the pale buttocks of Valtteri Bottas in a clear Colorado stream up on a wall at home after he sold the unique picture for charity.
Yes, it's the moustached man himself, Valtteri Bottas. Putting Bottas on the list a few years ago would have seemed a remarkable misjudge of character but ever since his move to Alfa Romeo, Bottas has become the fun uncle of the grid.
Loves his coffee, loves his cycling, doesn't take himself too seriously. Bottas is enjoying the more relaxed way of life that comes away from a top team and he and partner Tiffany Cromwell are living the dream life.
And if anyone is brave enough to go full Bogan, they deserve a spot on this list. Good on ya, Valtteri.
4. Yuki Tsunoda
We don't know who is in charge of the bleeping at F1 TV but they certainly had their work cut out for them when Yuki Tsunoda joined the grid in 2021.
The young Japanese driver arrived as a highly rated prospect having finished third in the 2020 F2 season but he soon developed a reputation following his foul-mouthed tirades aimed at other drivers, the car, his engineer or pretty much anyone in his way.
As a result, Helmut Marko labelled him as the "problem child" and made the point that there is little engineers can do with feedback that consists of "bloody f***ing car" but Formula 1 drivers do not live in a vacuum and perhaps his life off-track was adding more pressure to his time on it.
In one of the biggest broadcasted character assassinations, Milton Keynes was destroyed by Tsunoda in an episode of Drive to Survive before the Japanese man got his ticket out of there and to a more welcoming climate of Italy.
With a year under his belt, Tsunoda has become more mature but is just as big a personality as he was during his rookie year. Building a strong rapport with team-mate Pierre Gasly – including mistakenly saying they slept together – as well as the other drivers in the Red Bull family, Tsunoda is a welcome addition in the paddock.
PlanetF1 recommends
Where are they now? The F1 2008 grid for Lewis Hamilton's dramatic first title
Is Fernando Alonso a better F1 driver than Max Verstappen and Lewis Hamilton?
Murray Walker: 20 legendary quotes from the undisputed voice of motorsport
3. Max Verstappen
The Dutch foreign exchange business school Tio describes the people of the Netherlands as "not afraid to speak their minds" and ones who "do not beat around the bush." They "love to complain" and "prefer to be open about their opinion." Does this remind you of anyone?
Yes, it is the two-time World Champion Max Verstappen.
The polarising figure has just as many fans as he does critics but perhaps one aspect the latter fails to understand is that he is a product of his surroundings. Verstappen is straight-talking, not willing to take part in the media/political games like some of his rivals do, and is not afraid to let his engineer know if something is not to his liking.
For this reason, he is one of the most interesting characters on the grid.
He seems to have been born to be a racer. While others were training in winter conditions, Verstappen was taking part in a virtual race, which admittedly did not go well. A recent image of his room showed just a gaming rig (even if he was in the process of moving) and it portrayed how laser focused on racing he is.
But that is not to say he is not one that takes himself too seriously. His relationship with Daniel Ricciardo when they were team-mates brought out the best of Verstappen and he has been shown to be good friends with other drivers such as Lando Norris on the grid.
The Dutchman's up-front, no nonsense style will always have its detractors but when that radio alert goes during a race weekend, there are few other voices fans want to hear than Verstappen.
2. Lando Norris
If you Google image search Lando Norris, one of the first pictures to come up is the 23-year-old with a huge smile across his face, which rather sums up his off-track personality.
Norris became a beloved figure within the world of F1 during the COVID pandemic when he and other drivers took to Twitch to get their fix in but it was Norris' personality that resonated more than most.
He was funny, didn't take himself too seriously and was happy to embrace that side of his life which makes sense considering he has grown up in the age of social media.
It was not just a pandemic fling though and Norris continues to stream when he can and has even set up his own YouTube channel.
This has helped him portray his infectious personality and every trackside interview, it seems as if he is fighting back a giggle (especially when a Dutch TV channel asked him if he was going for a massage in Amsterdam after the race).
He has an army of fans behind him and may have been occupying the 'best of the rest' spot on the grid for the past couple of seasons, but there are no questions that he has the talent to move higher up.
1. Fernando Alonso
Mr El Plan himself. Alonso is a veteran of the grid having first raced in 2001 but what fans love about the two-time World Champion is he is not afraid to speak his mind, even if it sometimes comes at a cost for the team and himself.
During the 2022 campaign, his relationship with Alpine deteriorated and soon the thinly veiled jabs at the French outfit were on display for all to see.
Alonso is also not afraid to get creative with the insults he says over the team radio. When his old enemy Lewis Hamilton crashed into him at Spa in 2022, Alonso said it was because Hamilton "only knows how to drive when starting first."
And who can forget the "all the time you have to leave a space!" line from Bahrain 2012?
2023 has got off to a flying start for Alonso and Aston Martin but, if things begin to sour as they have done in the past for the Spaniard, you can bet we will all be hearing about it over the radio first.