One New Year's resolution for each F1 team ahead of 2023 season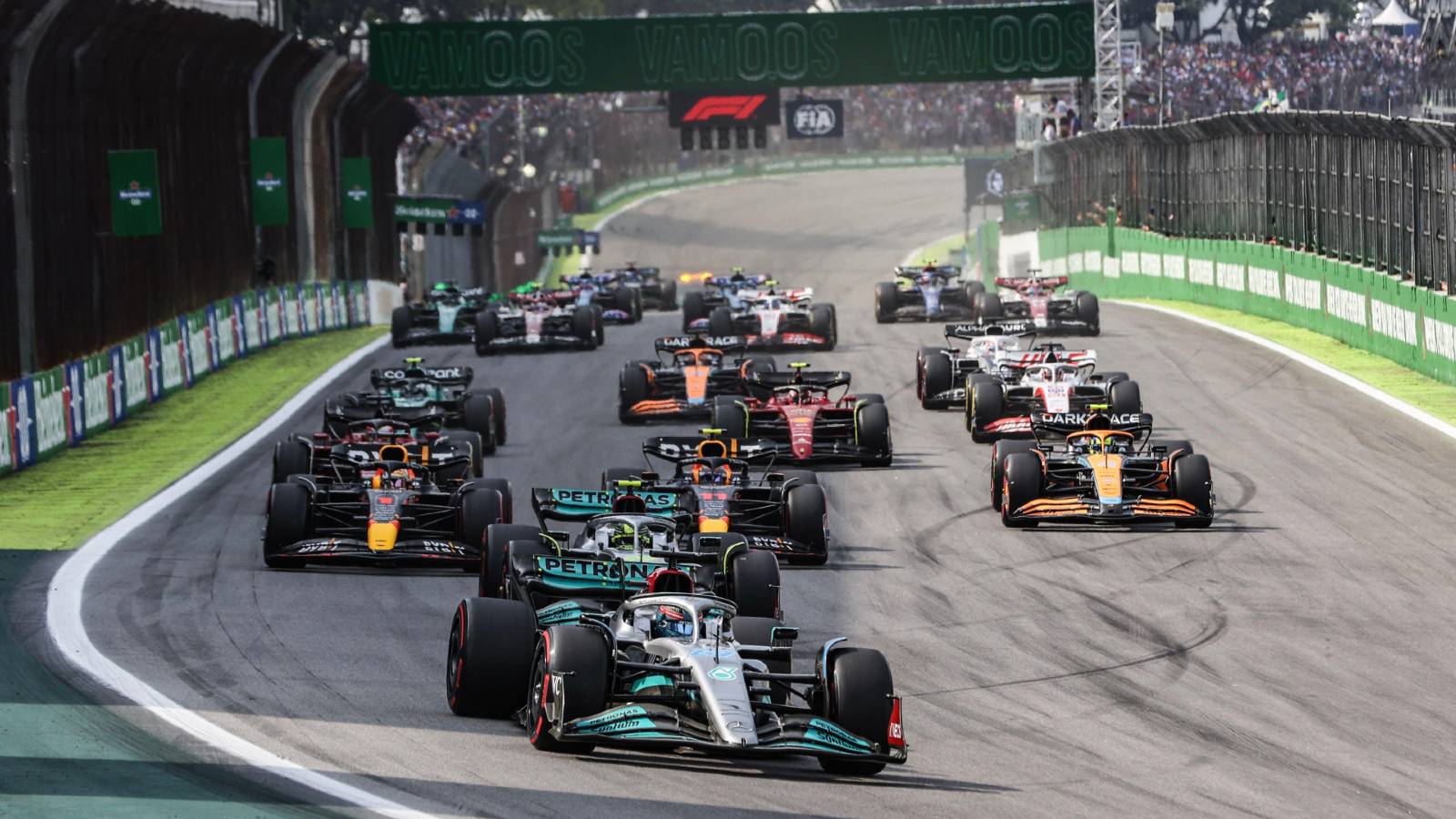 The beginning of a new year brings an opportunity to start afresh and put right the mistakes of the previous 12 months. That applies to the F1 teams, who often stress the need to improve from season to season.
Here, we suggest one New Year's resolution for each of the 10 teams from Williams, bottom of the F1 pile in 2022, to Constructors' Champions Red Bull…
Williams: Stop peeling off the paintwork
Is the search for marginal gains still worth it when it starts to (literally) chip away at a team's identity?
An unusual question, granted, but one that applied to Williams as one of several teams to start 2022 with a heavy car.
Their way of losing the extra weight went more extreme than most and it took just a couple of races for Williams – in a desperate attempt to coax some performance from the FW44 – to peel off the paintwork, leaving a livery mostly made up of bare carbon fibre.
The team claimed the move had a positive effect on performance even if the timing screens begged to differ, but it raised an interesting engineering-versus-marketing debate.
With car liveries at the very heart of a team's corporate identity, are certain things better left alone in the endless chase for performance?
AlphaTauri: Rediscover the old Red Bull ruthlessness
Not long after Pierre Gasly's move to Alpine was announced came the inevitable question: just who will lead AlphaTauri in 2023?
That the question was even necessary underlined how Red Bull's talent pool, where one future star would once succeed another overnight, has decreased over recent years.
AlphaTauri have shown great patience towards Yuki Tsunoda but, with many a Red Bull junior dropped for less than his mistakes at Montreal and Silverstone in 2022, as he enters the all-important third season in F1 it is time for him to finally deliver.
The capture of Nyck de Vries, following an unsuccessful pursuit of IndyCar driver Colton Herta, reinforced Red Bull's newfound willingness to bring in drivers with no previous connections to the company – a trend started by the main team's signing of Sergio Perez for 2021.
And with suspicions that Red Bull Powertrains may go it alone for the 2026 engine regulations, the case to retain Tsunoda to keep Honda sweet may soon no longer apply.
If he continues to frustrate and show only fleeting flashes of potential in 2023, there will come a point when AlphaTauri must accept the Tsunoda experiment has failed.
Haas: Stand by a struggling driver
Guenther Steiner was fiercely critical of Mick Schumacher for crashing in Jeddah, Monaco and Japan, then wondered why Michael's boy was too tentative – and almost two-and-a-half seconds slower than team-mate and eventual polesitter Kevin Magnussen – in tricky conditions in Q1 in Brazil.
Emotional intelligence, it is obvious by now, is not a strong point of Steiner's – but at least the Haas boss has got what he wanted with the team returning to the good ol' days for 2023 with two grizzly old pros in the cockpit.
Yet what if Nico Hulkenberg, at 35, struggles on his full-time return to F1 after three seasons away? What if Magnussen's suddenly form falls off a cliff?
In elite sport the technical differences between the best are so very fine that psychological and emotional factors can be key.
It is Steiner's job to instil confidence in his drivers, not tear them down at every opportunity.
Aston Martin: Commit to a single car concept
Aston Martin were the jack of all concepts and the masters of none in 2022, starting the season with a unique car philosophy before switching to a Red Bull-esque design within six races.
Despite accusations in Barcelona that the team had copied the RB18, technical director Andrew Green claimed a two-pronged attack was the plan all along with the more conventional car a fallback option in the event that the more ambitious design backfired.
In theory, that should mean Aston are more informed than most when it comes to understanding what does and does not work under F1's new regulations.
And that, in addition to their immense wherewithal, the signing of Fernando Alonso and the fact many of their impressive technical hires have had time to settle in, potentially makes the team quite a dangerous prospect for 2023.
Already there is talk that the new AMR23 will again very look different and this time, rather than splitting resources, all their energies can be spent on building the best car they can.
An aggressive, singular focus could reap the rewards.
Alfa Romeo-Sauber: Bring the upgrades faster
Now Sauber have won the lottery, there is a convincing argument that they should simply sit on their winnings and write off the next three years.
On track at least, nothing really matters from now until the team are reborn as Audi in 2026 and those famous four rings adorn the car's nosecone.
But for all the excitement for the future, could Audi's presence – with the German manufacturer soon set to acquire a stake in the Sauber Group as preparations for their F1 entry accelerate – help the team in the present?
After scoring in seven of the opening nine grands prix of 2022, Alfa added just four more points in the last 13 races as the C42 faded into the midfield.
Although the upgrades kept coming until Austin, both drivers and head of trackside engineering Xevi Pujolar expressed frustration over production timescales compared to the likes of Alpine and McLaren.
Maybe, with the first drips of Audi investment coming through, the team can now be more agile in the development race.
McLaren: Let racing drivers be racing drivers
Ultimately, Daniel Ricciardo only had himself to blame for his failed stint at McLaren, but the team's inability to haul him out of his struggles did not reflect particularly well on them either.
For some time there has been a suspicion that McLaren are too fixated on the finer details – your team-mate is braking 20 metres later into this corner, Daniel, and on the power three-and-a-quarter milliseconds sooner out of that one – to the detriment of their drivers.
There were hints of it in the way Ricciardo would speak of the complexities of life at McLaren, swept away by a never-ending stream of data when all Daniel ever wanted was just to be Daniel.
In that sense perhaps his real problem was one of contrasting cultures – an inability to gel with the team itself rather than the car – but there can be no harm in letting racing drivers be racing drivers.
In Lando Norris and Oscar Piastri, the team will have two of the most exciting talents to have entered F1 in a generation in 2023 and the peculiarities of the McLaren way may come as a shock to the new recruit.
Rather than filling his head with information, McLaren would be well advised to let Piastri go with the flow – especially in his first season.
Alpine: Improve the engine
The good thing about Alpine's chronic technical problems in 2022 was that they did not cost the team P4 in the Constructors' standings.
The other good thing? Under the terms of F1's engine freeze, Renault are able to work on their power unit for 2023 in the name of reliability.
Despite their strong performances at high-speed circuits in 2022 – see Fernando Alonso's front-row start in Canada – there remains a suspicion that Renault's engine remains the weakest in modern F1.
A combined total of eight mid-race stoppages for Alonso and Esteban Ocon in 2022 – as well as costly failures for the former in Australia and Austria – made Alpine's fight for fourth against McLaren far more anxious than it ought to have been.
An improved powertrain– for reliability reasons, of course – will enhance their prospects of repeating the feat in 2023.
Mercedes: Be bolder with strategy
It has long been said that Mercedes are not exactly the sharpest team strategically, but that mattered little in the years when they had a dominant car.
In a season like 2022, however, the limitations of the bouncing monster shone a brighter light on Mercedes' tactical shortcomings.
Mexico, where they did not even consider that the soft compound could figure in a one-stop strategy, was held up as an example of Mercedes' natural conservatism, though criticism was perhaps a little harsh on an afternoon a number of other teams made the same mistake.
Yet it came to symbolise Mercedes' hesitance to seize the day when they were thought to have a genuine shot of beating Red Bull.
If Red Bull unleashed their inner Mercedes in 2022 as the team reached an almost unprecedented level of dominance, it's time for Mercedes to find their inner Red Bull and become bolder.
Ferrari: Put the harsh lessons of 2022 into practice
What to expect from Ferrari in 2023 as yet another new era begins? The obvious answer is that the Scuderia will take a slight step back as the Fred Vasseur regime gradually finds its feet.
Yet most of the work on the new car will have been done long before Mattia Binotto's resignation and the true impact of his departure – the loss of such technical genius – may only begin to be felt over the long term.
So if Ferrari once again get the hard part right and have a race-winning car from the off, much of the focus will fall on how much progress they've made on the easy bits – the areas, like strategy and pit stop execution, in which their 2022 title challenge collapsed.
Operational aptitude should really be the foundation of any respectable racing team. Even when Williams had nothing else, for instance, Pat Symonds made it his mission for the team to have the fastest stops of all.
It is that kind of culture and discipline Vasseur must create if Ferrari are to put the harsh lessons of 2022 into practice.
Red Bull: Keep the peace
Following their breach of the cost cap, there is an obvious temptation to tell Red Bull to seek better financial advice in 2023.
But in light of the controversy in Brazil, where Max Verstappen refused to hand sixth place to Perez in the closing laps, there is now a more pressing matter at hand.
That the tension between their drivers was allowed to simmer almost unnoticed until it reached a public and embarrassing head at Interlagos reflected poorly on the management.
Away from the track and behind the macho radio rebukes, Verstappen must realise he may never have a better team-mate than Perez, strong enough to support him but never to provide a sustained challenge.
Meanwhile, before turning against the team leader – or, if the rumours are to be believed, turning his car into the wall in the dying seconds of Monaco qualifying – Perez should never lose sight of how fortunate he is to be in a Red Bull having come so close to losing his F1 career just two years ago.
Now is the time for Christian Horner, from a position of strength, to exert some control and bang his drivers' heads together. He might not get another chance.
Read more: Lando Norris warned against becoming Max Verstappen's future team-mate