The next five Fernando Alonso landmarks after 100th F1 podium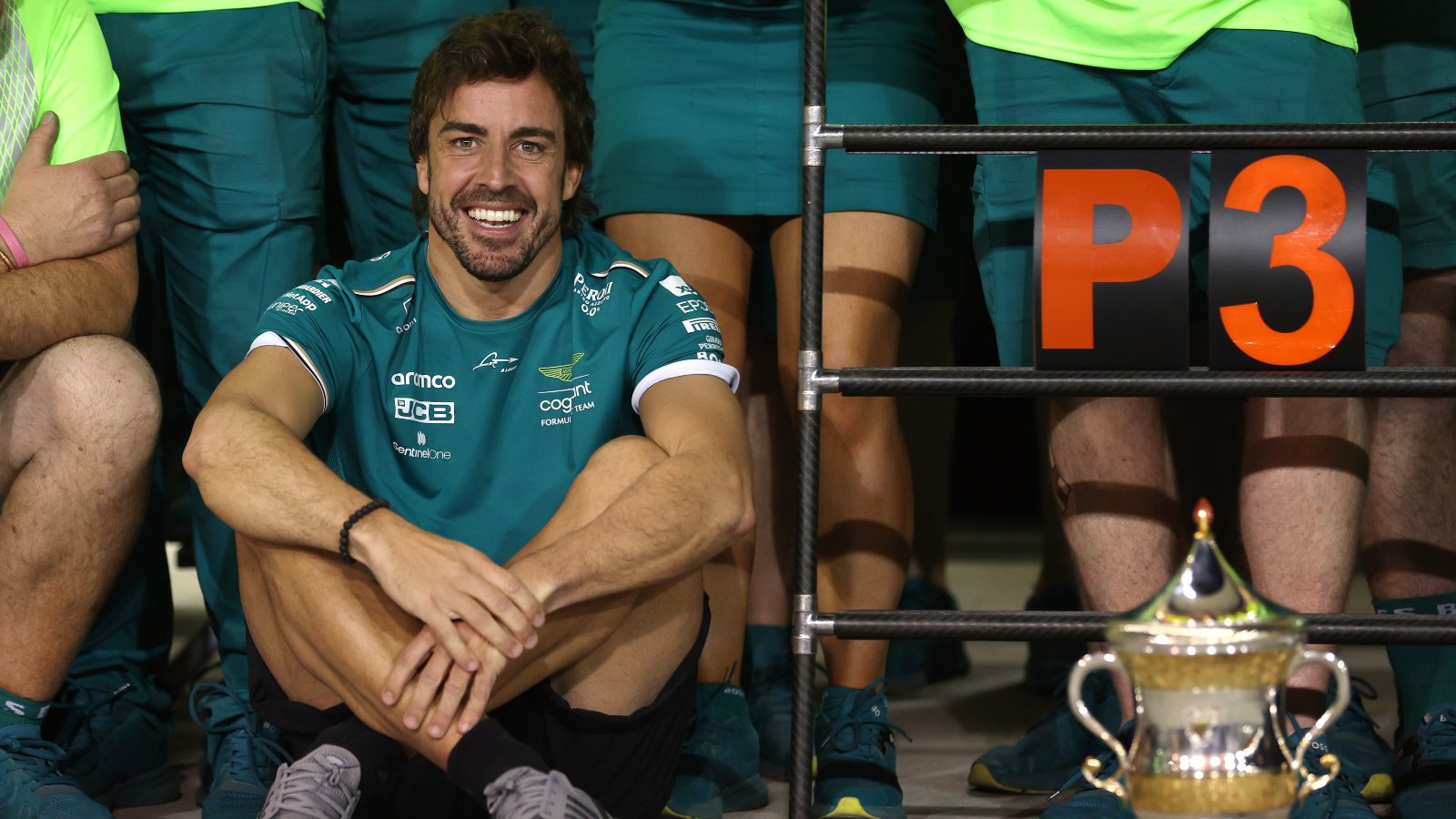 After Fernando Alonso did, then did not, then again reach 100 F1 podiums in Saudi Arabia, PlanetF1.com is taking a look at other milestones he could soon hit.
Alonso joined an exclusive club in Jeddah on a list of just five other drivers to have secured 100 or more podiums, moving alongside Kimi Raikkonen, Alain Prost, Sebastian Vettel, Michael Schumacher and Lewis Hamitlon.
It is not the first time Alonso has written his name into the Formula 1 history books. He was previously the youngest F1 race winner, the youngest World Drivers' Champion and the most experienced driver in F1 in terms of laps completed.
So, with Alonso's P3 proving there is still life in the old dog yet, here are five landmarks the Spaniard could soon reach:
25 fastest laps
Fernando Alonso first took the fastest lap accolade in 2003 and two decades later, there is a real chance that he could make it to 25.
He currently stands on 23 having scored his first for Renault in Canada but stopping him getting to the 25 mark are the two Red Bulls with the Aston Martin car currently accepted as the second fastest on the grid.
But, unlike the race win, Red Bull may not always be focused on the fastest lap bonus point so Alonso could conceivably add two more, his first since 2017, to his tally.
20,000 laps raced
As mentioned previously, Alonso is the most experienced driver both in terms of race starts but also laps completed and this season could see him pass quite the milestone.
Following the 2023 Saudi Arabian Grand Prix, Alonso has driven a Formula 1 car around a circuit 19,260 times meaning he is more than likely going to pass the 20k mark this season.
Considering there are 21 races to go, Alonso will need to complete an average of 35 laps per race which is eminently doable at tracks like Monaco which run for 78 laps.
While Lance Stroll suffered some unreliability in Jeddah, Alonso has so far been spared from the same kind of problems he had last season so he looks a sure bet to cross that particular milestone off his list.
Fourth different constructor to win with
If Alonso were to win with Aston Martin, it would move him to second in the list of drivers to have achieved a race victory with different constructors.
Alonso stands on three having been successful with Renault, Ferrari and McLaren and should he move onto four, he will join Alain Prost, Jackie Stewart and Juan Manuel Fangio in second place.
Stirling Moss is top of the list with his victories driving for Cooper, Lotus, Maserati, Mercedes and Vanwall.
Interestingly, if Alonso were to win with Aston Martin, it would be the first time he has won a race at a previously non-Constructors' title winning team.
PlanetF1 recommends
F1 rumours: Ferrari fight for P2 now with Red Bull esque-sidepods coming in F1 2024
Where does Lewis Hamilton rank on the longest win droughts for a F1 World Champion?
Mercedes explain why team orders were not used on George Russell in Jeddah
37 circuits raced on
For a driver who has been around so long, it is unsurprising to see Alonso has driven around his fair share of different circuits.
With the arrival of the Las Vegas Grand Prix to the calendar this season, Alonso will take part in an F1 race at his 37th different circuit.
But that is not the all-time record with Hamilton leading that one. The seven-time World Champion has already raced at 37 different circuits meaning Vegas will be the 38th of his career.
For those of you wondering, Mugello which hosted the 2020 Tuscan Grand Prix during the COVID-hit season is the one circuit Hamilton has raced at that Alonso has not.
Alonso has raced at Barcelona, the Hungaroring, Interlagos, Monza and Silverstone the most, having been there 19 times.
Of the tracks Alonso has raced on, it is the Hungaroring where he has been most successful in terms of points, having scored 141 there.
25 pole positions
If beating the Red Bulls over the course of a full race proves to be a step too far for Alonso and Aston Martin, then perhaps they could do it over just one lap and take pole position.
The P1 spot has so far been split between the two Red Bulls but Alonso has started fifth in Bahrain and second in Saudi Arabia thanks to Charles Leclerc's grid penalty.
Alonso is currently on 22 pole positions having last taken one in 2012 and should he achieve the feat this year, it will be the biggest gap between poles in F1 history.