Pit Chat: Alonso shows one last middle finger to F1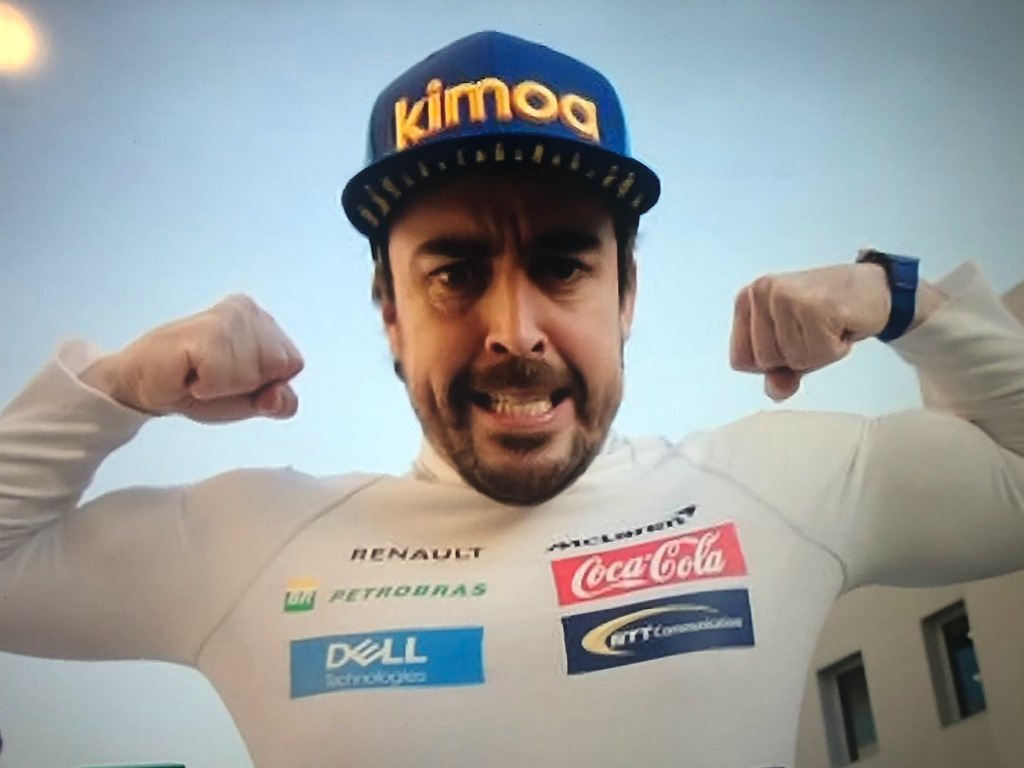 Departing Fernando Alonso makes up his own Yas Marina circuit, press conference tension plus the return of Robert Kubica. It's the best bits from the season finale…
But first…
A short view back to the past
The season finale got off to a very strong start when the legendary Walter Koster asked one of his trademark long questions in the FIA Drivers' Press Conference, leaving us all warm and fuzzy inside.
Speaking of warm and fuzzy feelings, how good was it to see this message from Niki Lauda as he continues his recovery from a double lung transplant.
Will we see him again in Australia? You try stopping him.
Vintage Niki Lauda 👊 pic.twitter.com/mBeSXbV8z8

— Mercedes-AMG F1 (@MercedesAMGF1) November 24, 2018
Miss you
Abu Dhabi marked the end of a lot of things in Formula 1, including the end of Sebastian Vettel and Kimi Raikkonen partnership.
Vettel was certainly savouring every moment back in Thursday's press conference.
Sebastian Vettel savouring his last few days with Kimi Raikkonen as his Ferrari team-mate 😍 #F1 pic.twitter.com/oQpikyW28x

— Planet F1 (@Planet_F1) November 22, 2018
And they were in top form throughout the weekend with each other…
Now we know why Sebastian was wearing sunglasses on this particular occasion…
Kimi: "Look after him so he doesn't start crying."
Seb: "I'm wearing sunglasses"

They are the best teammates#AbuDhabiGP #Seb5 #Kimi7 pic.twitter.com/BTgPjyBPhJ

— tami. (@Vetteleclerc) November 25, 2018
Last-minute drama
But whilst there was a predominant last-day-of-school-term feel to the Abu Dhabi Grand Prix weekend. There was still some tension bubbling away…
Not all of Christian Horner's jokes go down well, do they, Toto?
And Horner could not, of course, resist another little dig at Cyril Abiteboul before Red Bull and Renault headed their separate ways.
And things got very tetchy between BBC's Andrew Benson and Ferrari boss Maurizio Arrivabene. We think it's 1-0 Maurizio after this little exchange.
Arrivabene: What you said is not correct! We started the season in a very good shape. As Seb said yes he made mistake, then from Monza going on, we were not there with the car. That's a fact. I don't want to point the finger on the team or driver. We lose and win together pic.twitter.com/2O7cPcokxC

— tami. (@Vetteleclerc) November 23, 2018
Time to say goodbye
Ok, time to get the hankerchiefs ready…
Kimi shared a lovely moment with his long-time Ferrari press officer, Stefania Bocchi, in the paddock.
If that made us well up a little, this from Red Bull sent us over the edge…
It's been one hell of a ride @danielricciardo 🙌 🇦🇺 The ultimate Honey Badger highlights reel 🎬 #CheersDan pic.twitter.com/StEafdoB9e

— Red Bull Racing (@redbullracing) November 24, 2018
Kubica is back!
But the sadness was cancelled out by what we have to look forward to next season, which includes a Formula 1 grid with Robert Kubicas as part of it.
Kubica got a big welcome back from all corners of the Formula 1 world, but none were better than Mark Webber who gave him the most Aussie response ever.
Poland's man is coming back huh..what a warrior and tenacious prick he his. Love it.. #notforboys #rk 💪🏼 pic.twitter.com/O9OTC9axOr

— Mark Webber (@AussieGrit) November 21, 2018
Lewis Hamilton is also pretty happy that Kubica is coming back, too…
"Is Robert older than me?" Hamilton cheekily asked in the FIA Drivers' Press Conference.
"Perfect! So I'm happy he's coming back because Fernando's leaving and I was going to be second oldest, but now I'm third oldest again.
"I can't tell you how happy I am about that."
Zero f***s given
Don't know about you, but we reckon Fernando Alonso is ready to leave Formula 1. He was only going to go out in the most Fernando Alonso way possible.
Fernando's ready 💪😂 #AbuDhabiGP 🇦🇪 #F1 pic.twitter.com/C4B9YXYLr2

— Formula 1 (@F1) November 23, 2018
There were a couple of funny moments with Ricciardo thrown in for good measure too…
And…
But he truly saved his best until last with one final f*** you of a performance in the race itself.
He cut the same corner three times in a row when trying to haul himself into a points finish, racking up 15 seconds' worth of penalties and points on his superlicence.
Then there was the last piece of radio gold…
No wonder Hamilton doesn't want him to even entertain the idea of becoming FIA boss in the future when he is in these kind of moods…
And Alonso still wasn't done…
Q: "Fernando, what are you going to miss most about Formula 1 next year?"

Alonso: "Press conferences."
Any other business
Kimi was at it again down the long, long straight in Abu Dhabi. He does what he wants, ok?
The newly-installed sausage kerbs at Turn 20 evoked memories of Tony Hawk's Pro Skater 2.
Sebastian Vettel asked the important questions in qualifying…
Vettel: "Do I have time for a quick pee?"

Engineer: "Four minutes."

Vettel: "OK I can make it!"#F1 #AbuDhabiGP 🇦🇪

— Luke Smith (@LukeSmithF1) November 24, 2018
And got very flirty and cheeky in the post-race conference, too…
A congratulations to McLaren is in order for their wonderful reactions to Nico Hulkenberg's clash…
And to Romain Grosjean for showing his rebellious side…
And, even though there was a lot of Will Smith to get through, this was very, very good.
"Will, I've got to race! Seriously!!" 😂#AbuDhabiGP 🇦🇪 @F1 pic.twitter.com/cf1lBiseHW

— Mercedes-AMG F1 (@MercedesAMGF1) November 25, 2018
Last word
It's another last image. How could it be anything else other than three World Champions with 11 trophies between them doing donuts.
Iconic moment right here.
Until next season…