Pit Chat: Careless whispers between Sainz and Alonso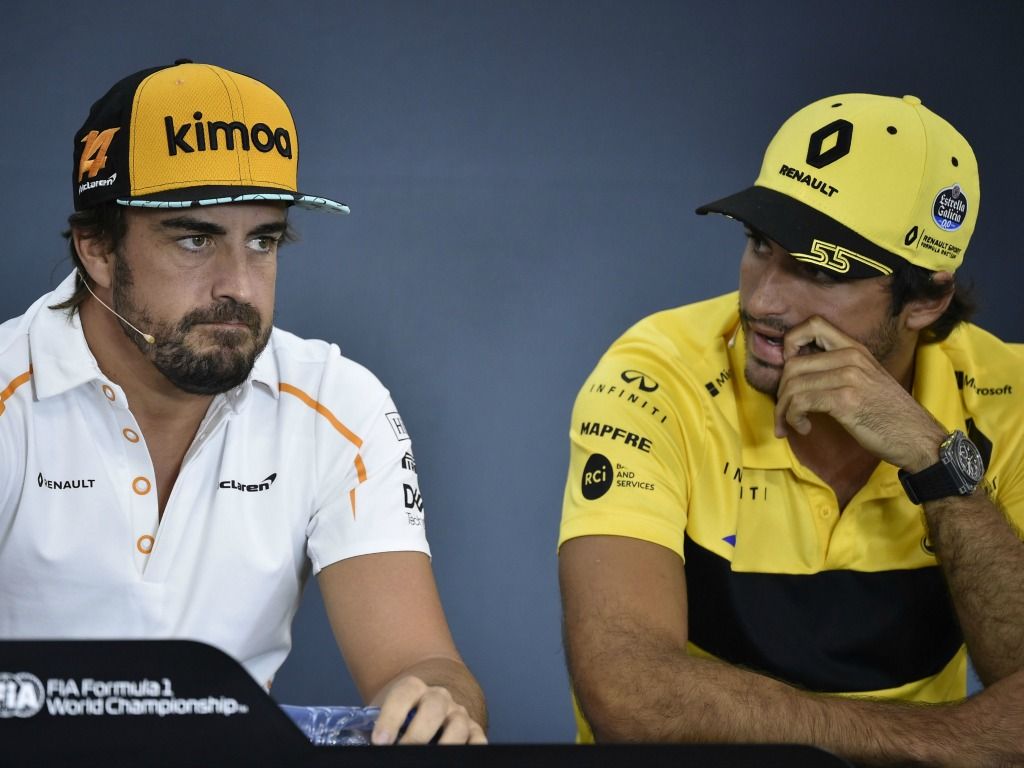 Time to take a look at the best bits from the Belgian Grand Prix with Pit Chat, featuring a not so subtle whisper from Carlos Sainz.
But first…
Call for help
The summer break is tough for us all. With no race for four weeks, minds tend to wander, boredom kicks in, but some are clearly better coping with it than others judging by this intro music mash-up.
Ok, it actually fits together rather well.
How [not] to detox
When drivers were asked what they got up during the summer break, it was refreshing that some, like Lewis Hamilton, switched off.
Hamilton said: "When I went on holiday, I decided I didn't want my phone, so I left it."
Anyone who has parted with their phone will know it can be so invigorating and free up time during the day. Oh, wait, there's more from Lewis…
"It just means that you have to find other things to occupy your time."
Yes, Lewis, that's the good thing about it, we just mentioned that ourselves actually…
"I was on my iPad."
Sigh.
Someone did master the art of relaxing, though, even when the track action restarted in Belgium. We sense this cameraman has experienced the break between FP1 and FP2 before…
Guess everyone else went for a power nap before FP2, too. The shot of the clock ticking over, the beeping to mark the countdown to FP2 starting and then…nothing.
Careless whispers
But the talk throughout the build-up was about Fernando Alonso (more on him later) and Daniel Ricciardo as he was poked and prodded about why on earth he has decided to leave Red Bull for Renault next year.
While Ricciardo consistently maintained it was down to him wanting a fresh start and that there were no issues whatsoever with anyone, McLaren-bound Carlos Sainz, who is done with being associated with Red Bull, wasn't buying it.
Listen carefully to his response after Ricciardo answers another question which gets a laugh out of his good pal Alonso…
If you didn't manage to pick up what he said…
Sainz: "Que bien miente el cabrón"
Which translates to: "This motherf***er is a good liar."
Naturally, things tend to get a bit more relaxed when it is Dutch station Ziggo Sports' turn to do the interviewing.
Worth watching just for Ricciardo's zinger on Verstappen…
Ricciardo – 'No, I don't hate Max. I don't like him but I don't hate him' 😂#F1 #MaxVerstappen #BelgianGPpic.twitter.com/wlfddrolnt

— #BelgianGP (@Racingnews2015) August 24, 2018
And the Aussie was also in good form when attempting Dutch lessons with Max and creating a whole new language of gibberish. Pierre Gasly and Brendon Hartley also have a little trouble…
ICYMI: Max will have you speaking fluent Dutch in no time 😉🇳🇱 #BelgianGP #RedBullFamily pic.twitter.com/DlkzROwBl0

— Red Bull Racing (@redbullracing) August 26, 2018
Alonso v Red Bull
When Alonso wasn't been sent flying into the air by Nico Hulkenberg, he was involved in a wonderfully petty argument with Red Bull and their reported interest in him.
Alonso said they had approached him six times over the course of his career, including twice in 2018. Red Bull say it was just once a decade ago.
We guess we will never know the whole truth, but at least we will always have these two gems from burn masters Dr Helmut Marko and Christian Horner.
Marko: "Maybe it was a mechanic or one of our engineers who is a fan of him."
Horner: "I'm not quite sure, maybe Franz [Tost, Toro Rosso team principal] has made him an offer…"
Ouch.
Horner wasn't done there, either, as he offered his dearest sympathy to Hamilton after he was beaten by Vettel at Spa.
Whilst we're on the subject of that dominant Ferrari win, anything you like the look of, Lewis?
Kimi corner
A quick check-in to Kimi corner now and it was an awful weekend for the Finn. Here is how his race unfolded…
A summary of Kimi Raikkonen's day at @circuitspa.#F1 #BelgianGP pic.twitter.com/kZB2ongLKe

— Christian Ryan (@ChristianRyanNS) August 26, 2018
And here is a stunningly accurate video on how race day usually plays out for the Ice Man…
But Kimi was still his usual self despite all the bad luck that came his way over the weekend.
Q: Does halo have an impact on your vision when driving through Eau Rouge?
Kimi: No, unless you start birdwatching
Perfect.
Wooden spoon
However, nobody had a worser weekend than poor Stoffel Vandoorne. P20 in FP1, FP2, FP3, Q1 and last of the finishers at his home grand prix. Grim reading.
He was even last on the new Formula 1 game by the look of it…
But there was a good news story involving Stoffel and it will take precisely two tweets to tell you it.
Chapter 1:
Hey @F1 ! Let's try and find this kid and give him an F1 paddock pas tomorrow! 🙌 https://t.co/of9xatcop3

— Stoffel Vandoorne (@svandoorne) August 25, 2018
Chapter 2:
We tracked down one lucky @svandoorne fan that we spotted out in the stands yesterday with the help of @F1. Pretty sure he'll remember today for a while! 👌 #BelgianGP 🇧🇪 pic.twitter.com/JQHDcdngbi

— McLaren (@McLarenF1) August 26, 2018
Nice work.
Any other business
Esteban Ocon gets his words in a jumble. That can happen when you are not used to finding yourself qualifying in P3!
"The job did a fantastic guys" – @OconEsteban, August 25 2018 😜

— Racing Point Force India F1 (@ForceIndiaF1) August 25, 2018
Vettel's delivery on "you are scratching the floor" will have us laughing all the way to Monza…
Vettel: "STOP! STOP. You are scratching the floor. Basta. Fuck. Che cazzo fai. Lift the car for fucks sake."

omg#F1 #BelgianGP #Seb5 pic.twitter.com/DR3j4pWgSe

— tami. (@Vetteleclerc) August 25, 2018
Valtteri Floss-as is going to need to book some more lessons in…
And look behind you, Romain! Force India's Lawrence Stroll and Otmar Szafnauer are in the background probably talking about your seat.
Last word
We'll leave you with Sebastian singing some Billy Ocean. Hope Mercedes are listening…
At least his engine was well-tuned… 😂#BelgianGP 🇧🇪 #F1 pic.twitter.com/SFwAgjAcT7

— Formula 1 (@F1) August 26, 2018
Next stop: Monza…
Follow us on Twitter @Planet_F1 and like our Facebook page