Haikus, Hakkinen and how do Ferrari continue to find new ways to mess things up? Here are the best (and worst) bits from the Japanese Grand Prix weekend.
But first…
Hats life
Without going all Lewis Hamilton on you all, Japan does genuinely have some of the best Formula 1 fans in the world.
Remember this funky hat from last year?
Well Fernando Alonso showed off one that was even better this year. Check out that flashing light.
Then, not for the first time this season, McLaren were outshone by Toro Rosso, with the designer even going to the trouble of adding aero rakes. Would not like to be sat next to them though with the fear of becoming blind.
#STRDressUp #F1応援グッズ2018
ほぼ完成…半分ギブアップ💦
とりあえず何とか形になりました…
ブレずに例年通りの正常進化❗#ToroRossoHonda バージョン
DRSヘルメット はご期待通りです🎵😉✌
今年は木曜-FP1限定で空力調査します👅#F1の準備 #tororosso #HondaF1 #HondaRacingF1 pic.twitter.com/kItmLMuJC7

— DRS_man (@DRS53komi) October 3, 2018
Pouring Red Bull into a Renault engine may actually work better. You never know…
And the Ferrari team aren't the only ones horsing around. Their poor fans are getting in on the act, too.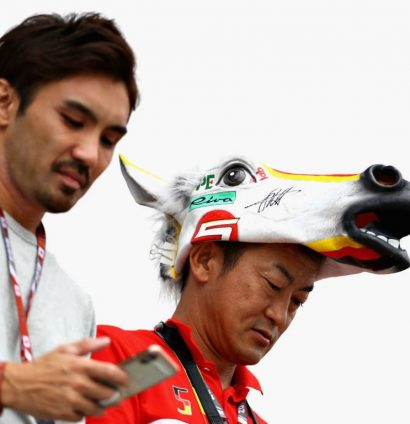 Kimi Haikuonen
When we stopped sniggering at Ferrari launching a new livery with 'Mission Winnow' plastered all over it (Mission Winagesago would have been more apt), part of the branding that was absolute genius was the release of Kimi Raikkonen's book of Haikus.
This is possibly the apotheosis pic.twitter.com/hep7f8lx73

— Andrew Benson (@andrewbensonf1) October 4, 2018
Kimi's book of Haiku is the greatest thing I've ever seen pic.twitter.com/8X1gl3TkjN

— Will Buxton (@wbuxtonofficial) October 4, 2018
And our pick of the bunch…
The Kimi book of Haiku. Incredible. pic.twitter.com/35Jmak49QO

— Phillip Horton (@PHortonF1) October 4, 2018
Its release sparked hundreds of other attempts at Kimi haikus and, even though the structure of the first and last lines having five syllables and the middle line seven, there were some cracking efforts. Even Mercedes got involved…
Kimi, do the opposite
to Hamilton please.
But I can't even see him?#JapaneseGP 🇯🇵 #NationalPoetryDay pic.twitter.com/O9RER1Cf4N

— Mercedes-AMG F1 (@MercedesAMGF1) October 4, 2018
Kimi's new-found fame as a poet could have changed him. But he is, and always will be, the Ice Man.
An Ice Man who will do anything to avoid being pestered…
Kimi is just so good to watch.

Strides quickly across the paddock, signs one autograph, desperate to avoid another he ignores everyone around him and marches straight into… the women's toilets #F1 #JapaneseGP

— Chris Medland (@ChrisMedlandF1) October 5, 2018
…especially when you prompt this reaction.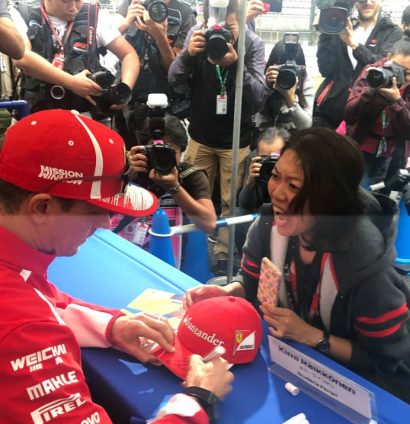 Cheeky chap
While Raikkonen remains firmly on the quiet side, one man who certainly isn't is Max Verstappen.
David Coulthard: "With both Ferrari cars behind you, you wouldn't want to get in the way of a Championship battle, would you?

Max Verstappen: "Is it still a battle? I'm not too sure."#F1 pic.twitter.com/Lar1gry4nE

— Planet F1 (@Planet_F1) October 6, 2018
Well, it certainly isn't now…
And, when treasuring every remaining minute with Daniel Ricciardo before he departs for Renault, there was a real zinger on his new team-mate on their way to sign some autographs.
If you want to skip the video, then here is what he said…
Ricciardo: "I'm always holding this camera, what are you going to do next year? I can't hold it anymore."
Verstappen: "I've got Pierre for that."
Ricciardo and Verstappen were also in good form here, especially the former's description of the Japanese fans…
Take Ricciardo's observation and the following image, it all starts to make sense.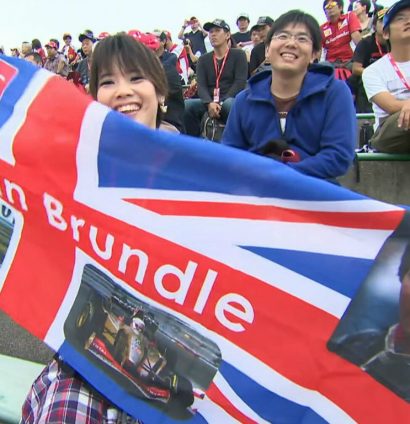 Toro Ross-oh
For Red Bull's junior team, Toro Rosso, the Japanese Grand Prix was the big one. Honda's home race, a new Spec-3 engine packed in, it was time to make a statement. And tease Fernando Alonso…
N I C E 💪

Now we can fight in Q3! #JapaneseGP #f1jp 🇯🇵 pic.twitter.com/jq9rWiKugV

— Toro Rosso (@ToroRosso) October 6, 2018
But a double Q3 appearance was converted into a grand total of zero points come race day. Serves Pierre Gasly and Brendon Hartley right for becoming so big-headed.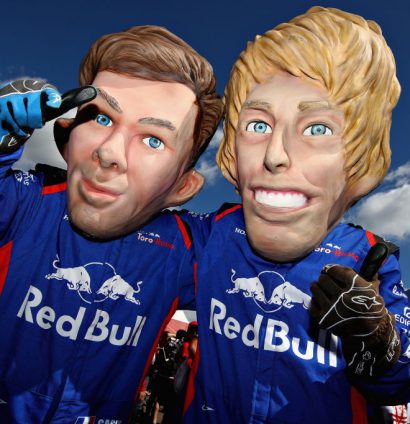 Max Verstappen is liking what he is seeing, though, ahead of Red Bull's upcoming deal with Honda. You would rather be in his shoes rather than Ricciardo's in 2019.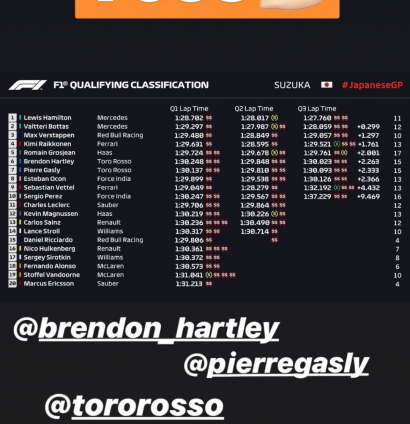 Wrong turn
One of the great moments at the Japanese Grand Prix was seeing Mika Hakkinen back in his MP4-13, 20 years after claiming his first Formula 1 title at the iconic Suzuka circuit.
Well, @F1MikaHakkinen driving his World Championship winning MP4-13 at @suzuka_event is pure fever. 🔊👌 pic.twitter.com/sRvS6ooyLU

— McLaren (@McLarenF1) October 5, 2018
Some habits die hard, though, that's the old pit lane entry!
But, an even bigger mistake at McLaren, we suspect, is their tyre choices in Japan.
Does it strike you as a little odd compared to the rest?
Here are the #Fit4F1 shoes destined for the Japanese Grand Prix in Suzuka!
More on: https://t.co/uPnJ1YqUcm #JapaneseGP pic.twitter.com/wCSRcTDzEC

— Pirelli Motorsport (@pirellisport) September 25, 2018
There was a rumour going around that McLaren had forgotten to submit their tyre choices and were given a standardised allocation by Pirelli. It certainly looks that way.
McLaren denied it, of course…
Just spoken to McLaren and they deny any allegation that they missed the tyre deadline for this weekend. They say they chose their tyres as normal and its not the first time this season that people have made 'interesting' choices with regards to tyres… #F1

— Jennie Gow (@JennieGow) October 6, 2018
But we still have our doubts.
You could have been a contender…
On the subject of underperforming teams, that moves us neatly onto Ferrari.
This pretty much sums up the reaction of Ferrari fans after another error-strewn weekend.
Ferrari Fans around the world…. @ScuderiaFerrari #F1 #JapanaseGP pic.twitter.com/ApfbSI5343

— F1 (@AOR_VIK) October 7, 2018
Being a Ferrari fan in 2018 pic.twitter.com/DMTHqShiSi

— Racingjokes (@racingjokes) October 7, 2018
From serious title contenders to the butt of all jokes. It's sadly a familiar feeling.
Ferrari have given up on 2018 and are now concentrating on how to lose the 2019 title.

— Grand Prix Diary (@GrandPrixDiary) October 7, 2018
Ferrari this year #JapaneseGP #WTF1 #F1 pic.twitter.com/M5wzCncN0g

— Burgrid⑦ (@Burgrid7) October 7, 2018
And coming to a cinema screen near you…
Film companies wanting to make a comedy should make a film on Ferrari's strategy calls of 2017 and 2018. Would make a fortune.

— Dapz (@Shipoopi95) October 6, 2018
At least Sebastian Vettel got to overtake at least one Mercedes in Japan…
Any other business
Ma(r)x Verstappen points out a few creative differences to one fan…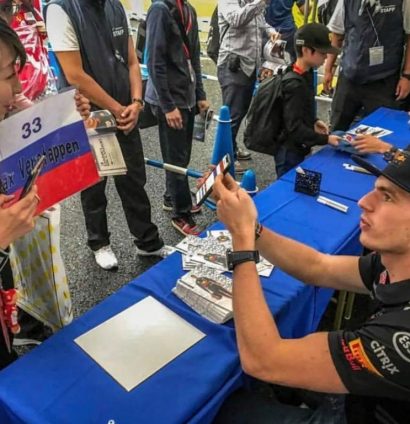 British Prime Minister Theresa May continues to show she is a die-hard Formula 1 fan…
Returning from the kitchen to the TV ten minutes before the race is about to start #F1 pic.twitter.com/0rREErjAxb

— Tom Bellingham (@TommyWTF1) October 4, 2018
Force India's administration revealed they owed money to absolutely everybody. And we mean everybody.
Also, I don't know what 'Hire A Princess' is or why an #F1 team would need it but Force India owed them £175… pic.twitter.com/goBF17mtjS

— Formula Money (@FormulaMoney) October 4, 2018
Mercedes boss Toto Wolff gives us all we have ever wanted…
IM SCREAMINGGGG @MercedesAMGF1 😭😭😭😭 #Totonator pic.twitter.com/GG40XgR2cm

— Rashi (@HAMazingLew) October 6, 2018
Lando Norris is taken on a wild ride in a hilarious new feature as part of Formula 1's official live coverage.
The most confusing and hilarious two minutes of my life 🤯😅 #F1Livehttps://t.co/yGyaEjFPOf

— Lando Norris (@LandoNorris) October 7, 2018
And incredible footage has been revealed about what it has been like for Daniel Ricciardo going up against Mercedes and (early season) Ferrari this year.
The Honey Badger has the reputation for being the most fearless animal on the planet, and for good reason. pic.twitter.com/qTJI30vmGa

— Nature is Amazing 🐧 (@AMAZlNGNATURE) October 3, 2018
Last word
There was so much for Lewis Hamilton to like in Japan. So much…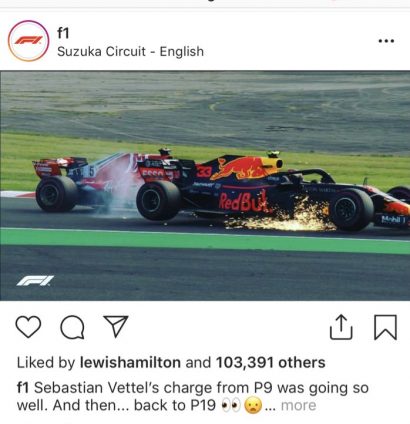 Catch you again after the Get In There Lewis Grand Prix in Austin, Texas…
Follow us on Twitter @Planet_F1 and like our Facebook page.