Pit Chat: Ferrari turn Vettel into Voldemort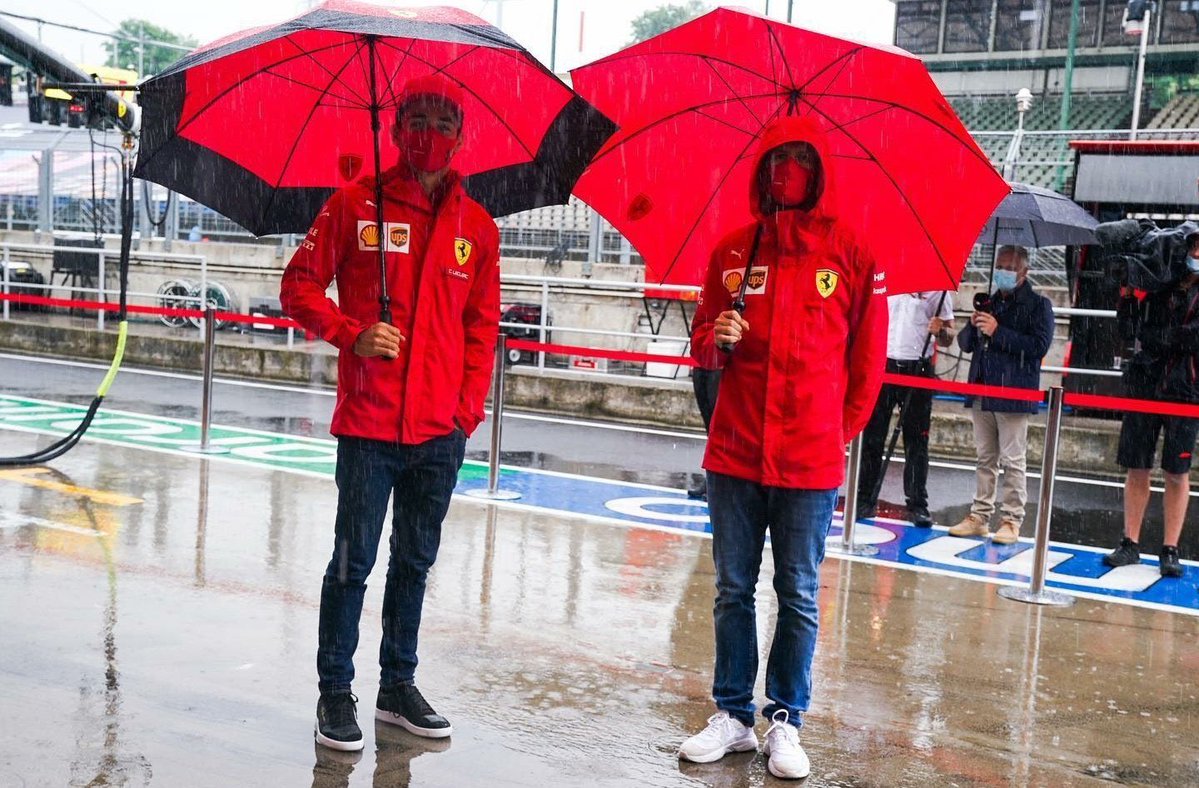 Ferrari and the missing name tags, wholesome F1 moments and Daniel Ricciardo being Daniel Ricciardo.
Time to take a look back over the stand-out images, clips and social media posts from the Hungarian Grand Prix weekend…
Wholesome F1
Before we get on to the bee in our bonnet about Ferrari, let's start by highlighting some of the moments that made our hearts fill with pride.
We had George Russell sticking up for best mate Alex Albon which is always lovely to see.
George sticking up for Alex and putting Red Bull in there place!! pic.twitter.com/Vt7UNT1Xor

— daisy🤍 (@FormulaD4ISY) July 18, 2020
And it was good to see those comments go down so well with Max Verstappen…ok maybe not.
Seems like Max didn't really like that George has criticized Red Bull in regards to Albon's quali:

Verstappen: "George doesn't know anything about our team. He should look at himself and his team before talking about others."

— tami. (@Vetteleclerc) July 18, 2020
But Max isn't all bad. He helped his mate out too over the weekend.
Giving my old mate a ride home 👊🏻 #Monaco pic.twitter.com/SJP4wBYsEx

— Max Verstappen (@Max33Verstappen) July 19, 2020
God we miss those two in the same team.
And what about lovely Lando getting his hands dirty after the race? Now this is what we call a team player.
"If you want to go fast, go alone. If you want to go far, go together." – 3 long weeks for my team. Thought they could use a couple more hands. 🧡 pic.twitter.com/4LIizGuDh8

— Lando Norris (@LandoNorris) July 19, 2020
From Vettel to Voldemort
Now onto some slightly more disrespectful matters: Ferrari and He Who Must Not Be Named.
As we all know, Sebastian Vettel is leaving Ferrari at the end of the season. Just in case, Seb wasn't getting the message that he was no longer wanted at the Scuderia, they have taken the name tags off his Ferrari clothes.
There was a little scepticism over whether this was just a classic Christian Horner sh*t stir but then Exhibit B came along:
I know the guy in the left is Charles Leclerc because it says so on his jacket, dunno who the dude on the right is though pic.twitter.com/ESsXkETt27

— Ky (@FiftyBucksss) July 19, 2020
It doesn't matter how good or bad he has been…he deserves so much more respect than this. He is still their head race strategist after all.
Quick thinking, Seb 😉#HungarianGP 🇭🇺 #F1 pic.twitter.com/k2qjqV0l79

— Formula 1 (@F1) July 20, 2020
And how can you be mean to a guy like this?
The umbrellas are out at the Hungaroring ☔️

And Seb has got the sound guy's back 👊#HungarianGP 🇭🇺 #F1 pic.twitter.com/mKHK62ymr2

— Formula 1 (@F1) July 19, 2020
And if you still don't think there is nothing to the name tag business, Kimi Raikkonen got the same treatment.
same thing happened to Kimi in 2018🙄 https://t.co/oXRQtYS5yP pic.twitter.com/F6pNZkFmxA

— Hope (@ScorpiusHope) July 19, 2020
Any other business
Away from Ferrari, it was good to see Nicholas Latifi has some funny bones in him. He may well need them if Williams cannot improve on their race pace as the season continues.
Everything about this interview was hilarious.
Johnny: "A few words in your own language."

Nicholas: "My own language is English! I don't speak French good enough! I speak Canadian, "Eh"!"

And then he walks into the wheel gun cable, I love this guy😂 pic.twitter.com/ujZBcmid9x

— Ky (@FiftyBucksss) July 19, 2020
A man who never fails to make us laugh is Danny Ric, who was quite clearly the culprit here.
So #F1 detectives, as I left the circuit last night I spotted something not right with @OconEsteban's personal car… pic.twitter.com/Wwll6vddi2

— Jon Noble (@NobleF1) July 19, 2020
With no fans at the track and limited personnel, I could only think it must have been another driver who had left before him. But I just can't work out who…. pic.twitter.com/oGJblZIy8Z

— Jon Noble (@NobleF1) July 19, 2020
Ted Kravitz was also reminded of the risks you take when interview Daniel Ricciardo on live TV. Mind you, Ted had it coming taking the p*ss out of the Aussie's big schnoz.
And Lewis Hamilton wasn't the only race winner in Hungary. Congratulations to Romain Grosjean! Let's hope the brakes work properly on that thing…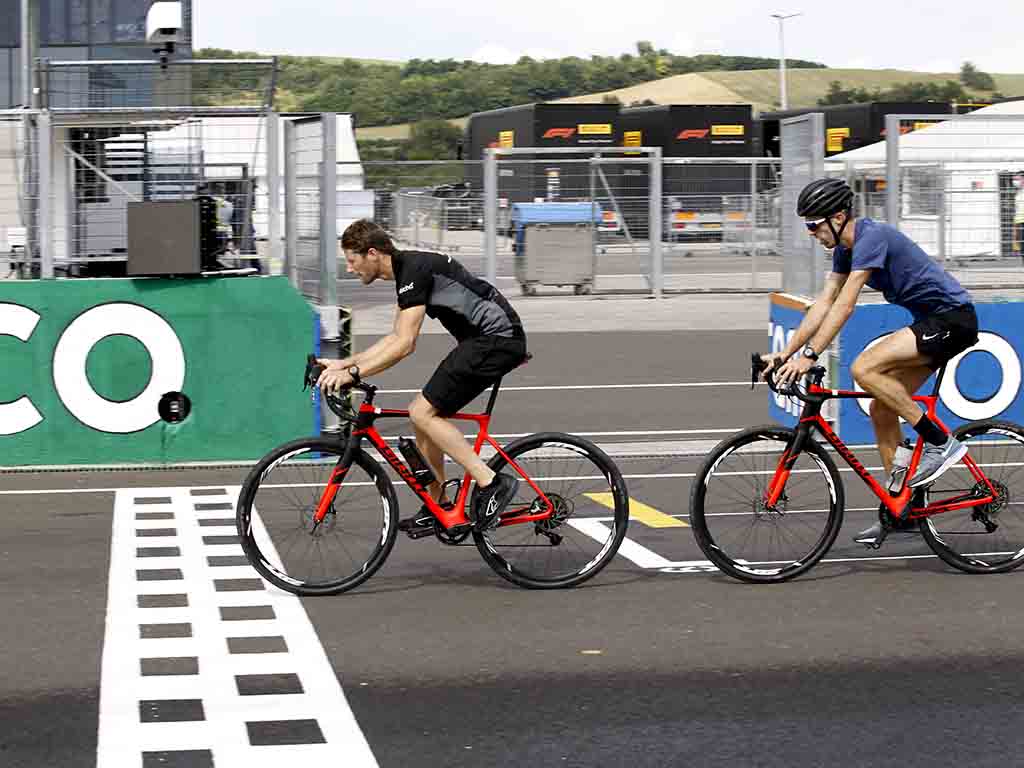 Last word
Over to Lewis Hamilton now after learning he now has a mere 90 pole positions to his name.
Holy sh*t indeed.
Right, everyone go have a well deserved break and we'll all come back fresh and ready for another lovely triple header. Until then…
Follow us on Twitter @Planet_F1 and like our Facebook page.