Pit Chat: Ferrari win some silverware after all…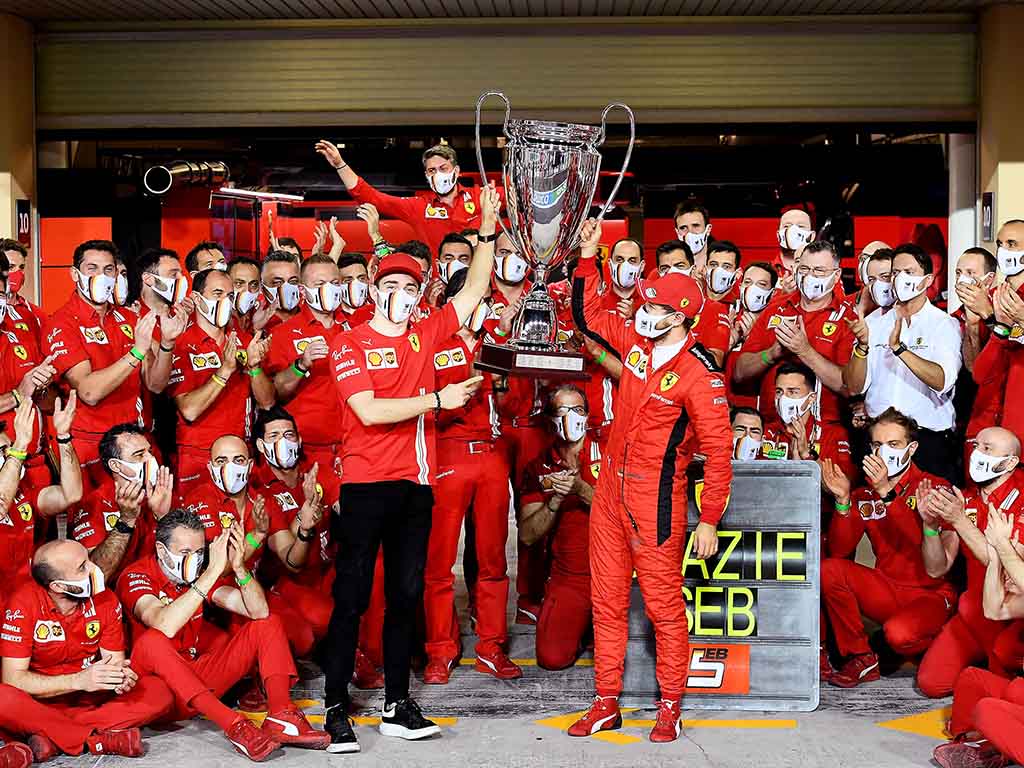 Ferrari somehow managed to win the Champions League in Abu Dhabi, while the R25 shows Formula 1 what it is missing.
For one last time, we take a look back over the stand-out images, clips and social media posts from the season finale at the Yas Marina circuit. Tissues at the ready…
Ready player two
First we have to spare a thought for poor Stoffel Vandoorne. The Mercedes reserve driver was overlooked when Lewis Hamilton missed out at the Sakhir Grand Prix and a cruel joke was played on him when the Formula 1 roadshow rocked up in Abu Dhabi.
This is what awaited the Call of Duty Warzone enthusiast at his hotel room…
they really gave stoff a fucking playstation i'm crying pic.twitter.com/Z8SwHKTGq5

— josh (@sadwolvs) December 7, 2020
And to make it worse it was a PS3 as well!
But, all was not lost for Stoffel, after Hamilton was confirmed to return for Abu Dhabi and ensured George Russell would head back to Williams, he had someone looking for a game with him.
… Got another controller @svandoorne?

— Jack Aitken – 한세용 (@JaitkenRacer) December 10, 2020
All eyes on me
While Stoffel and Jack probably spent most of their downtime glued to some screens, no doubt they, just like pretty much everyone else, also couldn't take their eyes off that beautiful Renault R25 complete with screaming V10 engine.
Look how excited everyone is to see this car! 😄 #AbuDhabiGP pic.twitter.com/GsY0SuUGhO

— WTF1 (@wtf1official) December 13, 2020
Given how drab the race was on Sunday, it is only fair that driver of the day, no, weekend, goes to Fernando Alonso.
The perfect onboard doesn't exi… Oh wow. #RSspirit #AbuDhabiGP @alo_oficial @f1 pic.twitter.com/i6L2eVA9yg

— Renault F1 Team (@RenaultF1Team) December 11, 2020
Every time we heard it, we were just like Lewis here…
— Out of Context Mercedes (@NoContextMerc) December 12, 2020
We just hope Pierre Gasly made it out of his very realistic 2005 time machine okay…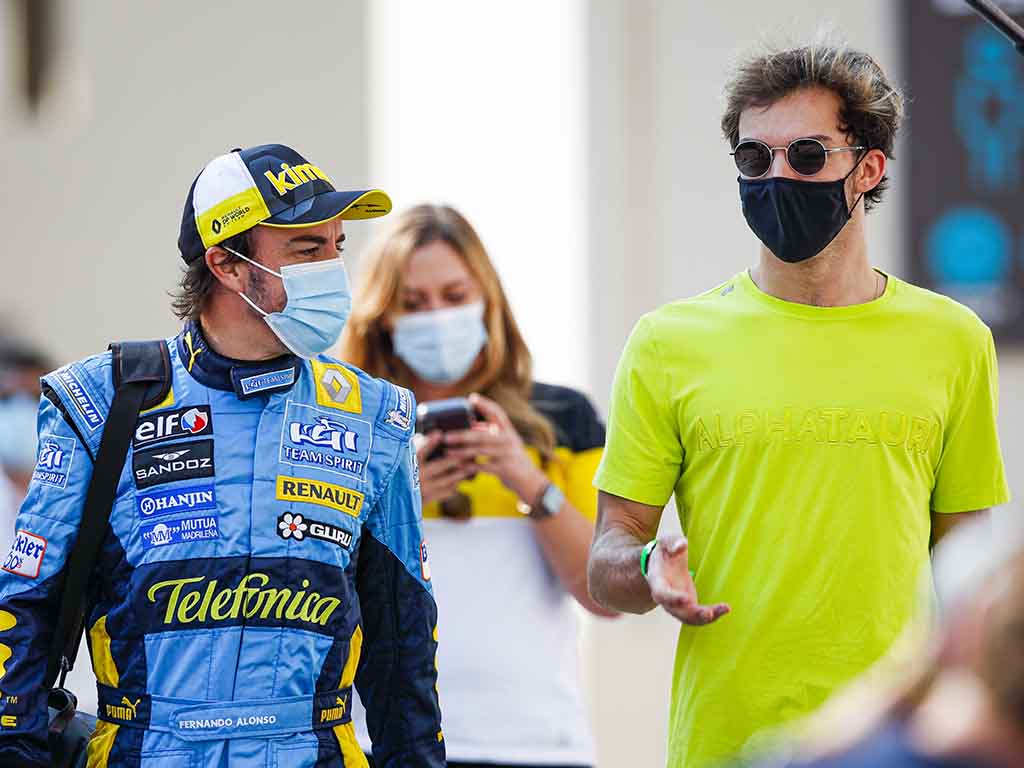 But, as wonderful as it was to see and hear the R25 again, it has to be a little concerning to the Formula 1 bosses that there is still this much excitement and buzz around a car that is 15 years old.
It was an untimely reminder that these current cars simply do not have the capability to send shivers down the spine and give you goosebumps not matter how quick they are.
They grow up so fast these days…#F1 pic.twitter.com/eyYHE9PFaF

— Planet F1 (@Planet_F1) December 14, 2020
Farewell Ferrari
While Alonso and the R25 tried to steal the show, a departing Sebastian Vettel ensured that didn't happen with a couple of wonderful farewell gestures.
His song over the team radio after the end of the race, complete with lyric sheet which he had tucked away in his cockpit, was a wonderful moment.
Sebastian Vettel with a final song to mark the end of his time with Ferrari 😭 #F1pic.twitter.com/DBadv6lcVb

— Planet F1 (@Planet_F1) December 13, 2020
And his words to Charles Leclerc after the pair swapped helmets will surely live long in the Monegasque driver's memory as he continues on his path with Ferrari in Formula 1.
"To Charles, you are the most talented driver I came across in 15 years of F1. Don't waste it. But be sure whatever you do to be happy and smile. Thanks for everything!"

– Sebastian Vettel ❤️

📸 Morgan Caron / All Road Management pic.twitter.com/iX2LVkbhVz

— Formula 1 (@F1) December 14, 2020
And to those that think Ferrari still haven't won any silverware since 2008, well a very late VAR check means Bayern Munich have been stripped of the Champions League title and been given to Ferrari. Congratulations!
Latest Champions League winners:

2016: Real Madrid
2017: Real Madrid
2018: Real Madrid
2019: Liverpool
2020: B̶a̶y̶e̶r̶n̶ Ferrari#F1 pic.twitter.com/II16M8uvCg

— Planet F1 (@Planet_F1) December 14, 2020
Best of the rest
Elsewhere, we very much enjoyed Kimi taking matters into his own hands after his car burst into flames. They don't call him 'The Iceman' for nothing, you know…
And we really didn't need any more evidence that Daniel Ricciardo likes to smile on the odd occasion, but we need these face masks immediately…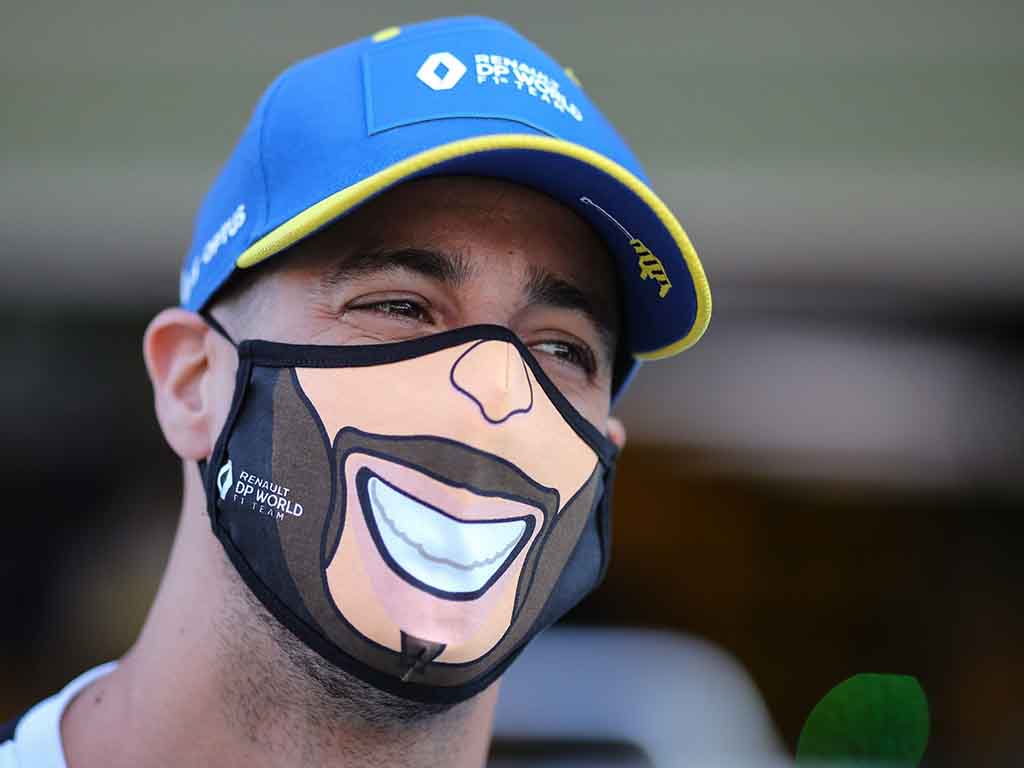 And fair play to Sky Sports F1 for holding Nikita Mazepin to account for his deplorable actions on social media in the past week. He's got an awful lot to learn…
Last word
We would just like to say thank you to everyone who has read this silly little feature over the course of this season. We hope there has been at least one clip or image to provide some comic relief to you in an incredibly difficult year.
A Merry Christmas to you all and see you again in 2021. Take it away, Daniel!