Pit Chat: Hamilton and his 'monstrous ego'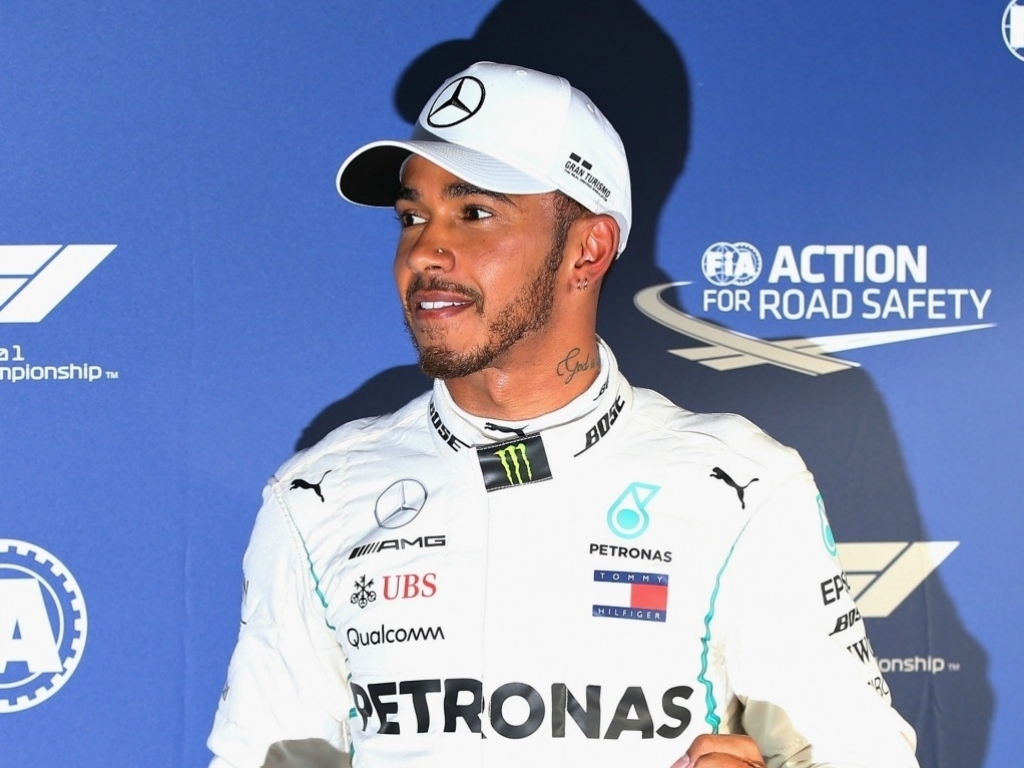 Not time to ease into the new season. Lewis Hamilton was in the firing line, the new TV production gets off to a shaky start and Sebastian Vettel can predict the future…
But first…
Talking points
There were a couple of quotes in the build-up to the opening race that caught our attention. First, step forward Niki Lauda.
Talking about Mercedes' new challenger, he said: "The W09 is easier to drive – even Bottas handles it well."
Now, we were going to include this just as a not-so-ringing endorsement of Bottas' talents, but his comment took on a whole new meaning come Saturday in qualifying.
Oops.
Whilst on the subject on Bottas, he took part in an autograph and photo session with the fans or, in this case, someone who can only be described as his long-lost twin sister.
Now, step forward Lance Stroll, here is what he said when asked about Williams' qualifying struggles last season…
Lance Stroll: "The car wasn't always competitive in qualifying. Both of us were often getting knocked out of Q1."
Q1 eliminations in 2017:
Felipe Massa: 3
Stroll: 12
But we will say Stroll actually did pretty well to avoid another Q1 elimination this time around.
Welcome to F1 2018
Sauber gave some welcome to Charles Leclerc as he prepared for his first-ever race in Formula 1.
"Ok, so before we run you through the programme, Charles, can you go pose for some pictures with a snake, please?"
Rumour has it he will be trying to tame a lion blindfolded in Bahrain. Good luck with that.
And if you thought it would be difficult for your eyes to adjust to the god-awful Halo, then get a load of Sebastian's Vettel barnet.
Not sure that was what Ferrari had in mind when they told Seb they might go for the undercut in Australia.
Sly digs
Did you think Hamilton v Rosberg was finally over? Well, it isn't.
Rosberg, who is seemingly ramping up his media duties in Formula 1 after retiring to spend more time with his family, said that Hamilton can sometimes lack consistency.
Of course, Hamilton was not going to let that go.
Dig #1:
"I think there's a lot of people who need to get headlines and that's one way of doing it."
Dig #2:
"There are those who bow out before, bow out early. There are those who have won Championships, maybe, that have not been as competitive."
Dig #3:
And, away from Rosberg, we cannot help but wonder who he could possibly be referring to here…
"There are some drivers of recent years who have made bad decisions by rocking the boat."
Any ideas, Fernando?
Whilst the press conferences can have their moments, there is a lot to dislike about them – mostly the inane questions that the drivers get asked like so…
Q: And Seb, do you have a master plan this weekend?
A: Yeah, all laid out – but it's not with me, it's in my room, so, of course, top secret, so I can't give you any details.
That's how to answer them.
Monster ego
But it was after the press conference on Thursday where things appeared to be getting a little more interesting after a photographer took to Twitter to express his fury with Hamilton.
I've been photographing #F1 -professionally-for 30 years.Senna,Prost,Mansell,Alonso,Vettel, et al, Yet never ever have I seen a such a shockingly poor & disrespectful, monstrously egotistical display, as I & many others witnessed – from the current world champion – today. #AusGP

— Darren Heath (@F1Photographer) March 22, 2018
We say 'appeared' because it looks as if Darren Heath just wanted some attention rather then explaining what Hamilton actually did.
Treating professional #F1 people with disrespect. A twitter post is not long enough so hopefuylly some of the journalists covering #F1 will have the nerve to start telling it like it is…. https://t.co/Sl8r2l9Vsv

— Darren Heath (@F1Photographer) March 22, 2018
It was more than very, very likely that it was absolutely nothing. At least some were ready to call him out on his bullsh*t.
I think we all know what you are saying, but type in Lewis Hamilton in the search and most, if not all posts dont seem to suggest anything. Infact its quite the opposite (greeting fans, taking pics etc). So either go into more detail or dont have a hissy fit

— Mike Chapman (@mikechapmanUK) March 22, 2018
Kimi corner
Let's lighten the mood a little and what better way to do that than head into Kimi corner for the first time this season?
It didn't matter where you were, you could just feel the excitement for the new season coursing through your veins. Isn't that right, Kimi?
Kimi?
Kimi through the entire interview, not just the end…..😂😂😂😂 pic.twitter.com/W2h0Hj8wBi

— Matthew Somerfield 🅢🅞🅜🅔🅡🅢Ⓕ① (@SomersF1) March 24, 2018
Kimi?
Kimi is not amused…😂#F1 #AusGP pic.twitter.com/zBoOD8Lfin

— Formula 1 (@F1) March 24, 2018
Come on, Kimi, give us something to work with!
Ok, this is more like it…
Teething problems
So a brand new shiny season and we had some brand new shiny graphics to go with it. Based on the following evidence, we reckon they might need a bit of work.
Anybody seen Japan, anywhere?
And who could forget the epic rivalry we have to look forward to this season between two brothers?
And how about the awful on-board coverage because of the Halo?
But that did lead to this superb creation at least…
The re-brand is not 100 per cent complete, though. The old logo has not been killed off just yet.
Over the weekend, Formula 1 announced they had agreed a deal with Netflix to show a 10-part documentary in 2019.
Whilst it is great to get this level of access inside the world of Formula 1, there was one comment upon confirmation that just did not sit right with us.
Shudder.
Haas heartbreak
To the race itself and what a nightmare it turned out to be for Haas, going from P4 and P5 to a double DNF because of wheel nut issues. It certainly raised suspicions…
Interesting that a double muck up from "Ferrari replica" Haas has promoted Vettel into the lead. #Conspiracy

— Ben Hunt (@benjhunt) March 25, 2018
Ferrari to Haas.

"Bring out a VSC and you can continue using our cars for the rest of the year."

— Tom Bellingham (@TommyWTF1) March 25, 2018
But away from those dark corners, the double retirement did provide us with these wonderful moments…
Irony: the American F1 team has a gun problem. #ABCF1 #SkyF1

— Martijn Kösters (@martijn_kosters) March 25, 2018
And even though Romain Grosjean does have a tendency to annoy people, this had us welling up…
Enorme gesto de @RGrosjean, consolando al mecánico de Haas. #AUSmovistarf1 pic.twitter.com/P0waLGeRYk

— F1 en Movistar+ (@movistar_F1) March 25, 2018
And at least K-Mag has a new book to read.
In other news…
Mercedes have employed expert sleep professors to help Hamilton and Bottas through the season. We could have saved them an awful lot of money by recommending this…
It was also nice to see Daniel Ricciardo take some time out for the fans at his home grand prix…
And it did not take long for Fernando Alonso to set the bar for a golden team radio message.
Last word
It has to go to Vettel. He can predict the future after all…
On to Bahrain…