IndyCar drivers take a dig at the current state of F1, praise for Sebastian Vettel after a very good deed and beware of p*ssing off Guenther…
It's time to look back over the best and worst bits from the Spanish Grand Prix weekend…
But first…
Motorhome madness
You don't just bring car upgrades to Spain, you make home improvements too. It all got a little MTV Cribs in the build-up to race weekend, with teams up and down the new grid showing off their new pads.
Haas went for the classy, sleek look…
Take a step inside our new motorhome for the 2019 season!#HaasF1 #SpanishGP pic.twitter.com/qIjWSQpV4Q

— Haas F1 Team (@HaasF1Team) May 9, 2019
Red Bull decided to raid IKEA…
Upgrades, upgrades, upgrades
But what we really wanted to nosy at was the bits and pieces the teams brought for the cars. We are big fans of Haas' 'f**k it let's just throw everything on there and see what happens' approach.
We're the same when making homemade pizza.
How many winglets do you want?@HaasF1Team : Yes#F1 #SpanishGP pic.twitter.com/sb0JNbstDN

— Mattzel89 (@Mattzel89) May 10, 2019
Even the marshals brought upgrades but, as the two leaf blowers found out, not all upgrades are guaranteed to work. They would have been quicker using tweezers.
The pinnacle of technology. #F1 #SpanishGP pic.twitter.com/Z5jMk5Pd7Y

— Jeff Pappone 🇨🇦 (@jpappone) May 12, 2019
And not everybody wants to talk about upgrades, do they Mattia?
Inspector Vettel
Ferrari's upgrade plans continue to include sending Sebastian Vettel on a not-so-secret spying mission to Mercedes.
It doesn't matter how many times you look at it, Seb, you cannot get in it…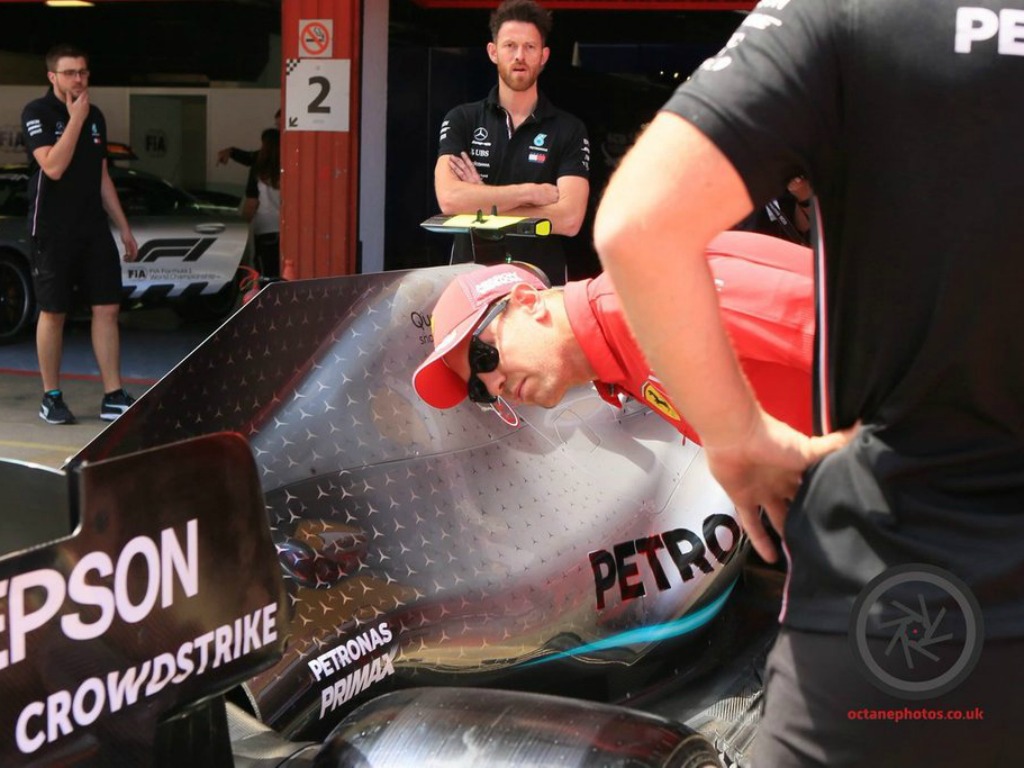 He did have a genius plan, though, as BBC Sport reported…

You may have reservations about Vettel's driving ability over the last few years. However, there is no denying he is a great bloke at heart. This was very nice of him…
👏🏻❤ https://t.co/CAFLGCO2SG pic.twitter.com/KGBowa0dJh

— Sebastian Vettel #5 (@sebvettelnews) May 9, 2019
One thing he certainly won't be, though, is ambassador for the Dutch Grand Prix. Hardly a ringing endorsement for Zandvoort.
Another fine mess
Formula 1 is in a bit of a mess at the moment, you may have realised. Some are depressed about the current state, others appear to be revelling it.
Especially those in a racing series that does provide competitive action…
Nothing gets me more fired up to watch the F1 race then turning on the TV and the first thing the commentator says is "Nobody has a chance to win except Mercedes." Sweet!!!!

— Graham Rahal (@GrahamRahal) May 12, 2019
Which prompted a reply from a driver who has experienced both series…
Hey man the top 5 were only separated by 45 seconds before the safety car… so it was close.

— Alexander Rossi (@AlexanderRossi) May 12, 2019
Any other business
Alfa Romeo team boss Frederic Vasseur provides best answer of the weekend…
Very well played, Fred 😉#SpanishGP @alfaromeoracing pic.twitter.com/LvWshRLdE4

— Formula 1 (@F1) May 10, 2019
But Guenther Steiner is still our favourite team principal. We would hate to p*ss him off…
Guenther Steiner: "Kevin, the first one to come and see is me." #F1pic.twitter.com/tmmqvdCqB2

— Planet F1 (@Planet_F1) May 12, 2019
Guenther would have been impressed with Max Verstappen's latest foul-mouthed rant…
And Daniel Ricciardo's response to Pierre Gasly after his lap was compromised…
Last Word
Well a last thousand words this time. We really enjoyed the battle between Mercedes and Ferrari this season. All one corner of it.
Still, there is always next year, right?
Follow us on Twitter @Planet_F1 and like our Facebook page.