Pit Chat: The love is strong for Hamilton and Vettel
Lewis Hamilton and Sebastian Vettel have a lot of time for each other these days. And we have a lot of time for them both, too.
Daniel Ricciardo and Max Verstappen take a trip down memory lane, bet regret is strong in Singapore and Sky Sports F1's David Croft provides one of the best commentary lines of the season. Yes, really.
But first…
Suits you
Sponsor adverts involving drivers can often lead to our toes curling due to the high amount of cringe levels, but there was no danger of that happening when this particular video was released ahead of the Singapore Grand Prix race weekend.
Daniel Ricciardo: The Presentation

When he's not driving, he's planning, and when he's not planning, he's presenting 📈Want to see what else Renault F1 Team driver Daniel Ricciardo gets up to when takes over at an INFINITIMSport dealership? #promotedWatch here: https://www.youtube.com/watch?v=JFXRRbEwA-E&feature=youtu.be&fbclid=IwAR3CX-4NUOvqK3Qz9kQcsqb0RrLelSoIVS01cGVtCsUIKvz9yaEzKsylZIk

Posted by Motorsport.com on Friday, 6 September 2019
It's very difficult not to laugh when Ricciardo is around. Putting him next to Lando Norris in the press conference (again) was only going to end one way.
[Trying not to laugh] [Trying not to laugh] [Laughing] #SingaporeGP pic.twitter.com/Nz37tyo8HW

— Lando Norris (@LandoNorris) September 19, 2019
The dangers of betting
Getting laughs for very different reasons are those who put themselves forward for ridicule with bets and dares. Pain manifested itself in two distinct ways in Singapore…
Exhibit A:
A promise is a promise 🤷‍♂️ pic.twitter.com/QbTxMaXUFB

— Haas F1 Team (@HaasF1Team) September 20, 2019
It appears the Reddit user in question is going to stick to their promise.
Exhibit B:
Are you happy now guys pic.twitter.com/FqY4khh4qJ

— Svet (@ffsSvet) September 21, 2019
We will overlook the fact the bread is in fact sliced and could have easily been made to look as if it had been eaten. We will give them the benefit of the doubt and hope they had a very full stomach.
Feel Good Inc
Now to the headline matter in hand and it warmed our hearts to see two multiple World Champions have so much respect for each other. Could be different if the title was on the line of course, but at least we get moments like this.
On reverse grid races…
I love these two so much. 🥰 pic.twitter.com/0evBPfpczt

— Ky (@FiftyBucksss) September 21, 2019
And post-race congratulations…
You love to see it. Respect. #F1pic.twitter.com/tAMucH8gMA

— Planet F1 (@Planet_F1) September 23, 2019
Lovely stuff.
Bye phone
Another wholesome Lewis Hamilton moment came after he accidentally broke a fan's phone in the paddock area on his way to the garage.
Usually phones lose value when they break or smash. Not when Hamilton signs it though…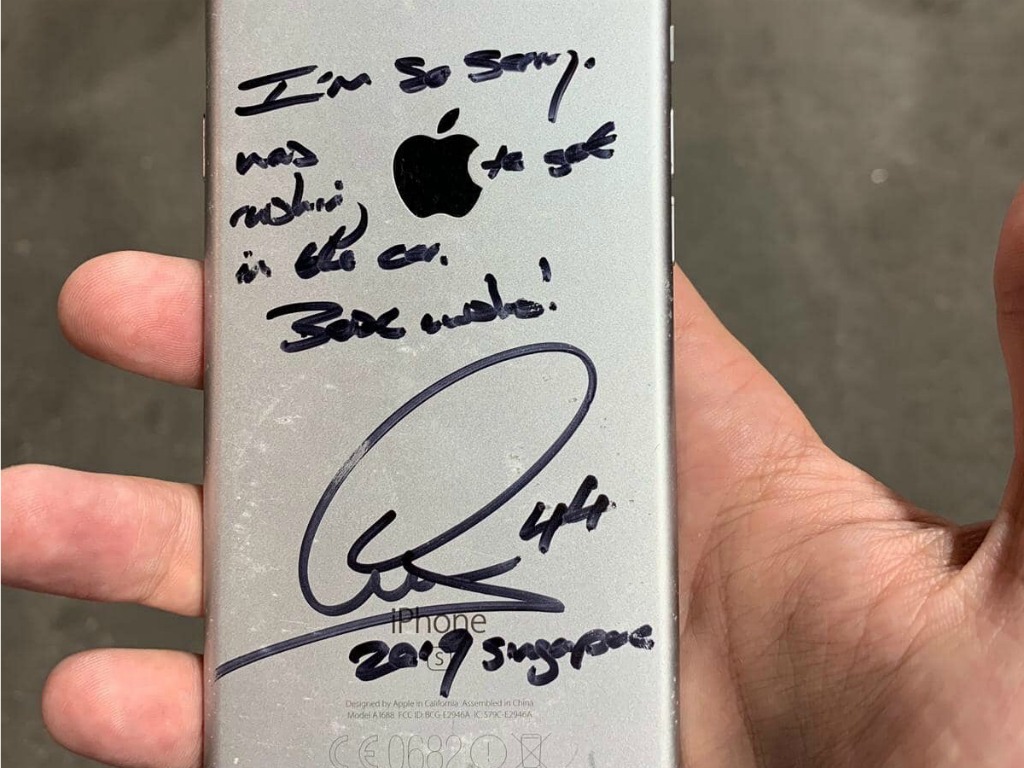 Any other business
Got seven minutes to spare? The correct answer is yes because this lap-by-lap comparison with former team-mates Max Verstappen and Daniel Ricciardo is TV gold.
Valtteri Bottas' weekend was one to forget for him. He couldn't even have his usual cup of coffee in peace…
Ahsjdjdjdjjdjdjdjsjdj harika pic.twitter.com/WTCpX1iBFR

— Mali Selışık (@MaliSelisik) September 21, 2019
It is also nice to see Rich Energy are taking the break-up with Haas well.
Oops #SingaporeGP #f1 #racing #crash pic.twitter.com/qoyvGbtrhO

— Rich Energy (@rich_energy) September 22, 2019
And it's good to see that 'silly season' is still alive and kicking…
Unsubstantiated rumour:

Haas retained Grosjean as they where told by Ferrari to back off Hulk

Ferrari have a performance clause in their contract with Vettel that allows them to terminate at the end of the season.

Ricciardo is first choice to partner Leclerc with Hulk second

— Spanners🔧🔧 (@SpannersReady) September 20, 2019
Now that is a stretch.
Last word
Over to you Crofty…
"Nico Hulkenberg's girlfriend is here, and she's here to help her man get on top of Daniel Ricciardo"

That may be the best Crofty quote ever.

— iGP Manager (@iGPManager) September 21, 2019
Follow us on Twitter @Planet_F1 and like our Facebook page.