Pit Chat: Mad Max Verstappen strikes again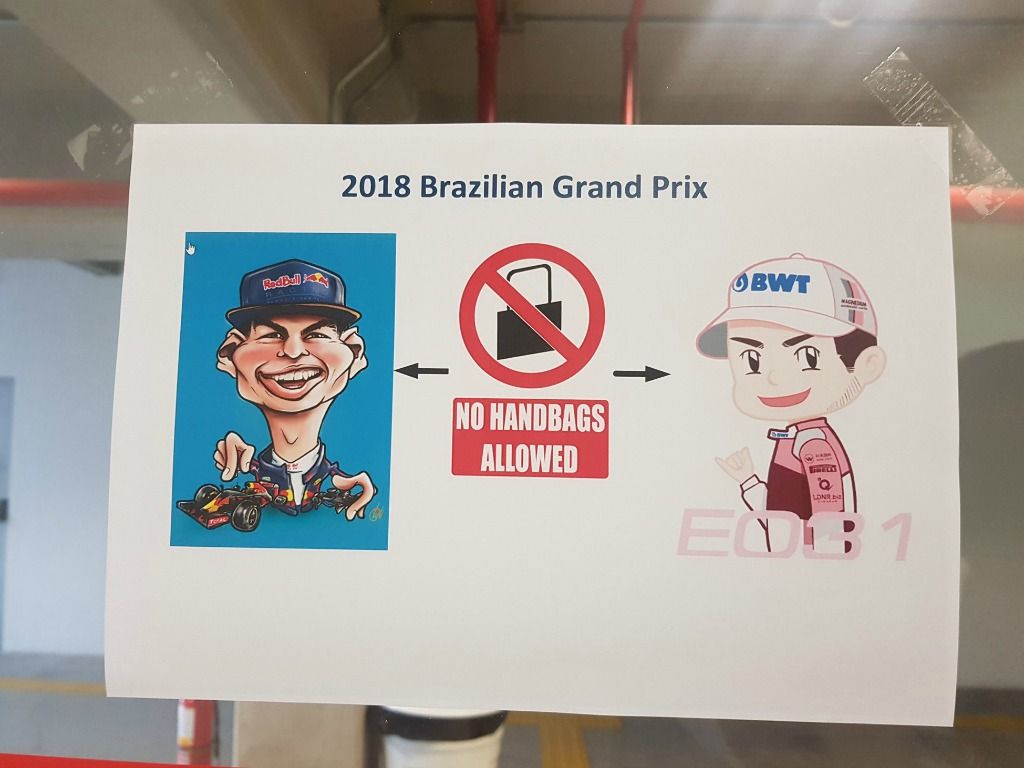 The weighing scales triggered all the action as Max Verstappen and Sebastian Vettel both saw red in Brazil.
Time to take a look at the best bits from the Brazilian Grand Prix, but first…
Honesty the best policy
We have to start with an old interview with Nico Hulkenberg, purely for the answer he gave to this question in one of his Brazilian Grand Prix previews.
Childhood dreams
We saw the naughty sides of Lewis Hamilton (Sirotkin swerve) and Sebastian Vettel (weighing scale meltdown) in Brazil, but here are a couple of nice moments to help readdress the balance a bit.
We're not crying, you're crying…
And Sebastian with his trademark give his cap away to a young kid, especially with him wearing a Mercedes one to begin with.
Sebastian Vettel throwing that Mercedes cap of the little fan on the ground and giving him his own Ferrari cap 😆

(he obviously gave him the Mercedes cap back)#F1 #BrazilGP #Seb5 pic.twitter.com/mROcYhux3n

— tami. (@Vetteleclerc) November 11, 2018
X rated
Hopefully the kids' ears were covered when Vettel provided Radio Message of the Year. At least he has won something this season…
And just how big was that something between your legs, Sebastian?
The Ferrari mechanics also did their bit to help with the investigation.
Whilst on the subject of erm, that, Daniel Ricciardo gave us some insight into where on earth "tripping major nutsack" came from in Mexico.
Apologies for those of a sensitive disposition, but I thought this conversation with Daniel Ricciardo yesterday was amusing pic.twitter.com/Ezw8Uk7wAt

— Andrew Benson (@andrewbensonf1) November 9, 2018
Weight of pressure
Before we head over to Kimi corner, you may not have seen this alternative angle of Vettel and just how much damage he caused to those poor, defenceless weighing scales in qualifying.
We very much enjoyed his sudden change of mind during the post-qualifying interviews. He just couldn't help himself.
"I don't think I should say something"
5 seconds later…
"Well, I think it's unfair they call us in…"
Vettel got a reprimand and a 25,000 Euro fine for his troubles, this punishment would have been much more entertaining.
BREAKING: Sebastian Vettel has been fined £1,000 to cover the cost of a new set of scales, and has to weigh all 20 cars himself for the rest of the 2018 #F1 season. He'll also have to start tomorrow's #BrazilGP from Rio de Janeiro.

— Lights Out ●●●●● (@LightsOutF1Blog) November 10, 2018
Kimi corner
Kimi's mood has noticeably improved since his future was resolved with a imminent return to Sauber. He continues to be in good form in his interviews and may have just figured out why he is being let go by Ferrari…
CLASSIC KIMI 😂

Does he read his contracts? 😏

Who writes those Instagram posts? 📲

Watch more gold from the Iceman >> https://t.co/e25AcDvD1O#BrazilGP #F1 @wbuxtonofficial pic.twitter.com/Gu6t4mre0n

— Formula 1 (@F1) November 8, 2018
There are still some robotic elements to work on, however…
Kimi boot up sequence 😁 #f1 pic.twitter.com/ECbbz8Eu2y

— Humphrey Moynihan (@HMoyn) November 8, 2018
And Kimi XP anyone?
The most striking image, however, was this. Add to the ever-increasing file of textbook Kimi.
It is I, Leclerc
The real reason why Raikkonen is moving on is he is making way for a very special talent in Charles Leclerc. What about that Q2 lap, eh? Well worth another watch.
He even showed off his British sitcom knowledge to everyone as well…
It is I, Leclerc. https://t.co/6uGzM0y7Yi

— Charles Leclerc (@Charles_Leclerc) November 9, 2018
And if you don't know where that quote comes from…
He seriously needs to work on his golf, though…
. @Charles_Leclerc with @PierreGASLY today 😊 #F1 #BrazilGP 🇧🇷 #CL16 #TeamLeclerc pic.twitter.com/Y0ubaF7pNI

— Charles Leclerc #16 (@LeclercNews) November 7, 2018
Seek bromance
Just one race to go with Verstappen and Ricciardo as team-mates, we have to savour moments like these…
While Max is certainly savouring his. Cheeky.
Che bella coppia di fidanzati con gli ormoni a palla pic.twitter.com/nUgvKoWGXs

— Martina 🏁 (@flawvika) November 10, 2018
And Ricciardo just cannot help himself when he sees Mercedes' phone, can he? First Malaysia in 2017, now this…
When @danielricciardo steals your phone…

Again. 😂😂😂#BrazilGP 🇧🇷 #F1 pic.twitter.com/210mFhaZ40

— Mercedes-AMG F1 (@MercedesAMGF1) November 11, 2018
So Stoffel Vandoorne went from hitting a bird in qualifying to flipping the bird…
Handbags
You will have all seen the argy bargy between Max Verstappen and Esteban Ocon in the weighing room. You may not have heard the full radio message that Max gave after the race. He was coming for him…
Verstappen said, in more explicit terms than we will share, that Ocon was weak in their confrontation. We're not sure, he had to have pretty large cajones to go on Dutch TV with this look.
Not everyone saw the funny side to their collision, but at least some did…
Just saw this at the entrance of the FIA offices – hilarious! #F1 #BrazilGP #Verstappen #Ocon pic.twitter.com/JVHwYeOKjj

— Christian Menath (@MSM_Christian) November 11, 2018
Even the Bahrain International Circuit Twitter account got in on the act…
Highlight of today's #F1 #BrazilGP 🇧🇷! pic.twitter.com/6Htdy75opj

— Bahrain Int. Circuit (@BAH_Int_Circuit) November 11, 2018
Any other business
The rather dull and generic pre-race stats got a much needed upgrade…
What if… Pre-race intros made no sense? #BrazilGP #F1 pic.twitter.com/VRHE4dw9EP

— Charlie Eustice (@CGEustice) November 9, 2018
You have to have your wits about you at every track. You never know who is lurking…
And some people were a little too hopeful some heavy rain was on the way to Interlagos…
Nico Rosberg wasn't too happy with the image used to mark Mercedes' 100th pole position in Formula 1…
wtf who is the guy on the right?? 😳😳 https://t.co/aInsmgGJJT

— Nico Rosberg (@nico_rosberg) November 11, 2018
And if you are not following ex-Caterham driver Giedo van der Garde on Twitter, then you are missing out.
I already said sorry five years ago mate… pic.twitter.com/me4mxtwmiH

— Giedo van der Garde (@GvanderGarde) November 11, 2018
Last word
No words needed this time, just this:
One race left to go…
Follow us on Twitter @Planet_F1 and like our Facebook page.