Pit Chat: Verstappen and his Ocon/Brazil flashback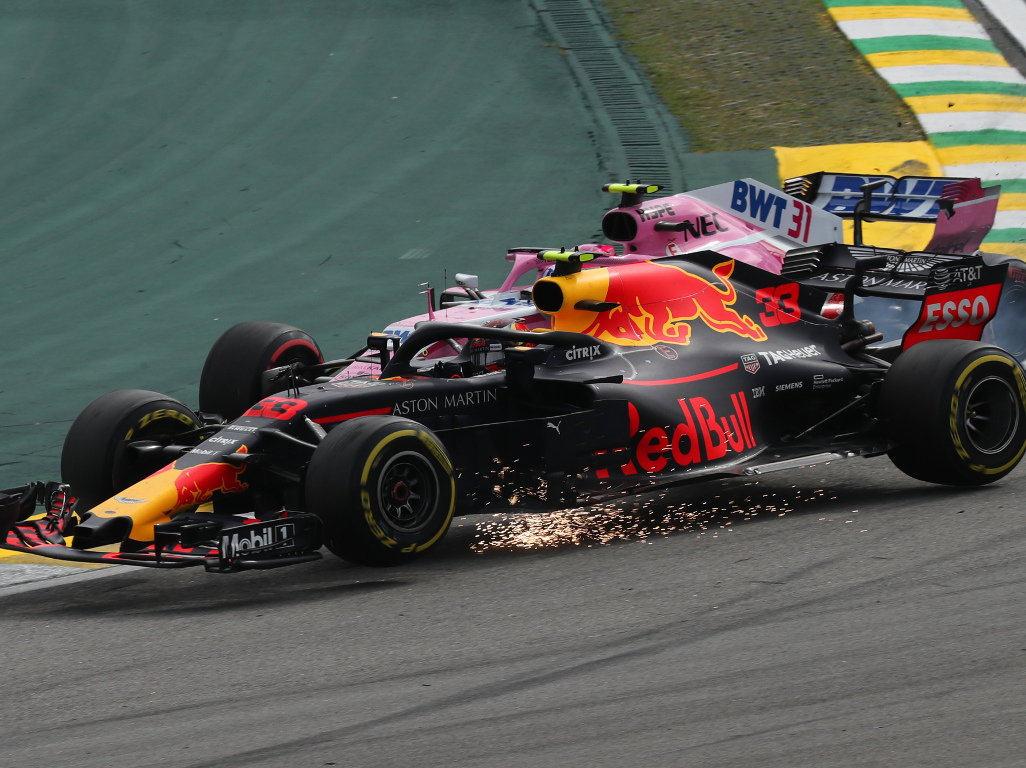 Max Verstappen gets Interlagos flashbacks, the RP20 saga gets out of control and Toto Wolff gets into trouble…
Time to take a look back over the stand-out images, clips and social media posts from the 70th Anniversary Grand Prix weekend…
Uh oh Toto
Mercedes, having already won on four and three wheels this season, unveiled their two wheel model in the build-up to race day number two at Silverstone.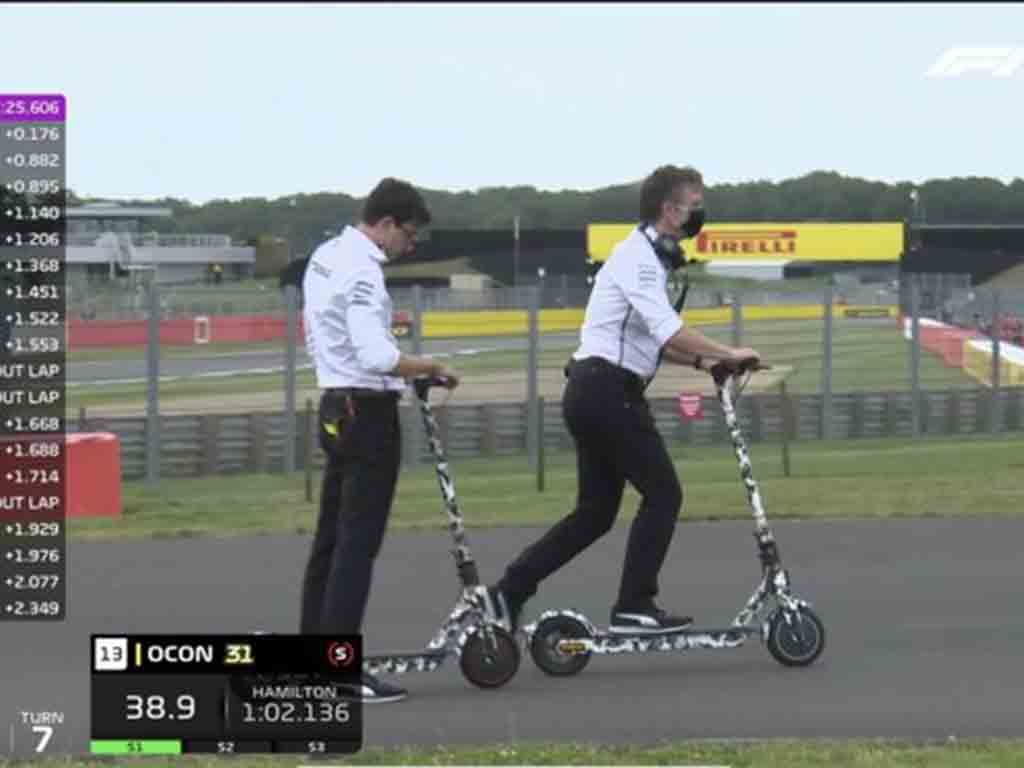 Of course, it never stops there with Formula 1 fans, who always go that one step further…
📻 "James, it's James" 👀🤣

🎥 editing x James Allison's talented son Matthew! 👏 pic.twitter.com/nGEIsXZJ3A

— Mercedes-AMG F1 (@MercedesAMGF1) August 8, 2020
But whilst all eyes on the scooters, ours were on Susie Wolff's Twitter account to see what she had to say about her husband. She didn't disappoint with this zinger.
When I asked Toto to embrace electric mobility that's not quite what I meant…

— Susie Wolff (@Susie_Wolff) August 7, 2020
Meet me halfway
The Racing Point copycat saga escalated to new heights following the FIA's decision to deduct them 15 points and fine them 400,000 big ones for good measure.
But it's just really getting out of hand now. Renault were the main ones protesting and now they start copying themselves…pfft.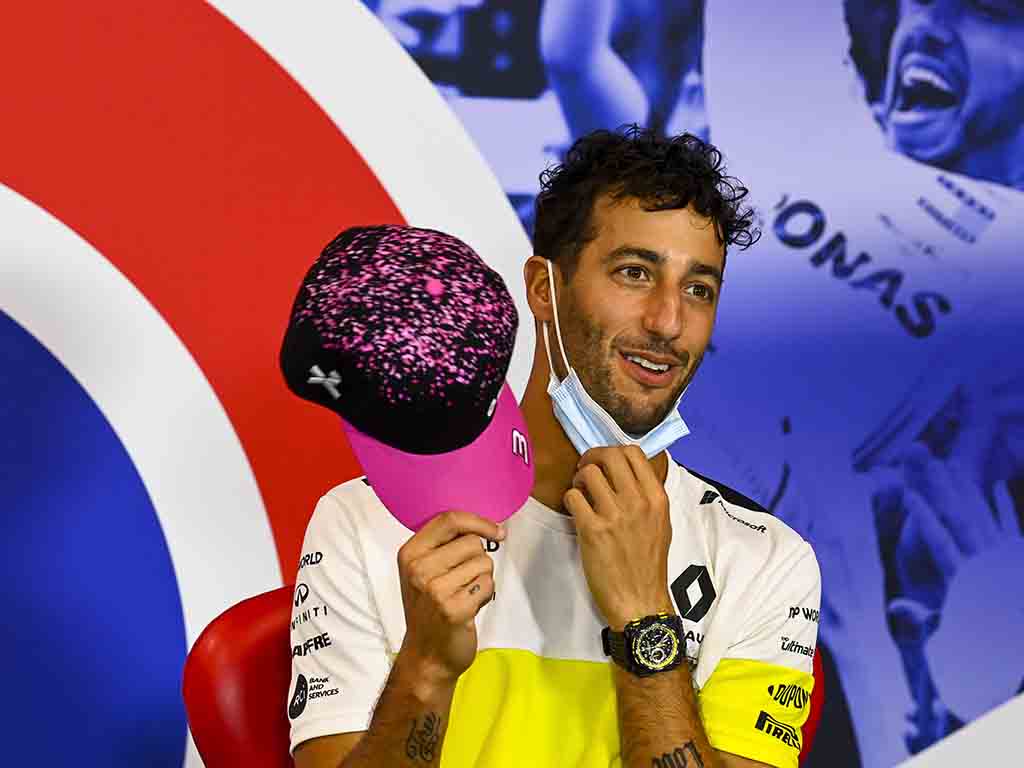 The fall-out from the FIA decision ensured there were plenty of interesting conversations taking place out in the open to discuss the ramifications.
Christian Horner asked Mattia Binotto if he was interested in buying an RB16 painted red next year.
And here was Toto Wolff just making sure if McLaren definitely want those Mercedes engines…
"Do you want our Mercedes engines next year or not? Oh, you do? Start behaving then!" #F1 pic.twitter.com/WLi7Uo1GvP

— Planet F1 (@Planet_F1) August 9, 2020
Mellow Max
But whilst there was plenty of tension around the F1 paddock, it was Max Verstappen of all people providing some light entertainment as he cruised to victory at Silverstone.
He did have one heart-stopping moment before the finish, though, as he saw he was about to lap a Renault. It wasn't his good mate Esteban Ocon again was it?
Phew. No pushing in the weigh room this time…
It was certainly a shock to the system seeing someone other than Lewis Hamilton and Mercedes winning. We guess old habits really do die hard for Lewis!
Mr Steal Yo Trophy. 😂 It's just instincts for @LewisHamilton 😅

— Mercedes-AMG F1 (@MercedesAMGF1) August 10, 2020
Any other business
In other news, Romain Grosjean is set to appear in a remake of Titanic. Did you miss that news? Well, see for yourself…
🤣🤣🤣🤣🤣🤣🤣🤣🤣🤣 https://t.co/wrOvJHJswT

— Romain Grosjean (@RGrosjean) August 9, 2020
Daniel Ricciardo outstayed his welcome on Sky Sports, making for a silky smooth (eventual) exit:
You overstayed your welcome, Daniel, just leave already!

— Ky (@FiftyBucksss) August 8, 2020
But seriously, is it 2021 yet?
Daniel: "You hit my neck hard!"

Lando: "Yeah I did."

Daniel: "I will end you!"

— Ky (@FiftyBucksss) August 9, 2020
And just when it appeared Williams had stopped being completely embarrassing…
Pre-race preparations are going well over at Williams…#F170 🇬🇧 #F1 pic.twitter.com/XvetEnGrjs

— Planet F1 (@Planet_F1) August 9, 2020
Last word
Talking of embarrassing, over to Lando Norris for the latest scoop on the 2021 Ferrari car…
Lando Norris: "That's next year's Ferrari." 😂 #F1pic.twitter.com/JFzhKupR7K

— Planet F1 (@Planet_F1) August 10, 2020
Next stop Spain!
Follow us on Twitter @Planet_F1, like our Facebook page and join us on Instagram!