Mercedes turn both Jekyll and Hyde, Red Bull and Toro Rosso form the Spice Boys, and there was a football match on don't you know?
It's the best bits from the British Grand Prix…
Time to say goodbye
In the lead up to the British Grand Prix, we of course had the news that times were a-changin' at McLaren with racing director Eric Boullier resigning from his post.
Poor Eric got very hot under the collar in Austria when asked about his future…and the impact of Freddos as a reward system.
Adverts are a pain in the arse 99.9 per cent of the time. But sometimes, on that rare occasion, they do make us smile.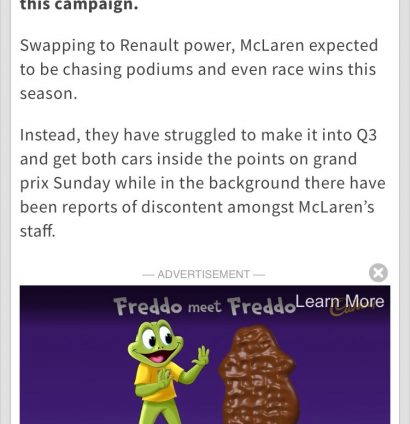 How about that product placement?
We were also reminded of David Coulthard's brilliant response to being given the cold shoulder by Boullier back in 2015.
The fact that video is three years old and is still relevant to this day says it all.
And it's going to take some time for a certain reporter to get used to the changes. Oh Ted.
WATCH: Whoops Ted, remember what one is still at McLaren!#SkyF1 #F1 #BritishGP #McLaren pic.twitter.com/EPb6KjuYrY

— Sky Sports F1 🏎 (@SkySportsF1) July 6, 2018
Water is wet
But McLaren have finally cracked it courtesy of a lightbulb moment from the big boss himself, Zak Brown.
He said at the British Grand Prix: "I think we need to operate like a race team."
Revolutionary.
Quotation, quotation, quotation
But thankfully there was no shortage of good soundbites from around the paddock at Silverstone…
Guenther Steiner on Grosjean's crash and K-Mag's incident with Alonso: "Now it's just a normal day at the office – one car we need to change the chassis and the other car the driver is with the stewards."
Force India owner Vijay Mallya on why doesn't seek a cease and desist order against continued buyout claims: "Don't I have enough legal cases to take care of? You want me to get involved in one more?!"
And Sky Sports F1 commentator David Croft during the race: "And Magnussen beats off Gasly!"
No further comment needed on that one.
Lewis Hamilton: "But in terms of car performance, yeah, for sure, we'll be to extend…spread the legs of the car more here."
Again, no further comment needed.
And last, but not means least, Kimi Raikkonen after a collision with Hamilton, an epic duel with Max Verstappen and another podium finish.
Interviewer: "Kimi, how was your race?"
Kimi: "Normal"
Max-imum swearing
It was an unfortunate end to the British Grand Prix for Max Verstappen, a late DNF bringing an end to his recent revival in form.
Thankfully his beloved press was on hand to keep him in good spirits over the weekend.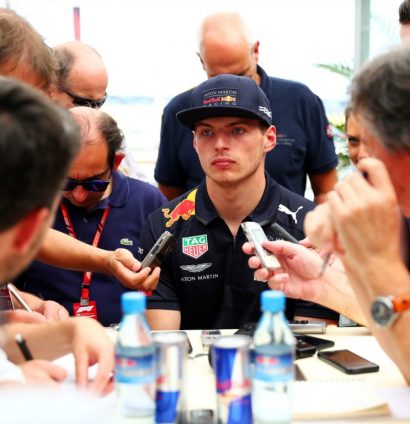 And we love it when some uncensored radio finds its way to us…
Uncensored onboard reaction from Max when he had to retire.. 🗣️#F1 #MaxVerstappen #BritishGPpic.twitter.com/QLB5SnlzzL

— #GermanGP (@Racingnews2015) July 8, 2018
R.E.S.P.E.C.T
Before we get into the nastier side of Formula 1. It was lovely to see Fernando Alonso acknowledge Charles Leclerc after their battle..in FP2 of course.
It's Friday, it's FP2… but that didn't stop this battle between @alo_oficial and @Charles_Leclerc #BritishGP 🇬🇧 pic.twitter.com/mXU46B0n7D

— Formula 1 (@F1) July 6, 2018
They have certainly seen a lot of each this season, but talent is recognising talent.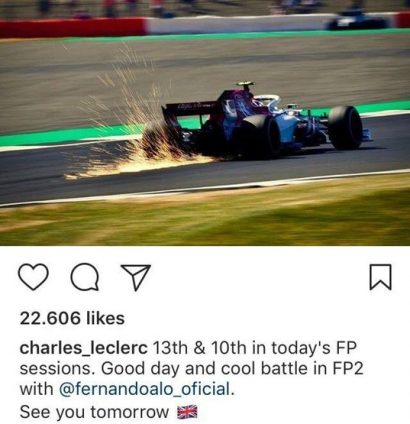 *record screech* But not everyone was playing nice on Instagram, were they, Pierre?
Right, where were we? Ah yes, Fernando…
We still saw the other sides to him at Silverstone. There was tongue-firmly-in-cheek Fernando…
"I think today was without a doubt the best qualifying of the year and the best weekend overall," he said as he qualified, erm, P13.
And we also saw the Fernando that has everyone in the palm of his hand.
Such a crowd-pleaser 😁@alo_oficial #BritishGP 🇬🇧 #F1 pic.twitter.com/hGAMi3lho0

— Formula 1 (@F1) July 8, 2018
Spice up your life
When not driving for Red Bull or Toro Rosso, Max, Daniel, Pierre and Brendon force a Spice Girls tribute act in their spare time. Don't believe us? Well watch this!
More time needed in the studio, we think. And Brendon is definitely Scary Spice after that horror crash in FP3.
Danny Ric's reaction spoke for us all…
Ricciardo assistiu ao acidente de Hartley com bastante espanto https://t.co/8hSnarCAPh #F1noGP🇬🇧 pic.twitter.com/KJuKLymfOW

— Grande Prêmio (@grandepremio) July 7, 2018
It's coming home
You may have noticed there was a rather important World Cup game being played on the same day as qualifying for the British Grand Prix. Hard to tell, really.
Mercedes had the game on in the garage. Who needs timing screens and data streams?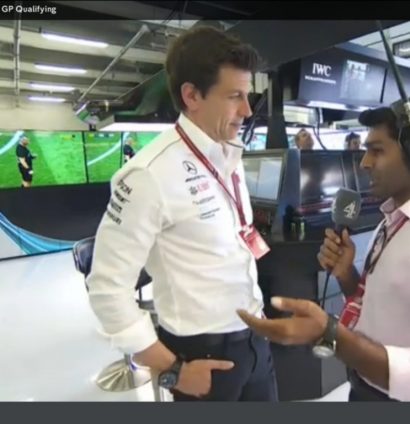 And who needs to debrief? It can wait…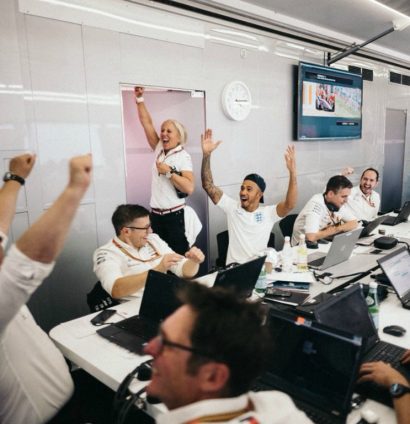 Jekyll and Hyde
But, ultimately, we got the good and bad side of Mercedes as the World Championship battle reaches boiling point.
Good Mercedes…
When we heard that Alex's home had been burgled – and his @F1 items taken – we wanted to reach out…

So we invited Alex and his dad down for a tour behind the scenes of the factory. And we couldn't let him leave without a few little treats to make amends! 😊 pic.twitter.com/u4UY9UKRuK

— Mercedes-AMG F1 (@MercedesAMGF1) July 4, 2018
Bad Mercedes…
WATCH: Toto on the Hamilton-Raikkonen clash
"To word it in James Allison's words, 'do you think it is deliberate or incompetence?' And that is where I leaves us with a judgement."
LIVE NOW on Sky Sports F1 & Sky One
📺 Sky Go: https://t.co/fxH1316WnM #SkyF1 #F1 #BritishGP pic.twitter.com/AK84MyKx2F

— Sky Sports F1 🏎 (@SkySportsF1) July 8, 2018
Very, very good Mercedes (although that cockney accent needs an awful lot of work!)…
Very bad Mercedes…
"I find it a bit unnecessary to even go there"

Lewis, Seb and Kimi give their reactions to that first-lap incident#BritishGP pic.twitter.com/FABsbL3qU5

— Formula 1 (@F1) July 8, 2018
While the slanging matches will no doubt continue throughout the season, we will just keep looking at the beauty within this image. Two giants of Formula 1 going toe-to-toe. Perfect.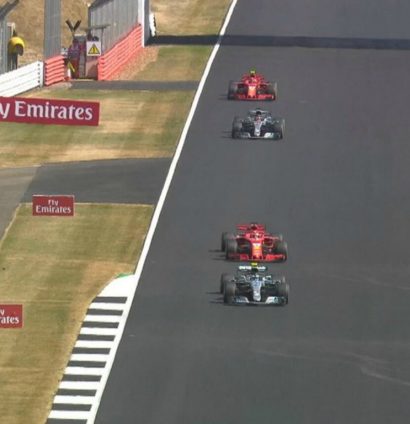 At least it is seemingly water under the bridge…for now.
From Hamilton's Instagram #F1 #BritishGP pic.twitter.com/K8xq6s8Rvi

— WTF1 (@wtf1official) July 9, 2018
Any other business
Alonso brings out the demon in Anthony Davidson, clearly still annoyed that he nicked his WEC seat with Toyota…
British fans were given a helping hand in understanding the various tyre selections available in Formula 1.
Who made this?😂😂😂
Someone have a lot of free time.😀#F1 #WTF1 pic.twitter.com/iy7qufyphH

— NicoleNinaF1 (@NicoleNinaF1) July 5, 2018
Renault win best Twitter account of the weekend…
BREAKING NEWS: @ScuderiaFerrari just made a joke on Twitter! #RSspirit #BritishGP #FP3 https://t.co/h3xLmroswp

— Renault Sport F1 (@RenaultSportF1) July 7, 2018
And…
Both drivers reporting that the other is at fault… We know the truth. It's Ericsson. #RSspirit #BritishGP https://t.co/6Ey7vI5JdM

— Renault Sport F1 (@RenaultSportF1) July 8, 2018
And Sergio Perez is under investigation from the FIA after it was revealed he has enhanced the Halo effect in the cockpit.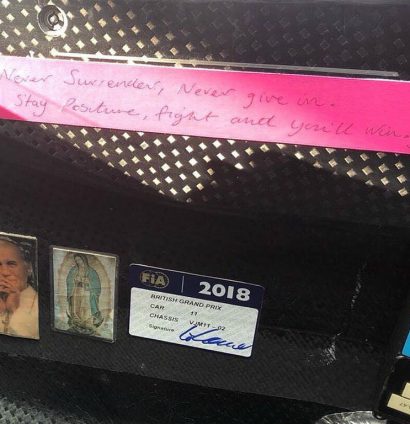 Last word
More of a last smile, this week. How to sum up a race weekend in just four seconds.
Next up: Germany…