Pit Chat: Sebastian Vettel, man of the people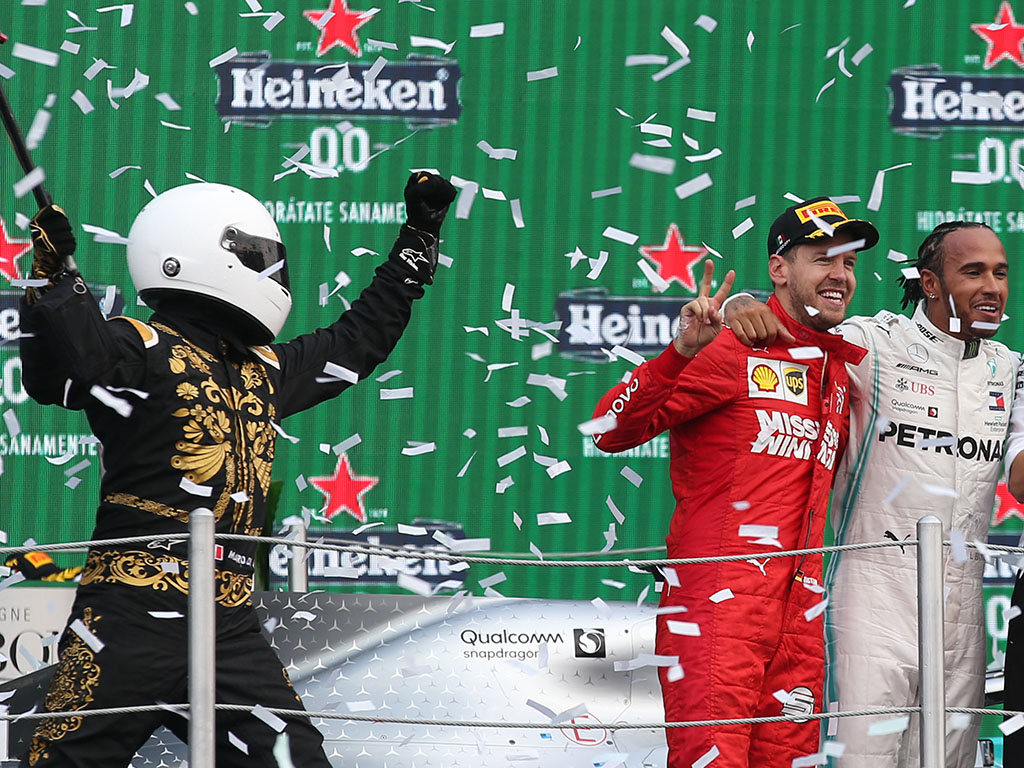 Sebastian Vettel saved the best until very last at the Mexican Grand Prix, while Max Verstappen and Daniel Ricciardo take turns to interview themselves.
Here are our best bits from the Autodromo Hermanos Rodriguez…
We apologise for starting with Rich Energy but when they continue to show themselves up it is hard not to resist to include them.
In the build-up to the Mexican Grand Prix, the ex-Haas title sponsors wanted to show the break-up is going well and they are busy. Very busy.
A great day at the international HQ of @rich_energy as new markets opened and major partnerships signed. Exciting times #RichEnergy #brand #energydrink #headquarters #Europe #Business #Growth pic.twitter.com/jMcb7F7Hl8

— Rich Energy (@rich_energy) October 21, 2019
It didn't take long for the Formula 1 fan detectives to shatter the illusion a little bit.
The 'International HQ of @rich_energy' apparently appears to be a meeting room at the Sheraton Novi Sad Serbia. Note the identical chairs, table and plants for a start. I didn't think that looked much like Richmond out the window. 😊

(Detective work by @MichaelMXmike and others) pic.twitter.com/ROG0XJQaEA

— Grand Prix Diary (@GrandPrixDiary) October 23, 2019
Checo, Checo, Checo!
Anyway, enough about them. Let's get onto the good guys and we'll begin with the home favourite Sergio Perez. Best of the rest in your home race? Not too shabby at all.
Also not too shabby was this lovely finish prior to the on-track action getting started. Assist by legendary Rafael Marquez, no less.
Perez…

perezPerezPEREZgOoOoOoLaZoOoOoO!!!!!! ⚽️⚽️⚽️⚽️⚽️⚽️@SChecoPerez #MakeItCount #F1 #MexicoGPpic.twitter.com/NY9jT3amWx

— SportPesa Racing Point F1 Team (@RacingPointF1) October 24, 2019
And when Sergio does eventually call it a day in Formula 1, a celebrity Uber service seems like it would go down well.
Sebastian Vettel appreciation corner
But, for all of Perez's plaudits for finishing best of the rest, there was only one driver who was the undoubted star of the weekend: Sebastian Vettel.
And that was just for his post-race actions alone.
Firstly, he had absolutely zero time for Mexican Stig on the podium.
Seb wasn't having it #F1 #MexicoGP pic.twitter.com/VTwpaXdAly

— Mattzel89 (@Mattzel89) October 27, 2019
Then his description of how Hamilton managed to stick to a one-stop after pitting early was magical…just not as magical as Hamilton's hands.
And follow a long, hard afternoon of racing, he went and got the beers in.
Sebastian getting the beers in for himself and Valtteri after the race in Mexico 🍻 #F1 https://t.co/NzhJ9jzAaR

— Planet F1 (@Planet_F1) October 28, 2019
And the respect between himself and Hamilton was clear for all to see again, with Hamilton just making sure Seb doesn't have any plans to retire just yet.
Never leave us. https://t.co/UU7Mp4Zq6w pic.twitter.com/Bmu37uU3Cu

— Ky (@FiftyBucksss) October 28, 2019
Aww.
Any other business
Another great paddock moment came courtesy of those two rascals Daniel Ricciardo and Max Verstappen. Who's going to tell D-Ric that Max didn't get his lap time deleted?
Meanwhile, there was a nasty bug going around the paddock in Mexico with many team members and also some drivers not feeling particularly great.
You can always trust in Mr Cuddly himself, Dr Helmut Marko, to be sympathetic in these situations.
Pierre Gasly arrived to the paddock with an upset stomach. We asked Helmut Marko, whether he's able to drive. "I have to check. If it get's too bad he has to wear diapers."#AMuS #F1 #MexicoGP

— Tobi Grüner 🏁 (@tgruener) October 26, 2019
And three years having to play second fiddle to Lewis Hamilton have clearly taken their toll on poor Valtteri.
When you've not had your morning coffee yet… 😬☕️@ValtteriBottas #MexicoGP pic.twitter.com/P5zD5m6C25

— Mercedes-AMG F1 (@MercedesAMGF1) October 25, 2019
Last word
We will finish with Seb and two lovely little answers to questions in the FIA press conferences over the weekend.
Q: Should Verstappen be penalised?
Vettel: I'm not the police, so don't ask me!
And…
Sebastian Vettel & Lewis Hamilton were asked in the press conference whether Verstappen has to be treated differently to other drivers… 😆#MexicoGP 🇲🇽 #Seb5 #F1 pic.twitter.com/CFPb9rIui8

— Sebastian Vettel #5 (@sebvettelnews) October 27, 2019
Follow us on Twitter @Planet_F1 and like our Facebook page.