Pit Chat: Do not get stuck in a lift with Ricciardo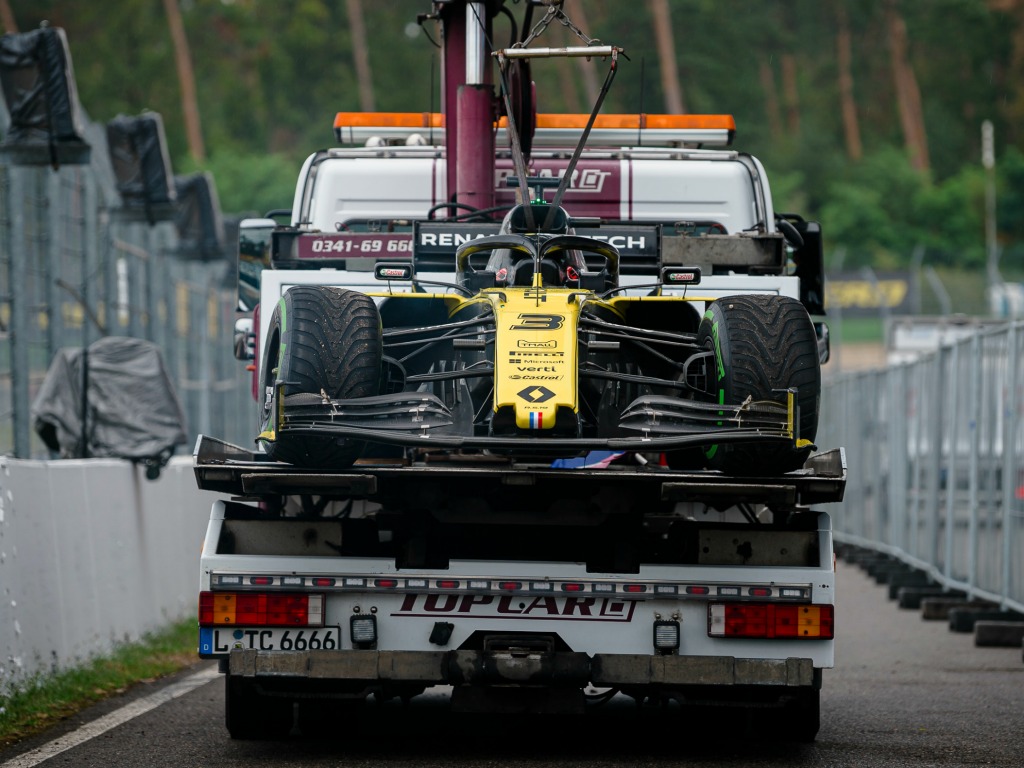 Curses, curses everywhere after an utter bonkers German Grand Prix. We're looking at you Daniel Ricciardo…
We also issue an apology to Charles Leclerc, as well as check in with Nico Rosberg's always healthy relationship with Lewis Hamilton.
But first…
The butterfly effect
So just what on earth caused that absolute mindf*ck of a race we all witnessed on Sunday? We're tracing it back to when Alfa Romeo somehow got Kimi Raikkonen to dab.
Little did we know that Kimi doing this actually created a deep, dark void in the space/time continuum where the Hockenheimring now exists for eternity.
Curse!
If the weekend was not bats*it crazy enough then the following has blown our minds.
Daniel Ricciardo posted on Instagram on Friday that he and few other drivers got stuck in the elevator. All the drivers that DNF'd Sunday's crazy race were in there with him.
Pierre Gasly = DNF
Valtteri Bottas = DNF
Nico Hulkenberg = DNF
Charles Leclerc = DNF
Lando Norris = DNF
Daniel Ricciardo = DNF
Sergio Perez (check the mirror, he's in Ricciardo's camera blind spot) = DNF
If any driver finds himself in this situation again then you may as well pack up and go home early. Daniil Kvyat in particular must have well and truly used up all his bad luck to be affected.
The curse strikes again
Speaking of curses, we cannot help but feel we are somewhat to blame for Charles Leclerc's miserable weekend.
In Q1 after Sebastian Vettel hopped out of the car, we tweeted this…
If something happens to Charles in Q3 we're throwing ourselves off a cliff. #F1

— Planet F1 (@Planet_F1) July 27, 2019
We did…
Not one, but two Ferrari cars out of qualifying! Charles Leclerc follows Sebastian Vettel on the sidelines. #F1

Us: pic.twitter.com/XVHh58nm7c

— Planet F1 (@Planet_F1) July 27, 2019
Then, when we emerged from the bottom of the sea for race day. We tweeted this.
We're so sorry. https://t.co/y7f4LXuLTA

— Planet F1 (@Planet_F1) July 28, 2019
Once again, we're sorry. His radio message after crashing out was heart-breaking…
At least there was one moment of joy for Charles…look how proud he is watching on after his younger brother, Arthur, claimed his first ADAC Formula 4 victory.
Shots fired
Even though the temperatures cooled off as the weekend developed in Germany, there was clearly still some hot air left lurking around.
Honda went straight for Fernando Alonso after Max Verstappen clinched his second victory of the season.
He's done it again 💪 Thats GP2 victories in 2019 👌@Max33Verstappen 👏#PoweredByHonda pic.twitter.com/z4yhYhMKG7

— Honda Racing F1 (@HondaRacingF1) July 28, 2019
And it's good to see the bond is still strong between Nico Rosberg  and Lewis Hamilton, who was feeling a bit under the weather in Germany.
Nico Rosberg: "I think the man flu was just part of The Lewis Hamilton Show. He likes to make it look more difficult than it is." #F1

— Planet F1 (@Planet_F1) July 28, 2019
Very much reminded us of what our parents used to say when trying to get the day off school.
Reunited and it feels so good
Two drivers who get on oh so slightly better than Nico Rosberg and Lewis Hamilton are Daniel Ricciardo and Max Verstappen.
We still miss these two together at Red Bull.
Reunited pic.twitter.com/wJRGVPuKrR

— Max Verstappen (@Max33Verstappen) July 25, 2019
Sadly, the next photo was not a repeat of this one…
They were on the same plane back, too, just don't ask Ricciardo to do any speaking any time soon…
Just Dani Ric things™️

Photos courtesy of @Max33Verstappen's Instagram pic.twitter.com/bShYX7MfNS

— F1 Racing (@F1Racing_mag) July 29, 2019
Any other business
Sebastian Vettel put his grievances with the FIA to one side to become a part-time on-track coordinator with them. He's fitted in seamlessly.
Renault launched a bold new strategy to try and keep the McLaren cars behind them…
…and Haas took the towing strategy a little too literally…
It seems Pierre Gasly still has a very long way to go before the media begin to take him seriously…
BBC Sport reporter with quite possibly one of the worst wrong name pronunciations that I've ever heard in my life. pic.twitter.com/LbkWym3BhN

— Daniel Fawcett (@DanTheManF1) July 26, 2019
And undisputed tweet of the weekend goes to…
'You came like a torpedo!'

'Oh not this again, I've cha-'

'No, I just mean you were quick' #GermanGP pic.twitter.com/QYkESHqErs

— Conrad 🇭🇺'Keefe (@okeefe_92) July 28, 2019
Last word
Well it only seems fitting after what we've witnessed to finish on another strange coincidence.  This time, on the podium…
Follow us on Twitter @Planet_F1 and like our Facebook page.