Pit Chat: 'Welcome to Formula 1', Alex Albon
A not-so-warm race welcome to Alex Albon, Nico Rosberg was on fine form once again and an iconic moment shared between Lewis Hamilton and Mick Schumacher.
Time to take a look back over the stand-out images, clips and social media posts from the Eifel Grid Prix weekend.
Foggy Friday
The race weekend began with an unexpected view into what a two-day event would look like in Formula 1 after rain and fog prevented any track action from taking place on Friday.
But, in amongst all the arty rain puddle shots, there were some nice moments picked up by the TV cameras.
George Russell had some fun at Nicholas Latifi's expense…but if he is P19, does that make Russell P20? Self-burn…
But the best moment of all was when Mick Schumacher, who sadly missed out on FP1 running with Alfa Romeo headed over to the Ferrari garage to speak with Sebastian Vettel.
Vettel, who idolised Michael Schumacher growing up, would then talk Mick through his race helmet that is in homage to Mick's father.
Sound on 🔉

Great moment, lovely touch from Seb 👏 #EifelGP 🇩🇪 #F1 pic.twitter.com/o4LZ7OF02d

— Formula 1 (@F1) October 9, 2020
A genuinely lovely moment.
Not so genuinely lovely was Lando Norris and Carlos Sainz being told off for streaming on Twitch during a practice session. When there was practically zero chance of heading out, this was pretty petty from Formula 1 and the FIA.
This would have been the most entertaining thing the fans would have seen all day long.
And we will give you one guess what happened soon after FP2 was officially called off. Yep…
I don't know how to break this to you, but the sun is out at the Nurburgring… #F1 #EifelGP pic.twitter.com/iiAEv69hko

— Chris Medland (@ChrisMedlandF1) October 9, 2020
No filter
With the Formula 1 roadshow rolling into Germany, that meant one Nico Rosberg was on media duties again for Sky Sports F1 again. Before you all groan, he was actually on pretty good form once again.
The collective panic from David Croft and Ted Kravitz after Rosberg suggested someone (Nico Hulkenberg in this case) jumped the paddock barriers in order to get in had us cackling in delight.
And, as previously reported, his efforts to get Paul di Resta to spill the beans about Pierre Gasly was much appreciated.
But Rosberg did dish out some dirt himself when Carlos Sainz didn't want to give McLaren some bad PR over their new package.
Carlos Sainz: I won't tell you what is wrong with our car but we have graining on the tyres.
Nico Rosberg: ok let me tell everyone then, loss of downforce on the front end.
Carlos Sainz: pic.twitter.com/wxJmNtT5Dq

— Clive Lomax (@Smokin_Rebel) October 11, 2020
We're actually looking forward to the next time Rosberg is on our screens. Never thought that would be a sentence we'd actually type out. 2020 is truly a crazy, crazy year.
Red alert
We're always reluctant to kick a driver whilst he is down but it is hard to avoid Alex Albon's miserable weekend at the Nurburgring.
Most telling of all was the radio message which got the response it deserved from Sky commentator Martin Brundle.
Albon: "They race me so hard"

Martin Brundle: "Welcome to Formula 1"#F1 #EifelGP pic.twitter.com/MdiLRfesuw

— Eau rouge (@Insidef1) October 11, 2020
We can't help but wonder if that comment will come back to haunt him.
At least AlphaTauri tried their best to protect the Red Bull driver by taking a page from Ferrari's social media playbook.
What we tweeted was a factual description of events. No need to speculate on this. #F1 https://t.co/ZAYNiQvLZJ

— Planet F1 (@Planet_F1) October 11, 2020
Maybe there is just enough time for Albon to do some last minute convincing in the final six races of the season.
Best of the rest
Back to the positives and what a performance from Formula 1's resident super sub Nico Hulkenberg. From having a coffee with a friend on Saturday morning to going from P20 to P8 on Sunday afternoon.
Even his old Renault boss congratulated him, well, sort of.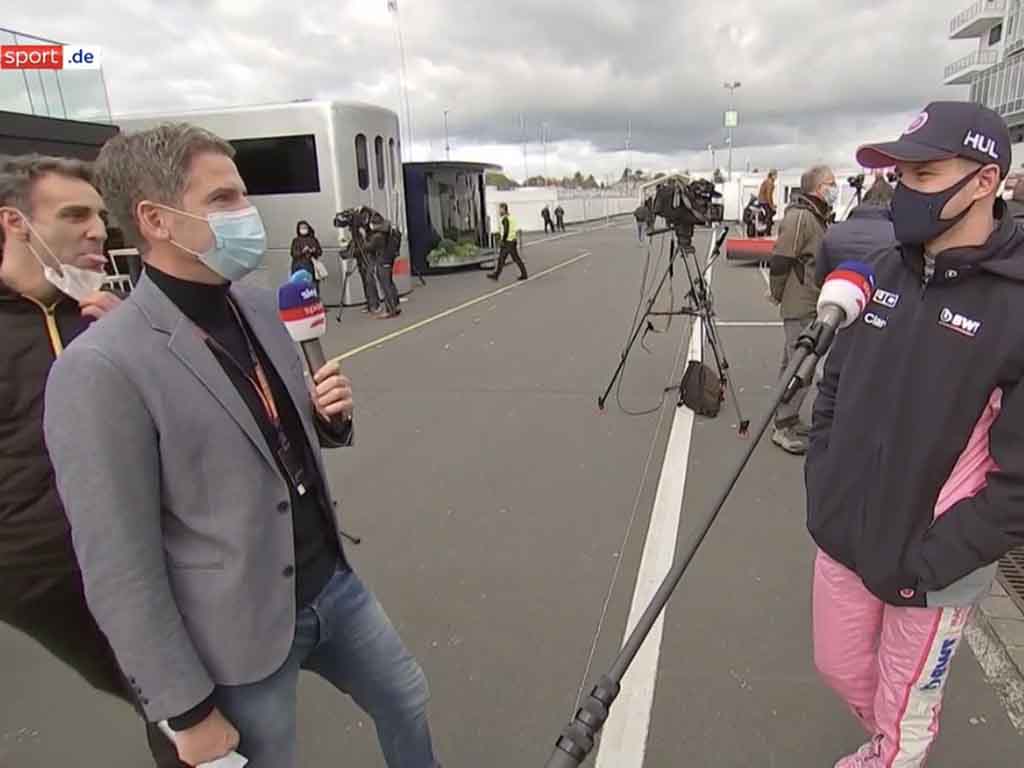 And, just in case you are wondering how Hulkenberg came back…look no further.
leaked scenes of the paddock yesterday:#WTF1 #EifelGP #F1 #Hulkenback pic.twitter.com/WDAPa8iEVe

— 𝐭𝐨𝐫𝐢 // hulkenback 🇩🇪 (@tootwolff) October 11, 2020
We will, however, be sparing a thought for poor Stoffel Vandoorne, who didn't get called up by Racing Point and was instead stuck with Call of [no] Duty.
COD it is then… Have fun @HulkHulkenberg 🤷‍♂️ pic.twitter.com/7QwYvU9PST

— Stoffel Vandoorne (@svandoorne) October 10, 2020
Meanwhile, it was a nice surprise to see Ferlando Alonso on the grid…
And big congrats to Kimi Raikkonen for reaching 323 race starts. He still doesn't care…
Martin Brundle: Do you count all the races you've actually been at and say 'look I was there, I risked my life, I was there anyway'.

Kimi: I don't care.#F1

— Planet F1 (@Planet_F1) October 11, 2020
Last word
We are not afraid to admit that we got a little lump in our throat when Mick Schumacher passed on his father's race helmet to acknowledge Lewis Hamilton matching the all-time record of 91 race wins.
This really did feel like the changing of the guard.
Oh wow! 😍

Lewis Hamilton is gifted one of Michael Schumacher's helmets by Mick Schumacher after equalling the all-time race win record in #F1 pic.twitter.com/rbumDgdhhY

— Planet F1 (@Planet_F1) October 11, 2020
We will leave you with this absolutely fantastic edit that the official Formula 1 account posted to mark the historic moment. Stunning.
182 wins between two of the undisputed greatest F1 drivers of all time 🤝@LewisHamilton and Michael @schumacher: 9️⃣1️⃣ wins apiece #EifelGP 🇩🇪 #F1 pic.twitter.com/vfcD3fsugP

— Formula 1 (@F1) October 11, 2020
Follow us on Twitter @Planet_F1, like our Facebook page and join us on Instagram!